If there is anyone who knows how to blow-up Instagram, it's our Britney Spears. Our favorite pop star is renowned for dropping the occasional hint and tease via the social media platform and the past week has been no exception.
It all started a week ago when the "…Baby One More Time" pop star, announced she is having a baby with her fiancé Sam Asghari. The post went viral and gained over 45k likes in under 15 minutes.
View this post on Instagram
The Instagram post featured a photograph of a vintage pink teacup and plate alongside pale pink carnations on a dark blue background, captioned with her baby news.
Britney wrote that she noticed she was picking up weight on her Maui vacation and that Sam had said she was probably just having a food baby. Well, we can all probably relate to that, nothing like a bit of over-indulging on the perfect holiday to add to the waistline.
The star continued, "So I got a pregnancy test … and uhhhhh well … I am having a baby … 4 days later I got a little more food pregnant. It's growing !!! If 2 are in there … I might just loose (sic) it."
At last, Britney can take another momentous step towards happiness after being unable to get married or have more children for the past 13 years, due to the terms of her conservatorship which was finally terminated in November last year.
View this post on Instagram
But speculation was rife amongst fans that Britney and Sam may have secretly tied the knot in Maui as the post referred to Sam as her husband – "I lost so much weight to go on my Maui trip only to gain it back … I thought "Geez … what happened to my stomach ???" My husband said, "No you're food pregnant silly !!!"
But this isn't the first time Britney has referred to Sam as her husband and according to an inside source, HollywoodLife reported the couple will be waiting until after the baby is born to have their dream wedding.
View this post on Instagram
We are simply loving the continued updates and Britney has kept us in the loop with a fashion shoot set to the song, "All That She Wants" by Ace of Base, captioned, "So I have to model my clothes now before I really start showing … I had to do the flower on my neck like @sarahjessicaparker,"
View this post on Instagram
And as if the above wasn't enough to keep us busy, Britney's latest post has once again led to wild speculation amongst fans.
The latest post, a zoomed-in photo captioned with multiple eye and heart emojis and the word 'Rose' has had fans guessing that this may mean there is a baby girl on the way.
View this post on Instagram
This will be Britney's third child, the 40-year-old star already has two teenage sons named Sean, 16, and Jayden, 15, with her ex-husband and former backup dancer, Kevin Federline.
Britney and Kevin split up back in 2006, citing irreconcilable differences as the reason for their divorce.
Britney Spears and Kevin Federline share two sons together and were married from 2004 to 2007 (Credit: INFGoff)
We may not see that much of Britney now that she is pregnant as her posts have suggested that she will be maintaining a low profile, avoiding the paparazzi, and as she says, "This time I will be doing yoga every day!!! Spreading lots of joy and love!!!"
We are so happy for this mom-to-be and wish her a healthy and happy pregnancy. In another Instagram post, she reveals that pregnancy sex is fantastic.
"It's the little things in finding myself that I've honestly missed for the last 14 years!!!" she wrote.
View this post on Instagram
"It's time for me to indulge into thinking, books, make-up, classic movies, great conversation and… the best sex ever!!! Sex is great when you're pregnant."
"My first record came out when I was 16 and I got pregnant at 24…I thought about it last night…I was a baby raising 2 babies with 17 cars outside my house!!! I didn't know how to play the game…I didn't even know how to dress or fix my hair!!! I was clueless and I wasn't the brightest bulb on the tree either!!!"
Britney Spears dazzled in a sheer mini dress featuring silver star embellishments (Credit: Adriana M. Barraza / WENN)
In February 2017, Britney Spears showed that she needed a new stylist when she arrived in a shiny sheer dress at Clive Davis' Pre-Grammy Party held at The Beverly Hilton in Los Angeles.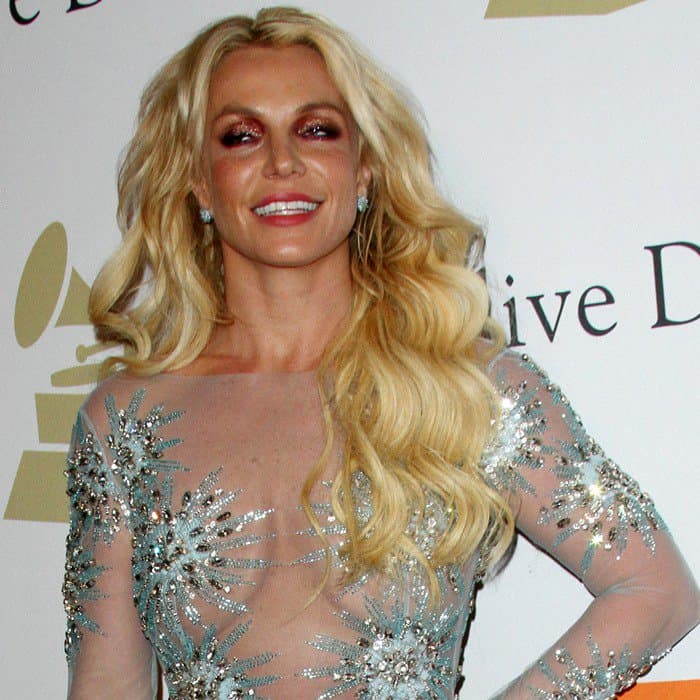 Britney Spears flaunted her boobs in a dress by Brazilian designer Uel Camilo (Credit: Adriana M. Barraza / WENN)
The then 35-year-old pop legend flaunted ample cleavage in a custom dress from Uel Camilo featuring strategically placed bead embellishments.
Britney Spears in a custom dress from Uel Camilo at Clive Davis' Pre-Grammy Party held at The Beverly Hilton in Los Angeles on February 11, 2017 (Credit: Adriana M. Barraza / WENN)
She styled the daring long-sleeved dress with a deep scarlet eye shadow and sky-high ankle-strap sandals.
Britney Spears styled her Uel Camilo dress with Loriblu shoes and a Jen Hansen ring (Credit: Adriana M. Barraza / WENN)
How do you like Britney's attention-grabbing sheer mini dress? Perhaps she should consider hiring a new stylist?
Britney showing off her feet in ankle-strap sandals (Credit: Adriana M. Barraza / WENN)