She's the new face of the German cookware and household goods brand WMF.
And on Tuesday, Diane Kruger was on hand to celebrate the launch of the company's fully automatic coffee machine series, WMF Perfection, held at Haus der Kunst in Munich, Germany.
CEO and Chairman of the Executive Board WMF Oliver Kastalio and actress Diane Kruger at the launch of WMF Perfection in Munich, Germany on April 12, 2022 (Credit: DDP / INSTARimages)
The German-born actress looked aptly dressed for the evening, wearing a black-and-white mini dress from Brandon Maxwell.
Cut from a luxe blend of silk and wool, the strapless number is constructed with an internal bustier for a flattering fit and features a thigh-skimming straight hem and a psychedelic swirling pattern that enhances the natural curves. You can buy this for $1,995 at Moda Operandi.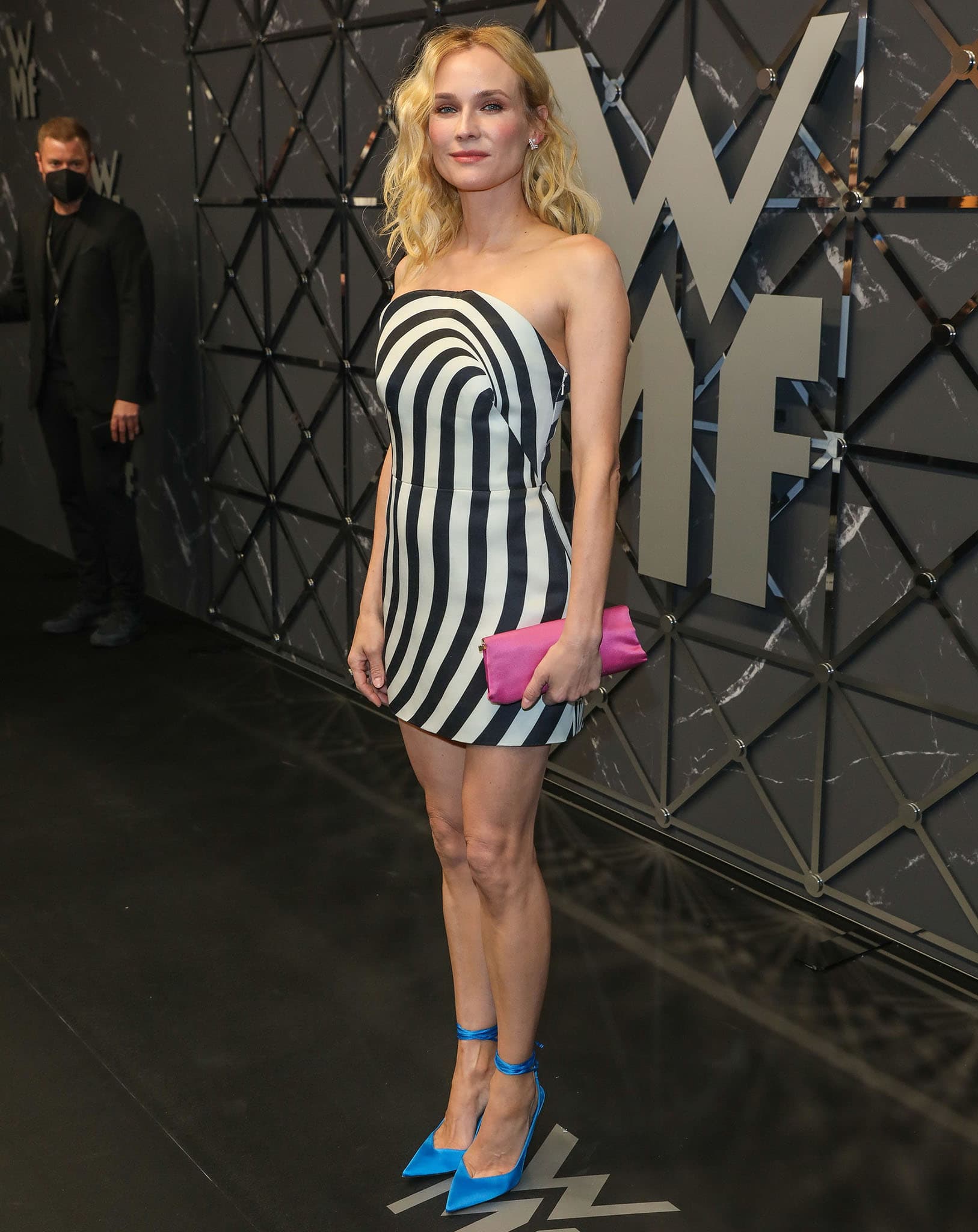 Diane Kruger showcases her legs in a black-and-white psychedelic swirl-patterned mini dress from Brandon Maxwell (Credit: DDP / INSTARimages)
Giving the look a burst of color, the National Treasure actress accessorized with a pink Prada clutch and slipped her feet into a pair of The Attico "Venus" blue satin pumps.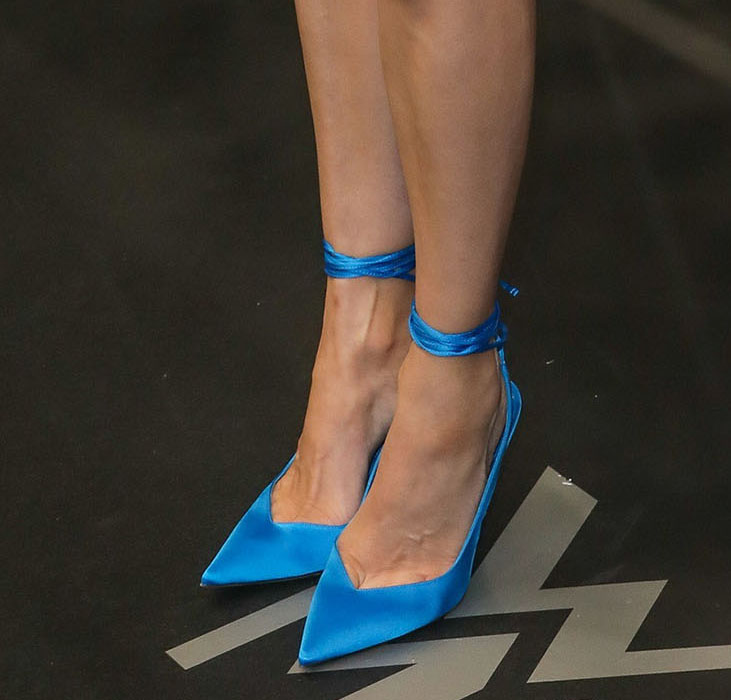 Diane Kruger adds a pop of color to her black-and-white look by showing off her feet in The Attico Venus pumps (Credit: DDP / INSTARimages)
Available in more colors at Ssense, they are made from 100% PES dyed fabric with a satin finish and feature 100% goat leather insole and lining, pointed toes, tie-fastening ankle straps, and 3.3-inch heels.
The Attico 'Venus' Pumps, $769 at Farfetch
The Attico Venus pumps feature a satin-like finish, pointed toes, and wraparound ankle ties
"The 355" star further accessorized her outfit with pearl and diamond earrings and statement rings.
She then styled her blonde hair in waves and finished off her look with mascara, peachy pink eyeshadow, and matching blush and lip color.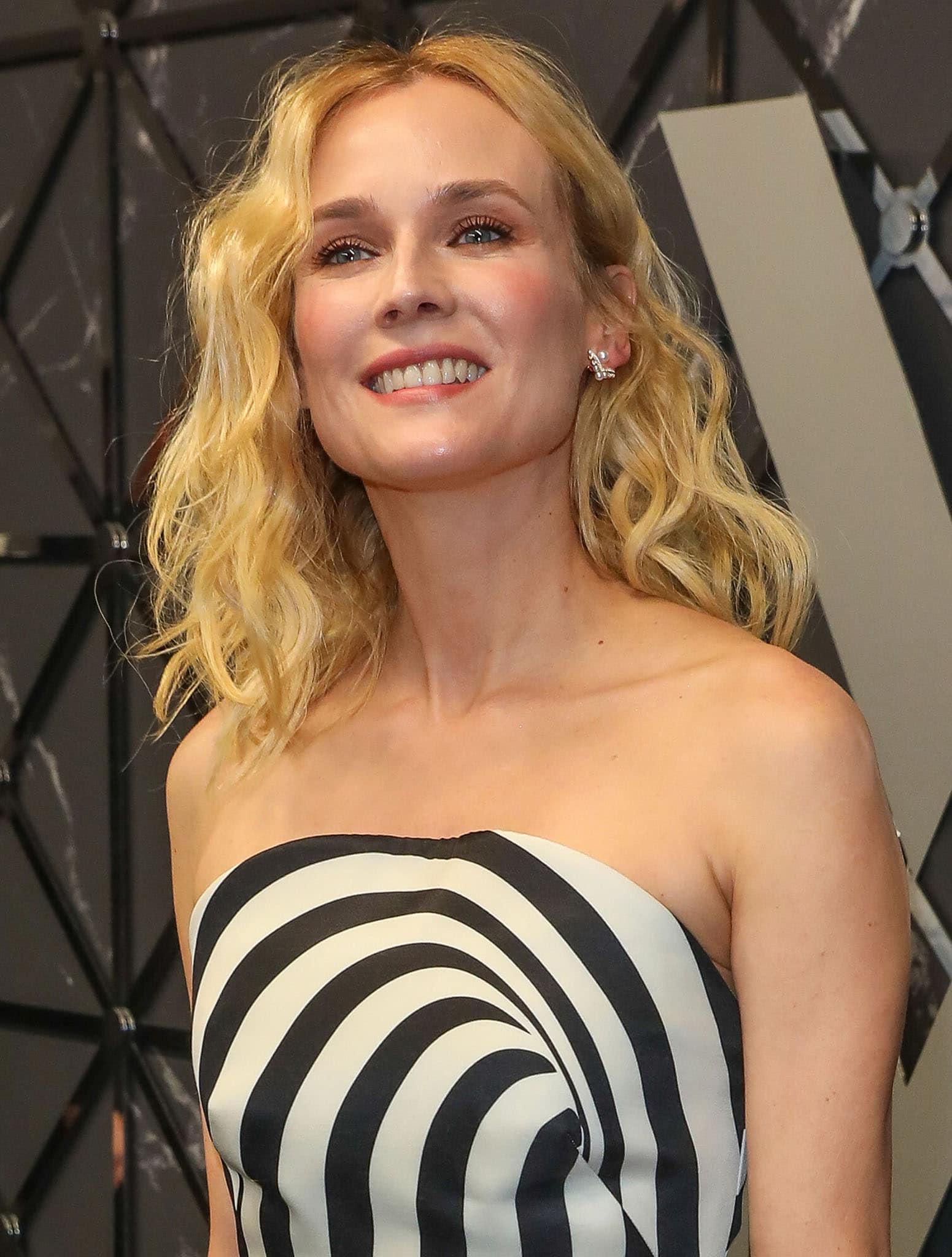 Diane Kruger wears her blonde tresses in waves and enhances her beauty with soft peachy-pink makeup (Credit: DDP / INSTARimages)
Missing from the occasion was her fiancé Norman Reedus, who is apparently a "mad midnight shopper."
During an appearance on Jimmy Kimmel Live! earlier this month, Diane revealed that The Walking Dead actor once bought a house in California without her permission.
View this post on Instagram
"We drove by [the house], he was dropping me off at a table read actually for Swimming With Sharks, and you know, it was a Sunday—you know how those houses are open and you can just walk in. We looked at it, it was pretty, but we live in New York, by the way," she told Jimmy.
"So, then he drops me off and I come out of my table read and there's like 50 messages that start with, 'I love that house. I stayed another hour. What do you think?'"
"Next message, 'Should we move to California? I don't know… I think just for a kid it would be so nice. How about we make an offer? You know what? I made an offer. We got the house.'"
Norman bought the said Medieval-style house in March 2020 for $8.5 million only for them to put it back on the market just over a year later in June 2021 for $9.25 million.
When asked if Norman makes impulsive buys regularly, Diane said, "Yes. I call him like a mad midnight shopper because like the most obscure objects show up the next day—like weird balls to massage his feet, toothbrushes, a house, nine motorcycles."