As Hannah Montana once wisely sang, "Nobody's perfect."
While most of us live and learn it, there is a select group of people who love to ignore the fact that each of us is born with imperfections and mercilessly mock others. That's right — internet trolls.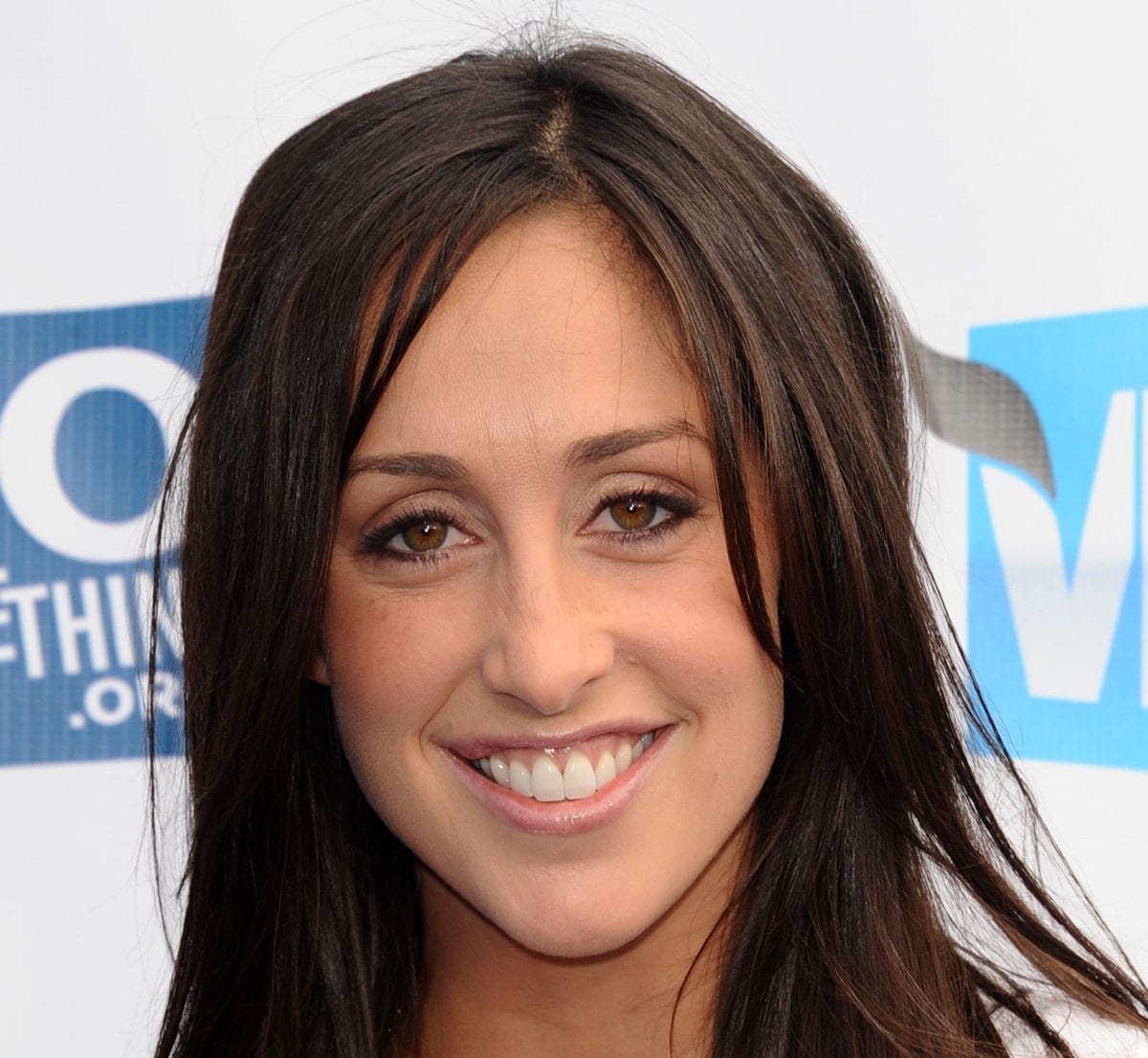 Catherine Reitman's unique lips have been the subject of much speculation (Credit: Sara De Boer / Startraksphoto)
After the steamrolling success of her show, Workin' Moms, actress Catherine Reitman has been the target of many hurtful and downright mean posts and tweets.
Despite the fact that the 41-year-old actress is the creator, executive producer, writer, and star of a multi-award-winning television series, haters on the internet can only seem to focus on one thing: her lips.
Are Catherine Reitman's lips due to botched plastic surgery?
Catherine Reitman certainly does have a unique smile, with a curved upper lip that dips inward on each side and accentuates her ultra-white teeth, and adds a special something to her over-the-top expressions on television. We might be biased, but we think her lips add to her charm!
Unfortunately, the internet does not seem to agree.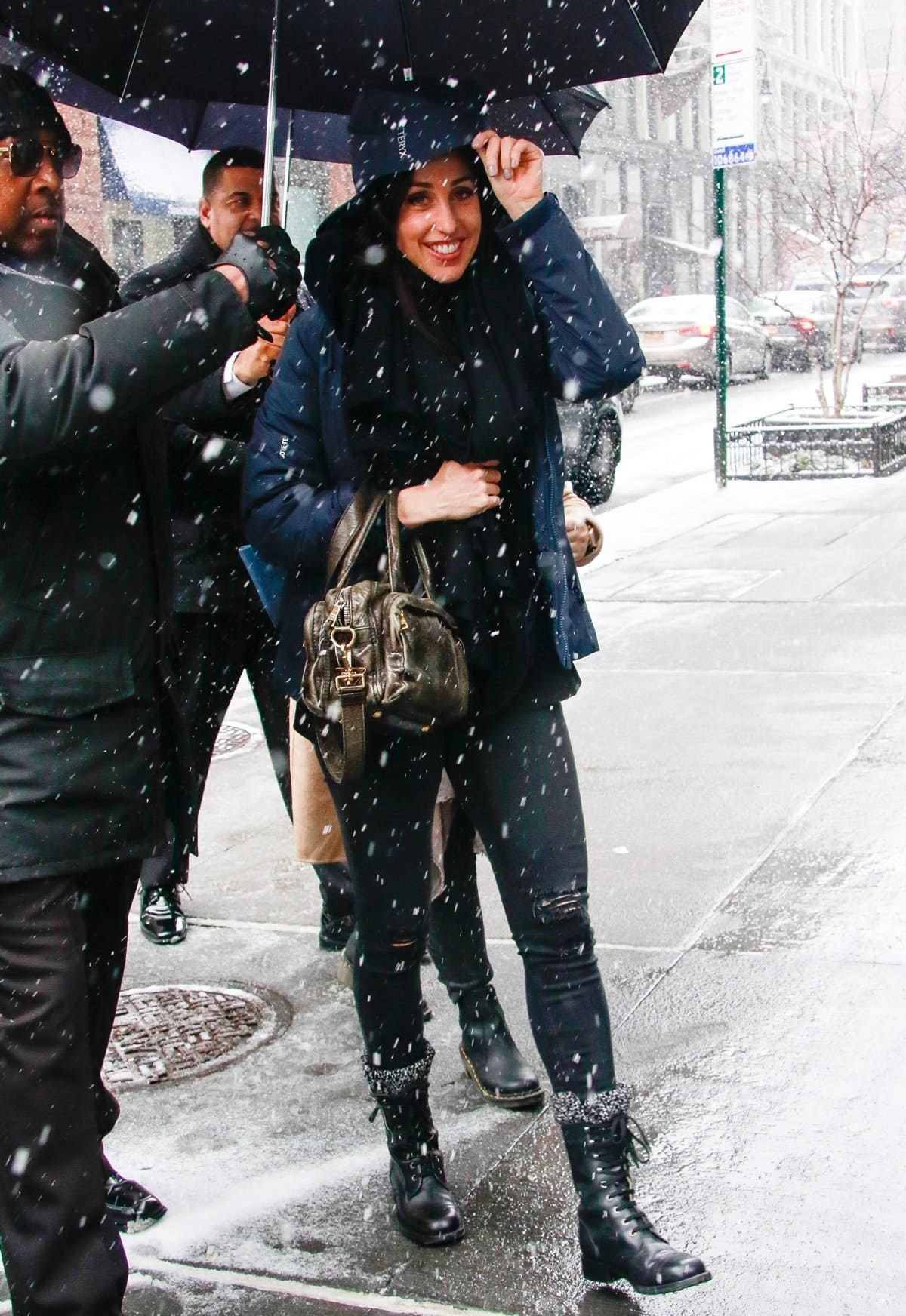 Catherine Reitman braves the snow outside the Build Studio on February 20, 2019, in New York City (Credit: Media Punch / INSTARimages)
"Watching the pilot of Workin' Moms but Catherine Reitman lips is running it for me #botched," one cruel Twitter user shared.
Another tweeted, "It looks like she bit the middle out of it!!"
Most posters seemed to think the appearance of Catherine Reitman's lips are a result of a bungled cosmetic surgery, as echoed by another Twitter user: "Catherine Reitman's lips piss me off. It's like she got some botched up juvederm but only on the outer parts of her top lip."
Didn't anyone tell the internet that if you don't have anything nice to say, you shouldn't say anything at all?
Jaime Pressly as Denise McLean, Carla Gallo as Zooey's friend, Liz Cackowski as Zooey's Friend, Sarah Burns as Hailey, and Catherine Reitman as Zooey's Friend in the 2009 American buddy comedy film I Love You, Man (Credit: Paramount Pictures)
Luckily, many fans have come to Catherine Reitman's defense
"Catherine Reitman is f*cking hilarious and does not deserve to be cyber bullied by these shallow a*s people who say her lips are ruining the show. F*ck all you mean a*s h*es," one Tweeter retorted.
Another person took a more positive approach, writing, "I think Catherine Reitman is beautiful and her lips/smile are too! Plus, she is an amazing actress and Working Moms is wonderful! I can't wait until the next season. Catherine, you are beautiful!"
But has Catherine Reitman had lip filler?
Despite the internet's insistence that Catherine Reitman's lips are due to botched plastic surgery, producer Philip Sternberg's wife has never explicitly deigned to say whether or not this is the truth.
Philip Sternberg and Catherine Reitman met after an audition and they married in 2009 (Credit: Shawn Goldberg / Shutterstock)
However, Catherine Reitman did reveal in an interview with The Kit that this is not the first time she has been mocked for her appearance. In fact, she was mercilessly bullied as a child for her lips and smile.
"Growing up, I was this really awkward-looking kid, and kids used to make fun of me and call me names like horse mouth," she told The Kit. "[My mom] always was like, 'I don't see it. They're crazy; you're so beautiful.' I remember thinking, 'Oh great, they're crazy!' I had this strange confidence because she was so complimentary and supportive. I think it gave me a great sense of humor and a really strong voice because she instilled all this confidence."
Some fans believe Catherine Reitman's unique mouth shape is due to upper lip surgery (Credit: Shawn Goldberg / Shutterstock)
As glad as we are that the actress is able to stay strong amidst the criticism about her appearance, her admission doesn't exactly answer the internet's burning question: did she get plastic surgery on her lips?
This could mean one of two things. Either the actress' lips are completely natural and she chose not to undergo cosmetic surgery because she felt confident in her own skin, despite the rampant teasing as a child… or the bullying affected her so much that she chose to get lip filler (which was then botched) and that is why her lips look the way they do.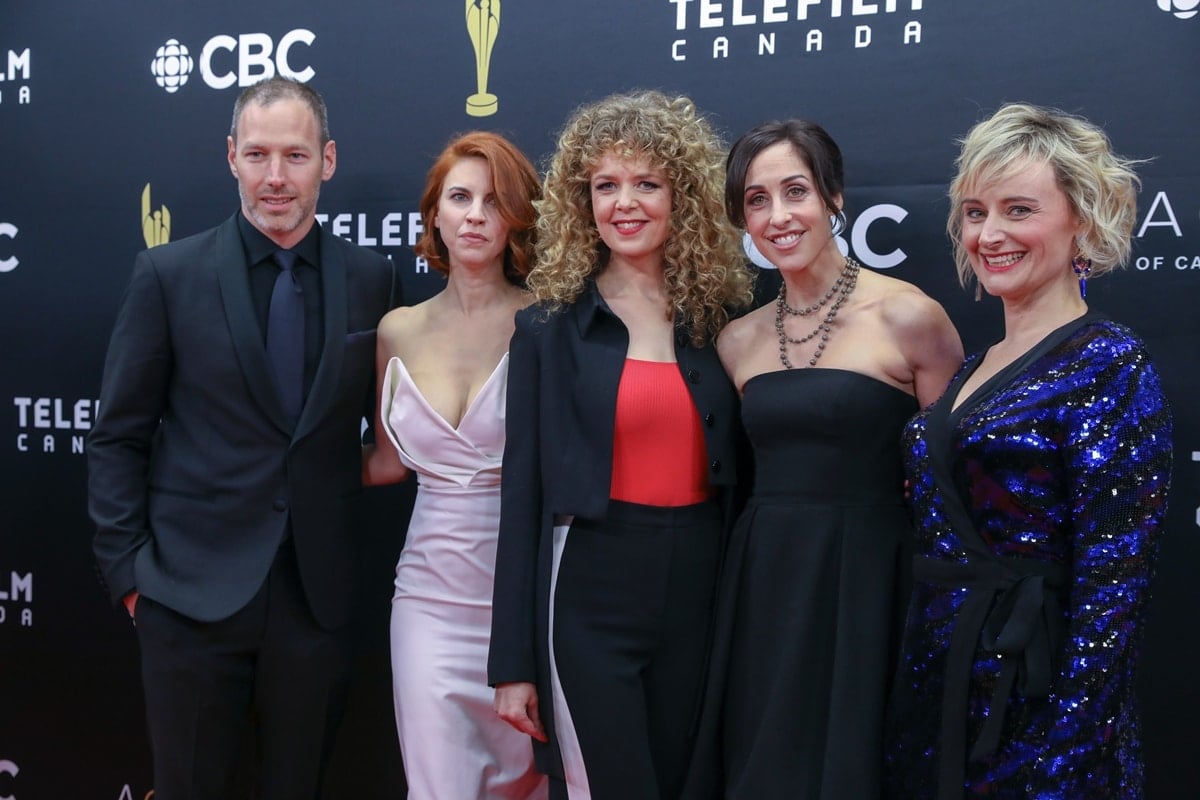 Philip Sternberg, Dani Kind, Juno Rinaldi, Catherine Reitman, and Sarah McVie attend the 2019 Canadian Screen Awards Broadcast Gala at Sony Centre for the Performing Arts on March 31, 2019, in Toronto, Canada (Credit: Shawn Goldberg / Shutterstock)
Either way, it's unlikely that we will know the full truth unless Catherine Reitman tells the world herself. Until then, everyone should just be nice on the internet — it is quite literally the least we can do.
We're not the only ones that love Catherine Reitman's looks
In fact, the actress' biggest fan is none other than her husband, Philip Sternberg. Three years older than Reitman, Sternberg is a producer, director, writer, and actor who frequently collaborates with his wife on a number of projects, including Workin' Moms and Breakin' It Down with Catherine Reitman. He has also worked on titles such as Divorce Corp, Six Little McGhees, and The Super.
In an interview with Streets of Toronto, the couple revealed they had a pretty adorable meet-cute.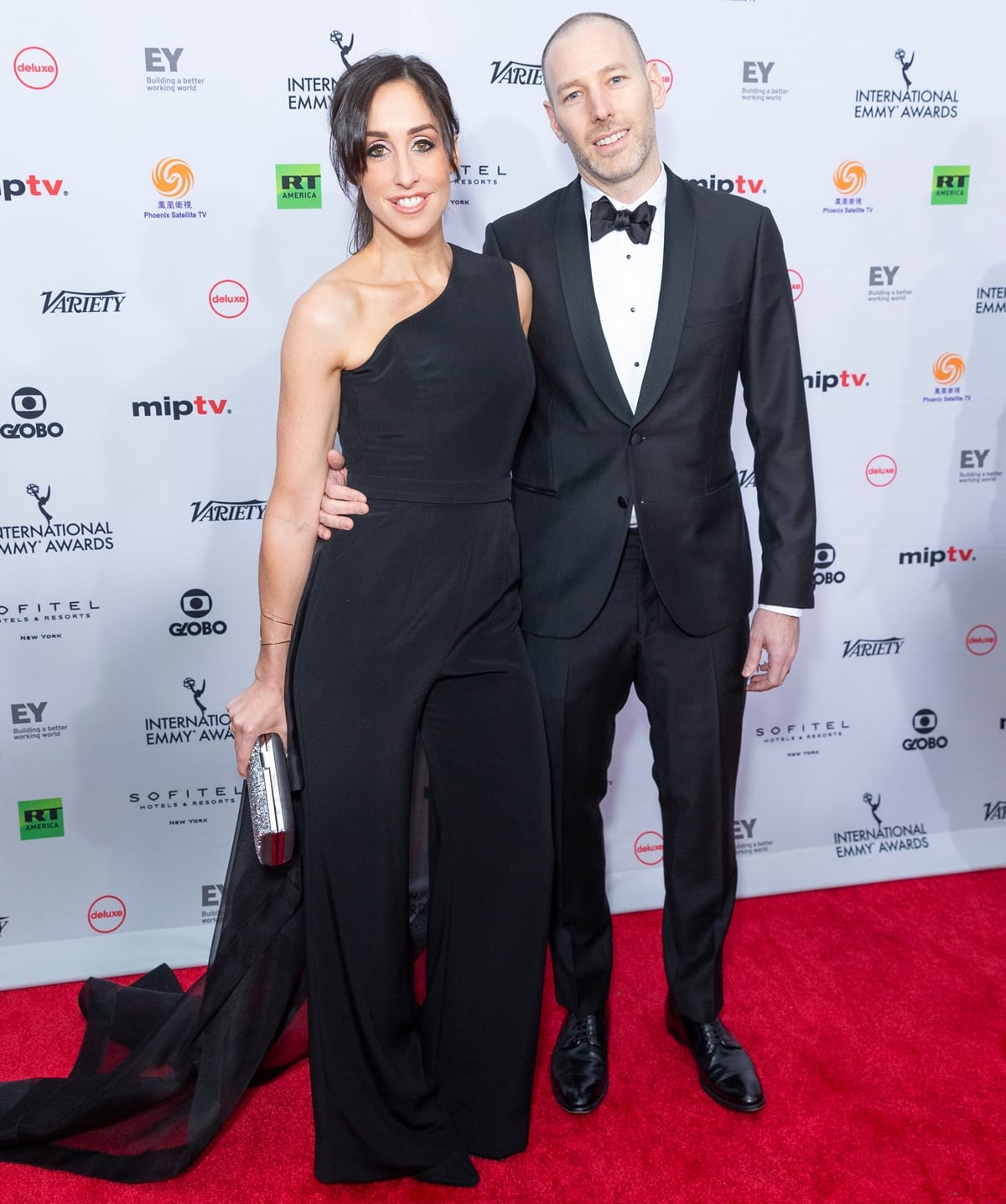 Catherine Reitman and her husband Philip Sternberg attend the 46th Annual International Emmy Awards on November 19, 2018, at the New York Hilton Midtown in New York City (Credit: Lev Radin / Shutterstock)
"I was picking up a paycheck for my friend after an audition when I first saw Philip," Catherine Reitman told the outlet. "I was dressed ridiculously, in short shorts, with two braids, for a role that I absolutely was wrong for and didn't get. Philip handed me the check and there was clear electricity between us. We didn't exchange numbers. We just smiled and knew that something was happening. Three months later, we ran into each other at an event. Philip told me there was no way I was walking out of his life again."
Can you say "dreamy"?
The pair were engaged after a mere six months. Now, the couple has two children together and we're excited to find out who their kids will take after due to the pair's height difference—at 6'0" Sternberg towers over his 5'5" wife!
Catherine Reitman suffered from postpartum depression
The sister of Caroline Reitman and Labor Day director Jason Reitman, Catherine Marcelle Reitman has been candid about her experience with postpartum depression and cites it as an inspiration for her award-winning show, Workin' Moms.
Catherine Reitman and Catherine O'Hara compare their unique lips at the Canadian Screen Awards (Credit: Shawn Goldberg / Shutterstock)
She explains in an essay penned for Glamour: "By fleshing out my sadness, exposing the strange and funny angles to it, I began to recognize the 'me' that I was prior to having my son. So I committed to retelling the postpartum scenes I had lived, but with one glaring change: I wrote myself as four different characters who I knew would outgrow this period."
"While I felt hopelessness, [my character] 'Kate Foster' would persevere. She could outwit her darkest moments while rocking a skirt suit that screamed 'I know who I am!'" she continued in the essay. "I could sit in a pile of fear and tears at my computer, but the women I scribed were barreling forward and speaking their truths."