Alison Brie's Sexy Feet and Nude Legs in Hot High Heels
See pictures of Alison Brie showing off her nude feet and legs in sexy high heels.
The American actress was born on December 29, 1982, in Hollywood, Los Angeles, California, United States. Her shoe size is 9.5 (US).
Sophia Webster uses the hashtag #SpottedinSophias to showcase stylish women – like Bella Hadid and Emily Blunt – wearing her…
Kristen Stewart, Blake Lively, and Jennifer Lawrence are all fans of Christian Louboutin's transparent "Jonatina" PVC clear heel strap sandals….
It must be nice to have feet so beautiful that you regularly get free foot massages. Alison Brie happily showed off…
Several celebrities hit the red carpet in barely there heels at the 2018 Writers Guild Awards at The Beverly Hilton…
Every event has celebrities that command attention, whether it's their personalities or ensembles that steal the spotlight. We decided to…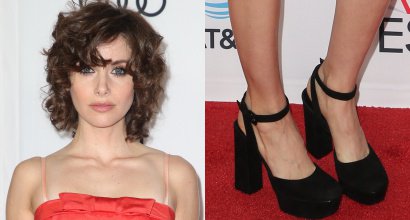 All eyes were on vintage beauty Alison Brie at the AFI Fest screening of "The Disaster Artist" as the actress…
Alison Brie get dolled up for the premiere of her new film 'How To Be Single' held at the NYU…
No matter how it happens, wardrobe malfunctions are frightening. Especially when you're a celebrity making your way up to the…
Alison Brie attended the premiere of Get Hard at the TCL Chinese Theatre IMAX on Wednesday in Hollywood. She was joined…
Elizabeth Banks displayed her style prowess once again at the Los Angeles premiere of her new film, 'The Lego Movie'….
The cast of 'Mad Men' kicked off season 6 of their hit TV series with a bang yesterday. Not only…
We came across a bizarre video clip from 'Community' star Alison Brie's guest appearance on 'Late Show with David Letterman'…