Martha Hunt's Height and Net Worth: How Tall Is the Supermodel?
Please subscribe to
our newsletter
to receive updates from Your Next Shoes. This post may contain affiliate links. Please see our
disclosure
for more details.
Browse further to view photos of Martha Hunt elegantly showcasing her feet and legs in various footwear, including high heels, boots, sandals, pumps, and other stylish shoes.
Masterfully styled by Emma Jade Morrison, Martha Hunt epitomized timeless elegance in a delicately textured, peach strapless gown by Jason Wu at the "Club Zero" red carpet during the 76th annual Cannes Film Festival at Palais des Festivals on May 22, 2023, in Cannes, France (Credit: IPA / INSTARimages)
Best known for her work as a Victoria's Secret lingerie model, the American model started modeling for Victoria's Secret in 2012 after she was discovered by a photographer in Charlotte, North Carolina.
The 5'10″ (178 cm) blonde appeared in three Victoria's Secrets Fashion Shows from 2013 to 2015 and became a Victoria's Secret Angel in April 2015. She wears a shoe size 8.5 (US).
Also a spokesmodel for Free People, she has a net worth of $3 million.
Martha Hunt Facts
Net Worth:
Martha Hunt is an American fashion model who has a net worth of $3 million.
Full Name:
Martha Seifert Hunt
Born:
Martha Seifert Hunt was born on April 27, 1989, in Granville, North Carolina, United States.
Dating:
Since 2015, she has been dating photographer Jason McDonald.

They met while he shot one of her campaigns for Free People, an American bohemian apparel and lifestyle retail company.

Jason MacDonald, a photographer, and Martha Hunt got engaged on January 8, 2020.
Does Martha Hunt have a child?
Yes, Martha Hunt has a child. She and her fiancé, Jason McDonald, welcomed a daughter named Emery on November 6, 2021.
Weight:
121 lbs (55 kg)
Shoe Size:
8.5 (US) / 39 (EU)
Is Martha Seifert Hunt tall or short?
Martha Seifert Hunt stands at 5'10″ (178 cm) tall. In the context of average human height, this would be considered on the taller side, especially for women.
Nationality:
American
Source of Wealth:
Martha Hunt has been modeling since 2007 and has appeared in campaigns for brands such as Victoria's Secret, Chanel, and Dior. She has also walked the runway for many of the top fashion houses in the world.
Ethnicity/Race:
Martha Seifert Hunt's rich ethnic background comprises Cornish, English, French, German, Irish, Scots-Irish/Northern Irish, Scottish, and Welsh roots.

Additionally, she has a trace of Swiss-German ancestry and is 1/256th Cherokee Native American.
Inspirational Quotes from Martha Hunt to Help You Feel Your Best
Fitness is very important to me because it helps give me a routine when I travel. It gives me one hour of 'me' time and passes the time when I'm lonely. Living with scoliosis serves as a constant reminder to keep my core and back strong. If I get lazy, I feel it in my back first. – Martha Hunt
I think a scarf is the most versatile item. On a plane, it's good to wrap around when you're cold or rest your head on it. I love scarves. – Martha Hunt
Taylor Swift – I can't say enough good things about her. I admire her so much as a person and as a role model for young women. – Martha Hunt
I definitely feel most at home in New York City, although I get stir-crazy if I'm here too long. – Martha Hunt
After workouts, I always try to eat protein right away, like a protein smoothie or an organic protein bar – you get them online. – Martha Hunt
I think it is really important to indulge on the holidays, I think that we all deserve that; I think that the more you worry, the more it's a problem. I think everyone's relationship with food is all about giving your body what it wants and what it needs. I think indulging is good and working out, too, for sure! – Martha Hunt
I've learned how to adapt to different cultures and understand all different walks of life. I've also learned that confidence is key, even if you have to fake it at times. Fake it till you make it, as they say. – Martha Hunt
I think film is the best medium to inspire people. It's a combination of image, dialogue, and music, which can make for a powerful message or a simple escape. – Martha Hunt
I truly wish I could sing. – Martha Hunt
I think I just stick to eating a well-rounded diet. I don't cut out anything; if I crave something, I eat it. But I definitely try to stick to a balanced diet always. – Martha Hunt
It all started when I went to this model search in Charlotte when I was 18. That's when I met all these agents and realized I could do it, and I won! I met a photographer at the competition who persuaded me to sign with a different agency than the one that was offered to me. So, I started with a small agency and eventually moved up to IMG. – Martha Hunt
I think sometimes less is more. I don't think it helps to overdo exercising – I think you need to do it to keep your body healthy and fit, but there is a fine line between, you know, healthy and obsession. You have to build your foundation first. Your brain has to sort of connect to your body. – Martha Hunt
It's great to have girlfriends who are in the industry, that you know have your back. – Martha Hunt
I think workout clothes should be fun! I definitely don't think I have to wear all black to work out. I would say I am more minimal in my personal style… but my workout style, anything goes. – Martha Hunt
I like to look casual yet chic. I love high fashion, vintage, and places like Zara, of course. – Martha Hunt
If anything, I'm constantly trying to figure out how to look chic with the minimal effort required because I'm constantly packing. My off-duty style is always influenced by my mood. – Martha Hunt
The most beautiful destination I've been to was the Seychelles Islands, and the most culturally inspiring place was Mumbai, India. – Martha Hunt
I do yoga almost daily. I try to fit in swimming and cycling when I can. – Martha Hunt
I stick to lots of protein and veggies and try not to eat so many carbs, even though carbs are my favorite. I eat healthy things like quinoa, and I add fresh juices to my diet to get extra vitamins. – Martha Hunt
Stella McCartney is just the coolest show to do. I love the collection. I love the setting. All of her stuff always feels so fresh. – Martha Hunt
Growing up in the south, N.Y.C. always seemed like a destination to visit but not to live in. – Martha Hunt
I can't choose one favorite place because all destinations have something different to offer. My favorite city to explore is Paris; I love the culture of Morocco and the waterfalls in St. Lucia. I just can't choose one. I would like to go back to New Zealand to see more of what it has to offer. – Martha Hunt
I try to keep it in a very low impact – I have scoliosis, so exercises can be really hard on my back, whether it's too much running, jumping or boxing. I'll do those things once in a while, but I keep it mostly Pilates, resistance-band based, softer exercises that build strength from inside the muscle. – Martha Hunt
I was excited to come to Australia to shoot for Seafolly because I've been wanting to visit since I was young. There wasn't much time to explore because we were so busy, which happens often during shoots. We had to take a boat to the Whitsunday Islands every day to get to the locations, which was a great way to start the day. – Martha Hunt
Martha Hunt's Elegant Feet and Graceful Legs in High Heels
Kristen Stewart, Blake Lively, and Jennifer Lawrence are all fans of Christian Louboutin's transparent "Jonatina" PVC clear heel strap sandals….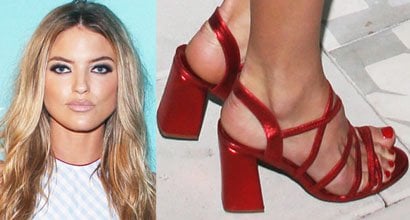 We thought that strutting the runway of the annual Victoria's Secret Fashion Show for the fifth time would be the…
Only a few hours left until the 2017 Victoria Secret Fashion Show airs across the globe! While we've rounded up…
Most of us pay incredibly close attention to the beautiful faces, toned abs and pretty lingerie of the Victoria's Secret…
For the first time in the history of the Victoria's Secret Fashion Show, the mall lingerie brand has collaborated with…
Every year, the Wall Street Journal honors artists from different fields who have dedicated a significant portion of their lives…
Michael Kors hosted an exclusive bash in London for the designer's newest fragrance, "Sexy Ruby," and big names showed up…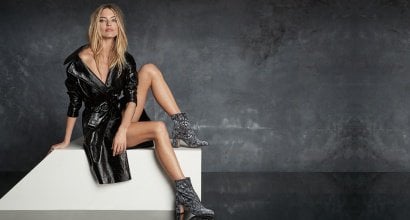 Marc Fisher tapped Victoria's Secret Angel Martha Hunt to be the face of the brand's Fall/Winter 2017 campaign. The 28-year-old…
Martha Hunt went the edgy route as she attended the WSJ. Magazine Innovator Awards in New York City on Wednesday…
The holidays are fast approaching and the Victoria's Secret Angels are preparing well for it. Angels Alessandra Ambrosio and Martha…