The $3,250 Chanel crop top and mini skirt combo is proving to be the hot look from the French fashion house's Spring 2019 collection.
It is so hot, in fact, that Kylie Jenner and her new BFF Stassie just had to twin in both the beige and white colors of the Chanel-branded coordinates.
The longtime girlfriends also wore matching blunt bob hairdos, light-pink coffin nails, solid gold bracelets, and Chanel sunglasses on their heads.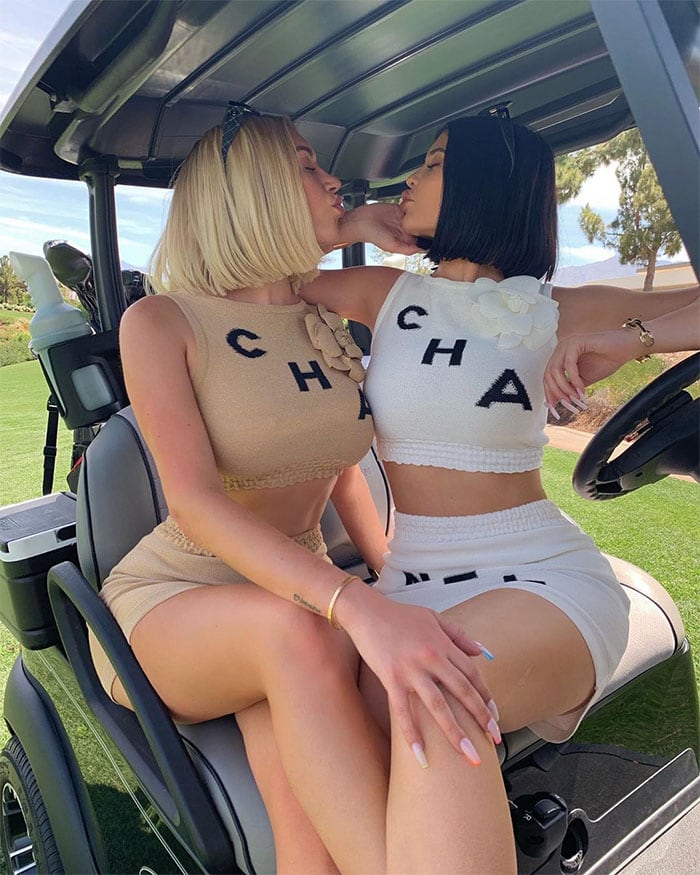 Kylie Jenner's Instagram post of her with new BFF Stassie Karanikolaou twinning in matching Chanel Spring 2019 crop tops and mini skirts posted on June 11, 2019
Though we couldn't see if the two also wore matching shoes, we think they might've completed their outfits with the same Chanel PVC sneakers they have on in their other #twinning pic below.
Kylie Jenner and BFF Stassie in matching Chanel PVC sneakers, black thong bikinis, and Burberry hats in Kylie's Instagram post shared on June 11, 2019
The latest versions of these sneakers are made from color-blocked suede and calfskin and retail for $950.
Chanel Spring 2018 PVC Patent Sneakers
Another celebrity who was drawn to the must-have Chanel fit is BBC TV miniseries Les Misérables star, Ellie Bamber.
The 22-year-old English actress put on a seemingly Barbie–inspired look with her beige-and-black Chanel crop top and mini skirt. She wore her bleached-blonde hair in messy waves and finished with sexy black stiletto pumps.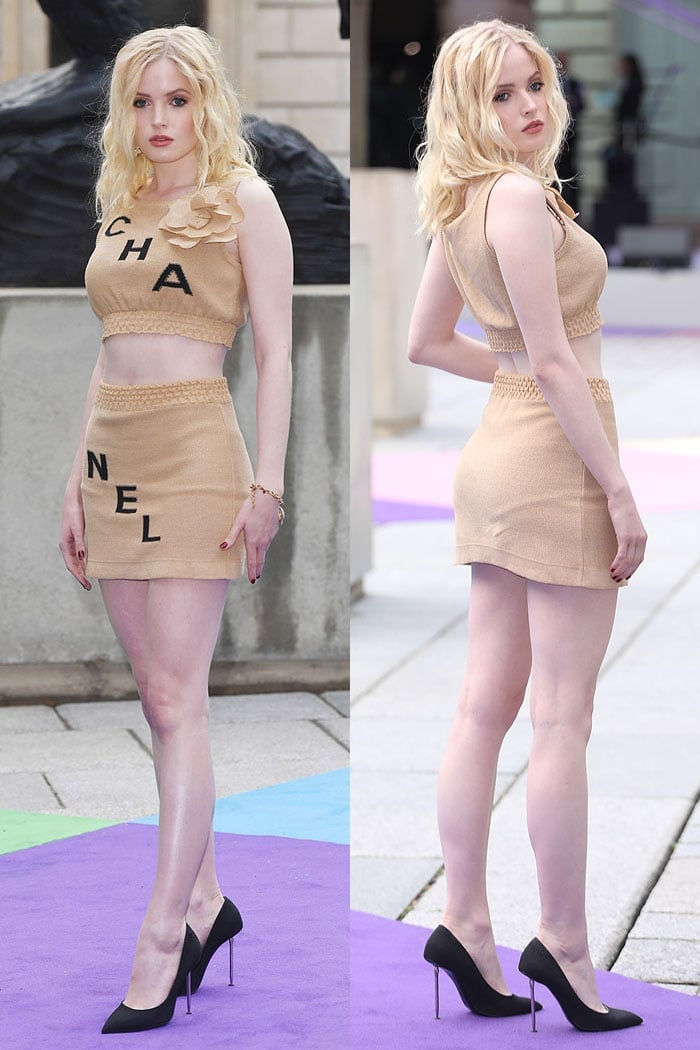 Ellie Bamber flaunted her legs in a Chanel Spring 2019 beige-and-black crop top and mini skirt at The Royal Academy Of Arts Summer Exhibition Preview Party at the Royal Academy in London, England, on June 4, 2019
Check out the needle heels on Ellie's Chanel Spring 2014 silk-crepe pumps. They even have the needle eyes and get even skinnier and sharper towards the pointed ends.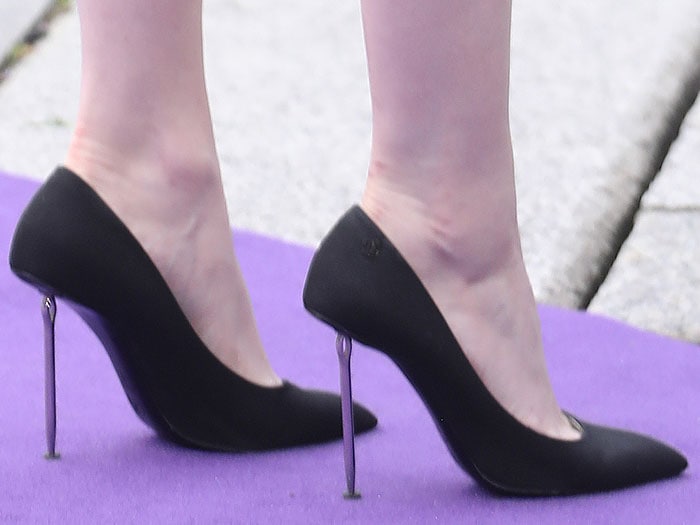 Ellie Bamber's feet in Chanel needle-heel pumps
Chanel Spring 2014 Silk-Crepe Needle-Heel Pumps
We first spotted the Chanel Spring 2019 crop top bearing the camellia flower shoulder detail on Jemima Kirke.
The Girls HBO TV series actress switched out the mini skirt for split-leg culottes, but the overall look was still the same as the pants were made from the same stretch-knit fabric.
Jemima Kirke wearing the Chanel Spring 2019 crop top with split-front culottes at the 14th Annual Tribeca Film Festival Artists Dinner Hosted By Chanel at Balthazar restaurant in New York City on April 29, 2019
Jemima topped her ensemble with a Chanel Cruise 2019 white tweed jacket over her shoulders.
We're not sure if it was intentional or not, but her two-tone blonde-and-brown hair matched her Chanel coordinates.
Jemima Kirke's feet in Chanel chain-buckled strappy velvet sandals with patent heels
The mom-of-two rounded out her look with Chanel chain-buckled strappy velvet sandals, which were also worn by Tilda Swinton's 21-year-old daughter, Honor Swinton Byrne.
Chanel Cruise 2017 Buckled Strappy Velvet Sandals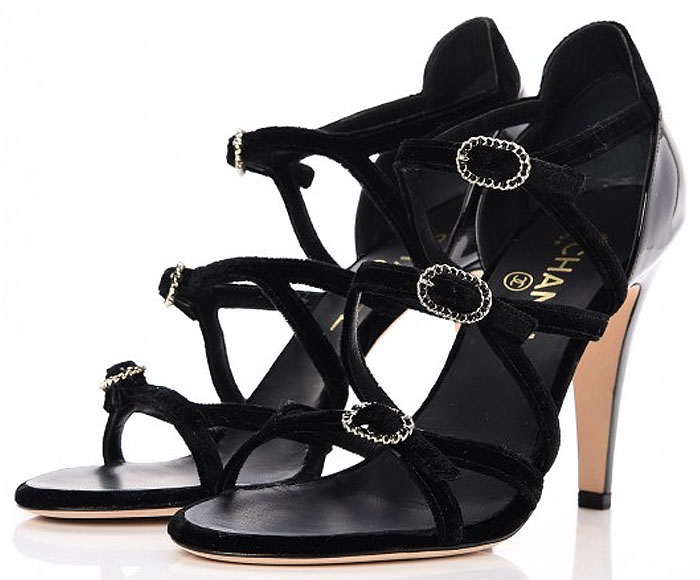 So who do you think styled the Chanel crop top and mini skirt best? Kylie Jenner and Stassie, Ellie Bamber, or Jemima Kirke?
Credit: Kylie Jenner's Instagram / Lia Toby / Chloe Bell / Future Image / WENN