Chrishell Stause, now 40, and Justin Hartley, aged 45, appeared to have it all back in 2017 when they tied the knot after having been together for 4 years.
The couple first met on the set of All my Children in 2012 where Chrishell played the role of Amanda Dillion and Justin's ex-wife, Lindsay Nicole Korman starred as Cara Castillo.
Justin Hartley and Chrishell Stause married in October 2017 after dating for four years (Credit: DFree / Shutterstock)
By 2014, the couple were an official item and the romance continued to blossom with Justin proposing 2 years later in 2016.
They exchanged their vows in October 2017 in front of close friends and family and the picture-perfect couple looked set to continue to grow from strength to strength.
Both of their careers were taking off with Justin starring as Kevin Pearson in the hit TV drama series This is Us and Chrishell featuring in various soap operas like Days of our Lives and The Young and the Restless.
Chrishell managed to combine her 2 passions, real estate and being in front of the camera when she joined the reality TV series Selling Sunset which first premiered in March 2019.
Chrishell Stause and Justin Hartley posing with his daughter Isabella Justice Hartley, whom he shares with his ex-wife Lindsay Korman (Credit: Kathy Hutchins / Shutterstock)
Selling Sunset follows a group of LA's most successful realtors from the Oppenheim group, as they navigate the pressures of both their personal and professional lives.
Justin kept his distance and never made an appearance on the show preferring to keep his personal life private.
That may have been his preference, but someone should have warned him that being married to a reality TV star doesn't equate to privacy.
The Drama Begins With a Simple Text
If you want to experience the drama of Chrishell and Justin's breakup, then Selling Sunset Season 3 is the one to watch. At the beginning of the season, the pair were still happily married and had recently purchased their dream home.
Fast forward to Episode 6 and a shocked Chrishell discovers that Justin has filed for divorce. During the show, she claims, "I found out because he texted me that we were filed. Forty-five minutes later, the world knew." Not exactly the ideal way to find out your marriage is over.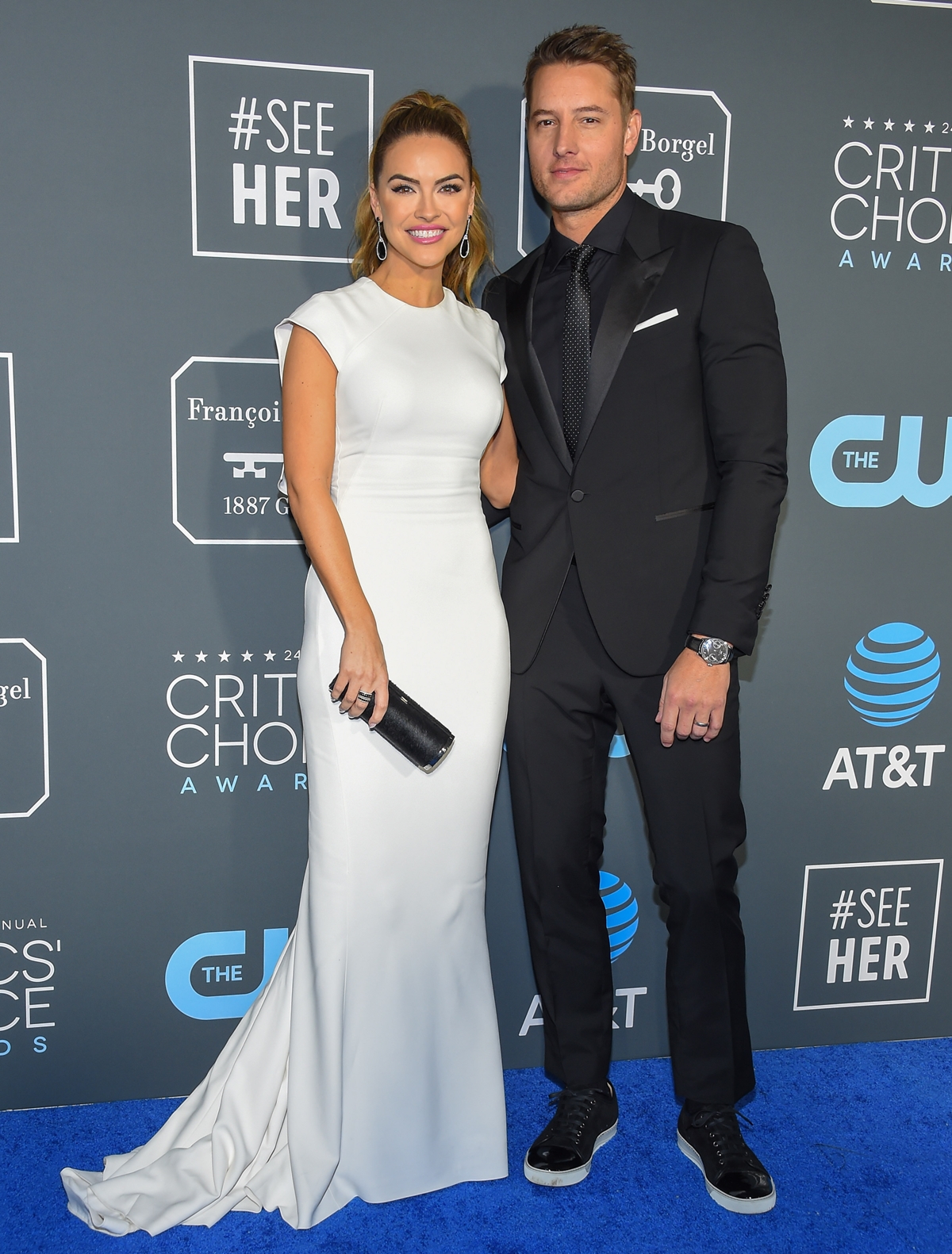 Justin Hartley in a Lanvin tuxedo and shoes, an IWC watch, and Montblanc cufflinks, and his wife Chrishell Stause in a Zac Posen dress, Schutz shoes, and Neil Lane jewelry at the 2019 Critics' Choice Awards on January 13, 2019, at the Barker Hangar in Santa Monica, California (Credit: DFree / Shutterstock)
Justin filed for divorce on the 22nd of November 2019 citing irreconcilable differences as the reason for the separation.
Interestingly court documents revealed that Justin claimed their separation date was in early July 2019, while Chrishell noted their separation date as the same day that he filed for divorce. Separation obviously means two very different things to this celebrity couple.
What Went Wrong?
As to why the couple actually got divorced remains a mystery. The only insights we have are from Chrishell herself.
During the show, Chrishell admitted she had fought with Justin during a phone call the morning he filed for divorce.
Justin Hartley and his wife Chrishell split in November 2019 after two years of marriage citing "irreconcilable differences" and "dissolution without minor children" (Credit: Kathy Hutchins / Shutterstock)
In a separate scene, Chrishell intimates that Justin's growing fame in This is Us was a potential reason for their breakup.
And then there were the infidelity speculations after Chrishell liked tweets suggesting Justin had been cheating on her before filing for divorce.
Confidential Settlement – Another Mystery
According to Us Weekly, the couple entered into a confidential settlement agreement surrounding the terms of their divorce which included spousal support.
This has been a drawn-out process with Chrishell and Justin participating in a Voluntary Settlement Conference in July 2021 in an attempt to resolve their divorce issues.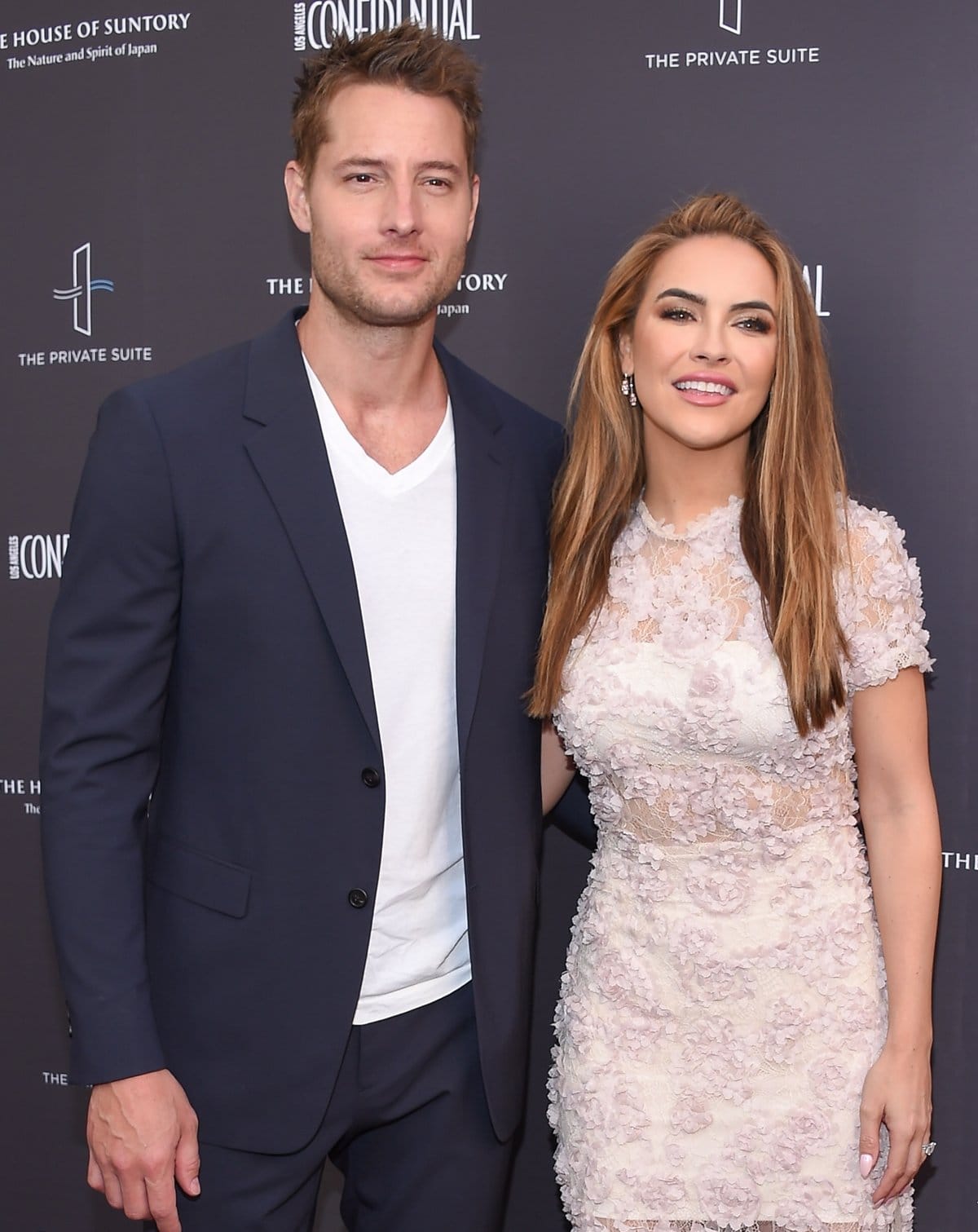 Justin Hartley and Chrishell Stause finalized their divorce in February 2021, almost a year and a half after he filed to end their marriage (Credit: DFree / Shutterstock)
The couple also agreed that Chrishell would revert back to her maiden name, Stause, and she subsequently filed court documents to have it immediately changed – one thing is for sure, they won't be exchanging greeting cards anytime soon.
A Busy 2022 for Chrishell
2022 is proving to be a busy year for Chrishell! Her book, 'Under Construction' was released in February this year and has been positively received on Amazon.
Not surprisingly, she opened up about her relationship with Justin, admitting it wasn't quite the perfect relationship she thought it was.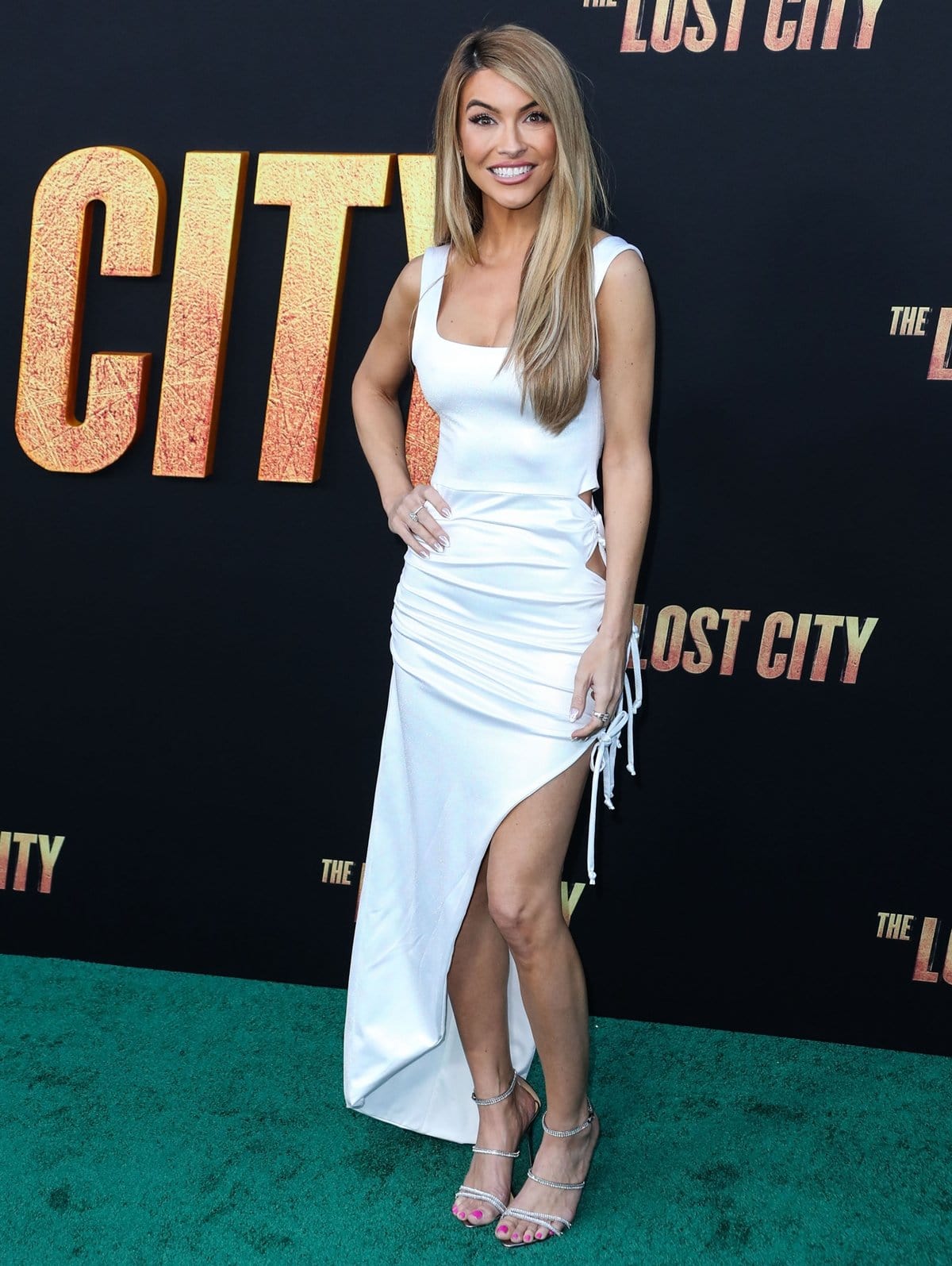 Chrishell Stause flaunts her legs in a Gemeli Power satin dress at the premiere of The Lost City on March 21, 2022, at the Regency Village Theatre in Los Angeles (Credit: Xavier Collin / Image Press Agency / ABACA USA / INSTARimages)
"The last thing I want to do is rehash old wounds but being so far away from it now I can see that what happened was a gift. Now I understand much more clearly how I deserve to be treated. When someone is in love, it's hard to convince that person that the relationship isn't right. Even if he's waving red flags like a bullfighter to everyone around you, you're the girl striding right up to him, oblivious to any impending danger."
Her book also shares her feelings around her very public split on Selling Sunset, recalling, "It was horrible, and because it happened while I was in the middle of filming a reality show, it's forever out there for the world to see."
Chrishell Stause claims she sold her wedding ring from ex-husband Justin Hartley to help her buy her new house (Credit: Image Press Agency / ABACA USA / INSTARimages)
Her recent appearance on the Kelly Clarkson show made headlines after she admitted that she sold her wedding ring to help buy a $3.3m home in Hollywood Hills.
The Selling Sunset star said, "When sometimes life gives you lemons, sometimes you've gotta add a little vodka was trying to, you know, make the best out of a situation."
"I mean, what are you supposed to do? Keep wearing it? I think that's amazing," Kelly responded, having recently gone through a divorce herself. "You did something good with the money."
Dating the Boss Rarely Works Out…
A huge downfall of being part of a reality TV series is that you have to relive those painful moments when the next season airs. Once again, Chrishell's love life will be documented in the public domain with the upcoming release of Selling Sunset, Season 5.
Chrishell Stause used money from the sale of her wedding ring from ex-husband Justin Hartley to pay for her $3.3 million Hollywood Hills home (Credit: Tinseltown / Shutterstock)
After her split with Justin, Chrishell began a romance with the Oppenheim Group boss, Jason Oppenheim. The romance lasted for several months before ending late last year.
Since the start of their relationship, fans have been making fun of the height difference between the couple.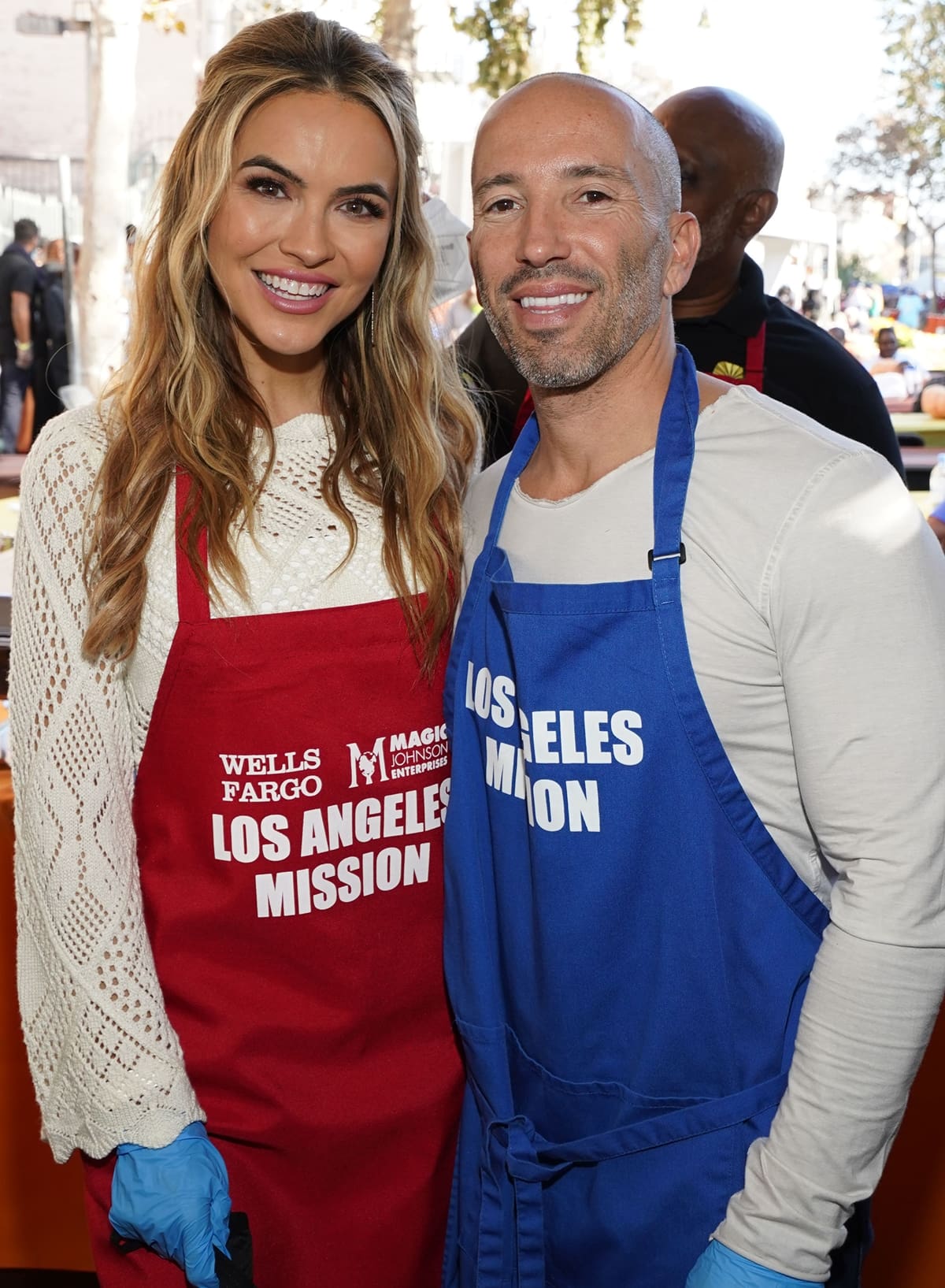 Chrishell Stause and Jason Oppenheim were friends and coworkers for years before they started dating in 2021 (Credit: Jennifer Graylock / Instarimages)
Chrishell who is 5ft5 always looked petite when photographed with ex-Justin Hartley who was over 6 feet tall. And although Jason claims to be 5ft6, Chrishell consistently towered over him in her heels.
She even took to Instagram, captioning a photo of her and Jason with "I like my snacks with a little salt and pepper on them," before adding '#HeightAintNothingButaNumber.' We're not convinced that was the best way to support her new man.
Chrishell x Lipsy Collection
And if all the above wasn't enough for the actress turned realtor, she has just launched a new fashion line in collaboration with Lipsy London.
This 20-piece 'Chrishell x Lipsy' collection launched this month, exclusively through Next online.
In 2021, she also partnered with DSW for a stylish capsule collection of her favorite shoe styles and accessories.
Chrishell Stause shows off her feet in the Mesha sandal from Mix No 6 featuring featuring an eye-catching ankle wrap with a contrasting footbed and shimmering upper (Credit: RobinLori / INSTARimages)
"I am thrilled to partner with DSW so I can show people how to get that designer look without the designer price tag," the Dancing With the Stars alum said in a statement.
"Shoes don't need to break the bank to be amazing! Make sure you aren't sacrificing function for fashion. A great shoe has both."
We are sure this will not be the last we hear from Chrishell this year and if the past is anything to go by, it's bound to be anything but ordinary.