While they have been dubbed the ugly sandals, Birkenstock sandals have become the go-to footwear of those who are looking for both comfort and style.
Their laidback vintage vibes and undeniable comfort appeal to many individuals—from the average Joes to A-list celebrities.
Birks have become one of those classic trends that never go out of style. However, just like other comfy shoes that we regularly use, Birkenstocks can get really dirty over time.
They can accumulate sweat stains, grime, or watermarks, which, if not treated immediately, can shorten their lifespan.
Fortunately, there are easy ways to clean these street-style must-haves. Just check out this excellent guide from Famous Footwear showing how to clean Birkenstock sandals!
Birkenstocks come in different styles and materials. Make sure to check the material of your sandals first before following a certain cleaning method to avoid any damage.
How to Clean Birkenstock Footbed
Getting rid of dirt on the footbed is easy. Just wipe the footbed with a damp cloth once every couple of weeks to keep it looking good as new.
For tough stains that need deeper cleaning, try an easy DIY method using baking soda and water.
Step 1: Combine 1 tablespoon of baking soda and 1 teaspoon of water until paste forms. Set aside while prepping your Birkenstocks.
Step 2: Unstrap your sandals. Use a suede brush or a clean toothbrush to loosen the dirt on the footbed.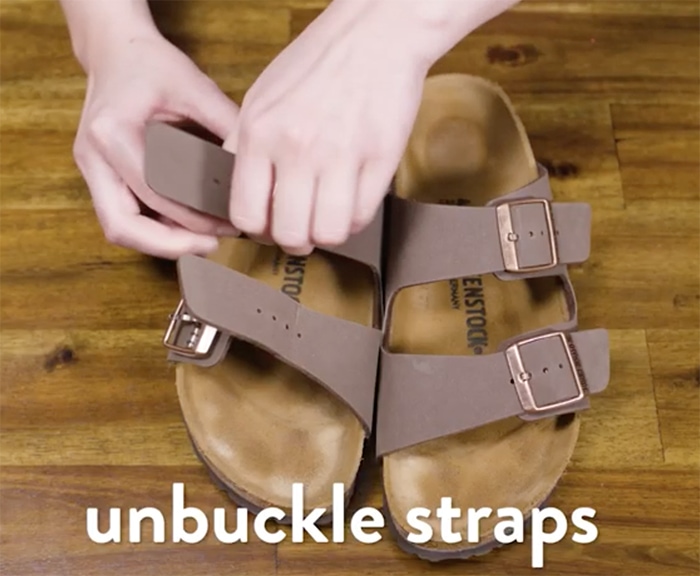 Step 3: Use a damp cloth to wipe away excess dirt. Lightly dampen the footbed until it gets dark.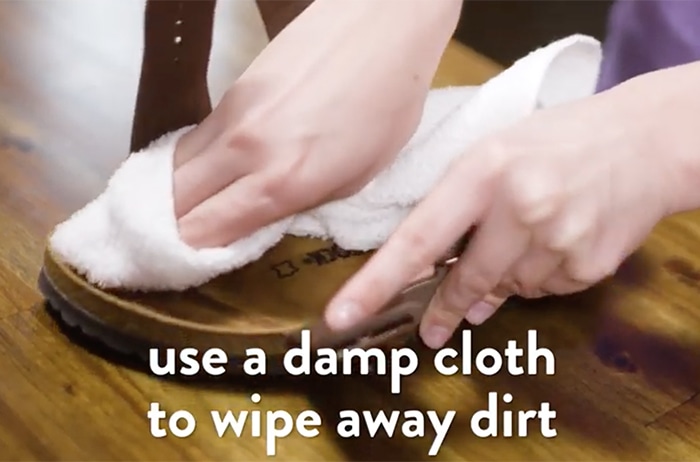 Step 4: Using an old toothbrush, gently apply the paste into the footbed in a circular motion until the entire footbed is covered. Let it sit overnight.
Step 5: The next day, wipe away the formula using a damp cloth.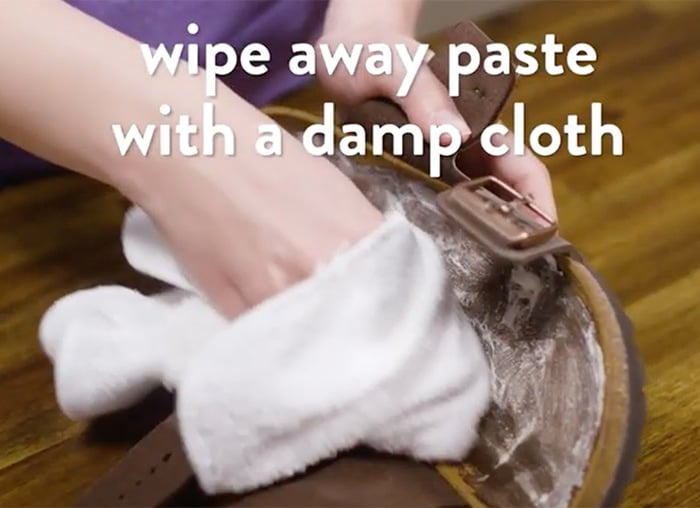 Step 6: Once the paste is completely removed, air-dry your Birkenstocks away from the sunlight.
In case stains persist, you can repeat the process but make sure your Birks are completely dry before doing so.
How to Clean Suede Birkenstocks
Birkenstock Arizona Suede Sandals
While suede sandals are chic, comfortable, and classy, they are, unfortunately, one of the hardest materials to maintain.
You should avoid wearing your suede Birks when it's raining or when you are heading to a place where your sandals might get wet.
In case you can't avoid getting your suede Birkenstocks wet or stained, make sure to treat them right away. Otherwise, the material can get stiff and permanently damaged.
Here are a few steps on how to keep your suede Birks looking fresh.
Step 1: Start by cleaning your suede sandals with a suede brush or a soft bristle toothbrush to remove excess dirt. Using light strokes, brush the surface in the same direction as the grain.
You can apply more pressure on stubborn marks and move the brush in a back and forth motion to raise the nap or the fine fibers.
Step 2: To completely get rid of the scuff marks, rub a suede rubber eraser on your sandals. If you don't have a suede eraser, a clean ordinary pencil eraser will do.
Step 3: For tough stains, use white vinegar, which can break down clumps of dirt, oils, and stains. Dab a small amount on your microfiber or flannel cloth then gently rub it back and forth on the straps.
Avoid drenching the cloth with vinegar and applying too much pressure when rubbing.
The vinegar will dampen and change the color of the material but it will return to its original color once it evaporates. You may re-apply vinegar to completely get rid of the stain.
Step 4: In case you get your suede Birks wet, quickly use a microfiber towel or any clean cloth to dry out the nap. Lightly blot away water and soak up as much water as possible without rubbing the straps to avoid any damage.
Step 5: While the straps are still damp, you can gently brush the nap as it dries to prevent it from clumping and getting brittle.
If there are water stains, you can use the suede eraser or vinegar methods, as mentioned in steps two and three.
Step 6: Finish the process by protecting your sandals with suede spray protectants to waterproof them.
How to Clean Oiled and Nubuck Leather Birkenstocks
There are many types of leather and each requires a different way of cleaning. Luckily, there are a lot of leather cleaners available on the market and some of which come with conditioning properties to keep the leather soft.
For Oiled and Nubuck Leather: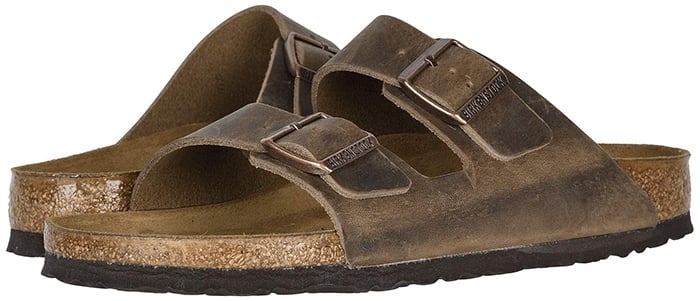 Birkenstock Arizona Oiled Leather Sandals
Step 1: Using a dry cloth, wipe your oiled or nubuck Birkenstock sandals first to remove dirt.
Step 2: Dab a small amount of leather cleaner onto a microfiber or flannel cloth and apply it gently on the upper in a circular motion.
Use just a small amount and remove any excess cleaner afterward. Do not apply too much cleaner as it could damage the leather finish.
Step 3: If your leather cleaner doesn't have any conditioning agent, use another clean and soft cloth to apply the separate leather conditioner.
Gently rub it onto the straps.
Step 4: Let your oiled or nubuck Birkenstocks dry away from direct sunlight.
For Patent Leather: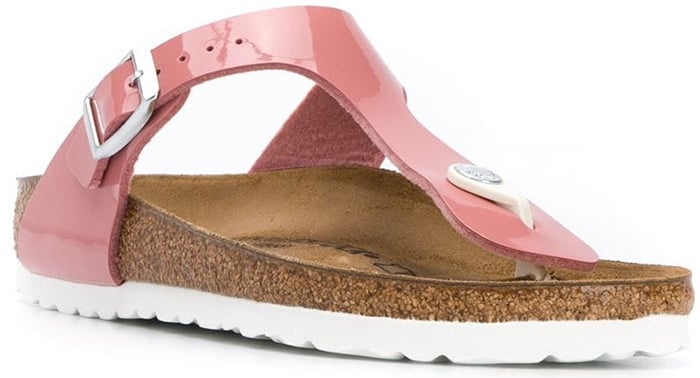 Birkenstock Gizeh Patent Leather Sandals
Step 1: Instead of a dry cloth, you can use a soft damp cloth to clean your patent leather Birkenstocks. Gently wipe the straps with the cloth.
Step 2: Dry your sandals with another clean, soft cloth.
Step 3: To remove any scuff marks, you can use common household items like olive oil or petroleum jelly.
Dip a microfiber cloth onto a small amount of olive oil or petroleum jelly and gently rub it in a circular motion over the scuff marks.
Step 4: Let it sit for 15 to 20 minutes and wipe it off with another clean cloth.
Step 5: You can apply the leather cleaner and conditioner made for patent leather to restore its glossy finish.
How to Clean Birko-Flor and Birkibuc Synthetic Birkenstocks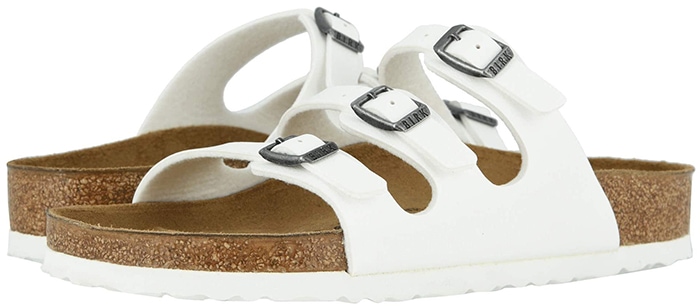 Birkenstock Florida Birko-Flor Sandals
Birko-Flor is a skin-friendly, tear-resistant synthetic PVC material that's easy to clean. This leather alternative has acrylic and polyamide felt fibers that give a smooth, leather-like finish.
Step 1: Simply wipe the straps with a damp cloth.
Step 2: For stubborn stains, you can use soap and water.
Note that any cleaning or treating could change the look and finish of Birko-Flor and Birkibuc uppers.
Use Birkenstock Shoe Care Kit
If you're still unsure on how to clean your sandals, Birkenstock has you covered. The brand offers a shoe care kit, which works on all Birkenstock styles and materials.
Keep your Birkenstock footwear looking as good as it feels with this convenient kit including water- and stain-repellent, cork sealer, brush and scuff eraser, and cleaner and refresher
Available for $18 at Nordstrom and Amazon, the care kit includes Birkenstock Cork Sealer, which protects the cork and prevents it from drying out and getting brittle. You can apply a thin coat of the Cork Sealer to protect the cork from elements.
There's also the Birkenstock Cleaner & Refresher, which is used to keep your sandals clean and fresh. You can spray it on the entire footbed and simply wipe away the excess moisture and dirt with a cloth.
To protect the upper of your sandals, be it in leather, suede, or nubuck, you can apply the Birkenstock Water & Stain Repellent.
The kit also comes with a suede/nubuck brush that can help in removing dirt and dust.
What to Avoid:
Birkenstock warns that concentrated heat or extreme temperatures could damage cork footbeds and EVA soles.
The brand advised not to leave your sandals in direct sunlight or closed cars on hot days.
While the EVA Birkenstocks are water-friendly, their other styles should not be soaked in water as it can damage the sealant materials and change the look and finish of your sandals.
Credit: Famous Footwear