Wedge shoes make the perfect addition to your spring and summer wardrobe. They're versatile shoes that you can dress up or down, depending on the occasion.
Gone are the days when wedge shoes were simply elevated sandals with a more comfortable sole. You can now find this style in everything from high-top sneakers to knee-high boots.
We're rounding up ten of the most comfortable wedge shoes for women, with something for every aesthetic and lifestyle.
1. Torchon Rockstud Leather Wedge Sandals, $795 at Matches Fashion
Wedge shoes are one style you should always invest in. They come back in vogue every spring and summer, making them the perfect addition to any closet.
If you're feeling like spending a little more on your wedge shoes, try this classic style by Valentino.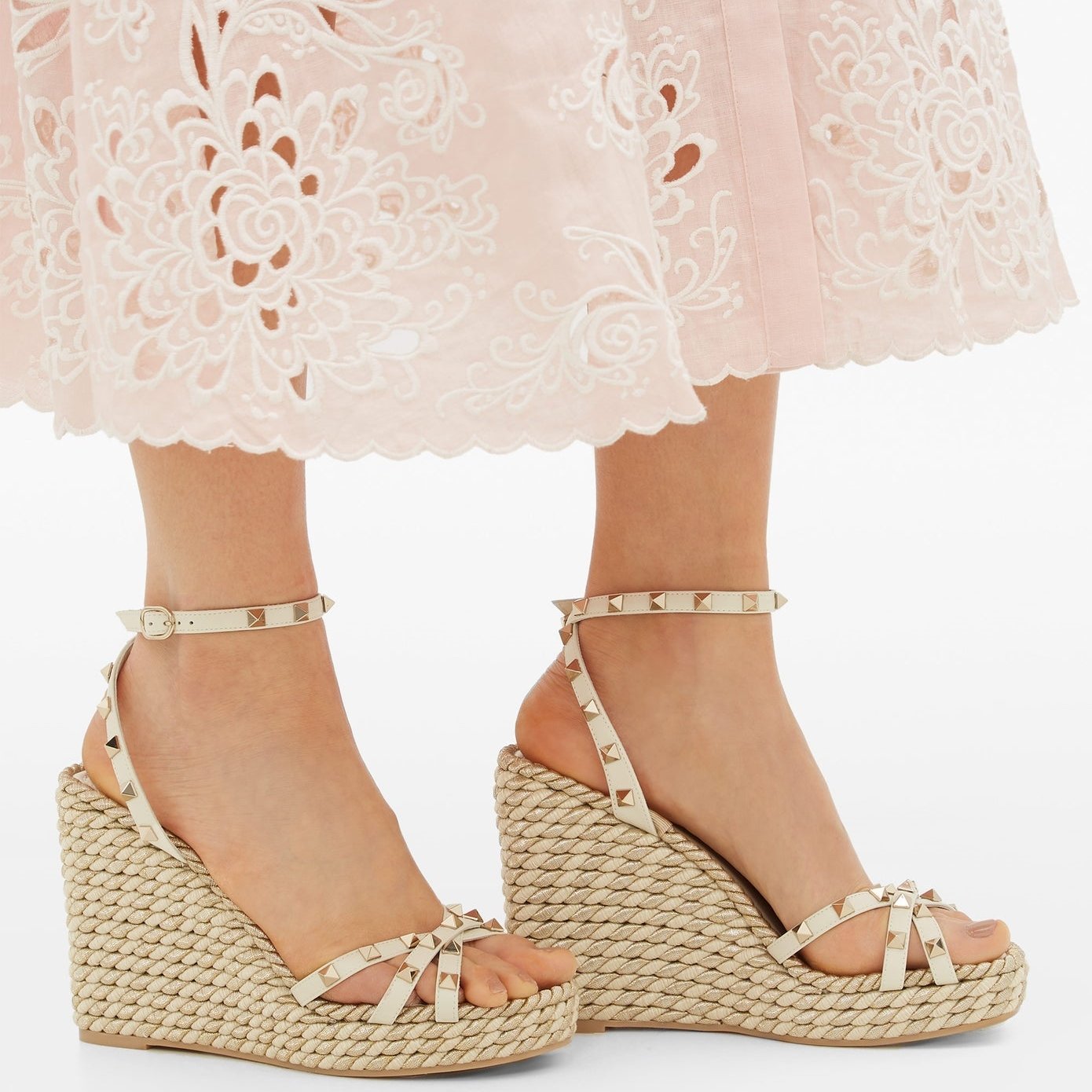 Valentino Garavani's gold Torchon sandals worn with Zimmermann's pale-pink Freja shirt dress
The Italian designer has taken the traditional high wedge sandal and given it a Rockstud twist.
The rope fabric on the wedge gives these shoes a nautical twist that is perfect for a trip to the beach or a walk along the seafront. You can elevate these shoes with a ladylike dress and pretend you're in the French Riviera.
2. Carina 90 White Canvas Espadrille Pumps, $94 at Harvey Nichols
Espadrilles are one of the most popular shoe styles. While these are most commonly flat shoes, Castañer has blended the style with the wedge shoe silhouette to create their perfect summer pumps.
You can pick these wedge shoes up in four colors, including black, red, stone, and white. The tie-up fabric at the ankle gives the shoes a feminine ballerina aesthetic.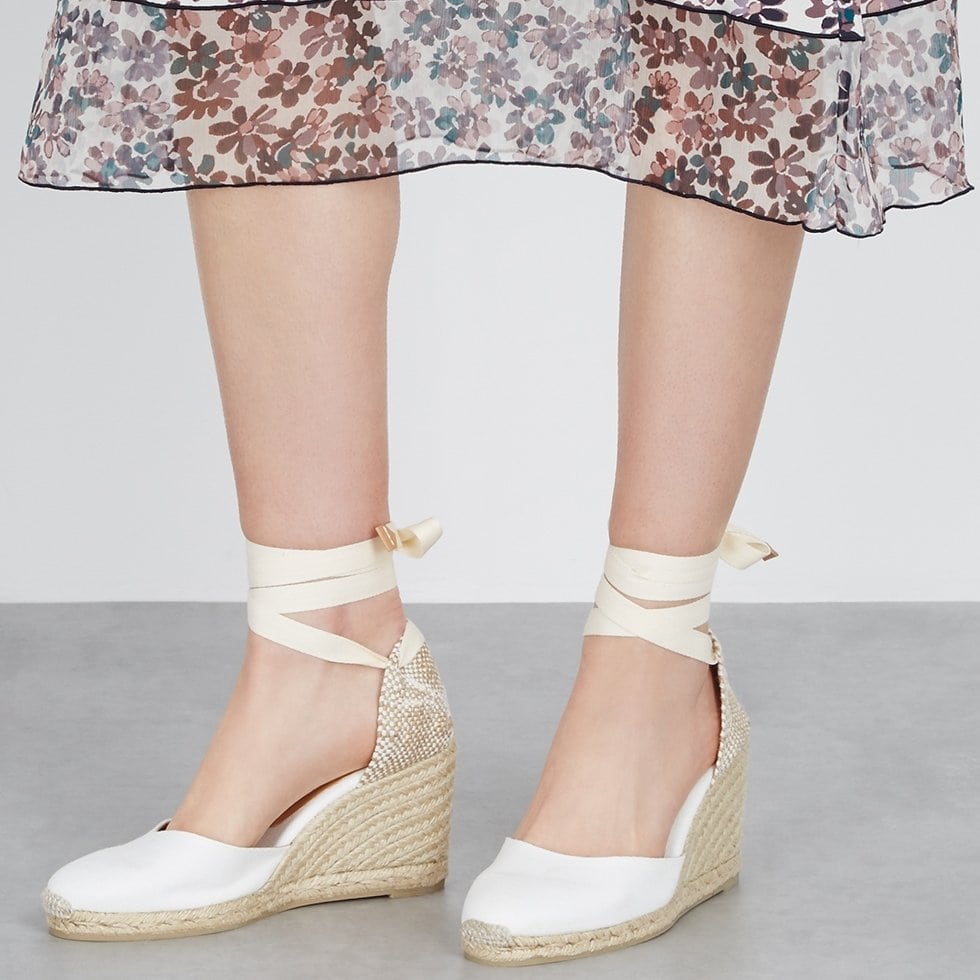 Castañer white canvas espadrille pumps with woven cut-out heel and almond toe
One thing to be mindful of with wedge shoes like this style is that they often aren't the best choice for those with wide feet. The almond toe is better suited to narrow feet but gives the shoes extra versatility.
3. Eevi Wedge Leather Courts, $210 at Selfridges
LK Bennett is a British brand made famous by the Duchess of Cambridge, who owns several pairs of their wedge shoes. The Evie style has a shorter heel that is perfect for those who are always on the go and want a pair of wedges they can wear to work or on a shopping trip.
With their round toe and 2' heel, these comfortable wedge shoes are a must-have for anyone wanting to add a touch of effortless summer glamour to their closet.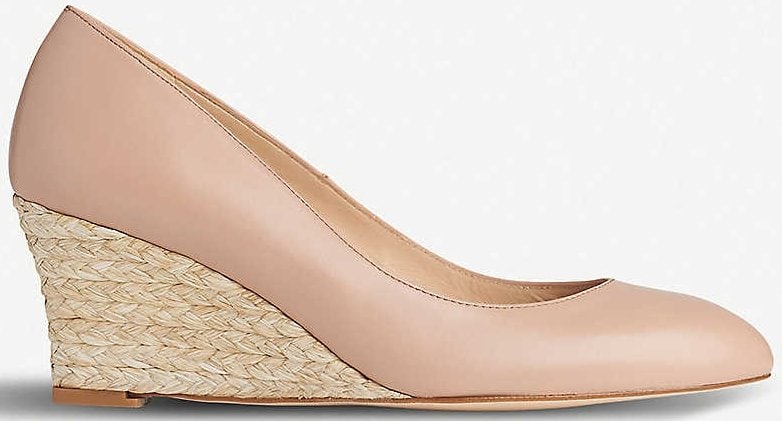 Supple leather sits atop a woven jute sole, standing on a streamlined heel with just enough height
LK Bennett has been making wedge shoes since the 90s, with their shoes being staples in British fashion since the 90s.
4. Eloise Leather Wedge Shoes, $140 at FitFlop
For a more casual wedge shoe, this style by FitFlop gives you the classic silhouette with a modern twist.
You can think of the Eloise wedge shoes as being an elevated pair of slides – giving you comfort without compromising on style. Like most wedge shoes, this style is more comfortable and easier to wear than its traditional alternatives.
Clean, classic leather wedge sandals that will elevate your look
The Eloise shoes are FitFlop's first venture into the world of high wedge soles, which include the brand's signature super-cushioned micro-wobble board. This innovative fabric gives you extra stability, so there's no need to worry about rolling your ankle.
If you've struggled to walk in wedge shoes in the past, this style gives you extra stability, making them easier to wear than your average wedges.
5. Perfect Black Multi-Logo Wedge, $298 at Zappos
Wedge shoes are a classic silhouette that adds an instant touch of sophistication to any look, especially if you pick up a pair in leather.
It's no surprise that Tory Burch, an American brand synonymous with its elegant styling, offers wedge shoes as one of their permanent designs.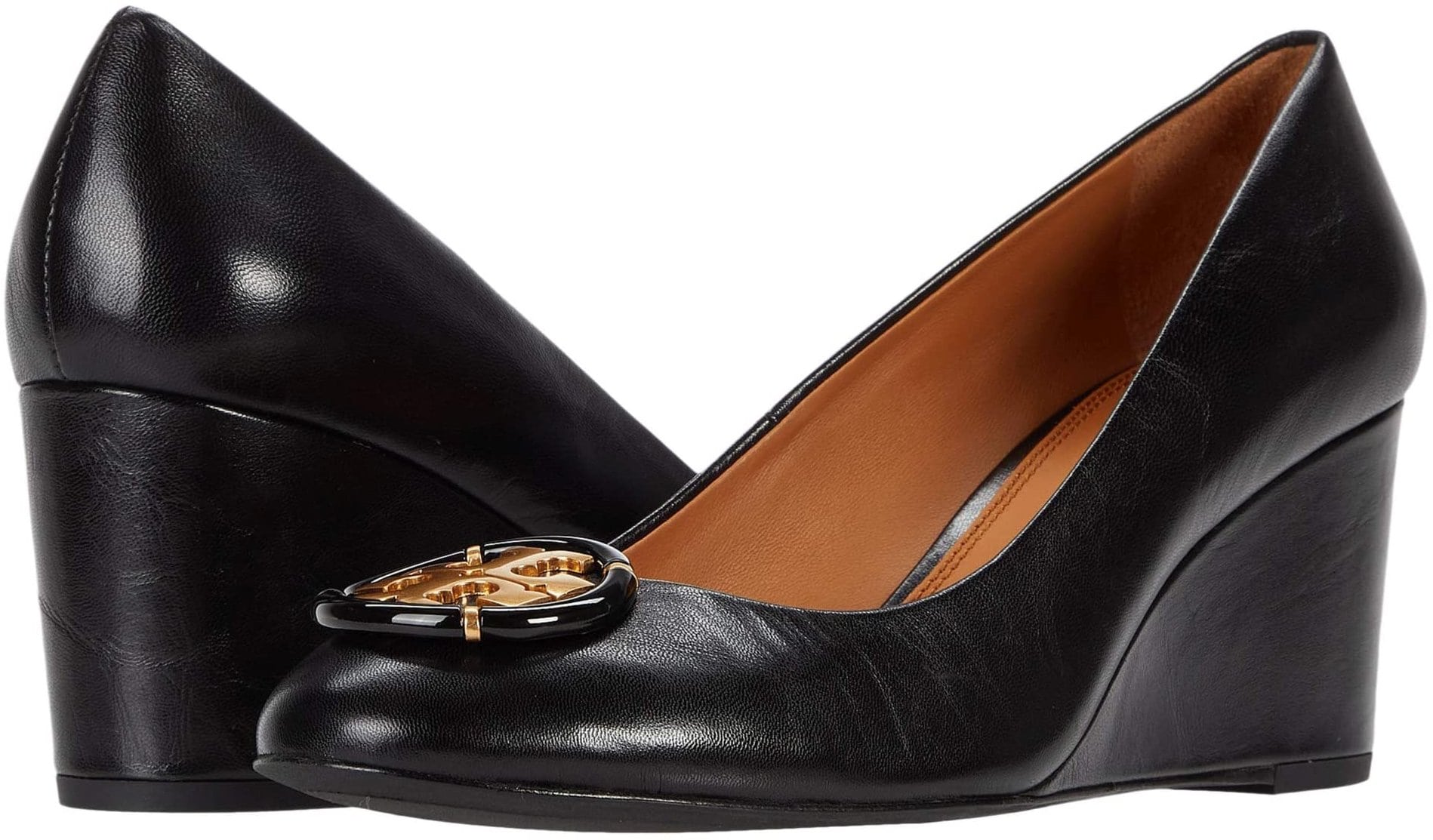 In soft, super-fine leather with a flattering almond toe and a comfortable heel, this polished wedge is perfect for day or evening
The Multi-Logo wedge features the brand's gold double-T hardware, with a flattering almond toe and 2.5' wedge heel.
With their soft goatskin leather, these shoes are the perfect alternative to some of the more expensive styles on this list. Available in classic black and tan leather color options, you can style these shoes for daytime or evening wear.
6. Cassandra Leather Wedge Espadrilles With Logo, $995 at Nordstrom
If you're a fan of wedge shoes and want to elevate your style, these Saint Laurent shoes are right up your street. These shoes incorporate the espadrille aesthetic with a jute wedge heel.
Espadrille-inspired ropes of braided jute wrap the towering wedge of a breezy, strappy sandal fronted with oversize YSL hardware
The focal point of these shoes is the metal YSL initials and adjustable buckle that give these heels a seductive look. If you're in the market for wedge shoes that you can wear to a nightclub or your next vacation, look no further than these YSLs.
These shoes are made in Italy using 100% buffalo leather that is guaranteed to give you extra comfort and style.
7. Cali Wedge Sneakers, $90 at Nordstrom
For a budget-friendly pair of wedge shoes, we have the Puma Cali wedge sneakers. This style utilizes the hidden wedge to give the shoes a signature '80s-throwback feel that still feels contemporary.
If you've ever wished you could add a little extra height to your classic white sneakers, then these are the shoes for you. White sneakers are a must-have for every woman's closet and a year-round essential that you can wear come rain or shine.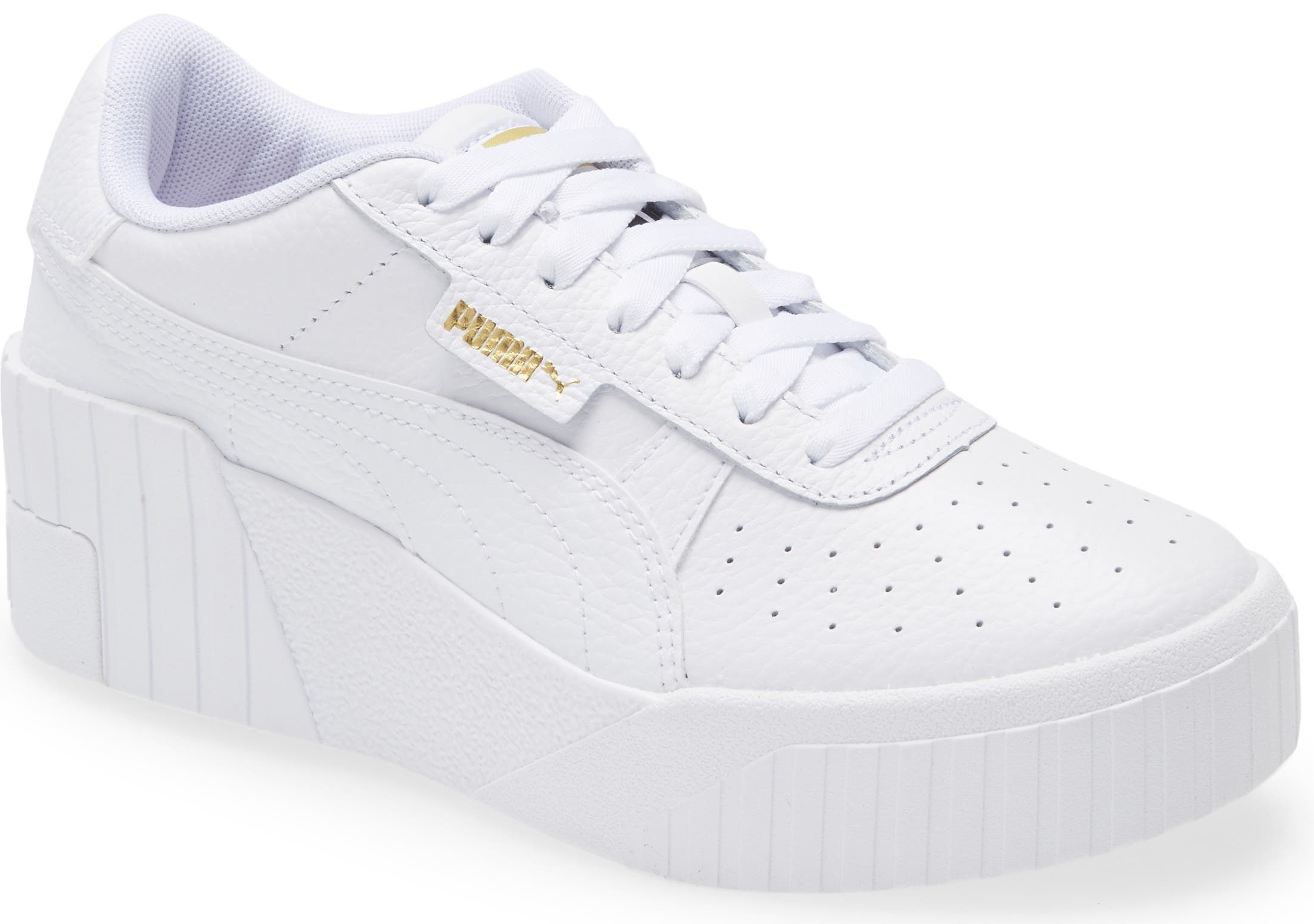 A hidden wedge ramps up the modern kick of an '80s-throwback street sneaker that pairs optic-white pebbled leather with an inky logo grounding the heel
You'll want to keep these shoes on hand for every season, whether you're wearing a floral dress or jeans and a sweatshirt.
8. Civiliza 100 Wedge-Heel Leather Knee-High Boots, $1,695 at Mytheresa
The main benefit of wedge shoes is that they make traditionally uncomfortable silhouettes more wearable. One shoe where this is most obvious is elevated knee-high boots.
These wedge shoes give you the classic knee-high silhouette with added elevation without worrying about the pressure that traditional heels can put on your legs.
Tube-style boot with a curved toe paired with Paco Rabanne's buttoned brushed wool-blend twill wrap skirt
The smooth almond-shaped toe and grained leather give these shoes a timeless look. Even with the wedge heel, you still get the aesthetic of the signature red Louboutin sole.
9. Classic Mondri Over-The-Knee Boots, $400 at Nordstrom
When often associate wedge shoes with being a go-to choice for spring and summer. These Ugg shoes question that idea and turn it on its head. These soft suede over-the-knee boots will be your favorite shoes to wear this fall and winter.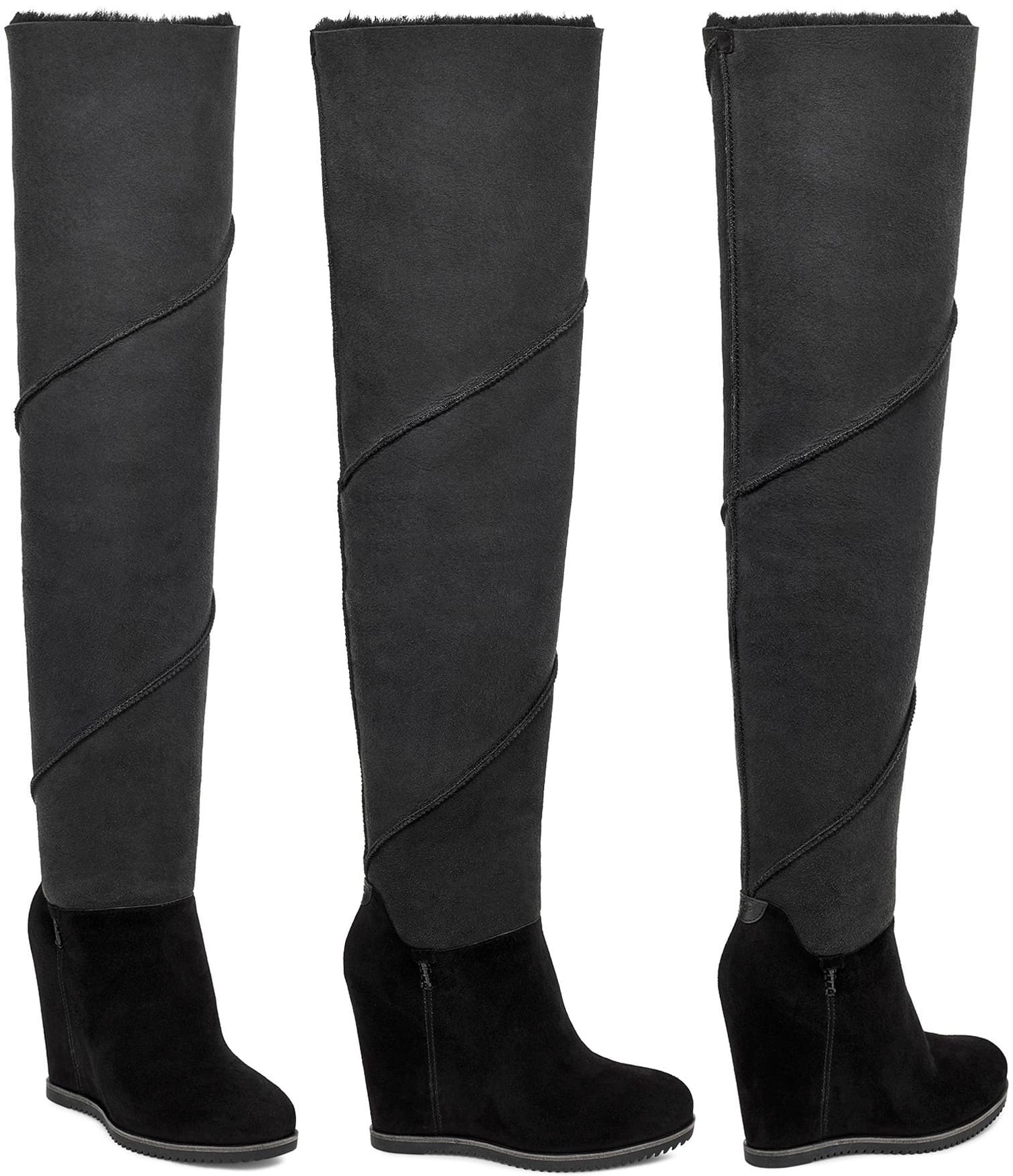 A walkable four-inch wedge adds some serious height to an over-the-knee suede boot lined in incredibly plush shearling
The wedge heel makes these shoes more wearable, with a sheep suede material that cleverly hides the wedge. These are some of the most comfortable shoes on this list as they have a lamb-lined insole and molded rubber outsole.
10. Olympia Leather Mix-Media Trainer, $170 at Michael Kors
If you were to come across these shoes in a department store, your mind might not instantly recognize them as wedge shoes.
These sneakers are the must-have style from Michael Kors featuring croc and snake-embossed panels and an elevated wedge sole. You can wear these shoes with everything from your go-to loungewear sets to a midi dress.
A futuristic sole brings striking height and retro-inspired flair to a sporty sneaker featuring a mixed-media design
If you're thinking of giving your closet a refresh, then wedge shoes are a must-have investment. These shoes have stood the test of time and continue to evolve with fashion trends.
Whether you're a fan of the Ferragamo-inspired cork sandals or the modern wedge sneakers, there's a style out there for you.