Sneakers for fashion are officially here to stay. While some people are saying that wedge sneakers will soon lose their charm, we don't see this happening in 2014. Hi-top (non-wedge) classics, our perennial favorites, will likely remain just as popular as well.
We actually find it hard to believe that high heel tennis shoes (especially wedge sneakers) will lose their popularity soon because celebrities are still making them happen.
Celebrities from London to Hollywood have been making sporty footwear their go-to shoes for running errands, traveling, and whatnot. We're not surprised, really. After all, sneakers, are a lot like ballet flats — very comfortable — with the additional benefit of keeping your feet warm and protected.
Check out the following ladies spotted sporting their kicks in the last two days. Maybe you should take this as your cue to take out your sneakers for a spin today.
1. Jessie J in Jimmy Choo
Jessie J was spotted out and about in Soho, New York City, while decked in fur and a pair of glimmering mixed-media wedge sneakers from Jimmy Choo — the "Panama."
Jessie J decked in fur in Soho, New York City, on March 11, 2014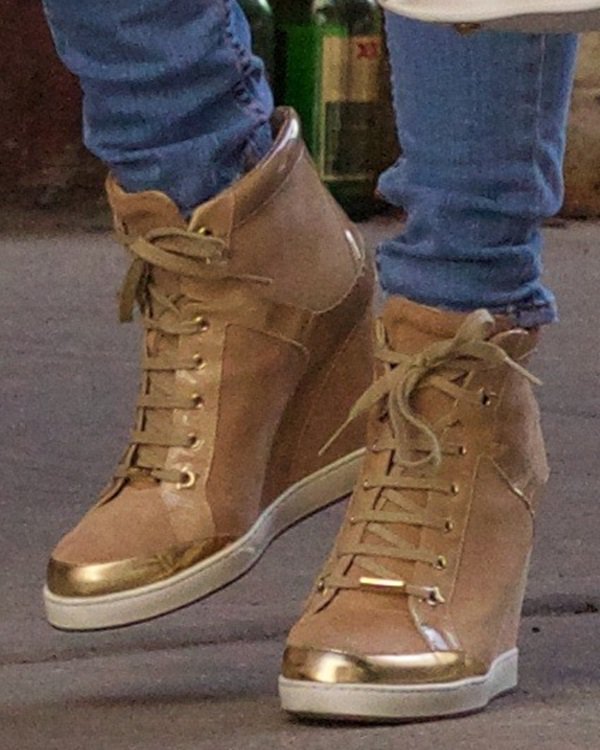 Jessie J wearing Jimmy Choo gold-detailed sneakers
Jessie's Panama sneakers come in several renditions. These shoes are crafted from a mix of suede, patent, and metallic leather.
They also feature 4.5-inch-tall wedge heels, lace-up closures, and classic rubber outer soles. You can score a similar pair at Nordstrom.
Jimmy Choo Panama Wedge Sneakers in Nude, $795 at Nordstrom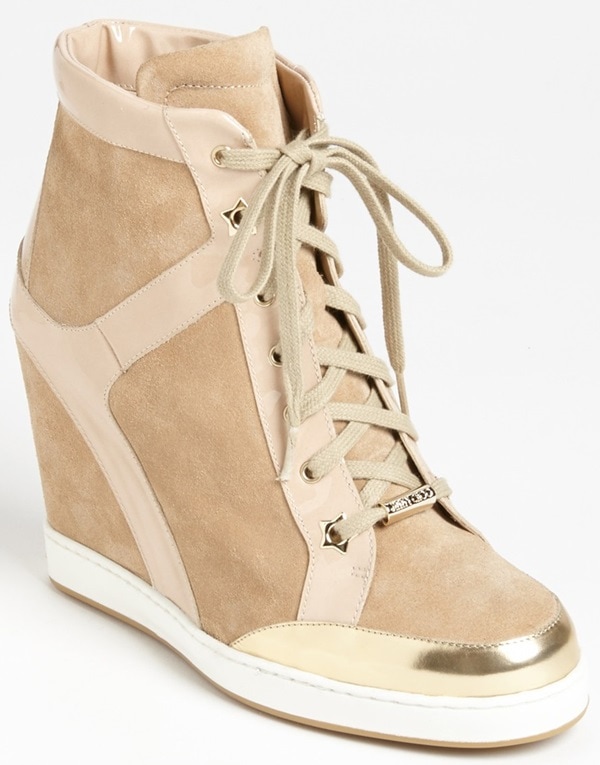 If you're not fond of wedge heels, Bluefly currently offers the non-wedge hi-top versions of the Panama on their site right now. They're slightly cheaper than those at full retail price, so they might be worth considering.
Jimmy Choo Tokyo Hi-Top Sneakers, $419.50 (before $550) at Bluefly
2. Sarah Jessica Parker in Philippe Model
Sarah Jessica Parker was spotted taking her kids to school yesterday while sporting printed pants and a pair of olive green wedge sneakers from Philippe Model.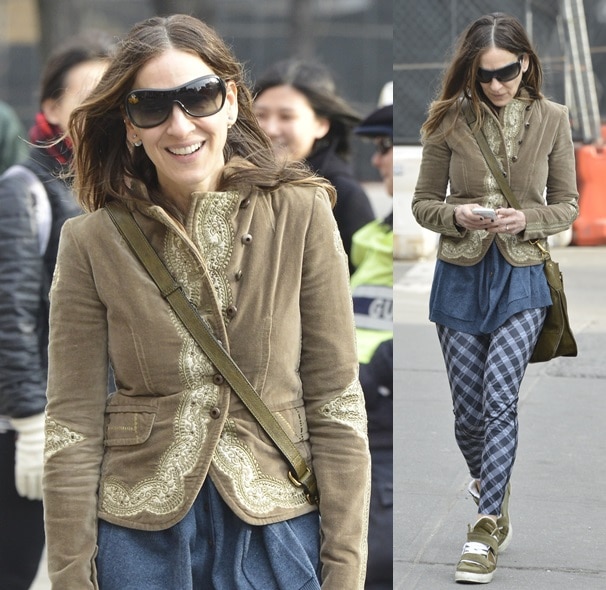 Sarah Jessica Parker sporting an interesting outfit while taking her kids to school in New York on March 12, 2014
We can't say that this outfit was her best, but she somehow magically pulled it off.
Sarah Jessica Parker in printed pants and olive green wedge sneakers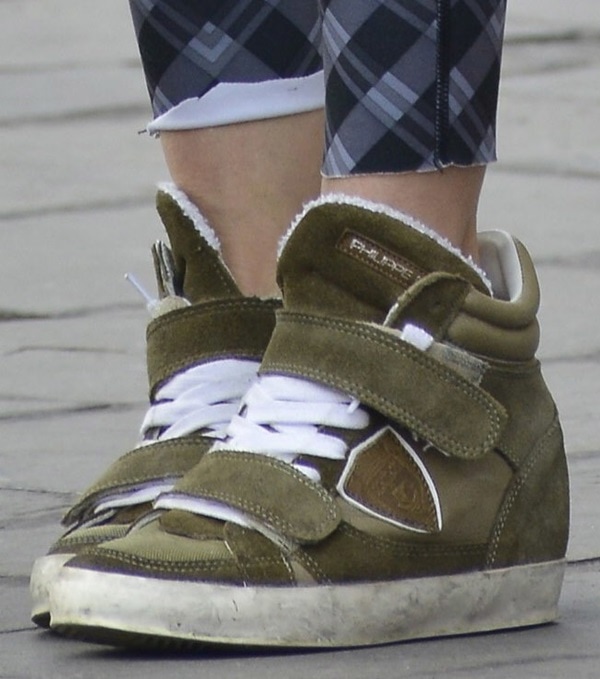 Sarah Jessica Parker wearing sneakers by Philippe Model
Sarah's Philippe Model sneakers can be found at Farfetch. These sporty kicks are made of suede and leather and feature a combination of lace-up and Velcro fasteners. The wedge heels are about 4 inches tall, so they're pretty comfortable to walk in.
If you don't mind shopping at stores based in Europe (in which case, shipping may cost you), feel free to order these sneakers in your size. They retail at $326.
Philippe Model Hi-Top Wedge Trainers, $385 at Farfetch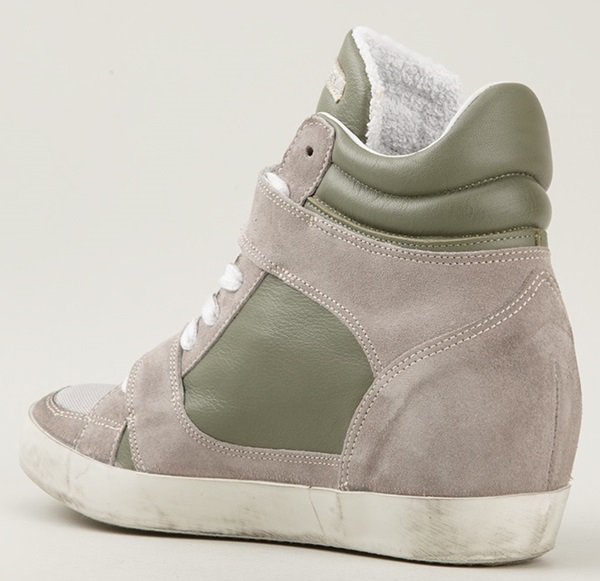 3. Cara Delevingne in Jimmy Choo
Party girl Cara Delevingne was spotted hanging out in North London with her girlfriends while suited up in a printed jacket and a pair of sleek black studded sneakers from Jimmy Choo — the "Tokyo."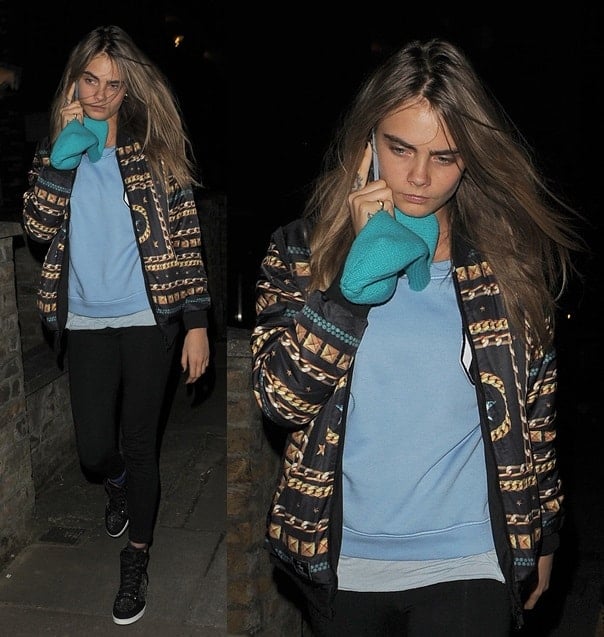 Cara Delevingne enjoying a night out with her friends in North London, England, on March 12, 2014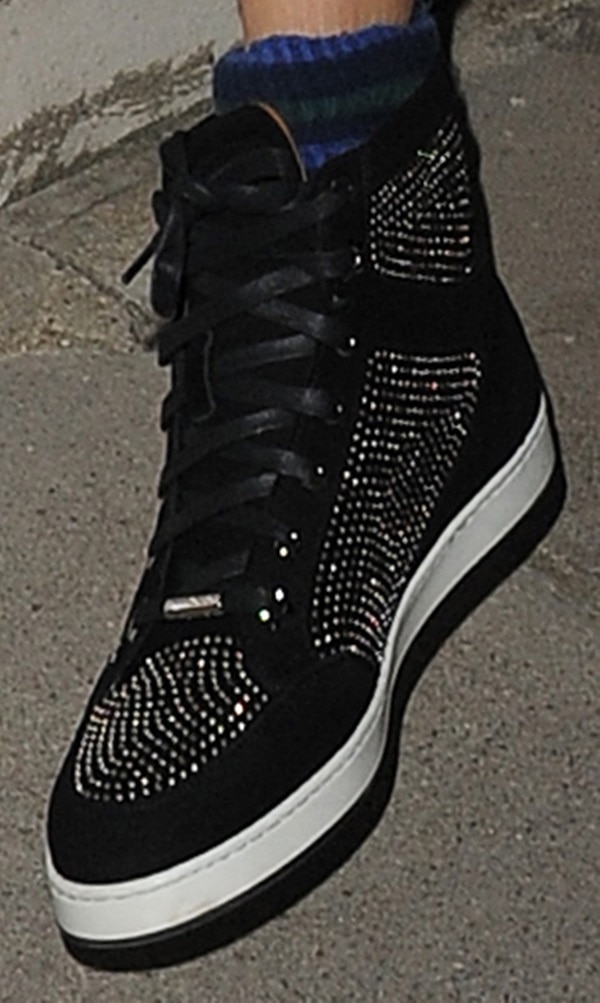 Cara Delevingne rocks Jimmy Choo Tokyo studded sneakers

Cara's Jimmy Choo Tokyo kicks do not have wedge heels. But they do feature the hi-top silhouette, and they're sprinkled with a million metal studs all over. If you're interested, you can grab these sneakers at Farfetch.
Jimmy Choo Tokyo Studded Hi-Top Sneakers, $1,095 at Farfetch
4. Kendall Jenner in Chunky Red Hi-Tops
Another lady we found sporting some hi-top sneakers while out and about in Hollywood was Kendall Jenner. The reality-TV-star-turned-model wore a pair of chunky poppy-coral-hued hi-tops with her very casual ensemble.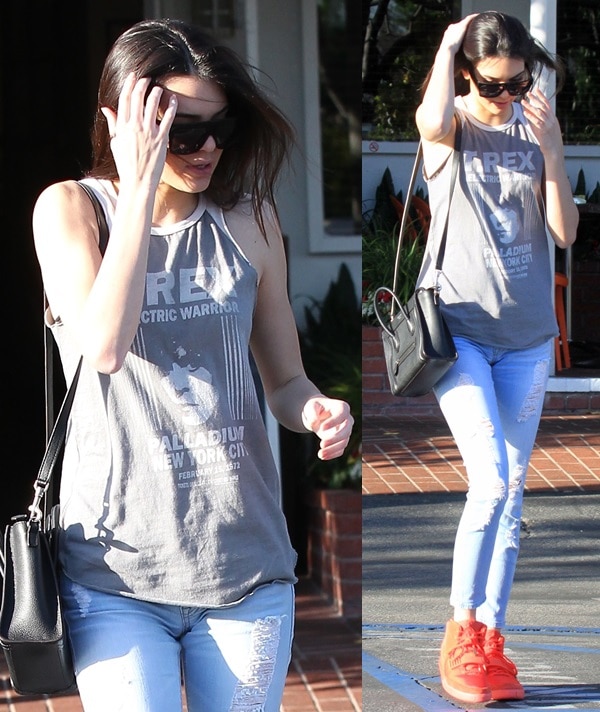 Kendall Jenner shopping at Fred Segal in bright coral red hi-top sneakers in Hollywood on March 12, 2014 
We had a hard time figuring out her shoes, so we're going to ask for your help instead. Any idea where she got those kicks?
Kendall Jenner's chunky poppy-coral-hued hi-tops
If you want Kendall's sneakers, you can steal the look with the following DC "Rebound" hi-tops instead. These shoes will only set you back a relatively easy $80.
DC Rebound Hi-Top Sneakers, $80 at Amazon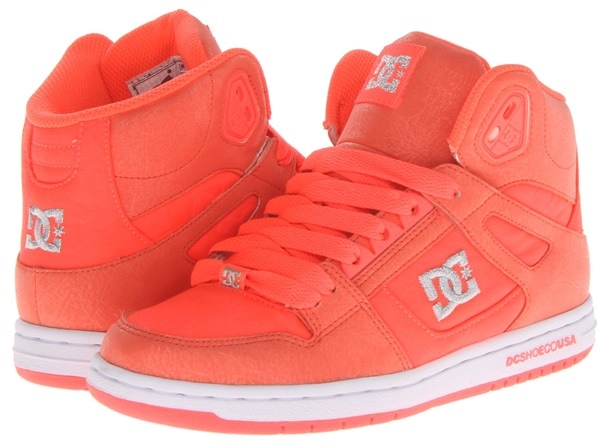 Credit: Will Alexander / revolutionpix / TNYF / Alberto Reyes / WENN