'Aesthetic' is a word that slips from the world of art and into our everyday vocabulary – thanks in no small part to TikTok. Every week there seems to be a new fashion aesthetic filling our FYP. Some stick around long enough to become trends in their own right.
The 'coquette aesthetic' is one that any fan of movies like Marie Antoinette, the Swan Princess, and Mean Girls will feel right at home with.
This ultra-feminine aesthetic is one of the most popular trends of 2023. It rejects minimalism and embraces the idea that you can never have too much going on.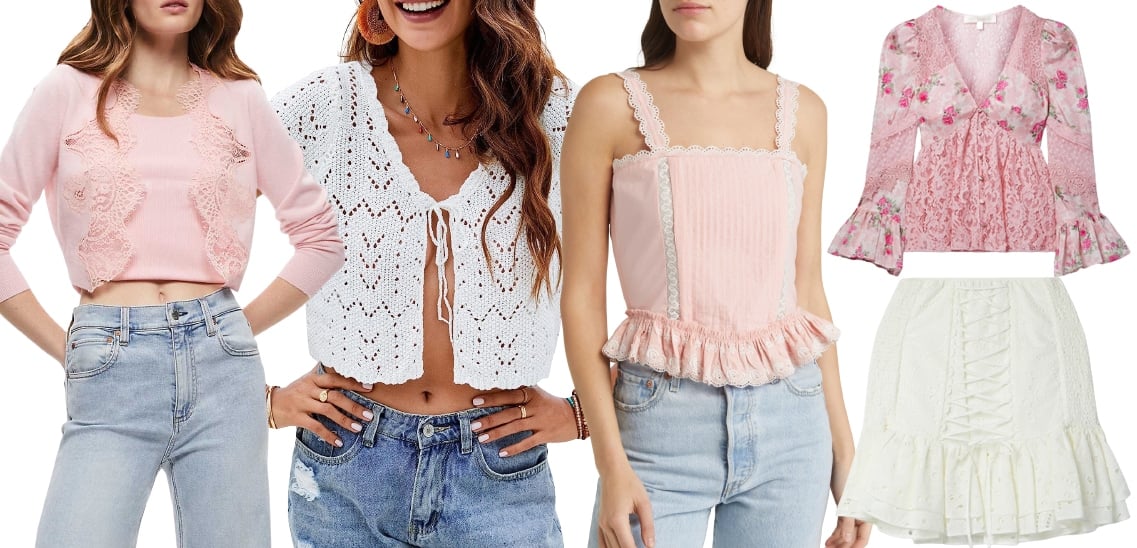 Coquette aesthetic refers to a look that embraces all things feminine and romantic, often featuring lace, pointelle knits, ribbons, soft pink, and frills
We're deep diving into the world of the coquette aesthetic, breaking down the style and how you can jump on this TikTok viral trend.
Meet the coquette aesthetic
Bows, hearts, lace, ribbon, and frills. The tell-tale signs of the coquette aesthetic. This fashion trend is all about embracing the romance of life and seeing the world through rose-tinted glasses.
It's an aesthetic that calls upon all things feminine, from whimsical hair accessories to a pastel color scheme.
Coquette aesthetic makes use of pastel color schemes and whimsical hair accessories, among other feminine elements
You'll often see the 'coquette aesthetic' being associated with the so-called "soft girl" look. It's similar to other feminine aesthetics, including balletcore and cottagecore.
The coquette aesthetic sits at a crossroads between these looks, preppy fashion, and dark academia.
Like every aesthetic, music plays a strong role in influencing this fashion trend. Lana Del Rey is often cited as the 'it girl' of coquette fashion, particularly in the early stage of her career.
If your favorite album is Lana's 2012 'Born to Die,' you'll step seamlessly into the world of hyper-feminine coquette fashion.
Singer Lana del Rey has been cited as the it girl of coquette fashion, particularly during the early stage of her career (Credit: BauerGriffin / INSTARimages / Ian West / PA Images / Nicolas Briquet / Abaca / FAUSTINE / Dalle / Startraksphoto)
The coquette aesthetic existed long before TikTok. It takes most of its inspiration from the 'Lolita' look, named after the book by Vladimir Nabovok that has inspired a subculture of Rococo and Victorian-era fashion in Japan.
While coquette fashion has moved beyond its Lolita origins, the aesthetic is now about being unapologetically feminine.
What is a coquette girl?
According to the Britannica Dictionary, the word "coquette" means "a woman who likes to win the attention or admiration of men but does not have serious feelings for them."
The coquette girl is someone who isn't afraid to be flirtatious with their personality or their fashion.
View this post on Instagram

The coquette girl sees fashion as the ultimate form of self-expression, taking inspiration from various time periods in recent centuries without forgetting about contemporary trends. The coquette girl is classic without looking dated.
The modern coquette girl takes her style inspiration from Sofia Coppola movies – including one of this summer's blockbusters, Priscilla – and ballet films like Black Swan.
What is the coquette trend in 2023?
The coquette trend in 2023 is all about having fun with fashion through a feminine lens. It's a mix-and-match of classic staples like lace blouses with vintage-inspired miniskirts and contemporary platform heels.
The coquette aesthetic is one of the most versatile, allowing you to mold it to fit your style.
View this post on Instagram

The 2023 coquette trend is all about embracing pearls and gold for a look that blends the elegance of royalcore with the delicacy of balletcore.
The message at the heart of this year's coquette trend is to enjoy the simple pleasure of exploring your identity through fashion.
What Is the Difference Between Dollette and Coquette?
Dolette is the aesthetic most often compared to 'coquette.' You can think of the coquette aesthetic as the top level of girlycore – giving you a little of every feminine aesthetic, all rolled up with a pretty pink ribbon.
View this post on Instagram

Dollette is a type of coquette aesthetic that emerged on social media in recent years, primarily on TikTok and Pinterest.
It used to be called "Girlblogger" during the early to mid-2010s. The aesthetic is like coquette with a focus on feminine makeup, pink color palettes, and floral prints.
It's easiest to think of the dollette trend as being a type of coquette aesthetic.
What Is the Coquette Aesthetic Controversy?
The coquette aesthetic controversy comes from its earlier association with the 'Lolita' trend. Today's coquette trend focuses on recreating the fashion look rather than the lifestyle choices of the source inspiration.
The negative connotations of the coquette aesthetic are largely in the past, with Gen Z reimagining the trend as empowering people through embracing their femininity rather than oversexualizing the concept of innocence.
5 Pieces to kickstart your coquette aesthetic
Are you thinking of experimenting with the coquette aesthetic? Chances are you already have most of the pieces you'll need hanging in your closet. Here are five pieces that will kickstart your adventures with the coquette trend.
1. Vivienne Westwood Pearl Necklace
If there were a membership badge for the coquette aesthetic, it would be the sell-out Vivienne Westwood pearl necklace.
The British brand's iconic necklace reimagines the classic pearl necklace with a rockstar punk twist. You'll find this pearl choker available in several strand and metal options to fit your aesthetic.
Vivienne Westwood's pearl necklace is the perfect addition to a coquette look
2. Corsets: The Coquette's Secret Weapon for a Sensual, Feminine Look
One of the essential coquette pieces is a corset. Search thrift stores and online retailers for vintage corsets that you can incorporate into your everyday style by layering over button-up shirts and dresses.
Hudson Jeans Crop Corset Top, $165 at Hudson Jeans; House of CB Lisette Floral Lace Corset Camisole, $135 at Nordstrom; Fleur du Mal Rose Cup Cropped Bustier, $395 at Saks Fifth Avenue
3. Ballet Flats: The Coquette's Go-To Shoes for a Feminine, Effortless Look
Ballet flats are one of the 'it' shoes of 2023 and a must-have for every coquette girl. These feminine flats are comfortable enough to wear all day long and look effortlessly chic.
Pick up a pair in a neutral shade, or go all out with a pop of color for a flirty feel.

Valentino Garavani Tan-Go Patent Leather Ballerinas, $850 at Mytheresa; Chinese Laundry Audrey Mary Jane Ballet Flat, $69.95 at Nordstrom; Chloe Scallop-Edge Ballet Flat, $530 at Farfetch; Miu Miu Logo Strap Ballet Flats, $950 at Farfetch
4. Ribbons: The Coquette's Go-To Accessory for a Touch of Femininity
One of the easiest ways to add the coquette aesthetic to your closet is by buying a roll of ribbon. Choose one in your signature color, or keep it simple with a neutral shade.
You can wear ribbon in your hair or get creative and use it to dress up your go-to accessories, whether it's your backpack, bracelets, or cardigans. Amazon has a great selection of ribbons to finish your coquette look.
Liuyaxi Solid Ivory Grosgrain Ribbon, $5.50; Handyman Crafts Pink Double Faced Satin Ribbon, $5.99; Vitalizart 3 Rolls Handmade Fringe Chiffon Silk Ribbon Gauze, $14.99
5. Maxi Skirts: A Coquette's Guide to Looking Feminine and Sophisticated
Another 2023 trend that comes from the coquette aesthetic is the maxi skirt. This feminine silhouette will take you effortlessly from day to night, whether you're going on a date or grabbing brunch with your girlfriends.
It's worth choosing a maxi skirt that compliments your natural silhouette and works for your height.
Amen Asymmetric Maxi Skirt, $335 (from $557) at Farfetch; Naadam Mixed-Media Maxi Skirt, $375 at Saks Fifth Avenue; Free People Free-est Simply Smitten Tiered Cotton Maxi Skirt, $78 at Nordstrom; Bambah Sequin-Embellished Ruffled Maxi Skirt, $2,303 at Farfetch
Take your first steps into the coquette aesthetic with this in-depth guide to the new 'it girl' fashion trend.