Dakota Fanning and her sister, Elle, are both stunning young women. Their blue eyes, blonde hair, and alabaster skin make them angelic and ethereal-looking — beauty that is probably considered a cut above the rest.
Incidentally, their sartorial choices also veer toward the eccentric. A case in point would be the outfit Dakota wore to the Rodarte presentation during Mercedes-Benz Fashion Week on Tuesday. For the occasion, the young actress slipped into an open knit cardi and a salmon-hued high-low frock that flaunted major cleavage. It was definitely a distracting sight, especially coming from a child star like Dakota. But even more interesting were the shoes she wore to finish the ensemble — round-toe black-and-white pumps that were completely mismatched.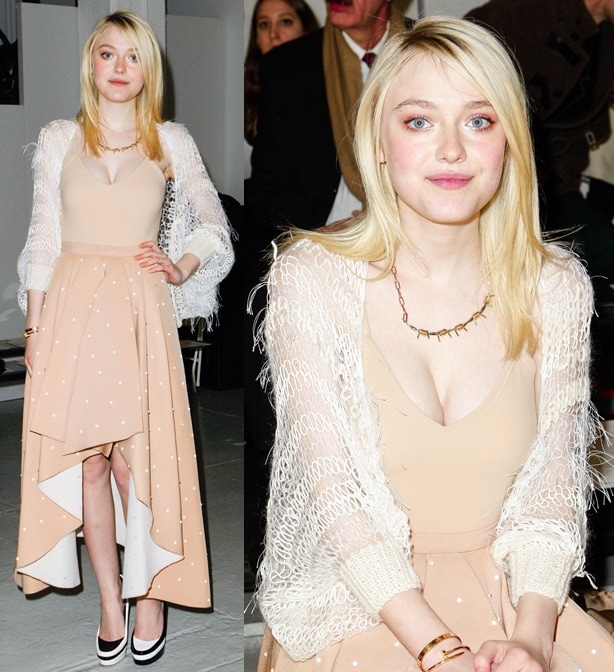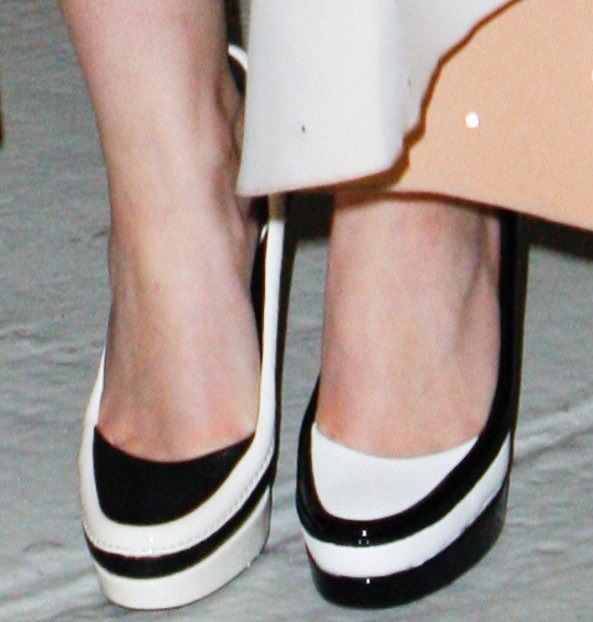 Dakota Fanning wearing mismatched heels with a revealing dress at the Rodarte presentation during Mercedes-Benz Fashion Week in New York City on February 11, 2014
Wow. She's all grown up! And another big WOW. Those shoes look really strange.
What do you think of the unexpected pairing? And by unexpected, we don't just mean the fact that they're mismatched but also the fact that the shoes don't really go well with the dress. Do you appreciate the shoes or the young star's ensemble?
You know, she doesn't look that bad actually. The pumps are in classic black and white, so they don't look tacky. Yes, a more mainstream (and matching) pair would have been more appropriate, but let's be honest, we all know that was not what she was going for.
Now, the idea of wearing mismatched heels (or any kind of mismatched shoes) may be quirky, but if it's something you go for, you can easily do that without having to buy a pair that is intentionally mismatched. One easy way to rock the look is to wear different colors of the same style of shoes.
If you want to take it a little further, you can play with prints of the same style or play with the same color palette using totally different shoe styles. Of course, be sure to pick shoes that have the same heel heights. Otherwise, you'll end up walking funny.
Try these mash-ups we put together using Steve Madden's "Deeny" ankle-strap pumps and French Connection's "Madeline" slingback pumps:
Steve Madden "Deeny" and "Deeny-R" Pumps
French Connection "Madeline" Slingback Pumps in White Combi and Black
Credit: SIPA/WENN