At the 2023 Golden Globes, American Pie actress Jennifer Coolidge stole the show, not just once but twice, and had everyone in stitches with her hilarious antics.
The Emmy-winning actress looked ethereal in a shimmering Dolce & Gabbana gown as she walked the red carpet at The Beverly Hilton in Beverly Hills on Tuesday, January 10.
Jennifer Coolidge in an off-the-shoulder Dolce & Gabbana gown at the 80th Annual Golden Globe Awards at The Beverly Hilton on January 10, 2023, in Beverly Hills, California (Credit: DDP / INSTARimages / Cover Images)
Gaelle Paul styled her in a black column gown with long sleeves and cold-shoulder straps covered in glittering sequins. A row of monotone black crystals embroidered over the bust completed the glitzy appearance.
Coolidge's ensemble was rounded off with a black sequined clutch that matched her earrings and necklace by Graziela Gems, and she slipped into a stylish pair of Christian Louboutin shoes.
Jennifer Coolidge's voluminous and teased hairstyle was curled into loose waves, adding a touch of glamour to her overall look (Credit: DDP / INSTARimages / Cover Images)
Her trademark blonde hair was backcombed and styled in a subtle wave. The celebrity went for an understated but stunning look, with just a hint of brown eyeshadow and a natural lip.
Entertaining and Relatable Award Ceremony Humor
For her first appearance of the evening, The White Lotus cast member presented the honor of Best Performance by an Actor in a Supporting Role in a Musical-Comedy or Drama Television Series.
The legendary Jennifer Coolidge made a spectacular speech before presenting the winner in this category, Tyler James Williams of "Abbott Elementary." She joked about everything from Crocs to how to say Kaley Cuoco's surname correctly.
She began her remarks by admitting that she had accepted the assignment to present the category, then immediately felt a sense of dread. The way she worded it made it sound so familiar.
"I said, 'Oh my god, that is such an honor. Thank you. Thank you so much. Yes, I would love to.' And I hung up on her. And then I thought about it for a little bit, and I just had a complete anxiety attack."
Jennifer Coolidge claimed she expressed concern to the Golden Globes representative over the polished stage floor. "I said, 'Cara I'm so touched that you'd want me to do this, but there's no way I'm gonna make it from behind the curtain all the way to the podium without breaking my skull… I just can't do it.'"
Her worries prompted the representative to suggest the comedian "wear a pair of Crocs." But she didn't like the idea. "And I said, 'What, are you kidding me? With my Dolce & Gabbana dress, you know, all those crazy Italians would lose their minds!'"
She went on to note that the "ticker tape" (teleprompter) and "the pronunciation of people's names" were additional sources of anxiety for her.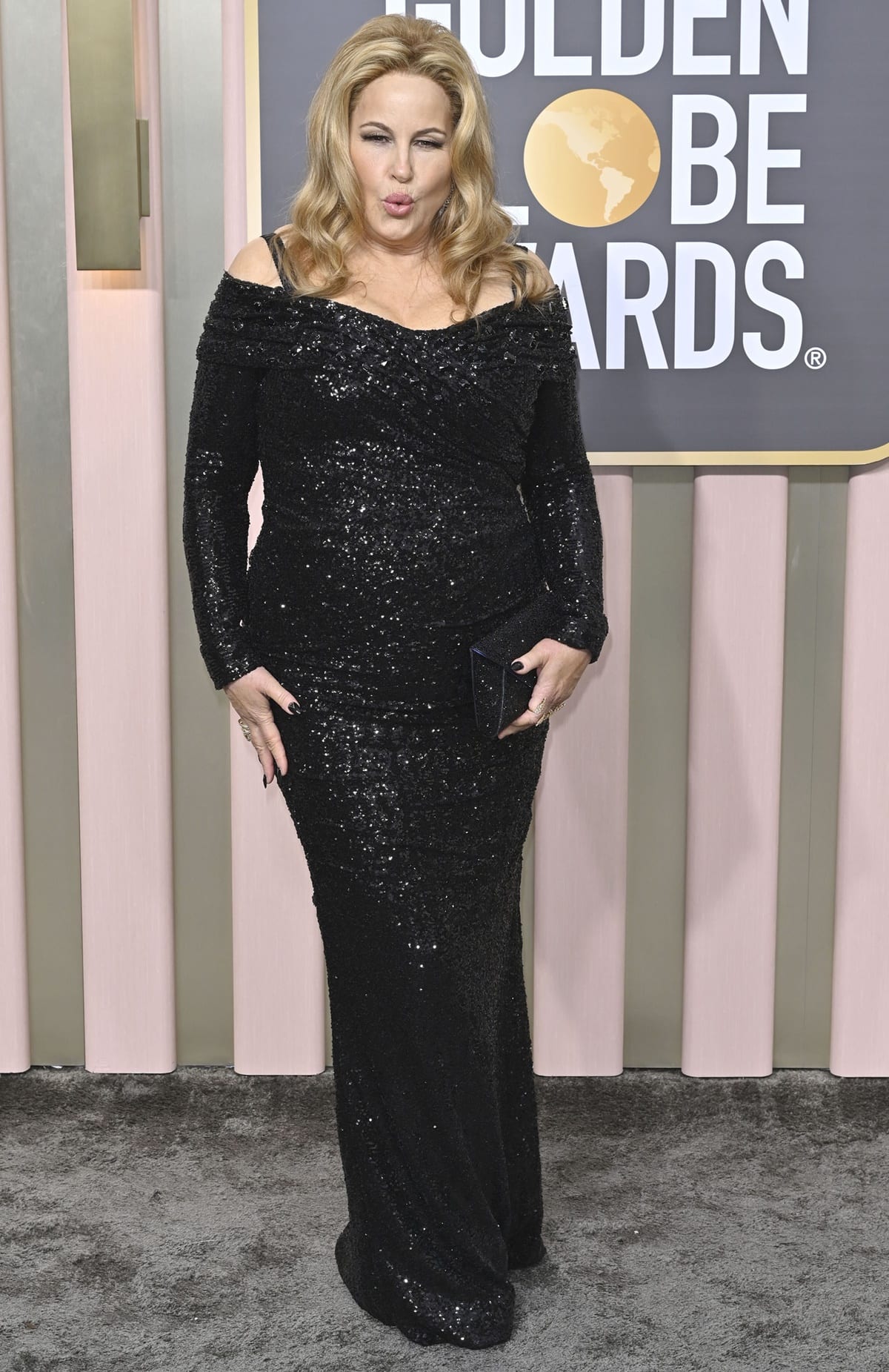 Jennifer Coolidge made everyone laugh with her viral speech while presenting the Best Supporting Actor in a TV Series at the 2023 Golden Globes (Credit: DDP / INSTARimages / Cover Images)
The Old Navy commercial actress addressed the crowd, "You know, once I say someone's name the wrong way, I'm screwed. I can't do it. Like you hear it that one way, and you can't undo it," and she proceeded to butcher Bill Nye and Kaley Cuoco's names.
Amusing and Heartfelt Acceptance Speech
Jennifer Coolidge reappeared on the stage at the Beverly Hilton Hotel to win her first Golden Globe Award, and her victory speech was widely hailed as a high point of the show.
Her role as Tanya McQuoid in Mike White's critically acclaimed HBO series "The White Lotus" earned her the prize for Best Supporting Actress in a Television Limited Series/Motion Picture.
The 61-year-old actress bested Claire Danes in Fleishman is in Trouble, Daisy Edgar-Jones in Under the Banner of Heaven, Niecy Nash in Dahmer- Monster: The Jeffrey Dahmer Story, and co-actor Aubrey Plaza in The White Lotus.
Jennifer Coolidge picked up her first-ever Golden Globe for her performance as Tanya McQuoid in the American black comedy-drama anthology television series The White Lotus (Credit: HBO)
Coolidge started her speech by saying, "Thank you, Hollywood Foreign Press. It really means a lot," then joked about the award statue she had just been given. "I can put this down, right? I don't work out, you know? What I mean is I can't hold it that long."
The American Pie star quickly acknowledged the producers, directors, and writers who had cast her in roles over the years. These people included Ryan Murphy, Michael Patrick King, and Reese Witherspoon.
She used a significant portion of her moment to express her great admiration for "The White Lotus" director Mike White. Her passionate, occasionally profanity-laced monologue brought tears to the producer's eyes.
"I had such big dreams and expectations as a younger person, but what happened is they get sort of fizzled by life. I thought I was going to be the queen of Monaco even though someone else did it," Coolidge remarked.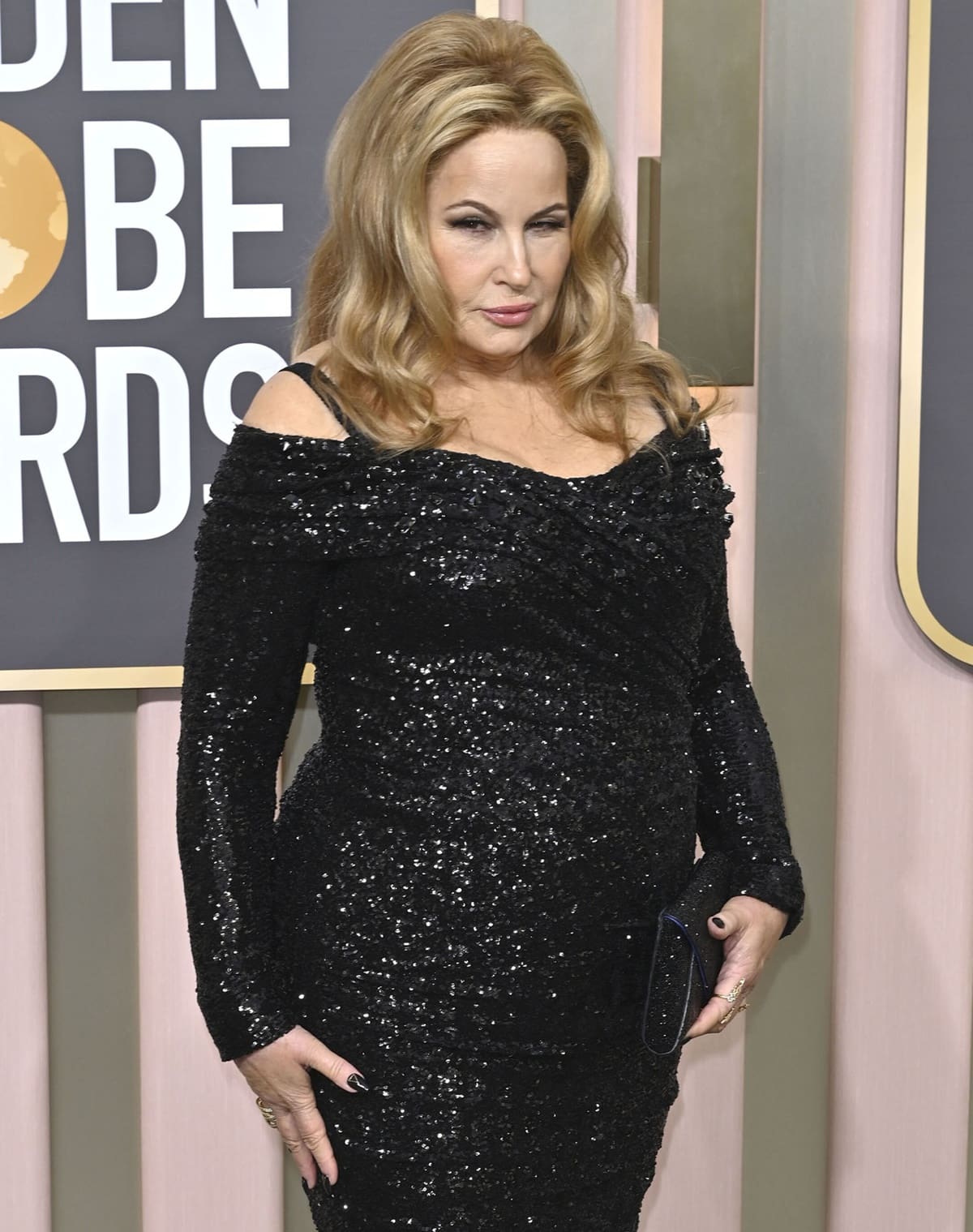 Jennifer Coolidge won the award for Best Performance by an Actress in a Supporting Role in a Limited Series, Anthology Series or Motion Picture Made for Television (Credit: DDP / INSTARimages / Cover Images)
"And then you get older and think, 'Oh, what the f*** is going to happen? And, Mike White, you have given me hope. You've given me a new beginning. You changed my life in a million different ways."
She elaborated, "If you don't know Mike White, this is what you should know. He is worried about the world, he's worried about people, he's worried about friends of his that aren't doing well. He's worried about animals. He really is one of the greatest people."
Coolidge continued, "You make people want to live longer — and I didn't! Mike, I love you to death."
Jennifer Coolidge's charming and humorous speeches at the Golden Globes solidified her role as a Hollywood comedic icon. It's about time she took home the award for her outstanding performances, and we can't wait to see what she'll bring to the table next!