Many actors and actresses in Hollywood have that one specific "thing" they're known for, and for 61-year-old Jennifer Coolidge, it's her voice.
Coolidge's voice is very unique, to the point that it's instantly recognizable. Though you may not know her by name, there's no way you couldn't pick her voice lines out of the crowd in titles like Best In Show, American Pie, or The White Lotus.
Aubrey Plaza in Monot, Jennifer Coolidge in Dolce&Gabbana, and Jon Gries attend the Los Angeles Season 2 Premiere of the HBO Original Series "The White Lotus" at Goya Studios on October 20, 2022, in Los Angeles, California (Credit: Featureflash Photo Agency / Shutterstock)
Not to mention her many iconic lines spoken with her trademark deadpan delivery, like in Legally Blonde: "You look like the Fourth of July. Makes me want a hot dog real bad."
Unfortunately, not everyone loves Jennifer Coolidge's voice.
Recently, the internet has been up in arms about an Old Navy commercial that the actress appeared in, simply titled "Old Navy Gifting 2022".
The commercial is strange, to say the least. The opening frames feature a tagline that says, "This #ad was #inspired by the #internet" as Jennifer Coolidge plays a white piano while singing a bastardized version of "Tis The Season to Be Jolly" filled with hashtags.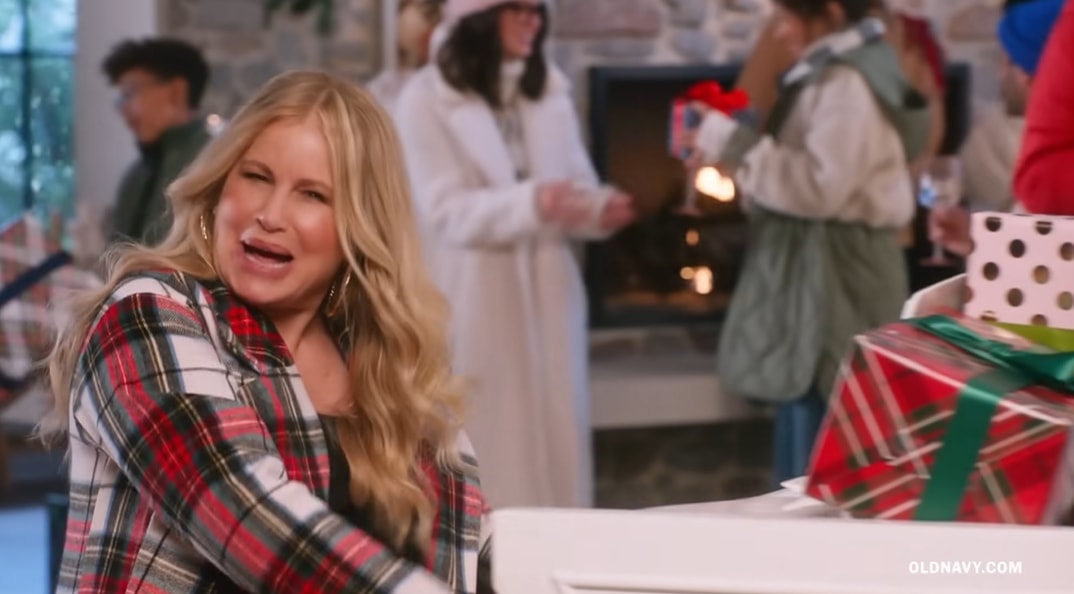 Jennifer Coolidge playing the piano in the Old Navy commercial released for Christmas 2022 (Credit: Old Navy)
Coolidge begins to slam the piano, culminating in her giving up on the song, simply singing "blah, blah, blah." Then, a reindeer appears, and the actress refers to the animal as a "deer"—an incorrect analysis—before resuming the song, ending with a triumphant, ballad-like ending line of "hashtag, sorry not sorry."
As you can imagine, the internet thinks both Jennifer Coolidge and Old Navy should be sorry for subjecting viewers to such a weird and repetitive commercial. The YouTube comments are absolutely scathing.
"For a long time, old navy has consistently put out the worst, most out-of-touch ads imaginable, but they have truly outdone themselves this time. Truly a masterclass in poor marketing," one viewer writes.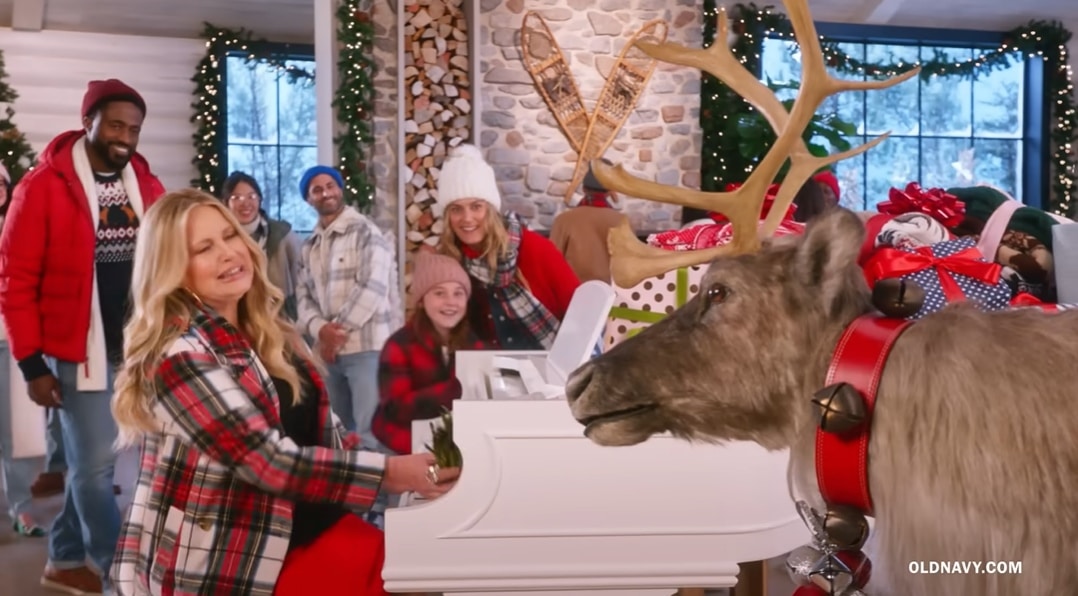 Jennifer Coolidge smiles as she gets ready to feed asparagus to a reindeer (Credit: Old Navy)
Another writes, "I will seriously never spend money at any Old Navy store again after seeing this ad over and over on Hulu. Great job marketing team!"
One viewer sums up the feelings of most of the comments by saying, "I actively took my time out of my busy day to seek out this ad just to say how much I wish this never existed."
People hate this commercial so much that their criticism has gone beyond just the YouTube comments, as the segment was torn apart on Reddit's r/CommercialsIHate, too.
"Can someone explain the premise of this commercial? What does blah, blah, blah, and sorry not sorry have to do with Christmas?" one confused Redditor writes.
Another responds, saying, "I HATE this commercial. It is the worst holiday ad ever. Plus, they claim it was #written by the #internet. Where are they getting their inspo? From #MySpace??"
"There's a message at the bottom at the very beginning of the ad saying, 'This was inspired by the #internet,' so they thought of a few sh*tty phrases that sounded like memes and forcibly jammed them together. Old Navy commercials have gotten horrible. Stiffler's mom takes the cake with this train wreck," another Redditor comments, referencing Jennifer Coolidge's role in American Pie.
Jennifer Coolidge sings and plays a mobile grand piano in a Christmas commercial for Old Navy (Credit: Old Navy)
However, one of our favorite comments on the post reads as such: "The fact that someone gets paid at Old Navy to produce the most annoying commercials ever made is a f*cking felony."
While we don't think that the Old Navy marketing team should be sentenced to prison, we certainly agree that this terrible commercial should be retired. As much as we adore Jennifer Coolidge, this commercial was a swing and a miss. #SorryNotSorry