Listed by Rolling Stone magazine as one of the 50 most important people in electronic dance music, Kim Kardashian West joined LIV nightclub owner David Grutman at his restaurant Swan located in the heart of the Miami Design District.
While his net worth is not known, according to Forbes, David Grutman's nightclub LIV has annual revenues of roughly $45 million and is one of the three biggest nightclubs in the country.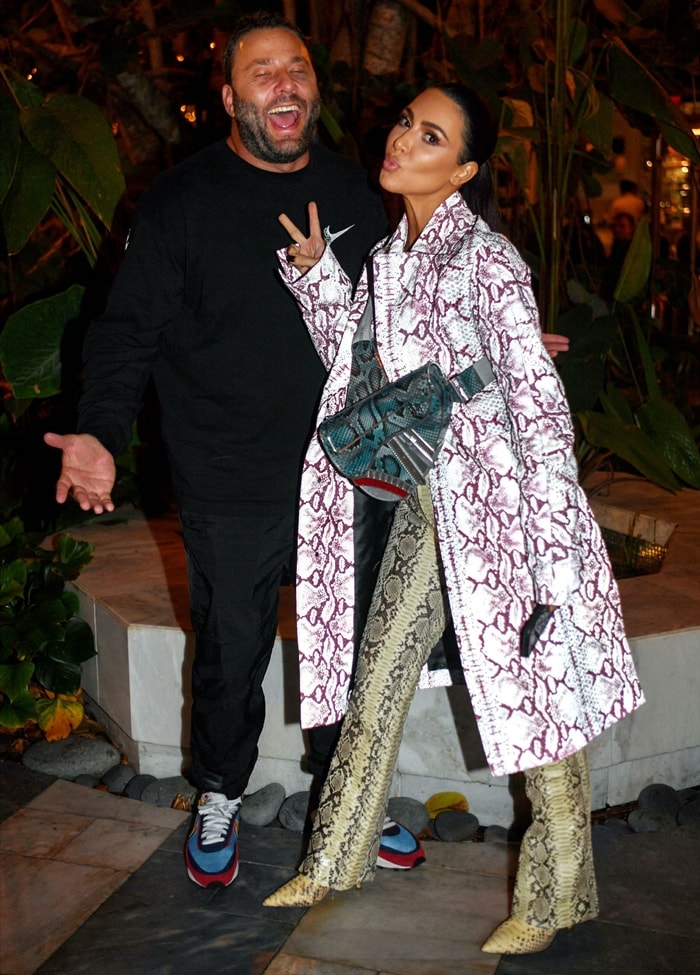 Owner and partner in several Miami-based restaurants and night clubs, David Grutman looked excited to be joined by Kim Kardashian for dinner at Swan, which he started with rapper Pharrell Williams
David Grutman, who was born on July 3, 1974, in Naples, Florida, married Brazilian model Isabela Rangel in 2016. Their daughter, Kaia Sof Grutman, was born in 2017.
David Grutman with is wife Isabela Rangel attending the Hublot Collectors Dinner in celebration of French's Haute Living Magazine Cover at Papi Steak in Miami Beach, Florida, on August 18, 2019
The ShoeDazzle founder was also joined for dinner by her sister Kourtney Kardashian, supermodel Bella Hadid, American television personality Jonathan Cheban, and Puerto Rican Latin trap and reggaeton singer Bad Bunny.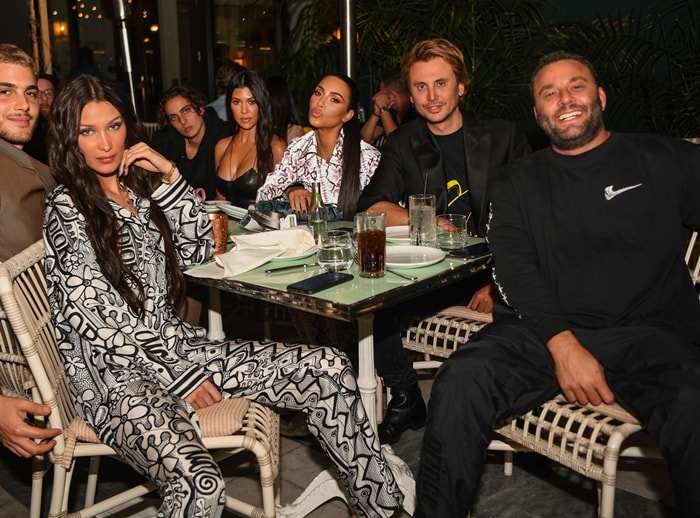 LIV nightclub owner David Grutman smiling with Bella Hadid, Kourtney Kardashian, Jonathan Foodgod Cheban, and Bad Bunny are seen at Swan
Carrying a Dior Pre-Fall 2020 menswear python saddlebag, the 39-year-old wore a head-to-toe snakeskin ensemble consisting of a white snakeskin Dior Fall 2020 duster coat, 1017 ALYX 9SM leather snakeskin print trousers, and Yeezy python ankle booties.
She completed her look with a nude bodysuit from her Skims shapewear line that you can purchase at Skims. Don't you wonder how many snakes were killed to make Kim Kardashian's snakeskin outfit?
Kim Kardashian wore head-to-toe snakeskin and boots from Yeezy
Earlier the same day, the two Kardashian sisters sat front row while attending the Dior Men's Fall 2020 Collection fashion.
Credit: WENN  / Instar