Project Runway's Christian Siriano and Brandon Maxwell are offering up their skills and services to help make masks as a shortage builds up during the coronavirus outbreak.
Christian Vincent Siriano, a 34-year-old American fashion designer and member of the Council of Fashion Designers of America, volunteered shortly after New York Governor Andrew Cuomo's called for the equipment on Friday.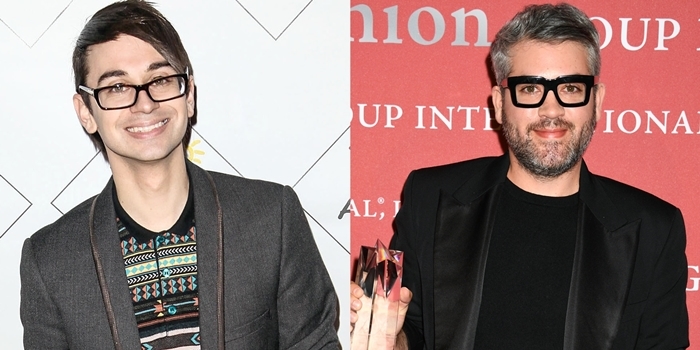 Fashion designers Christian Siriano and Brandon Maxwell have found a valuable way to volunteer in the midst of the coronavirus pandemic
"If @NYGovCuomo says we need masks my team will help make some. I have a full sewing team still on staff working from home that can help," he shared on Instagram.
"We will be making a few versions of this in order to help as many people as we can," the designer captioned a video showing one version of the masks he'll be making.
"Here is the process so we can get a perfect fit. More to come thank you everyone we hope to get these to the right people ASAP."
Shortly after, American fashion designer Brandon Maxwell shared a message of his own and confirmed he and his team have started to make medical gowns.
"In response to this global crisis, we are now focusing our creative efforts on manufacturing PPE (personal protective equipment), starting with gowns," he revealed in a letter posted to Twitter and Instagram.
"We have spent the last week researching the appropriate medical textiles to create these gowns and are proud to provide these much-needed items to the doctors and nurses on the front lines of this crisis."
According to The Guardian, Prada has announced that it will produce 110,000 masks by April 6. Gucci has promised to make more than 1m and Yves Saint Laurent and Balenciaga, also owned by Kering, will also begin manufacturing them.
Other designers and companies offering their services include Nordstrom, H&M, Cynthia Rowley, Michael Costello, Raul Penaranda, Prabal Gurung, Christina Karin, Alexis, Lafayette 148, and Naeem Khan.
Natasha Alam and her boyfriend Justin Benjamin are seen wearing masks and surgical gloves on March 18, 2020, in Los Angeles, California
Credit: Kyle Blair / WENN / Instar