Rave reviews have been pouring in for Spencer after it premiered at the Venice Film Festival in September, with film critics praising Kristen Stewart for her portrayal of the late Princess Diana.
Kristen Stewart attends the "Spencer" headline gala at the 65th BFI London Film Festival on October 7, 2021 (Credit: Mega / WENN)
The biographical drama follows Diana on a three-day Christmas holiday with the Royal family at the Sandringham estate in 1991 that led to her formal separation from Prince Charles the following year.
Kristen has already been receiving major awards buzz, including a possible Oscar nomination, for her critically acclaimed performance as the princess in the movie.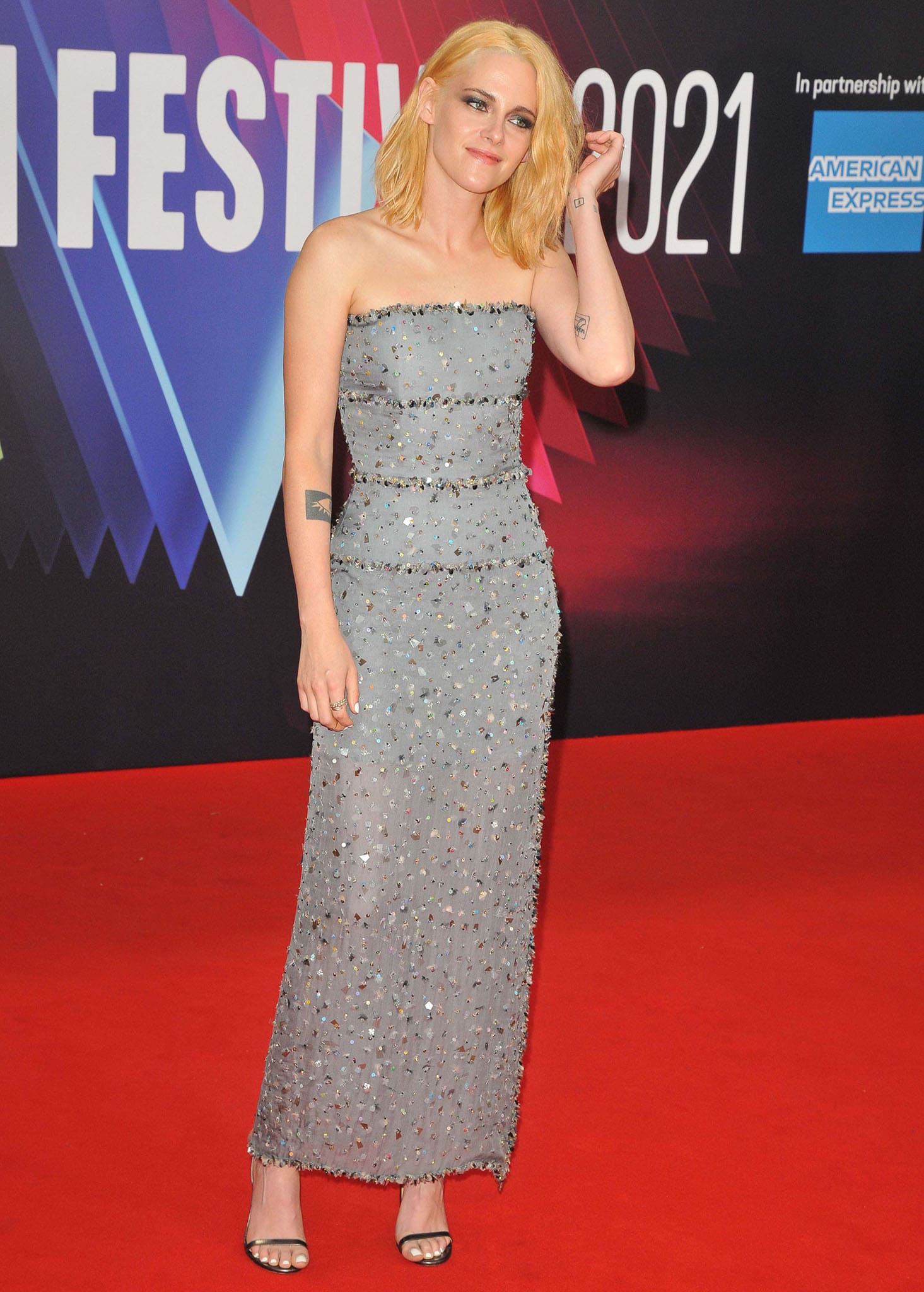 Long-time Chanel muse Kristen Stewart wears an embellished strapless gray dress from Chanel's Fall 2018 collection (Credit: Mega / WENN)
On Thursday, the 31-year-old actress looked the part as she arrived at the premiere of Spencer during the BFI London Film Festival.
Showcasing her svelte frame, the long-time Chanel muse naturally wore a gray gown from the fashion house's Fall 2018 Haute Couture collection.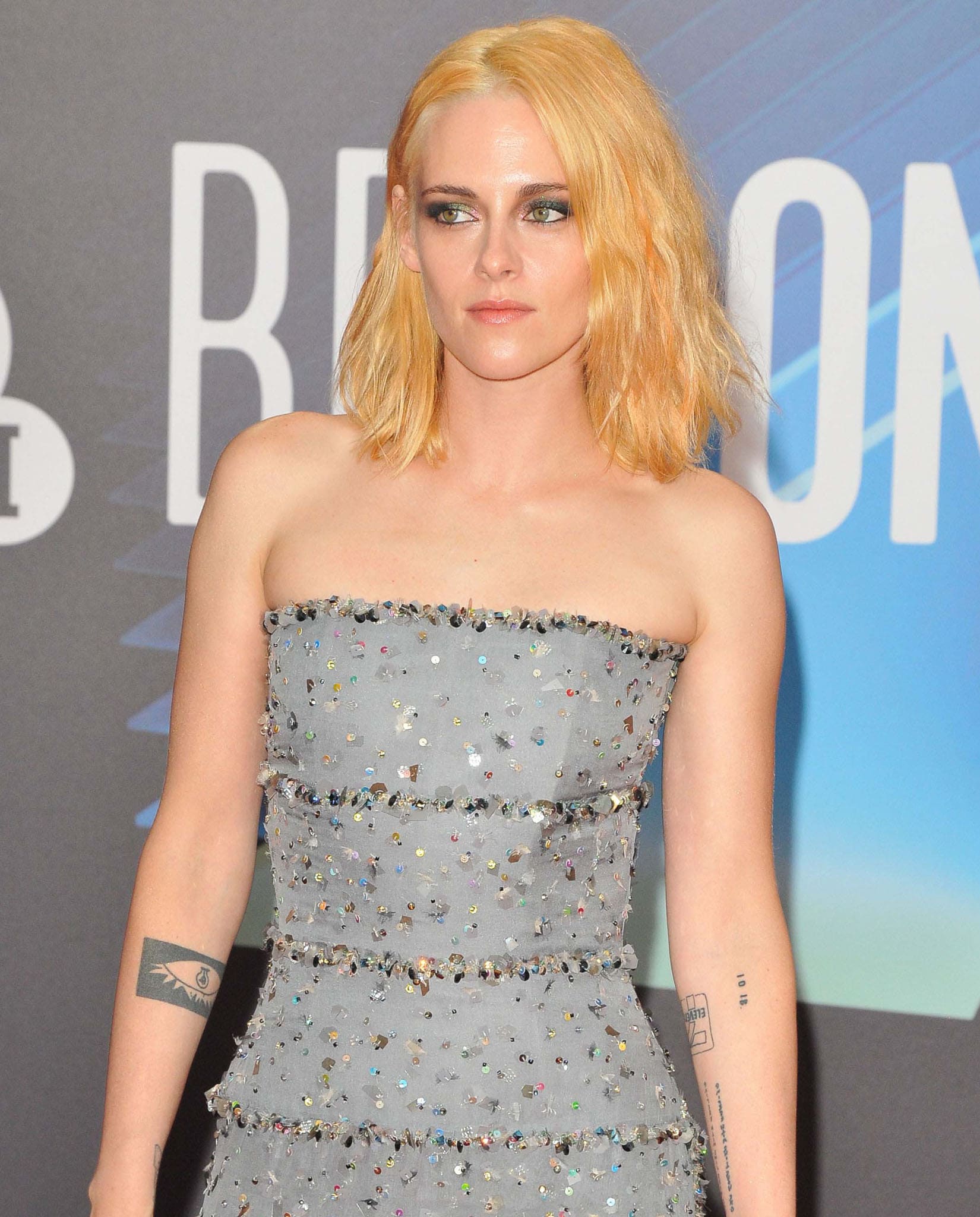 Kristen Stewart continues the glamour with beach waves lob hairstyle and smokey eye-makeup (Credit: Mega / WENN)
The strapless dress features layers of stitched light-catching iridescent sequins and crystal beads and a semi-sheer skirt that fell to her ankles.
Allowing her form-fitting outfit to stand out, the Twilight star skipped wearing elaborate jewelry and instead accessorized with statement rings from Chanel and Jillian Dempsey.
She also put her impressive tattoo collection on full display, adding some tough-chic edge to the feminine look.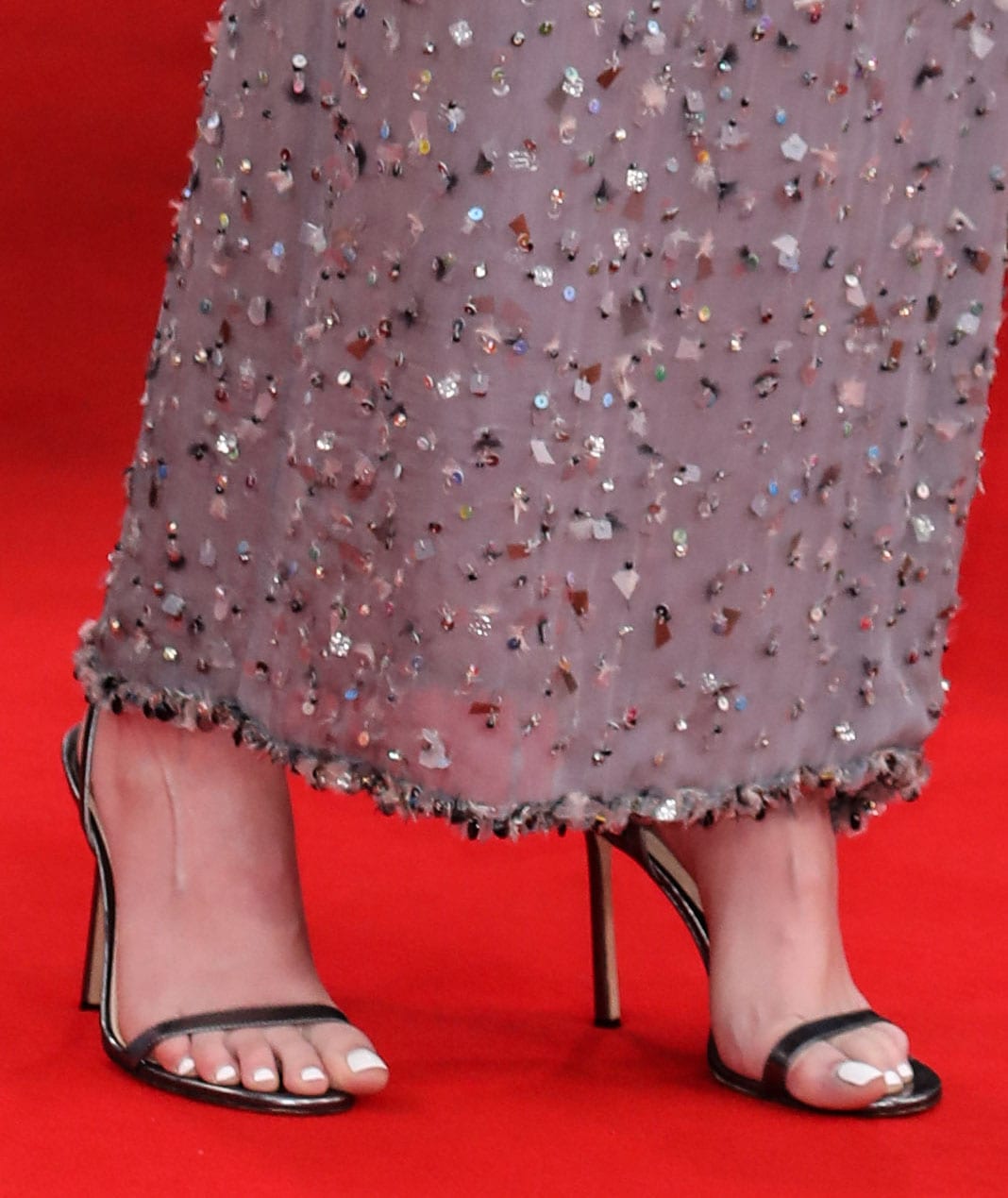 Kristen Stewart shows off her white pedicure in minimalist Jimmy Choo Minny sandals (Credit: Mega / WENN)
Teresa Palmer's look-alike continued the glamour with heavy smokey eyeshadow and pink lipstick. She then styled her strawberry blonde tresses in tousled beach waves and tucked behind one ear.
To complete her red-carpet look, Kristen showed off her white pedicure in a pair of minimalist Jimmy Choo "Minny" sandals in gunmetal.
Kristen Stewart on Playing Princess Diana
While she's been receiving praises for her role in Spencer, Kristen Stewart recently revealed that she suffered from TMJ for being really nervous about portraying Princess Diana.
"I had TMJ [temporomandibular joint] to the point where I was like, completely locked up. I was like, 'Huh, I guess I'm really nervous,' I was really tripping out until we started," Kristen told the BBC.
The film director, Pablo Larraín, told her to "relax and trust the process" and rely on her extensive preparation.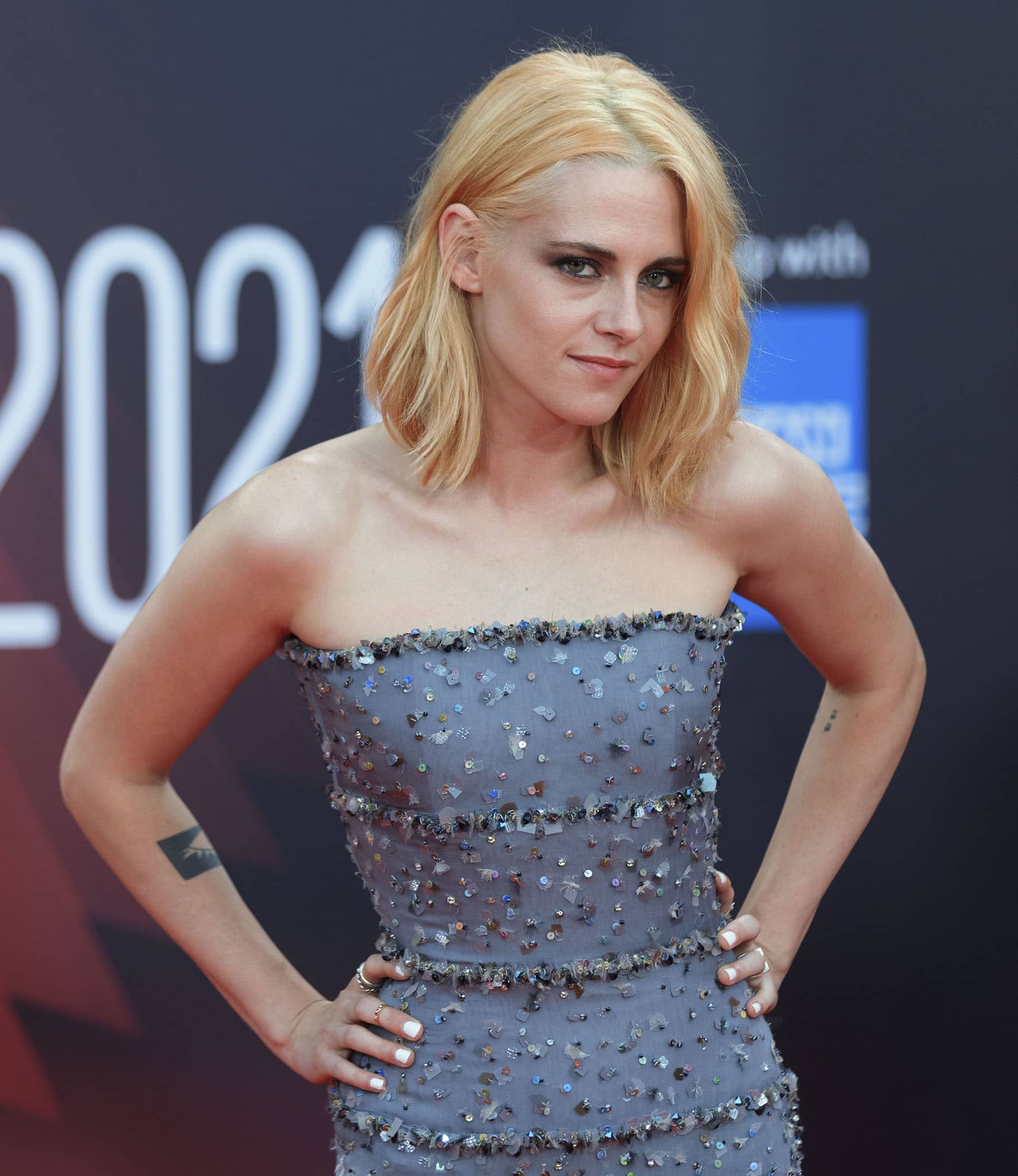 Kristen Stewart revealed she had TMJ due to anxiousness in portraying Princess Diana (Credit: Avalon / WENN)
Admitting she "didn't grow up following the sort of saga" about the Royal family, Kristen said: "I didn't have the most developed or defined relationship with the Royal Family in general."
"I read everything, I wanted every photo… watched all the interviews that I could get my hands on. I watched The Crown, I watched every iteration of interpretation. I just tried to absorb her in an emotional and general way, and then trust the process, and expect her to show up."
Kristen Stewart felt the weight of responsibility in playing the late Princess Diana (Credit: Avalon / WENN)
Feeling the pressure and weight of responsibility in portraying a well-known public figure, Kristen added: "I felt I wanted to protect her. I had to just not focus on other people's idea of her and really focus on my own. And that in itself was just so distinct and specific to me."
"I think to do her justice is to allow her to be impulsive. Anything I watched her in, whether it was an interview or even in a still photograph, it always feels unpredictable," she shared.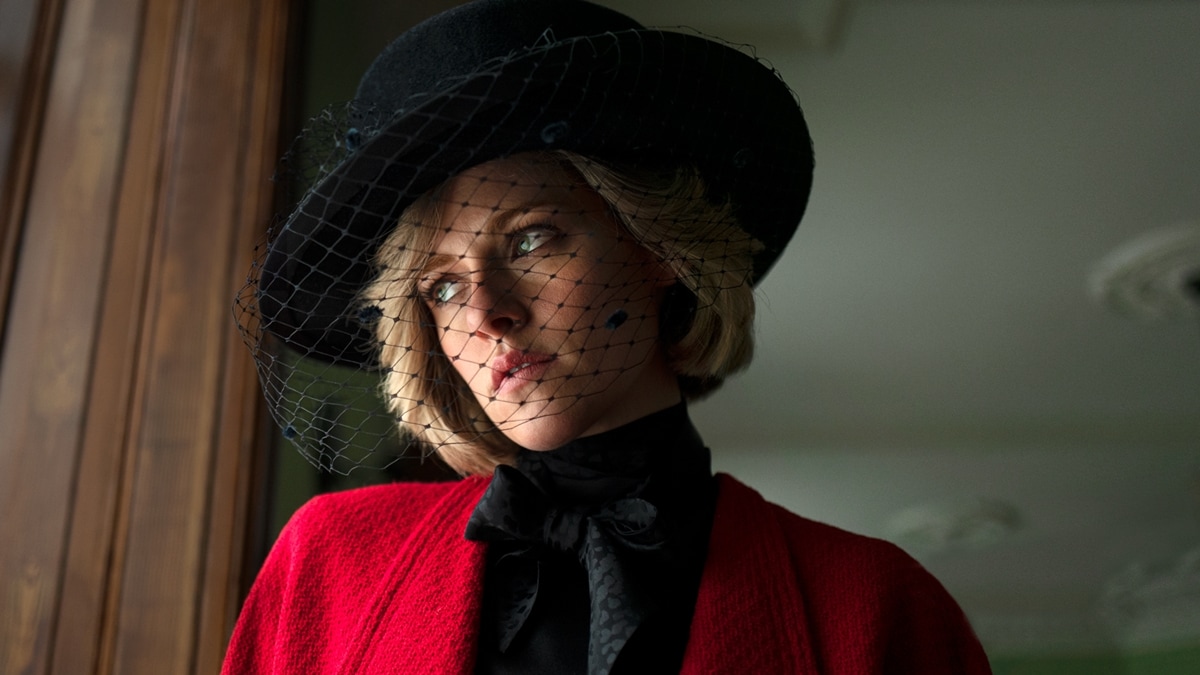 Kristen Stewart as Diana, Princess of Wales (née Spencer) in the 2021 biographical psychological drama film Spencer (Credit: Neon and Topic Studios)
"And it's because she has this vulnerability and this raw emotion that she cannot conceal. There's no way to do a perfect impression of that. You have to feel it, and it has to be yours. So I think I just had to relax."