Dove Cameron, an American actress, and singer, recently confirmed her split with longtime boyfriend, Thomas Doherty, a Scottish actor and singer.
Dove Cameron and Thomas Doherty started dating in 2016 after meeting on the set of Descendants 2 (Credit: Avalon / WENN)
While the two still speak occasionally and remain amicable, Dove shared that the breakup "f*cked" her up but also led to a spark creatively.
Dove Cameron Early Days
Dove Olivia Cameron, age 25, was born Chloe Celeste Hosterman in Bainbridge Island, Washington and she became a child star with the Disney Channel in 2013.
Her dual role as Liv and Maddie Rooney on the show Liv and Maddie launched her into fame.
In 2013 she also released a cover of Imagine Dragons "On Top of the World." From there, she went on to release more of her own music and has since become a well-known actress and musician.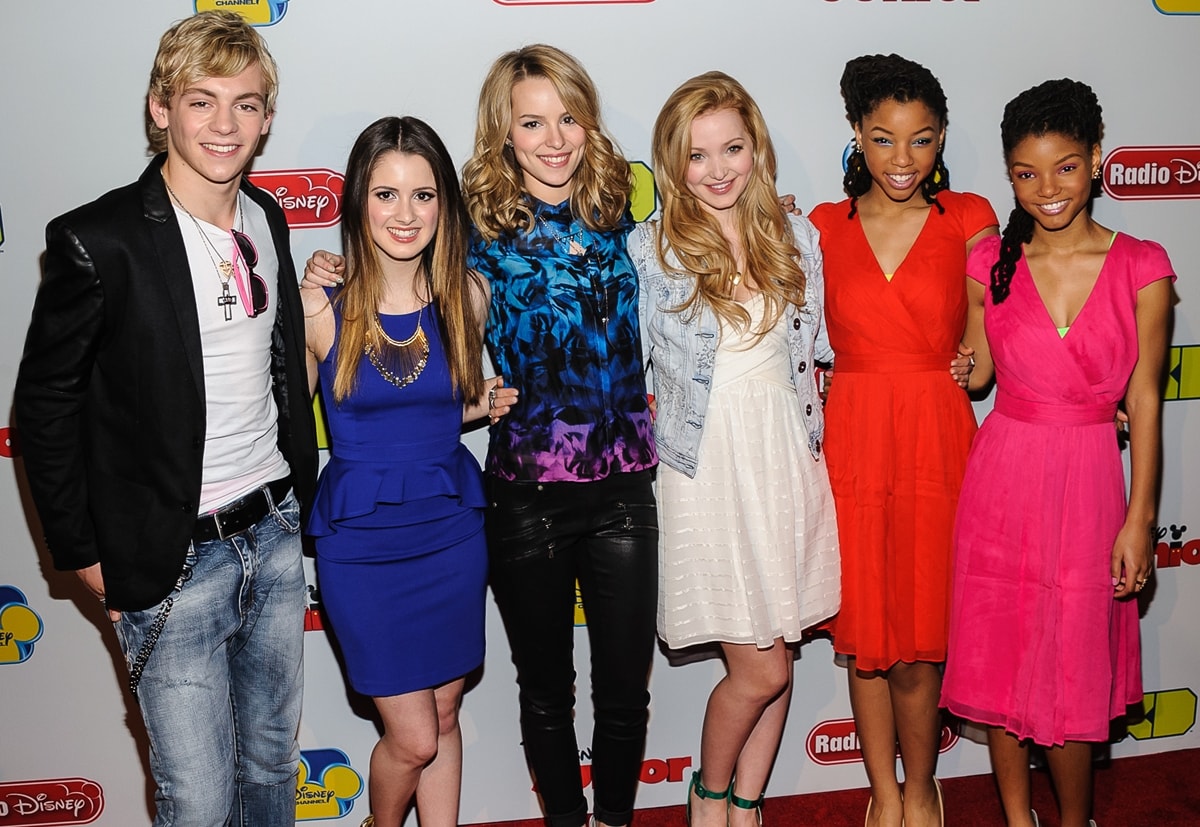 (L-R) Ross Lynch, Laura Marano, Bridgit Mendler, Dove Cameron, Chloe Bailey, and Halle Bailey attend the Disney Channel Kids Upfront 2013 at Hudson Theatre on March 12, 2013, in New York City (Credit: C.Smith / WENN)
Dove dated her Live and Maddie co-star, Ryan McCartan, and the two were even engaged briefly. After about 3 years together, the two ended their relationship.
Dove Cameron and Thomas Doherty Meet on Descendants 2
Dove plays the character, Mal, in Descendants, a television film. Her one year older co-star, Thomas Doherty, played Harry Hook on the second installment of this TV film.
The two confirmed their relationship in February of 2017 after meeting on the set on Descendants 2 in late 2016.
The pair shared much of their romance publicly and through their social media accounts, and it seems all of their fans loved the couple as much as they loved one another.
Dove Cameron poses with Thomas Doherty and Cameron Boyce at the Descendants 2 photocall in Amsterdam, the Netherlands on September 26, 2017 (Credit: WENN)
Thomas said in an interview with Entertainment Tonight in October of 2019, "She is just the most incredible person I've ever met. I think people see her as so talented — because obviously that's her job, to perform and all the rest of it — but she's the most compassionate and the most patient and the most genuine, loving person I've ever met. And so kind and so generous. She's amazing. She really is. She's so lovely. She doesn't have a bad bone in her body."
Thomas also at one point shared with Entertainment Tonight that Dove was "the one" for him. Dove also told ET shortly after that "If I'm going to marry anyone, it's going to be him." It's no wonder the breakup was so hard on Dove.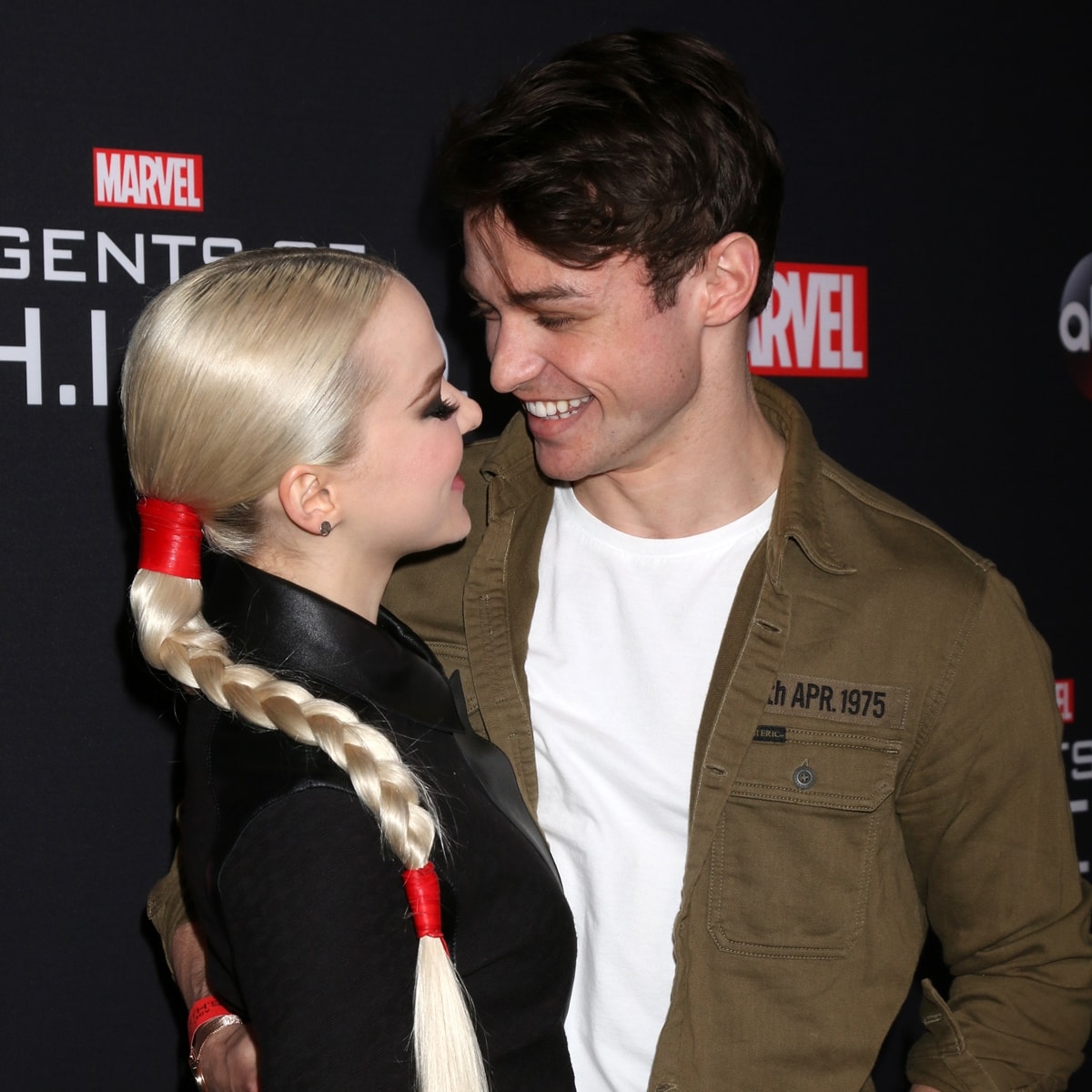 Dove Cameron and Thomas Doherty split in December 2020 after dating for four years (Credit: Avalon / WENN)
Dove confirmed their split in December of 2020 by sharing on her Instagram stories, "Hi all, we know there have been some rumors and confusion lately about the status of our relationship and we wanted to set the record straight. In October, Thomas and I decided to part ways. The decision was incredibly difficult, but we still have love for each other and will remain friends. Thank you for allowing us our privacy in this time."
Dove Cameron Heals Through Her Music
Dove shared that through her music, she was able to help heal her heartbreak. Her song LazyBaby is about post-breakup. Dove says, "I didn't want to wallow, and I didn't want to make myself feel sadder. I wanted to celebrate the end of something and put a nice little bow on it for myself. It's not a breakup song, it's a breakthrough song!"
Dove told Entertainment Tonight, "I went through a very public breakup last year, and I was in a really bad place, like a really, really bad place. The breakup f–ked me up. It was really hard, and I needed something that was going to get me from where I was, in the mourning process, into the other side."
Dove Cameron in a Carolina Herrera off-the-shoulder dress with fashion designer Wes Gordon at the 2021 CFDA Fashion Awards held at The Grill Room on November 10, 2021, in New York City (Credit: MEGA / WENN)
She wants to make it clear that this song is no diss track. The Liv and Maddie star played the song for Thomas and according to Dove, he loves it. It was important for her that he knew she'd be releasing the song.
She says, "We're good friends. We love each other forever. There's a lot in the song that is not actually directly about him."
Because the pair split in the middle of the pandemic, with the actress outside of the United States and away from her friends and family, she felt the isolation to an extreme degree.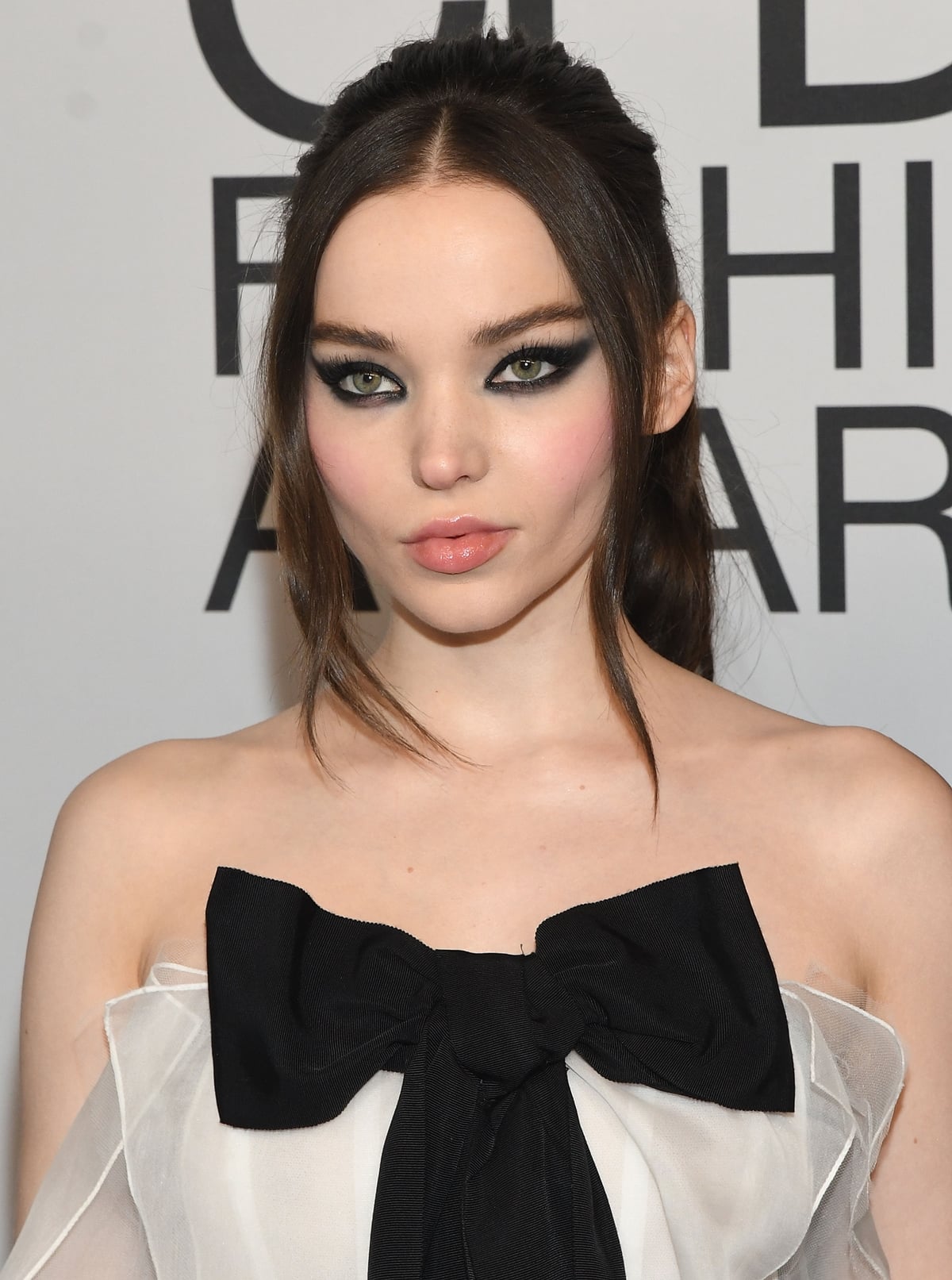 Dove Cameron says her breakup with Thomas Doherty "f–ked" her up (Credit: MEGA / WENN)
Dove said, "I was alone, and it was during the pandemic. No one could come out and see me and I couldn't leave Canada, and everything was shut down. So, I was really struggling to work through that."
Now, Dove is in a better place. And even with their separation, Dove says that everything is amicable between the former couple.
The young actress also shared that she plans to keep her future relationships under wraps. "My first two relationships were so public and so long-lasting, and everybody felt really involved in them for that reason," stated Dove.
With so much time in the spotlight, it makes sense that Dove wants something just for her in the future. She continued, "It doesn't feel natural to share. It feels sweeter to keep to myself."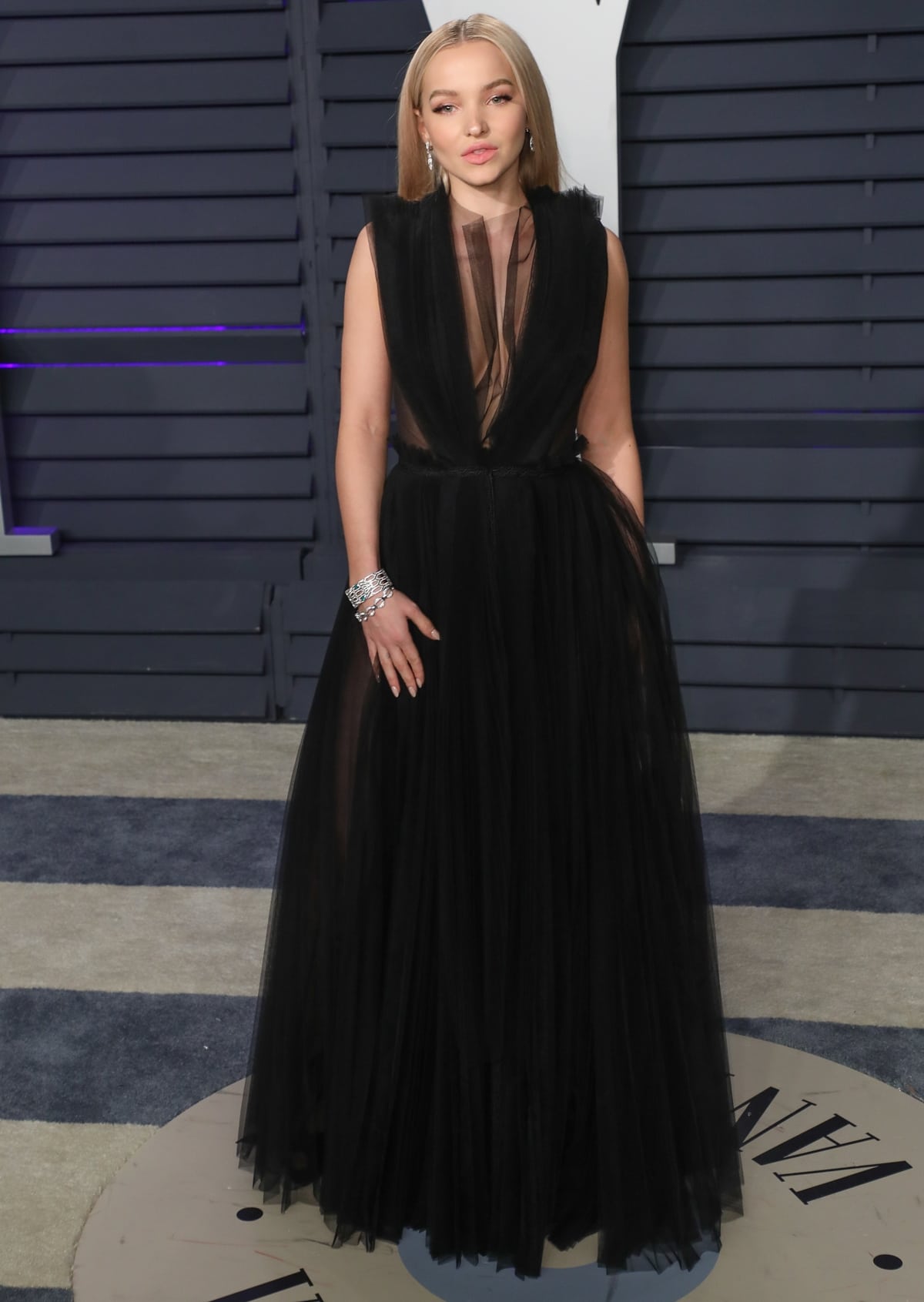 Dove Cameron in a black Adeam gown with Serpenti earrings and a Serpenti bracelet by Bulgari at the 2019 Vanity Fair Oscar Party at the Wallis Annenberg Center for the Performing Arts on February 24, 2019, in Beverly Hills, California (Credit: Sheri Determan / WENN)
Dove has some wise words to share about soulmates as well, "I personally believe we have many soulmates in this life, but I don't think that somebody stops being a soulmate when you break up. I will love him differently now. I think if you loved somebody that deeply, you're always going to love them that deeply. He's one of my favorite people in the world … I don't think we could ever be not in a good place."
Dove Cameron's Recent Fashion Moments
Dove's recent red carpet appearances have been head-turning. She attended her first MTV VMA's in September of 2021, where the beautiful young star wore a grey monochromatic look.
Dove Cameron hit the red carpet in an outfit from Zeynep Arcay at the 2021 MTV Video Music Awards on September 12, 2021, at the Barclays Center in New York City (Credit: MEGA / WENN)
She paired an off-the-shoulder cropped top with a suede skirt by Zeynep Arcay. Her similarly colored bag was a Mark Cross Susanna woven crossbody and she tied it all together with So Nude sandals from popular women's shoe brand Aquazzura.
Dove Cameron styled a convertible off-the-shoulder cropped stretch-knit top with an envelope suede skirt and toted a Mark Cross Susanna woven crossbody bag (Credit: MEGA / WENN)
In the summer of 2020, she revealed a big snake tattoo on her left foot. Dove also has a tiny snake tattoo on her left hand's middle finger.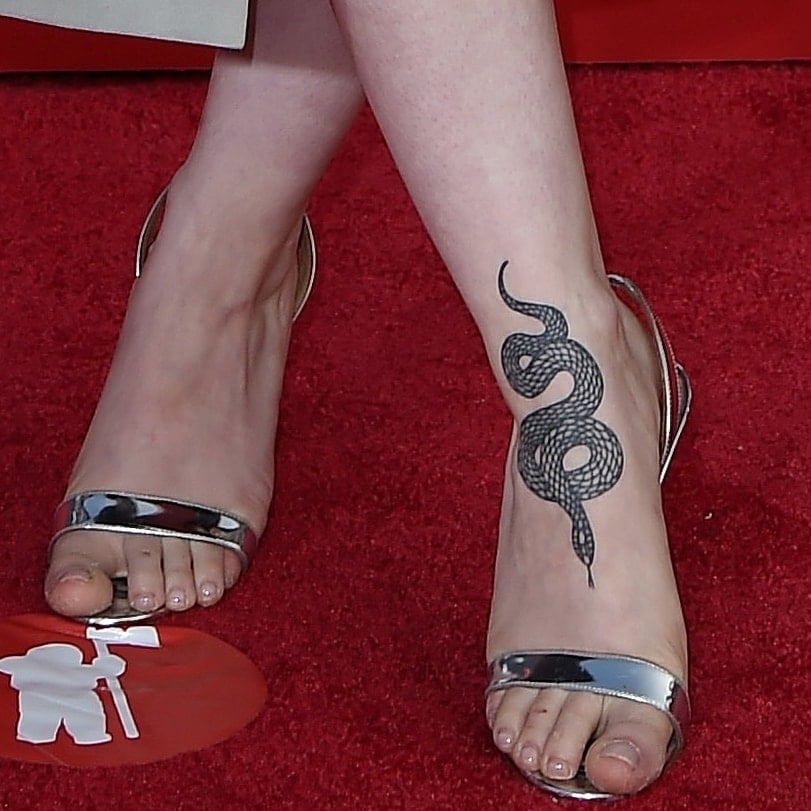 Dove Cameron displays her snake foot tattoo in Aquazzura's So Nude sandals (Credit: MEGA / WENN)
In November of 2021 at the LACMA Art + Film Gala in Los Angeles, the young star showed off her new brunette hairstyle after sporting platinum blonde hair for most of her career.
Dove wore a collared, long-sleeve, knee-length Gucci Fall 2016 Ready-to-Wear dress in a bubblegum pink silk along with black fishnet stockings and black and sparkling silver platform pumps from Giuseppe Zanotti that you can buy at Farfetch.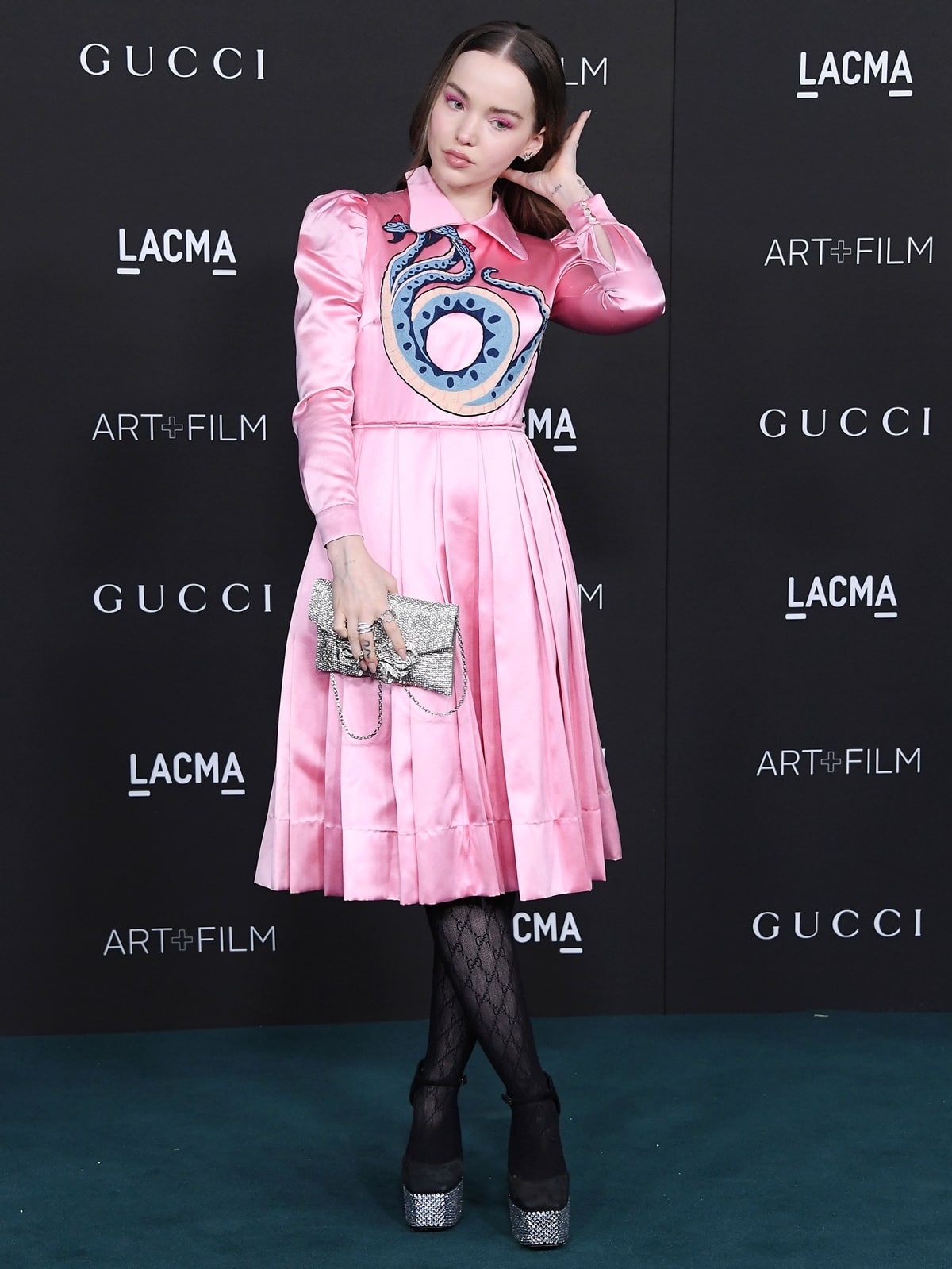 Dove Cameron paired a Gucci dress with black stockings and Giuseppe Zanotti crystal-embellished platform sandals at the 2021 LACMA Art + Film Gala presented by Gucci on November 6, 2021, at the Los Angeles County Museum of Art in Los Angeles (Credit: MEGA / WENN)
Dove's style is always fun to watch and we can't wait to see what she wears next.
In March 2016, Dove Cameron joined her fellow young stars at the 2016 Nickelodeon Kids' Choice Awards held at The Forum in Inglewood.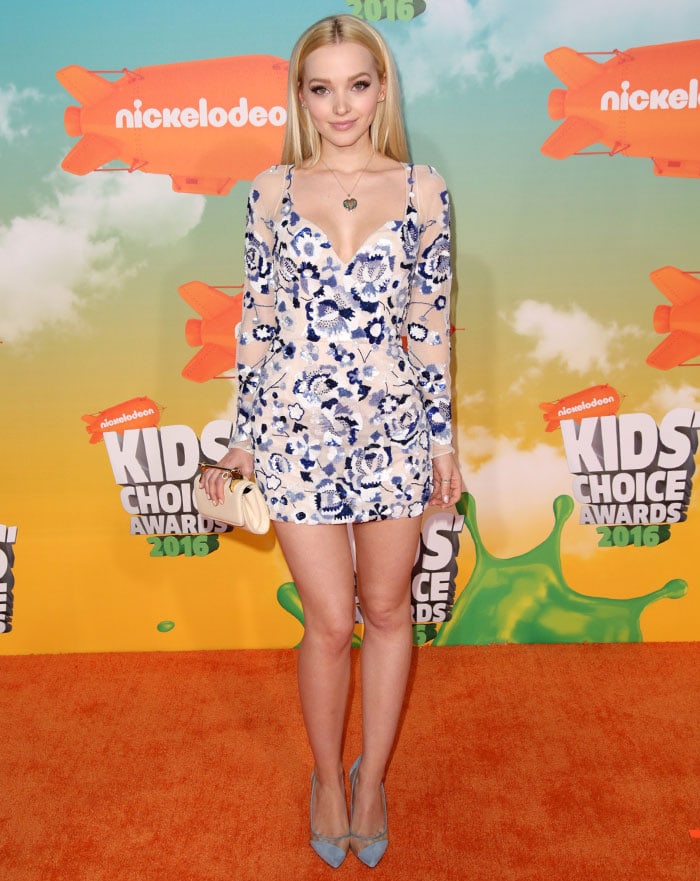 Dove Cameron at the Nickelodeon Kids' Choice Awards 2016 held at The Forum in Inglewood, California on March 12, 2016 (Credit: Brian To / WENN)
She was up for Favorite Female TV Star, which was claimed by "K.C. Undercover" star Zendaya.
The then 20-year-old "Liv and Maddie" star looked fresh in a blue-and-white floral mini dress from Hayley Paige.
Putting her sexy feet and legs on display, Dove ignored the cleavage-or-legs rule and flaunted both in the form-fitting frock that features a low-cut neckline, sheer long sleeves, and sequined floral appliques.
Dove Cameron in a blue-and-white floral mini dress from Hayley Paige (Credit: FayesVision / WENN / Brian To)
The young actress drew more attention to her ample cleavage by wearing a heart-shaped pendant necklace. She further accessorized the look with a pair of diamond earrings, Barbela Design rings, and an M2Malletier clutch.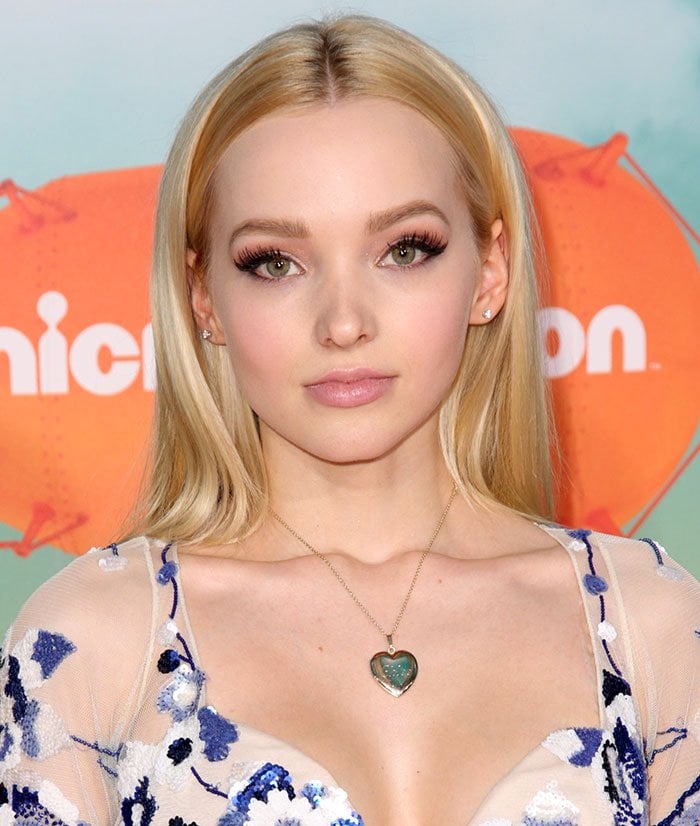 Dove Cameron drew attention to her ample cleavage by wearing a heart-shaped pendant necklace (Credit: Brian To / WENN)
Dove wore her blonde locks down and tucked behind her ears with a center part, and chose to do her makeup in a rosy hue with dramatic lashes.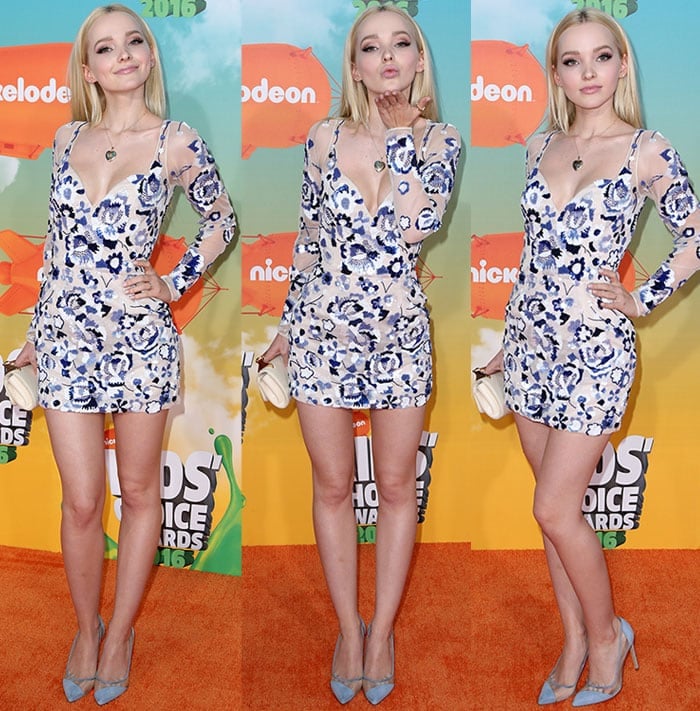 Dove Cameron putting her sexy feet and legs on display (Credit: FayesVision / WENN)
Dove completed her look with the Bionda Castana "Bay" pumps in cornflower blue. They feature mesh panels, asymmetrical toe caps, and about four-inch heels.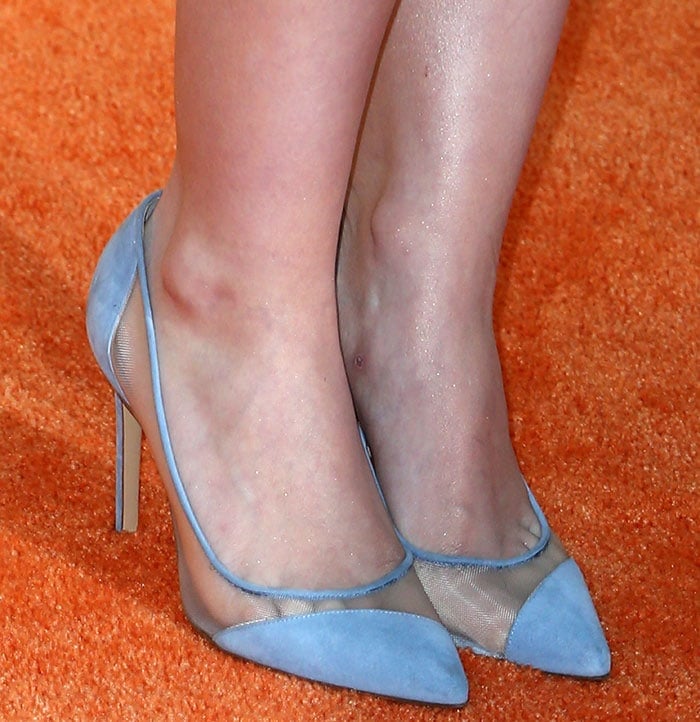 Dove Cameron shows off her feet in cornflower blue Bionda Castana pumps (Credit: FayesVision / WENN)
Bionda Castana "Bay" Pumps, $196 – $523