She has been busy promoting her upcoming Disney movie, Jungle Cruise, a period fantasy adventure film inspired by the Disneyland ride of the same name.
Also starring Dwayne "The Rock" Johnson, the Jaume Collet-Serra-directed film is scheduled to be released in theaters and through Disney+ Premier Access on July 30.
Continuing with her promotional duties, Emily Blunt looked radiant as she was all smiles while greeting fans outside the Ed Sullivan Theater following an appearance on The Late Show with Stephen Colbert on Thursday.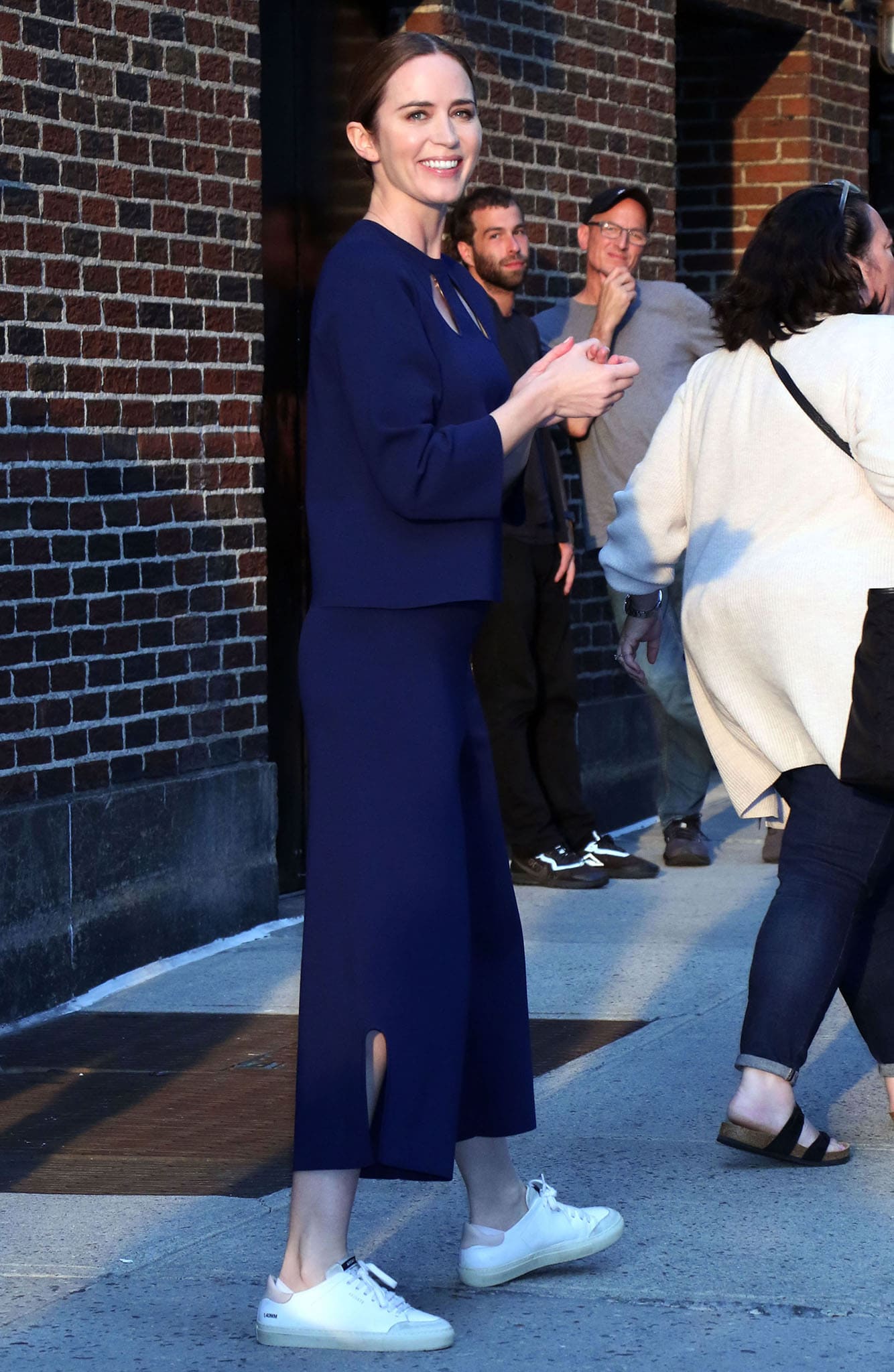 Emily Blunt promotes her new Disney movie Jungle Cruise at The Late Show With Stephen Colbert on July 15, 2021 (Credit: Mega / WENN)
She looked fresh and chic in her two-piece navy blue monochrome ensemble from sustainable luxury fashion brand Stella McCartney's Spring 2021 collection.
Her knitted blouse, available for $627 (from $896) at Farfetch, features a crew neck, two teardrop-shaped cutouts on the front, and loose long sleeves.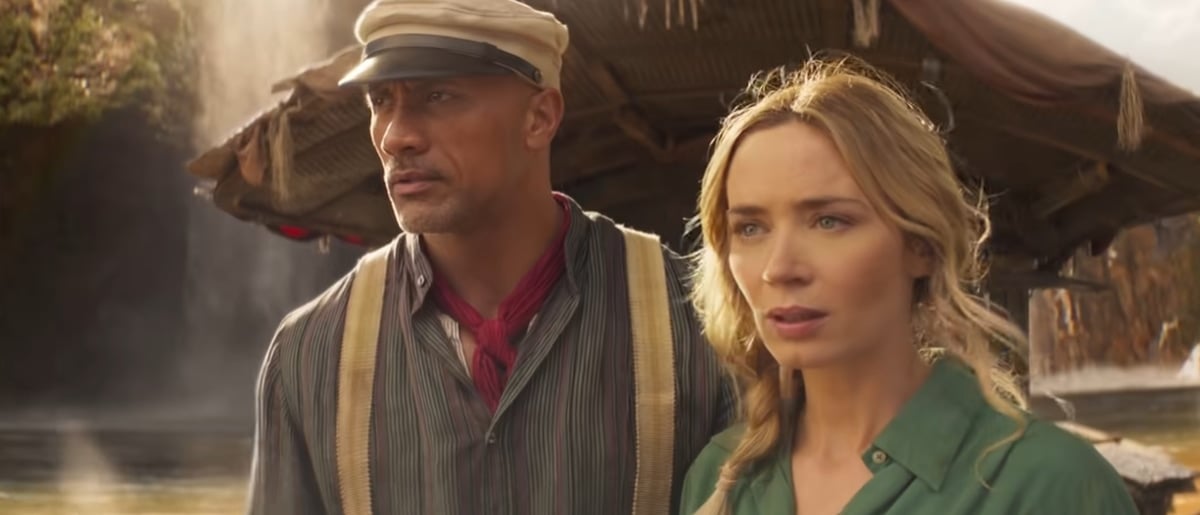 Dwayne Johnson as "Skipper" Frank Wolff and Emily Blunt as Dr. Lily Houghton in Jungle Cruise (Credit: Disney)
It's her fourth Disney film, having previously starred in The Muppets (2011), Into the Woods (2014) and Mary Poppins Returns (2018).
Is Jungle Cruise based on The African Queen?
The film is inspired by the riverboat theme park attraction of the same name and the 1951 British–American adventure film The African Queen.
Stephen Bogart, the only son of Humphrey Bogart who starred as Charlie Allnut in the John Huston movie, told EW he doesn't think Jungle Cruise will live up to the original.
"The Rock is fine. He's got a great personality. He seems like a very good person. I think he works hard; he cares about it, and I'll go see the movie. It'll be fun. But I never thought of it as a continuation, nor do I think Dwayne Johnson is trying to be Humphrey Bogart, that'd be tough."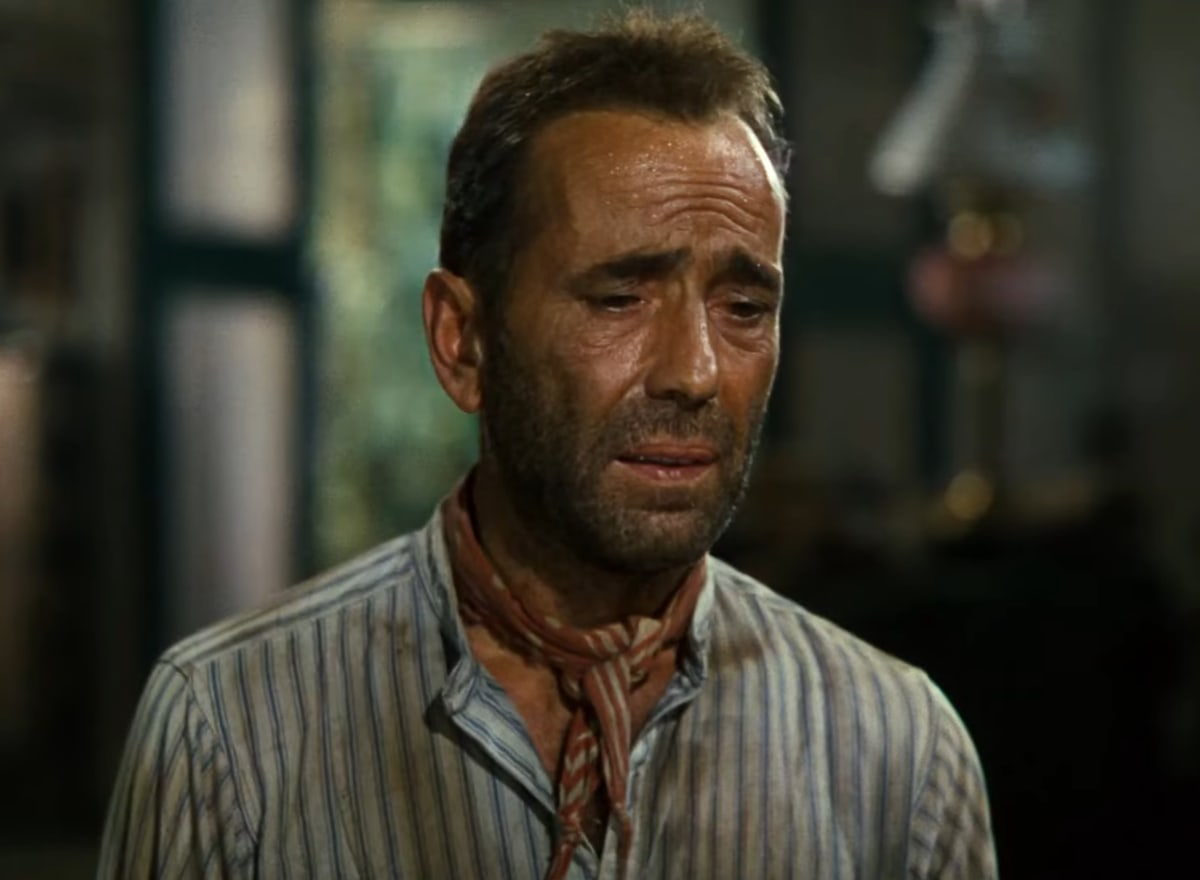 Humphrey Bogart as Charlie Allnut in the 1951 British–American adventure film The African Queen (Credit: United Artists)
"I don't want to disparage [anyone]," he added. "But 70 years later, they probably won't be doing a re-release of Jungle Cruise."
Emily plays Dr. Lily Houghton, a scientist that may remind you of Indiana Jones. It was her co-star Dwayne Johnson who convinced her to accept the part.
"I had always admired her as an actress, but also when I would watch her on talk shows, she had this personality that was effervescent, that was cool and very, very charming," he told THR.
Jungle Cruise is Emily Blunt's fourth Disney film after The Muppets, Into the Woods, and Mary Poppins Returns (Credit: Disney)
"I must have shot it about five or six times because I had not communicated with Emily yet," Johnson added about filming a short video of himself pitching her the movie.
"I had not even met her. And I wanted to let her know via this video just how important she was to this movie and how I only wanted her in this movie. And it was great. And I … I actually never heard again from Emily. Didn't respond at all. Just ghosted me."
Emily Blunt wears a sustainable knit top and matching culottes from Stella McCartney (Credit: Mega / WENN)
She paired her knitted blouse with lightweight flared culottes in a matching deep blue hue with a cutout side slit detailing. You can find her pants in a different color at Farfetch, retailing for $636 (from $1,136).
The A Quiet Place star skipped the jewelry, save for her engagement ring from her husband John Krasinski. She also kept her beauty look simple, allowing her chic yet comfortable outfit to take center stage.
Her brunette tresses were pulled back into a neat bun with a middle parting, while her makeup featured a hint of peachy blush, complementary eyeshadow, and pink lip color.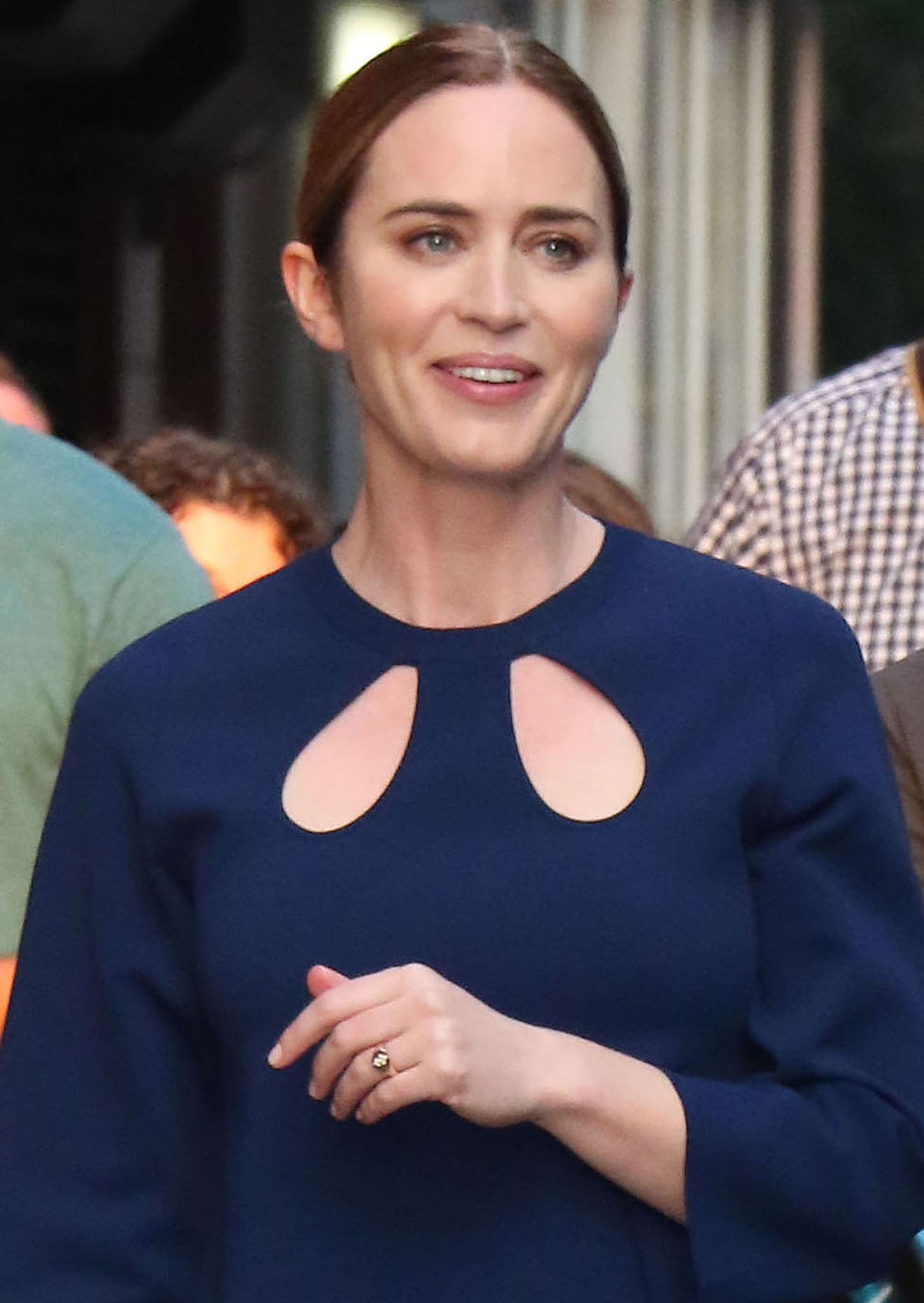 Emily Blunt keeps things simple with a neat hair bun and peachy makeup (Credit: Mega / WENN)
Giving the stylish look a sporty edge, the Devil Wears Prada actress finalized her outfit with minimalist white sneakers from the Swedish label Axel Arigato.
The "Clean 90 Triple" shoe is handmade from smooth white leather and features a gold-tone logo stamp and a rubber sole, updated with a contrasting heel counter and a gray suede almond toe.
Emily Blunt adds a sporty edge to her chic look with Axel Arigato Clean 90 Triple sneakers (Credit: Mega / WENN)
Axel Arigato 'Clean 90 Triple' Sneakers, $235 at Farfetch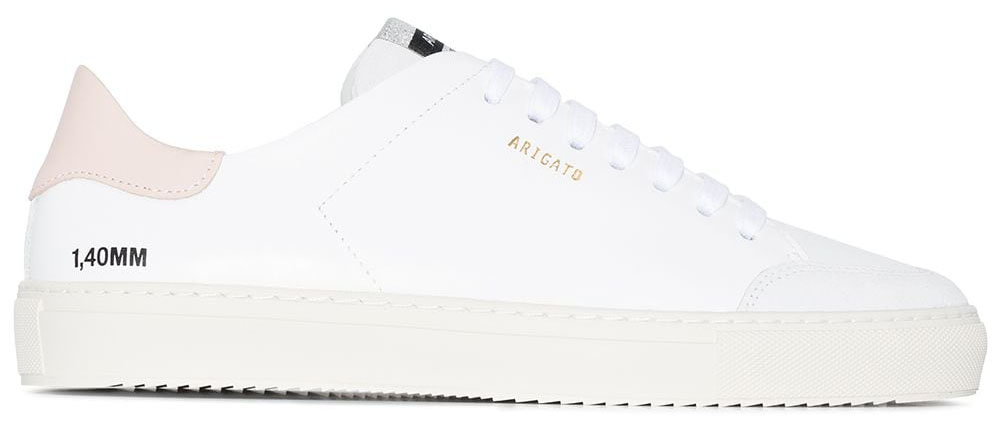 A minimalist pair of white leather sneakers updated with contrasting toe and heel counter