Emma Roberts showcased a remarkable array of seriously stylish outfits during the promotional campaign for her 2016 American techno-thriller adventure film Nerve.
The talented actress exuded confidence and glamour, capturing everyone's attention with her stunning fashion choices.
Roberts showcased her acting talents alongside Dave Franco in Lionsgate's thrilling adaptation of the popular young-adult novel, Nerve, which you can buy on Amazon.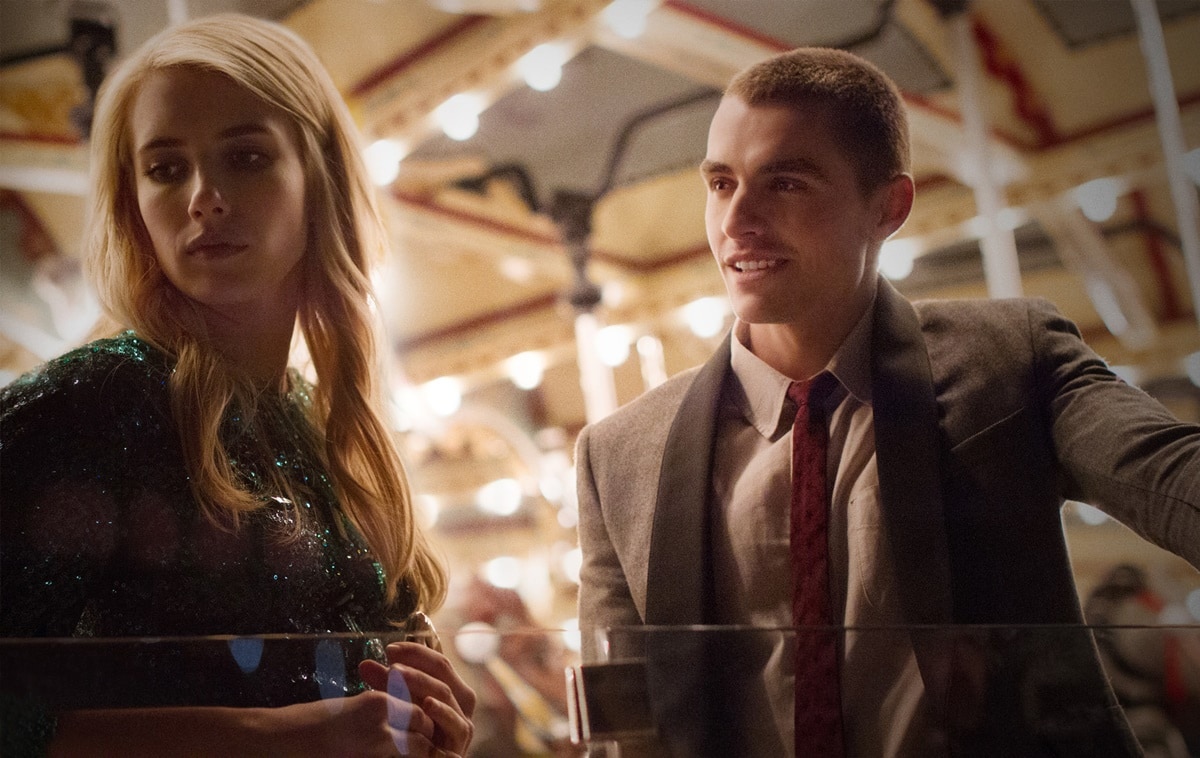 In 2016, when "Nerve" was released, Emma Roberts was 25 years old, while Dave Franco was 31 (Credit: Lionsgate)
Directed by Henry Joost and Ariel Schulman, the 2016 American techno-thriller adventure film written by Jessica Sharzer was based on Jeanne Ryan's gripping 2012 novel. Joining Roberts and Franco in the cast was the talented Juliette Lewis.
In one of the film's captivating opening scenes, Vee, portrayed by Emma Roberts, finds herself engrossed in the latest news as she peruses her computer screen.
Interestingly, positioned on the right side of the news page, an article catches her eye – a headline featuring none other than James Franco, the talented actor and real-life brother of her co-star Dave Franco, who plays the character Ian in the film. This subtle nod to their connection adds an intriguing layer of intertextuality to the narrative.
Dave Franco and Emma Roberts starred together in the 2016 film "Nerve," where Emma Roberts played Vee Delmonico and Dave Franco portrayed Ian, as they navigated a high-stakes online game of truth or dare (Credit: Lionsgate)
After Vee bravely steps into the store, eager to try on a stunning dress, the observant shopkeeper comments, "It's very expensive."
This cleverly crafted line is a delightful homage to a memorable interaction involving Julia Roberts, who happens to be Emma Roberts's esteemed aunt, in the iconic film Pretty Woman (1990).
Was Emma Roberts going to play Harley Quinn?
Yes, she was. It's nearly impossible to envision anyone other than Margot Robbie portraying the iconic character of Harley Quinn.
However, before Margot Robbie was cast in Suicide Squad, the opportunity to play Harley Quinn was extended to Emma Roberts. She declined the offer in favor of starring in Nerve and Fox's satirical horror series Scream Queens.
Before Margot Robbie was cast as Harley Quinn in Suicide Squad, Emma Roberts was offered the opportunity to play the character but declined in order to pursue roles in the film "Nerve" and the TV series "Scream Queens" (Credit: Lionsgate)
One particularly noteworthy appearance was at the 2016 San Diego Comic-Con, where Emma Roberts radiated fierceness in a captivating red-and-black ensemble.
Her choice of colors and how she effortlessly pulled off the look left a lasting impression on the audience.
Emma Roberts side parts her hair in a red-orange button-up top during Comic Con held July 21, 2016, in San Diego, California (Credit: Tony Forte / WENN)
"Nerve" is a thriller-survival film that follows Vee (played by Emma), who becomes victimized by an online truth-or-dare reality video game called Nerve.
The 25-year-old actress was joined at the convention by her co-star Dave Franco. The two took to the stage to shave YouTuber Shane Waxler's head as part of their promotional strategy.
Emma Roberts and Dave Franco shave Shane Waxler's head at Camp Conival as a movie promotional stunt (Credit: Tony Forte / WENN)
The niece of Julia Roberts wore a Nina Ricci Fall 2016 ensemble composed of a bright red top with a high neck and long sleeves and a black midi skirt. The skirt's thigh-high slit showcased Emma's slender legs.
The "Scream Queens" star opted for a minimalist approach, skipping the jewelry and instead highlighting her features with bold red lipstick.
She styled her hair in a chic and effortless messy ponytail to complement her style, adding the perfect finishing touch to her overall look.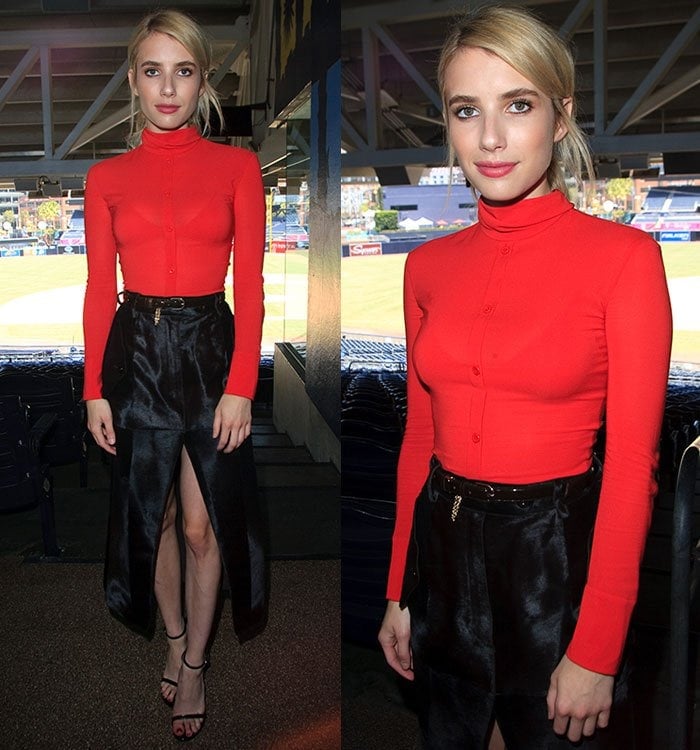 Emma Roberts shows off her slender figure in a Nina Ricci fall 2016 top and skirt (Credit: Tony Forte / WENN)
Emma elevated her height by approximately four inches, thanks to her choice of footwear – the Stuart Weitzman "Nudist" sandals. These stylish sandals not only provided a fashionable touch to her outfit but also gave her an extra boost in stature.
These classic, minimalist black patent sandals feature ankle straps, open toes, and about 4.5-inch stiletto heels.
Emma Roberts's feet in strappy black Stuart Weitzman sandals (Credit: Tony Forte / WENN)
For those interested in exploring the Stuart Weitzman "Nudist" sandals, they are available in various versions and can be found on popular online retailers like Zappos and Nordstrom.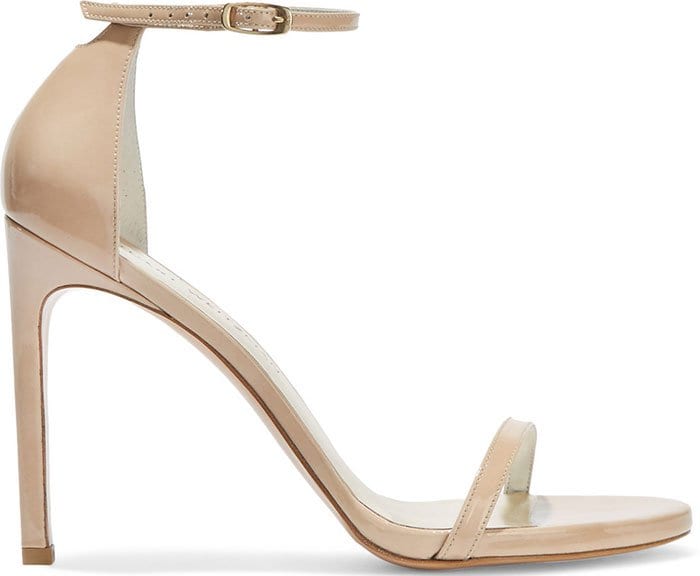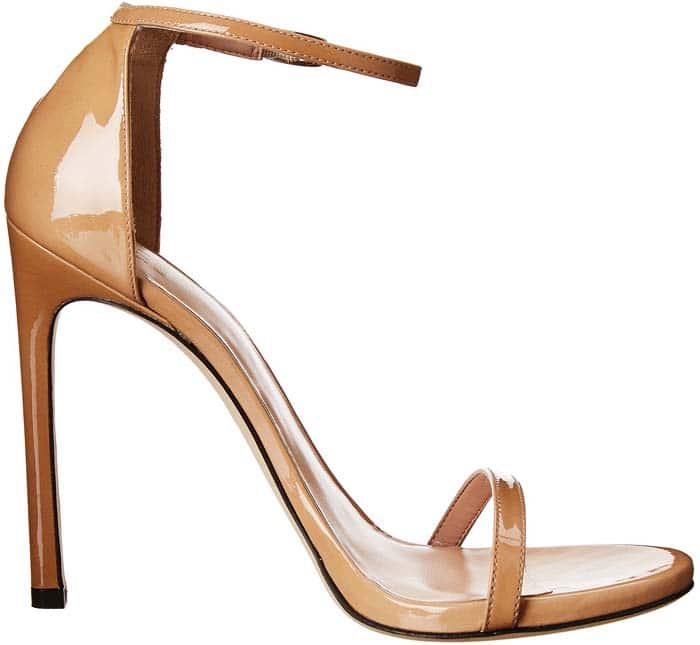 Stuart Weitzman "Nudist" Sandals, $398 – $415