Late last month, Emmy Rossum revealed on Instagram that her 1-year-old daughter, Samantha, has received her first dose of the COVID-19 vaccine.
The 35-year-old Angelyne actress also shared a rare photo of her only child after getting her first vaccine.
View this post on Instagram
"An exciting day we've waited a long time for! Our daughter got her first covid vaccine!" Emmy wrote along with a photo of Samantha wearing a sequined metallic bandaid on her arm after getting the shot.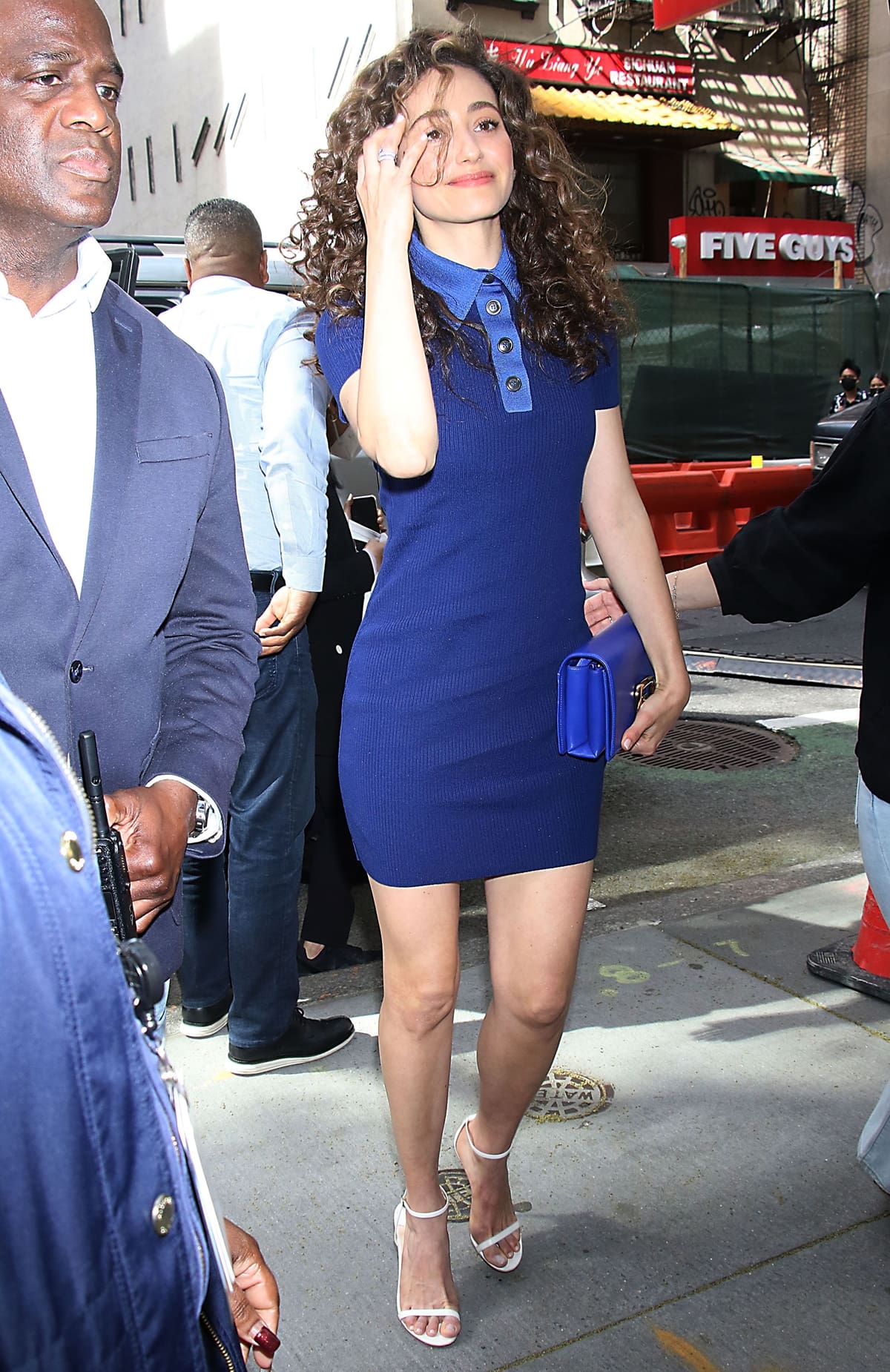 Actress Emmy Rossum flaunts her legs in a blue Ferragamo polo dress styled with white sandals and a blue leather Roger Vivier Viv Choc bag for an interview on the Today Show on May 23, 2022, in New York City (Credit: INSTARimages / Roger Wong)
After keeping her pregnancy a secret, Emmy and her husband Sam Esmail welcomed their daughter in May 2021. She got the COVID vaccine while pregnant and encouraged everyone to also get vaccinated.
"When I was pregnant I got vaccinated. Not only did we have a healthy, beautiful baby girl but we also just learned our daughter now has antibodies," Emmy wrote on Instagram with a photo of her baby daughter.
View this post on Instagram
"In short, stop being an irresponsible idiot and get the vaccine," she added. Emmy and her husband, Sam Esmail, welcomed their baby girl in May 2021.
One year later, she revealed in an interview on Live with Kelly and Ryan that her birth experience was "just about [her] worst nightmare."
"I ended up getting a lovely and very conscientious Uber driver, which is not what you want when you're in labor," she joked. "I want[ed] to go [fast]."
"If it's an orange [light], just take that as a green and go," she told the driver.
View this post on Instagram
"We were driving and we were a couple of minutes away from the hospital and I was fully in contractions and I didn't realize I was actually nine centimeters dilated at that point, so real close. I was basically 10 minutes away from having a child," she added.
"5.24.21 On a sunny Monday morning, at 8:13AM, we welcomed our daughter into the world," Emmy captioned maternity shoot photos shared on May 26, 2021.
Emmy Rossum wears her hair down at the Los Angeles premiere of "Keanu" held on April 27, 2016, at the ArcLight Cinerama Dome (Credit: Adriana M. Barraza / WENN)
In April 2016, Emmy Rossum was white-hot and summer-ready at the premiere of the action-comedy film, "Keanu," held at the ArcLight Cinemas in Hollywood.
The then 29-year-old actress opted to wear a neat and chic white sleeveless dress for the occasion.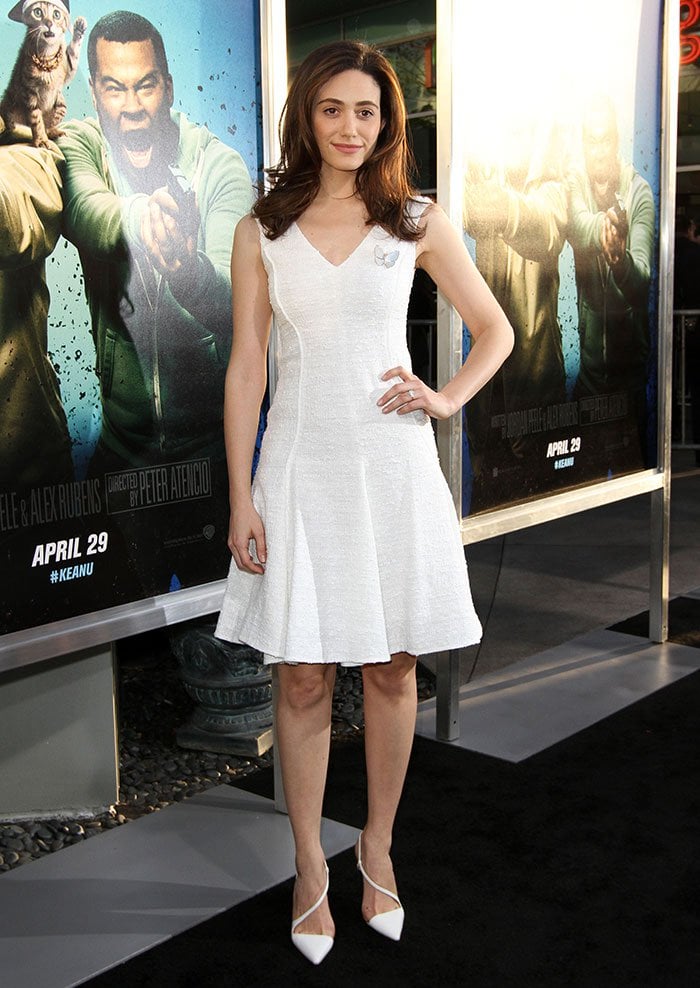 Emmy Rossum wears a simple white dress to the premiere of "Keanu" (Credit: Adriana M. Barraza / WENN)
Her boucle-like frock featured a v-neckline, an A-line silhouette, and a knee-length hem. A butterfly brooch added charm to the look.
The "Shameless" star teamed the figure-flattering fit-and-flare frock with a pair of white leather "June" pumps by Christian Louboutin.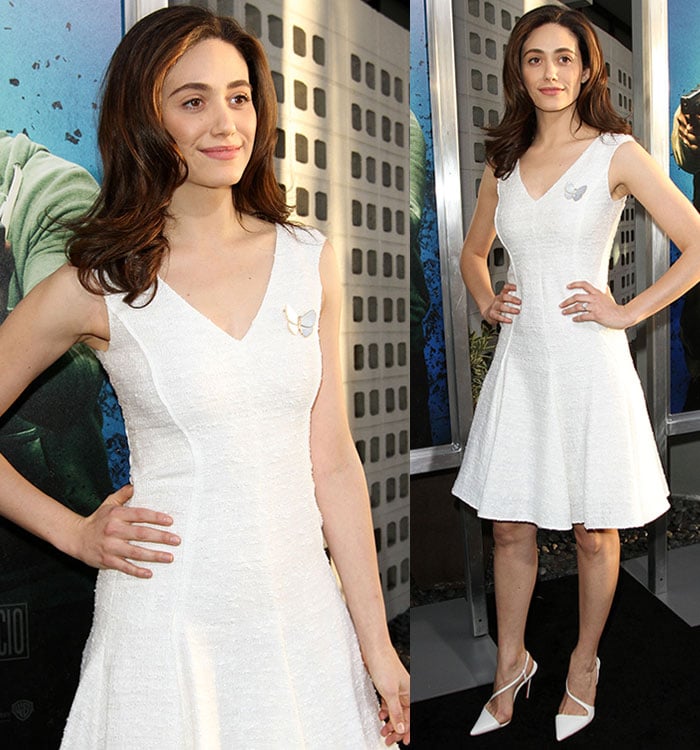 Emmy Rossum goes with an all-white ensemble on the black carpet (Credit: Adriana M. Barraza / WENN)
She kept everything else simple and skipped the jewelry — aside from her engagement ring from writer/director Sam Esmail.
The Phantom of the Opera actress wore her hair in voluminous waves and kept her makeup minimal with only a swipe of pink lipstick.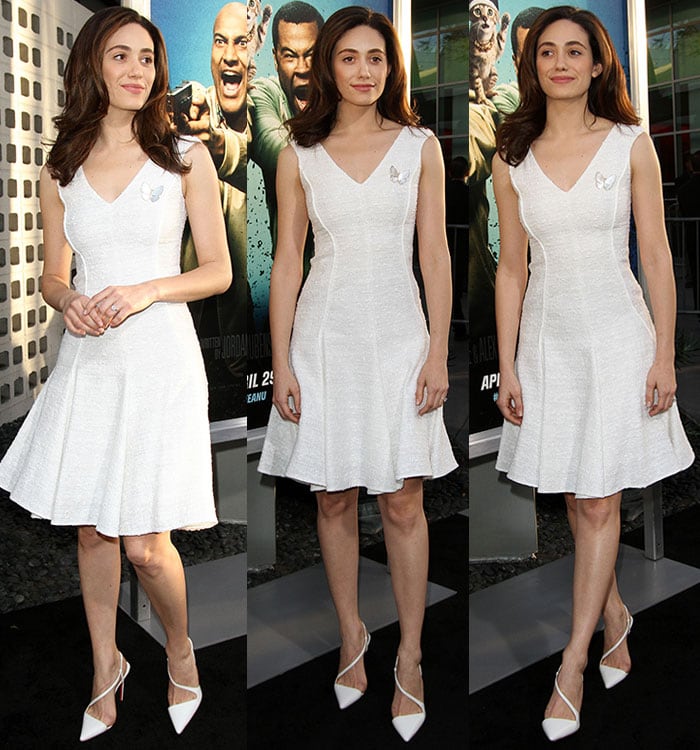 Emmy Rossum wears a white fit-and-flare dress (Credit: Adriana M. Barraza / WENN)
Emmy's Louboutins featured asymmetric front straps, elasticated slingback straps, pointed toes, and four-inch heels.
Emmy Rossum's feet in white Christian Louboutin pumps (Credit: Adriana M. Barraza / WENN)
Unfortunately, these Louboutin pumps are already sold out.
White Christian Louboutin "June" Slingback Pumps, $725
White leather d'Orsay red sole pumps with asymmetrical straps