Producers of the Peacock limited TV series "Angelyne" couldn't have picked a better actress to play the lead role than Emmy Rossum.
The much-anticipated series, which production was delayed by the COVID-19 pandemic, is set to be released in 2022.
Emmy, who rose to stardom due to her role in Shameless, effortlessly transforms into a younger version of Angelyne, the iconic 71-year-old billboard star and American media personality.
Angelyne is famous for her suggestive poses on billboards in the 1980s and her unique girly attributes.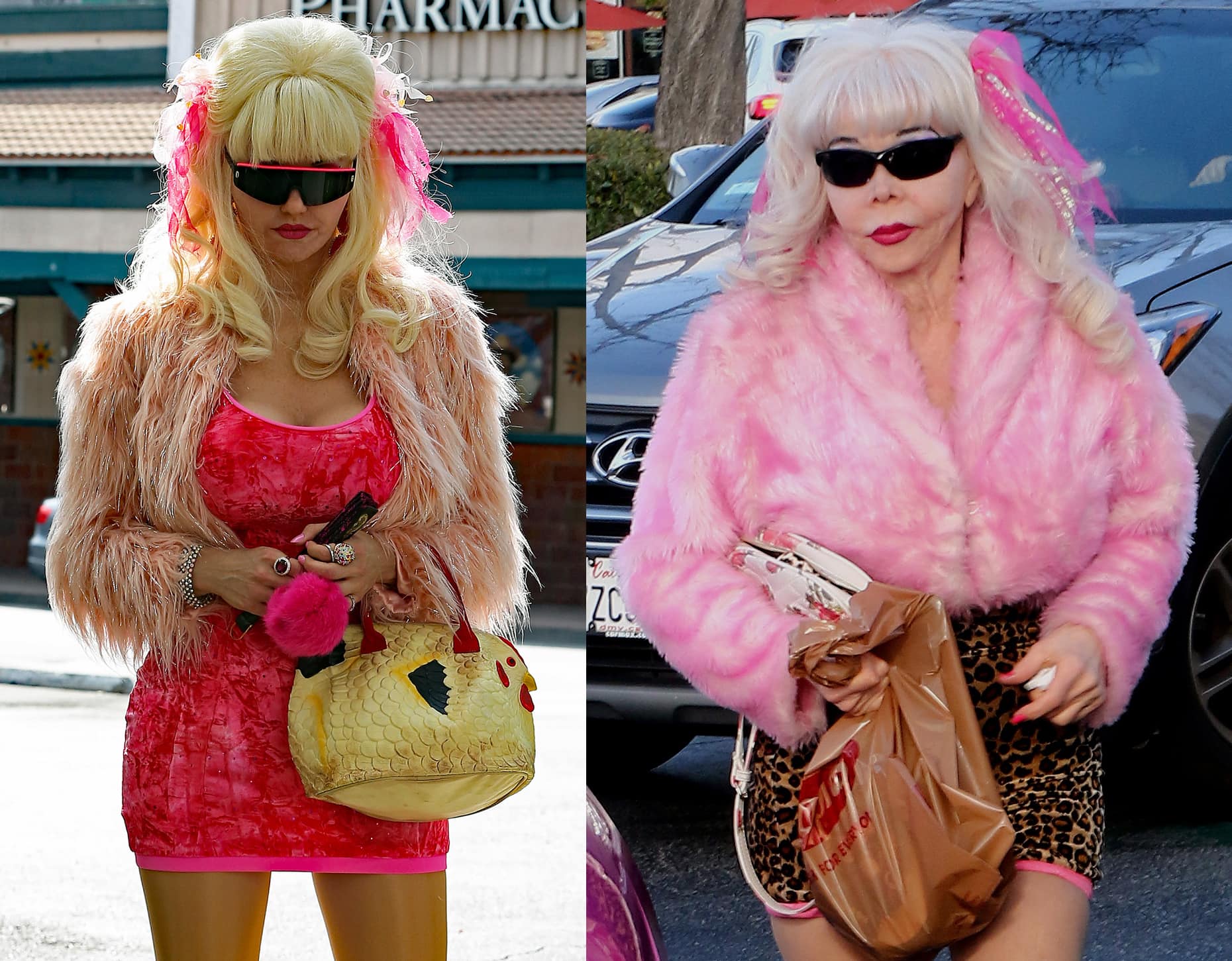 Emmy Rossum (L) is set to portray the iconic 1980's billboard icon Angelyne (R) in the upcoming Peacock mini-series (Credit: Mega / Avalon / WENN)
Thanks to a blonde wig, Emmy was able to effortlessly hide her brunette locks and transform into the famous diva. Added facial prosthetics and fake boobs made Emmy unrecognizable.
Emmy got further into character with heavy makeup, including pink lips, eyeshadow, and a cat-eye, to give her the exact look of the 1980 Hollywood billboard diva.
The truth is Emmy Rossum is the perfect Angelyne.
Emmy Rossum, who has always been fascinated by Angelyne, didn't hesitate to accept the role (Credit: Mega / WENN)
The series tells the backstories and the origin of the L.A. billboard legend. Interestingly enough, the show was inspired by Emmy Rossum's admiration of Angelyne.
When she accepted the role in 2017, Emmy said she has always been fascinated by Angelyne.
Emmy Rossum looks exactly like Angelyne with a blonde wig and large prosthetic boobs (Credit: Mega / WENN)
"At a young age, I can vividly remember staring up at her on a billboard above me and wondering, 'Who is that woman?'," Emmy said. "Gary Baum's investigative journalism has finally unearthed the true, complex identity of the infamous woman who has fascinated Los Angeles for over 30 years. From the moment I read Gary's recent piece, I knew I had to tell this story. It's a poignant and bizarre tale about the hunger for fame, the sexualization of women, and the erasing of past traumas."
Angelyne rose to prominence in 1984 after the appearance of a series of iconic billboards in and around Los Angeles (Credit: WENN)
Thanks in part to her character and distinct personality, Angelyne easily stood out prior to the invention of social media.
While the series has yet to be released, anticipation is steadily building.
Emmy is already receiving rave reviews for her embodiment of the role, thanks in part to her wig, makeup and pink mini dress.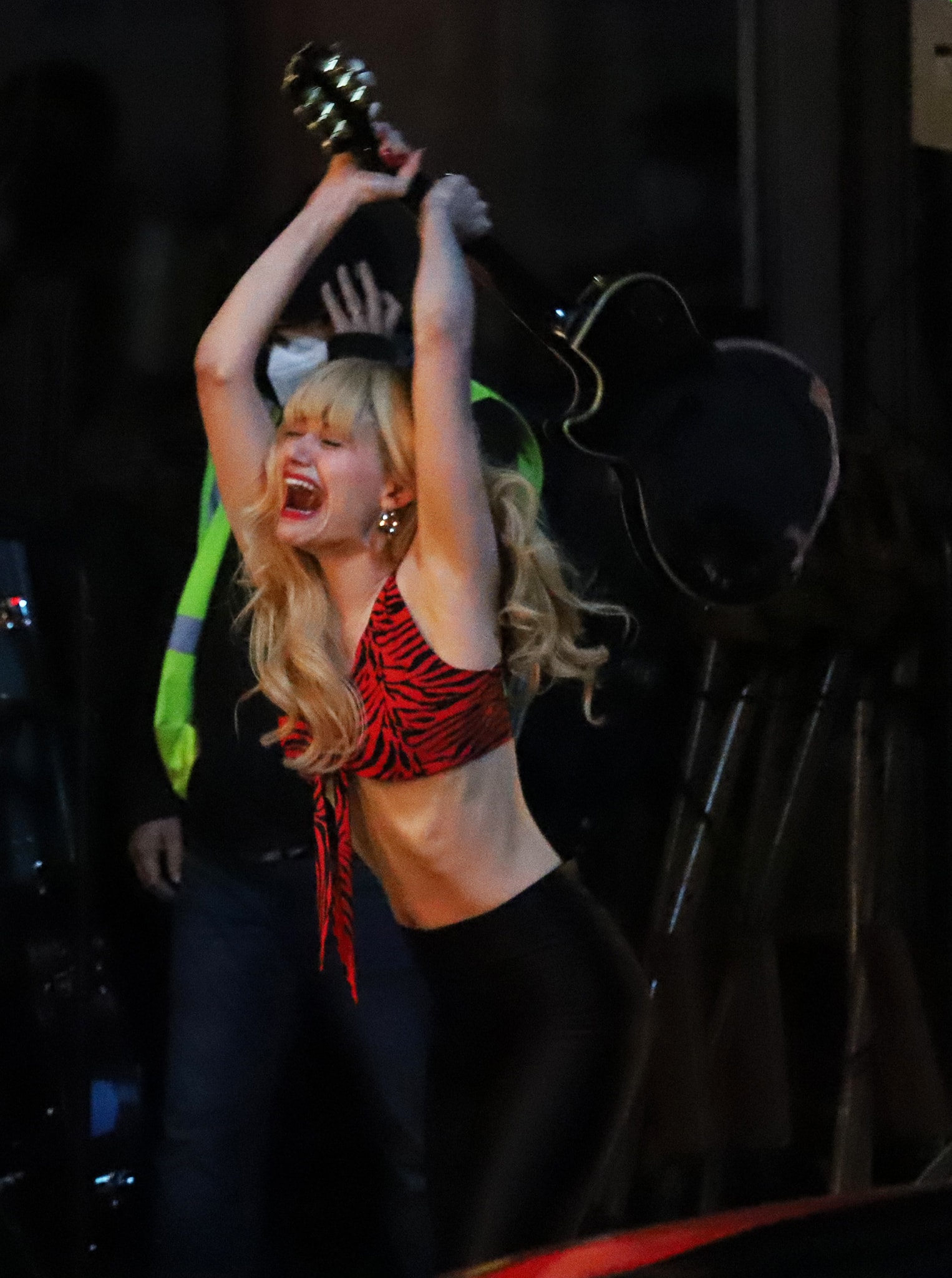 Emmy Rossum smashes a guitar while filming an emotional scene for the upcoming Angelyne series (Credit: Mega / WENN)
One scene in particular has already drawn notable attention. During the scene, a raging Emmy smashes a guitar in front of Angelyne's at-the-time boyfriend Jordan Michaels, while the two were both part of the band "Baby Blue."
Producers Emmy Rossum and her husband Sam Esmail seem to be doing a good job wrapping up the production of the "Angelyne" series, and honestly, we are all ready to welcome it.
In case you've already become accustomed to Emmy in a blonde wig, let's take a look back at a brunette Emmy in January 2013.
Almost a decade ago, Emmy attended the Russian premiere of "Beautiful Creatures" wearing a very elegant pair of black pumps.
Emmy Rossum wears her hair in curls at the Russian film premiere of "Beautiful Creatures" held Jan. 19, 2013, in Moscow (Credit: WENN)
The American actress and singer-songwriter styled the pumps with a monochrome dress from the Bibhu Mohapatra Resort 2013 Collection that featured a geometric pattern and a waist-framing black inset.
Emmy Rossum and Alden Ehrenreich pose for photos at the Russian premiere of "Beautiful Creatures" (Credit: WENN)
Emmy's Christian Dior pumps featured a very understated bow detail on the heels that complemented her intricate dress perfectly.
We found Emmy's Dior pumps at Farfetch and a more affordable alternative from Jessica Simpson at Zappos.
Christian Dior Black Suede 'Ribbon' Stiletto Pumps, $695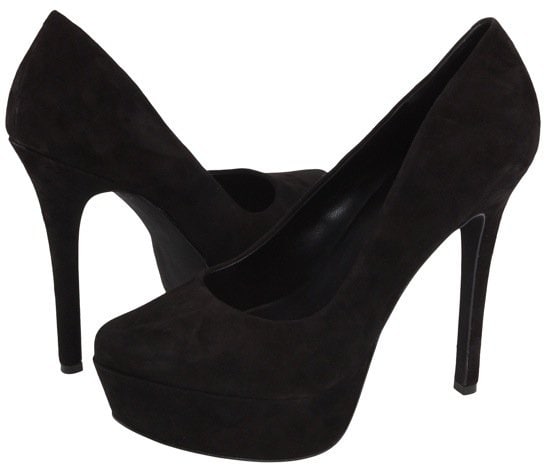 Jessica Simpson 'Waleo' Pumps in Black, $88.95
Which version do you prefer?