In July 2015, Beautiful Creatures actress Emmy Rossum was spotted running errands in Beverly Hills, and she looked killer in the process.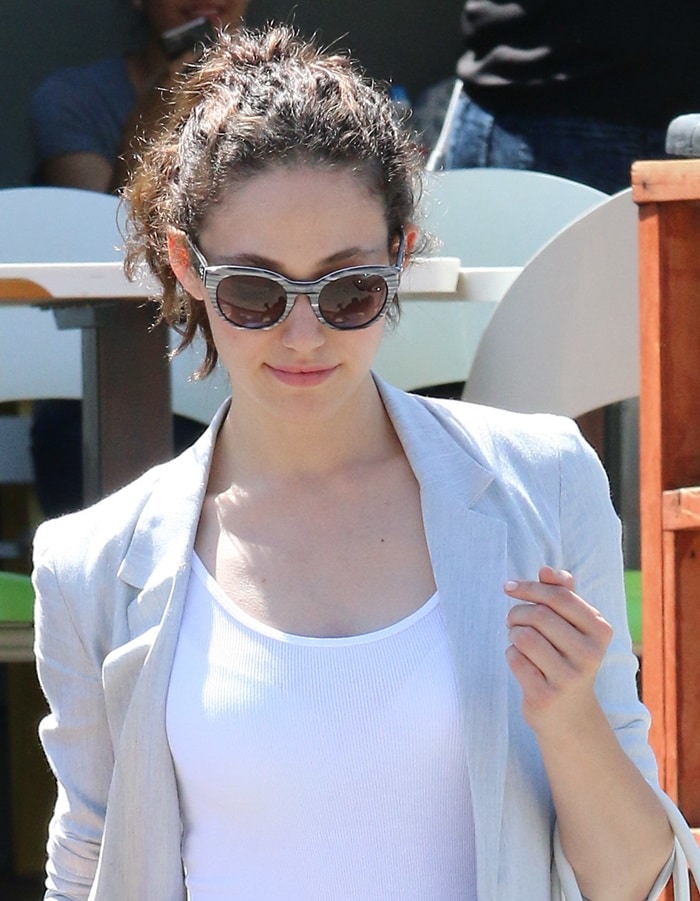 Emmy Rossum running errands with cat-eye sunglasses in Beverly Hills, CA on July 31, 2015
The then 28-year-old actress, who was busy preparing for season six of Shameless, was photographed wearing a basic white tank with rolled-up jeans and a gray blazer.
Who made the Beautiful Creatures costumes?
Two years earlier, she starred as Ridley Duchannes in the American romantic gothic fantasy film Beautiful Creatures.
The Victorian goth-like costumes in the film were created by costume designer Jeffrey Kurland, who is also known for his work on Inception (2010), Dunkirk (2017), and Erin Brockovich (2000).
"It was an interesting job, to say the least," Kurland told MTV in an interview "The characters are extraordinary because they range in emotion, not just in their physicality, but in their emotion. They exude a presence that I needed to capture physically on screen."
"As far as what costumes say, they tell a story," Kurland added. "They tell a visual story. This is just a sampling but by no means [all] you're going to see when you see the movie. Hopefully, you will enjoy that."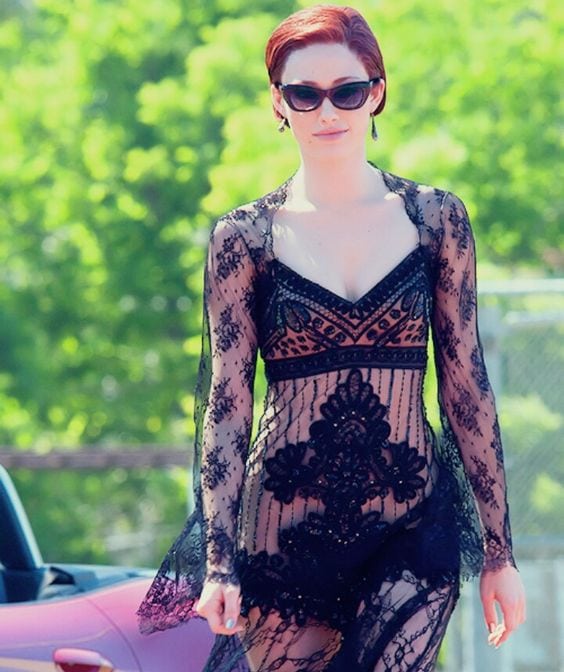 Emmy Rossum wears a dress by Jeffrey Kurland in Beautiful Creatures
"A lot of who my character is is her ability to manipulate people in the way she looks," Rossum told InStyle at the New York premiere.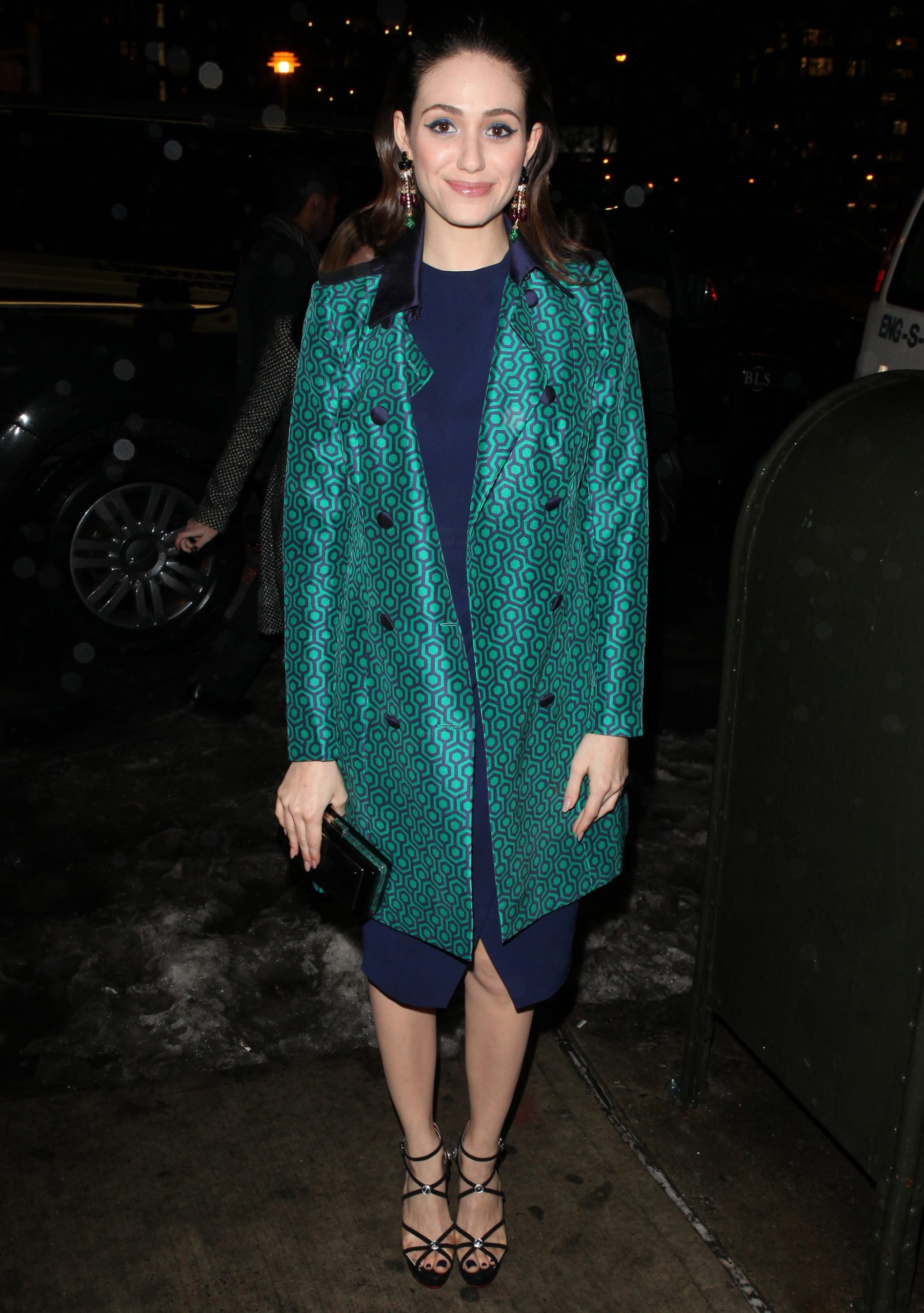 Emmy Rossum attends The Cinema Society and Dior Beauty present a screening of "Beautiful Creatures" at Tribeca Cinemas on February 11, 2013, in New York City
"She dresses up and channels different old Hollywood movie stars like Marilyn Monroe in River of No Return or Rita Hayworth in Gilda. So, there are a lot of big moments that are carbon copies of the way the actresses looked in those films."
"It was really fun to re-create. It was definitely very different than anything else I've ever played before," Rossum added.
Emmy Rossum as Ridley Duchannes in the 2013 American romantic gothic fantasy film Beautiful Creatures
At first glance, it was a simple outfit, but her accessories added a fashion-forward edge.
Emmy Rossum rocked a basic white tank with rolled-up jeans and a gray blazer
The Mystic River actress completed the look with cat-eye sunglasses, her favorite Ralph Lauren handbag, and a seriously sexy pair of "Hazel" stone elaphe laser-cut heels from the Bionda Castana Pre-Fall 2015 Collection.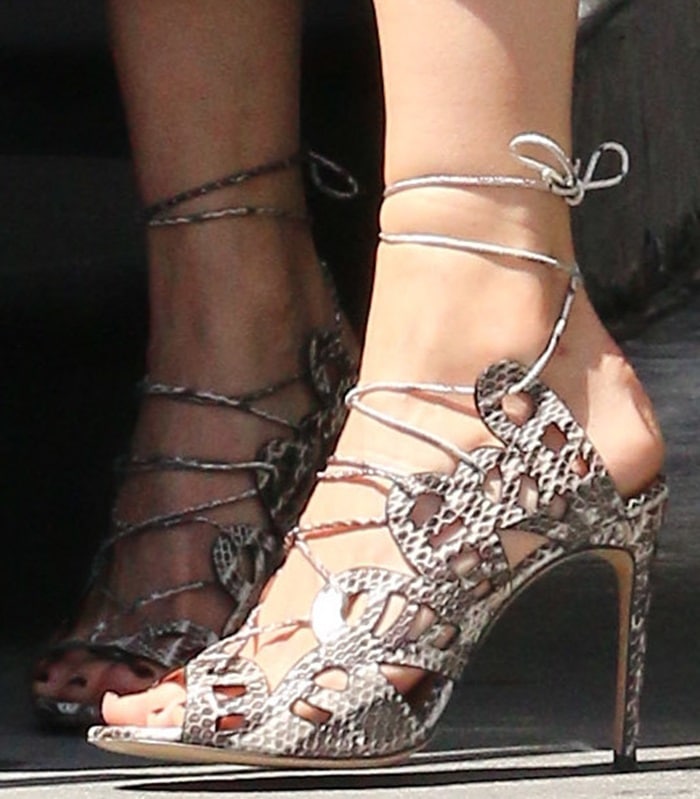 Emmy Rossum showed off her feet in "Hazel" stone elaphe laser-cut heels
Emmy is known for her elegant street style, so we're really feeling her edgy choice of accessories here.
Emmy Rossum's chic snakeskin lace-up sandals
While Emmy's snakeskin lace-up sandals are not yet available for sale, there are several look-alikes available at Amazon, including an affordable option from Dolce Vita.
Dolce Vita Helena Dress Sandal, $64.30 – $189.99
Stuart Weitzman White Snake-Embossed Leather Lace-Up Sandals, $550
Credit: WENN / PNP