Margot Robbie channeled "Enchanted Evening" Barbie at the London premiere of the highly anticipated film directed by Greta Gerwig.
Inspired by the 1960s, she wore a gorgeous look from Vivienne Westwood that made her a vision of opulence and refined elegance.
From the structured corset bodice to the dramatic side-draped train, you can tell that this stunning look was from none other than the renowned English fashion designer.
Margot Robbie channeling "Enchanted Evening" Barbie in an elegant Vivienne Westwood dress at the European premiere of Barbie held at Cineworld Leicester Square in London, England on July 12, 2023 (Credit: Mario Mitsis / Cover Images)
Another striking detail of the dress is the white ruffled neckline, as well as a flower accent on the side of the column skirt.
Stylist Andrew Mukamal and the 33-year-old stunning actress have certainly been having a blast during the Barbie promotional tour, as they have served a feast for the senses together.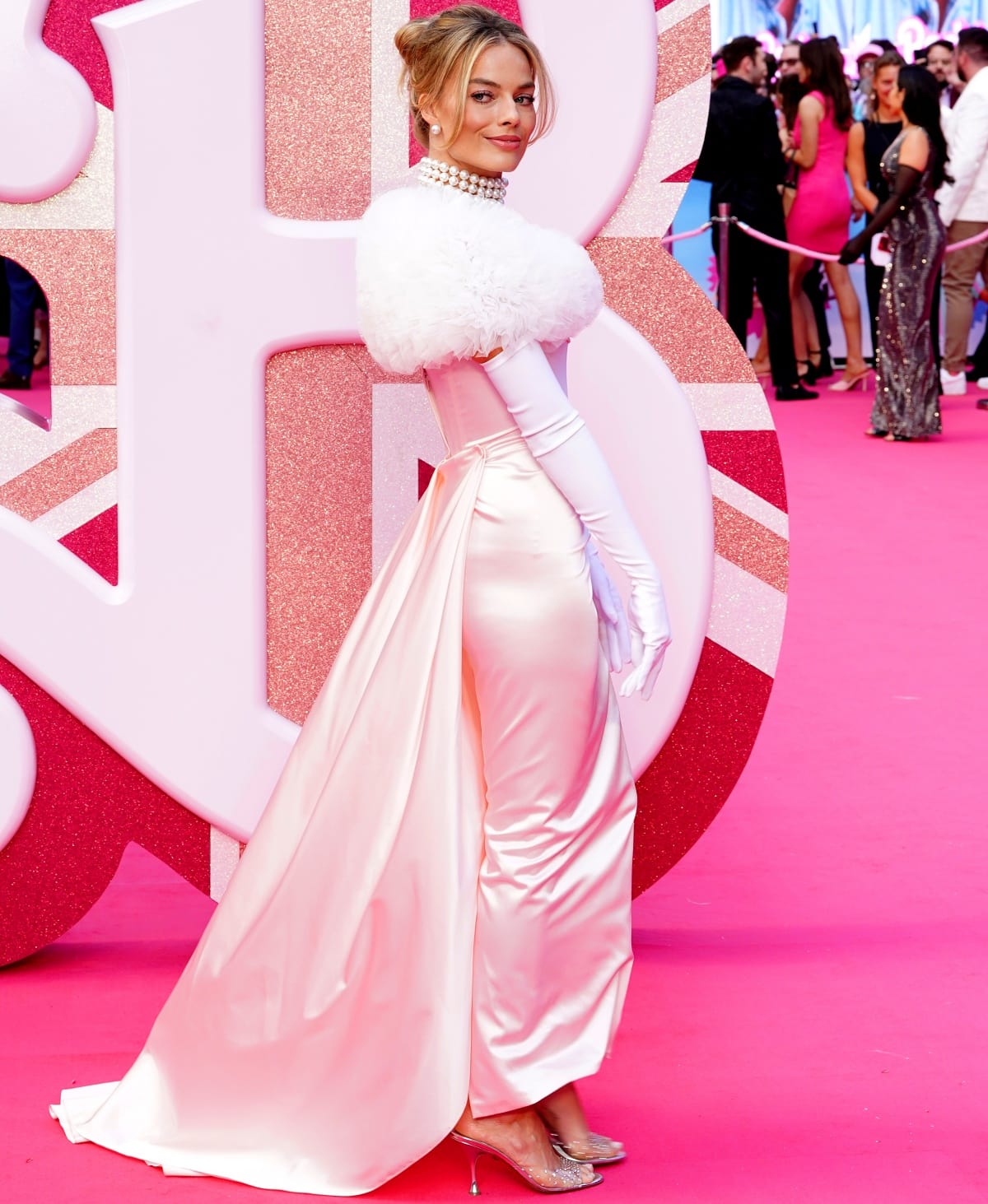 Margot Robbie and stylist Andrew Mukamal set out a plan to recreate iconic Barbie looks for every promo appearance (Credit: PA Images / INSTARimages)
For this look, the accessories included a set of long white evening gloves and jewelry from Assael, such as a pair of pearl earrings and a triple-strand pearl choker.
Makeup artist Pati Dubroff worked her magic with a subtle glam beauty look, complete with feathery lashes and a pink pout.
Meanwhile, hairstylist Bryce Scarlett styled Margot's hair in an elegant updo with face-framing strands to soften her features.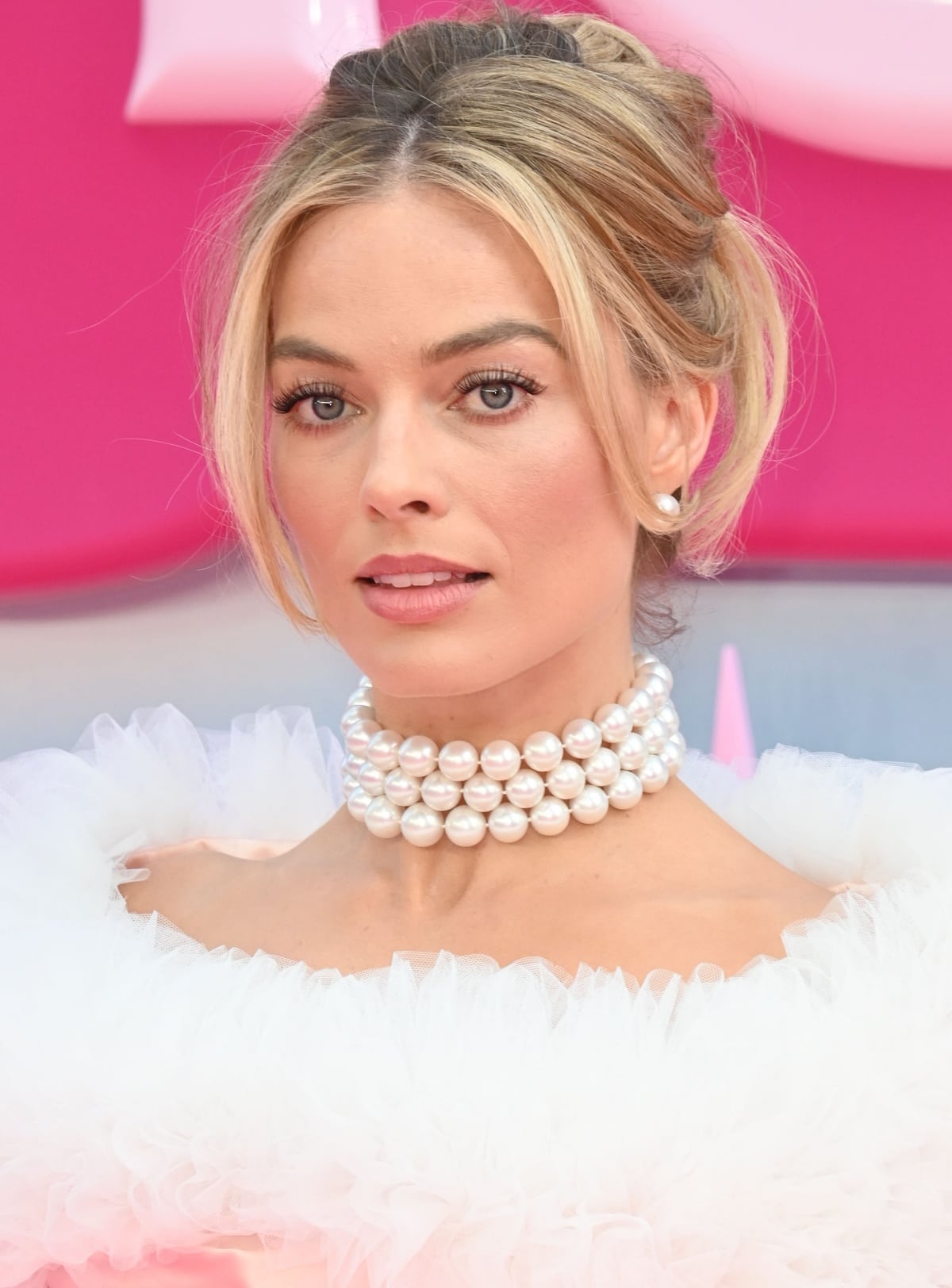 Margot Robbie's subtle glam beauty look included feathery lashes, a pink lip, and pearl accessories from Assael (Credit: Nils Jorgensen / INSTARimages)
There's been a lot of talk about The Wolf of Wall Street star's feet since the trailer for the film was released, so it's only natural that her footwear of choice is a crucial element of her look.
For this occasion, Margot slipped into a pair of Christian Louboutin Degramule 85 embellished mules featuring PVC slip-on straps adorned with crystals for a sparkly finish. You can buy them on Mytheresa for $1,085.
Margot Robbie displays her feet in Christian Louboutin's stunning Degramule mules, expertly crafted in Italy with clear PVC and adorned with floating shimmering crystals (Credit: Fred Duval / Shutterstock)
These open-toe shoes also have metallic silver leather uppers and angled heels, perfect for Barbie's famous arched feet.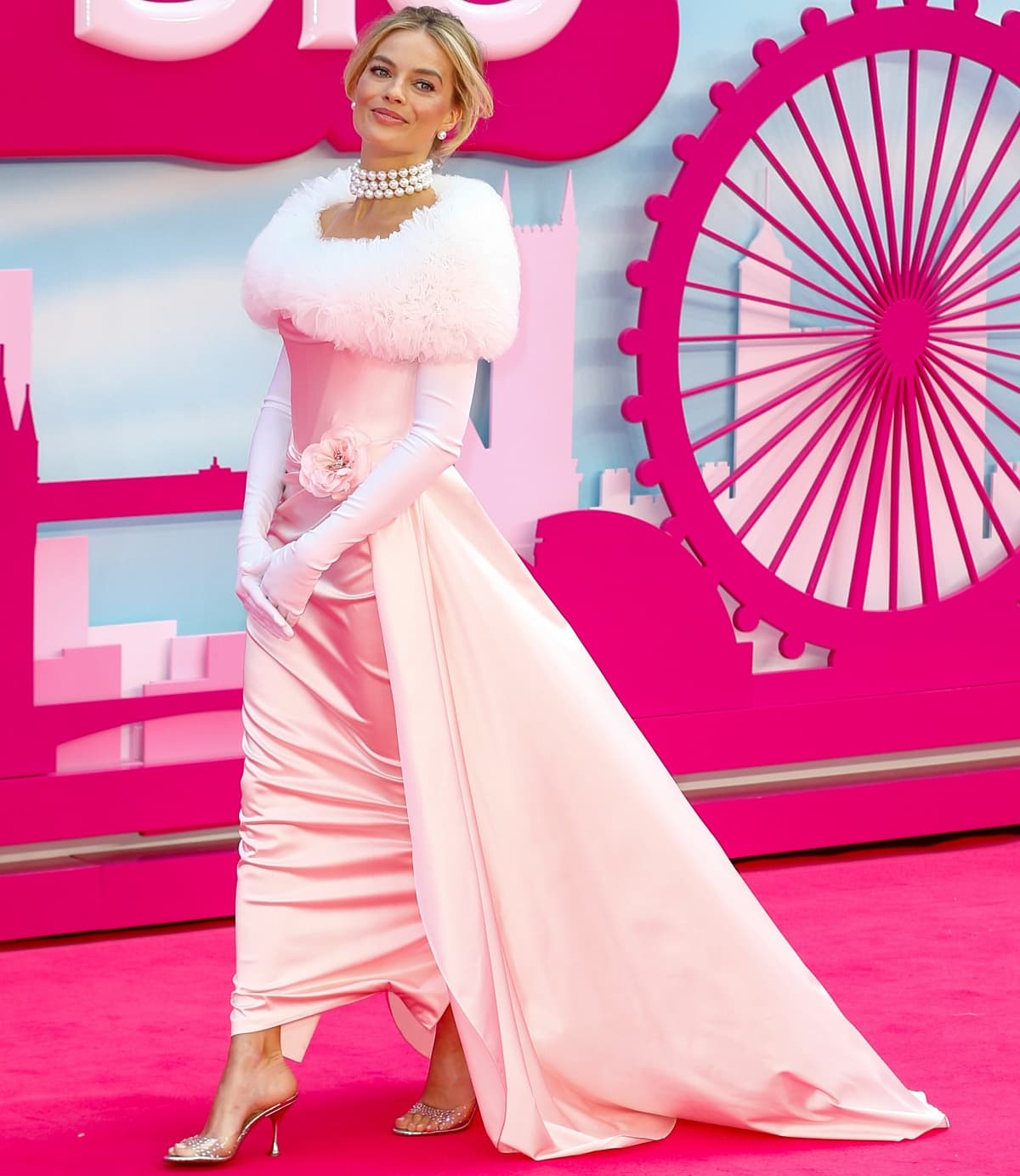 Margot Robbie wearing Christian Louboutin embellished mules at the London premiere of Barbie (Credit: Mario Mitsis / Cover Images)
Shortly after the premiere, the cast of Barbie stepped out for the VIP Photocall at The London Eye.
Margot Robbie traded her opulent dress for a sultry red Dilara Findikoglu minidress. She kept her Assael earrings and subtle glam beauty look but exchanged her shoes for red Maison Ernest heels.
Margot Robbie looking ravishing in red at the Barbie VIP Photocall after the London premiere (Credit: PA Images / INSTARimages)
All throughout the Barbie promotional tour, Margot has been recreating iconic Barbie looks and turning each one into a modern glamour moment for the Aussie actress.
As reported by People, the Babylon star said at the Barbie world premiere in Los Angeles that they've been "finding Barbie references from decades past and just doing it really for the big Barbie fans out there, people who are actually collecting those Barbies."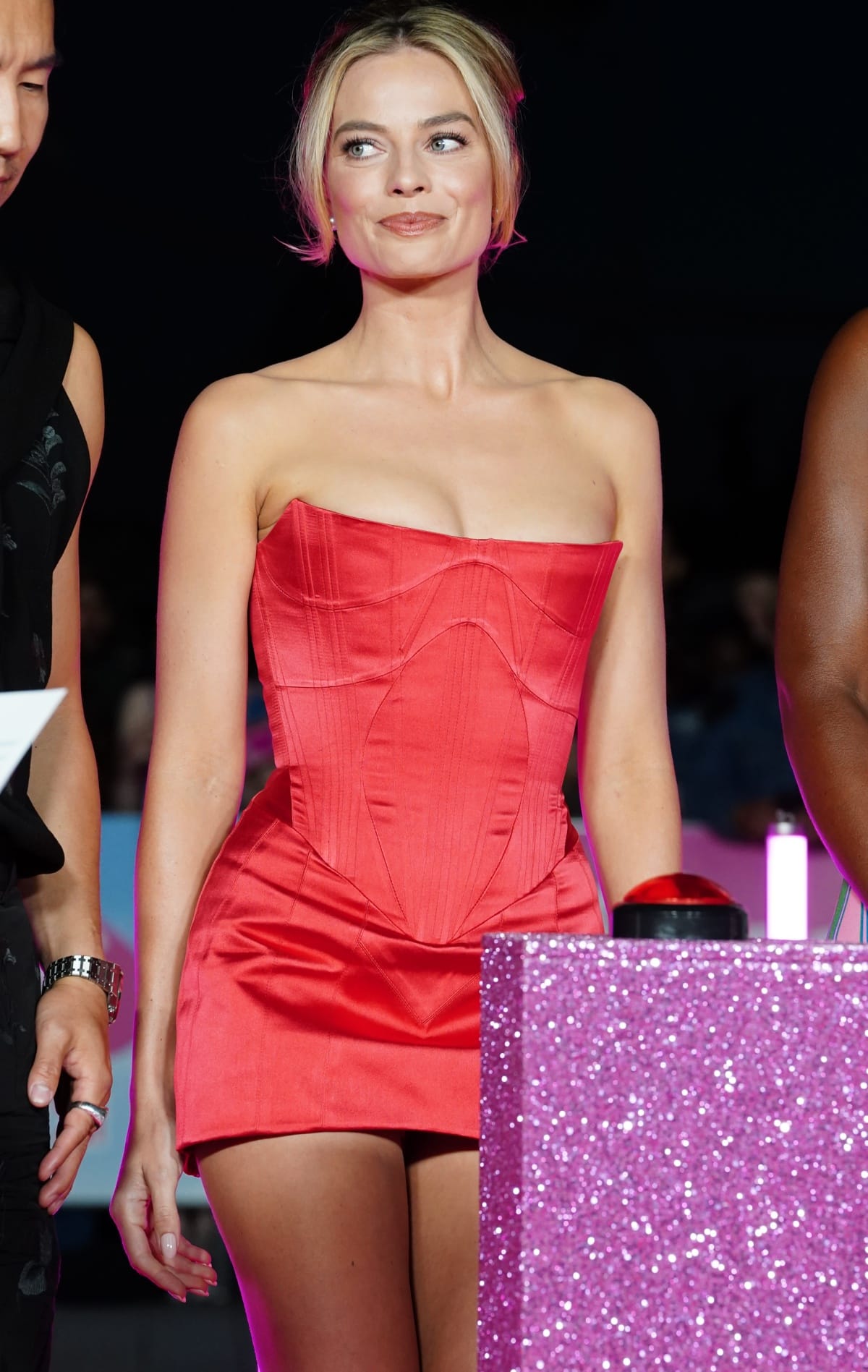 Margot Robbie shared how she and her glam team tried to find Barbie references and pair them with big designers to make sure that each promo tour appearance was just as glamorous as the iconic Barbie herself (Credit: PA Images / INSTARimages)
She added that they're "pairing Barbie references with great designers" and "hoping to get [the Barbie fans] excited."
But no one is more excited than Margot Robbie, who can't wait to share this gem of a film. "I am just so excited," she told Entertainment Tonight.
"We're at the point of sharing it with the world. There's always that thing when you make a movie and you love it and you care about it so much and you hope that people are gonna like it and even see it," she continued. "Even if they don't like it, I just hope they see it and get to form an opinion. But I feel like so many people are gonna see this movie that it's really exciting."
Margot Robbie is "so excited" to share Barbie with the world (Credit: PA Images / INSTARimages)
Barbie is set to hit theaters on July 21, 2023.