Superstar couple Ashlee Simpson and Evan Ross have been together for years. Both from famous families, the two had their own careers, and other relationships, before hooking up, marrying, and welcoming two children into their family.
Evan Ross, Ashlee Simpson, and their daughter Jagger Snow Ross at the premiere of 'L.O.L Surprise!' at Hollywood Forever on October 6, 2021, in Hollywood, California (Credit: MEGA / WENN)
With a relationship just as strong now as it was in the beginning, let's take a look at how they started, and where they are today:
Ashlee Simpson's Career History
Ashlee Simpson gained notoriety in the early 2000s simply by association.
Simpson's older sister, Jessica Simpson, was one of the biggest pop stars in America, but she quickly ushered herself out from under her sister's shadow and began her own career in entertainment.
Starting with an acting career, Simpson appeared in episodes of the popular show 7th Heaven as a teenager, and occasionally appeared in her sister's reality show with ex-husband Nick Lachey, Newlyweds: Nick and Jessica.
Ashley Nicole Simpson is the younger sister of Jessica Simpson and was born in Waco, Texas, on October 3, 1984 (Credit: LK / WENN)
Simpson eventually scored her own reality television show, The Ashlee Simpson Show, which chronicled her life as she wrote and recorded her debut studio album, Autobiography.
All the while, Simpson publicly dated multiple musicians (more on that later), and continued her career as a singer and actress, releasing another album, and moving her career to the stage.
American singer Ashlee Simpson promotes the 2007 song "Outta My Head (Ay Ya Ya)" from her third studio album Bittersweet World on March 3, 2008, at Wal-Mart in Bensalem, Pennsylvania (Credit: Hugh Dillon / WENN)
Simpson appeared in shows both on the West End and Broadway, and she recorded and released more solo albums. Eventually, she began focusing more on her life as a mother and wife.
Evan Ross's Career History
Although Evan Ross has had a fruitful career, it hasn't been quite as illustrious as his wife's.
Son of Motown legend Diana Ross, and half-brother to black-ish star Tracee Ellis Ross, Ross has followed in the footsteps of both relatives, making a go at both an acting and singing career.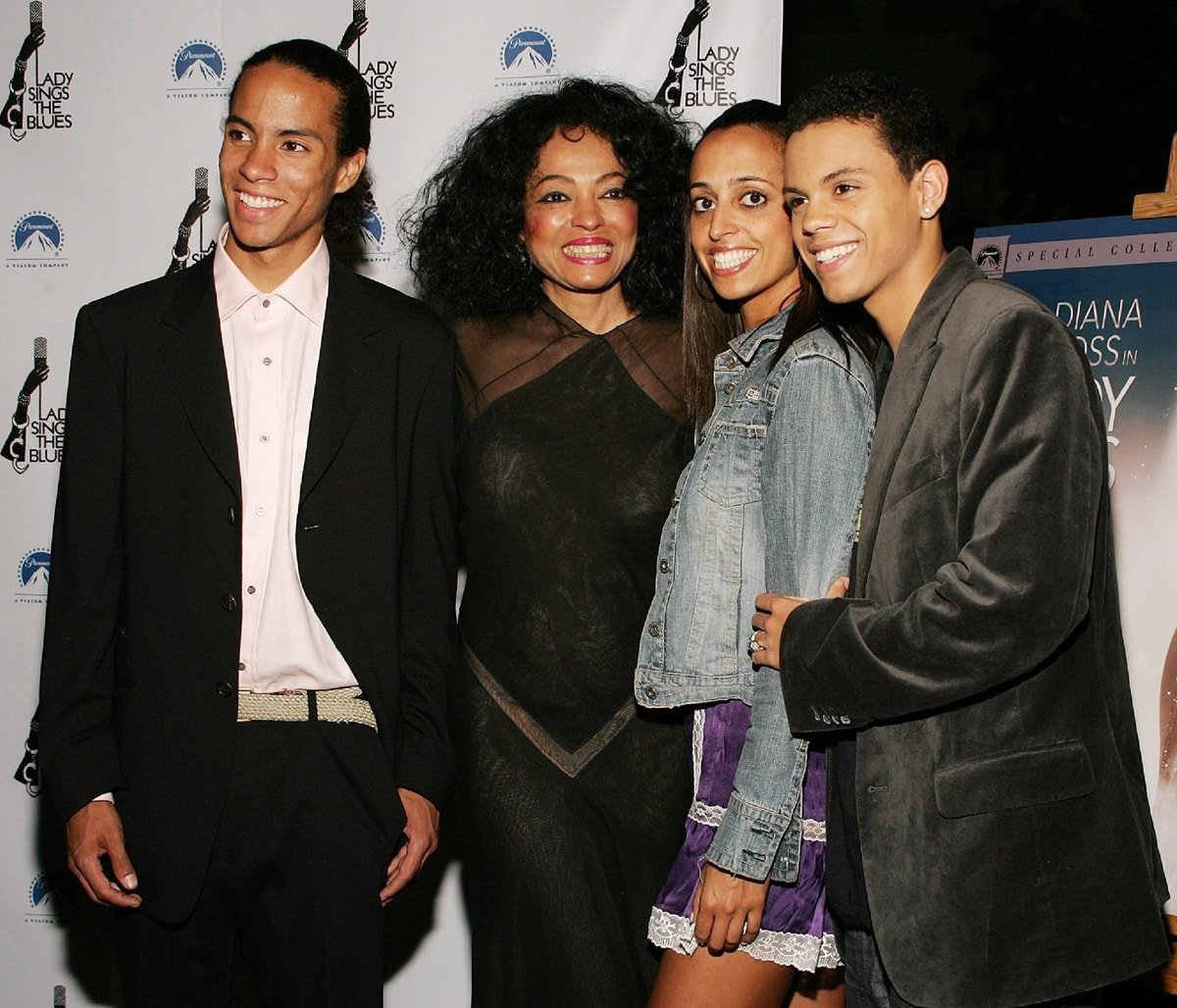 Singer Diana Ross with her children Evan Olav Ross, Chudney Ross, and Ross Naess in 2005 (Credit: Billy Kirk / WENN)
Ross has recorded and released his own music and has had roles in major projects like 90210 and the last two installments of The Hunger Games film series.
Evan Ross Facts
| What is Evan Ross's net worth? | He is an American actor, musician, and producer with a net worth of $25 million. |
| --- | --- |
| Full Name: | Evan Olav Ross (born Evan Olav Næss) |
| Born: | August 26, 1988, in Greenwich, a town in southwestern Fairfield County, Connecticut, United States. |
| Kids: | Jagger Snow Ross and Ziggy Blu Ross |
| Is Evan Ross the biological son of Diana Ross? | Yes, he's the biological son of businessman and mountaineer Arne Næss Jr. and entertainer Diana Ross. |
| Feet/Shoe Size: | 4 (US) |
| How tall is Evan Ross? | 6′ 1″ (185 cm) |
| Nationality: | American |
| What band is Evan Ross in? | He is one half of Ashlee + Evan, an American musical duo consisting of married musicians Ashlee Simpson and Evan Ross. |
| Who is Evan Ross's wife? | He married singer Ashlee Simpson on August 30, 2014, at Ross' mother's estate in Connecticut. |
| How did Ashlee Simpson meet Evan Ross? | They met at a friend's birthday party. |
| Who is Ashlee Simpson baby daddy? | She has a son with musician Pete Wentz and two children with Evan Ross. |
The Couple's Past Relationships
Both Ashlee Simpson and Evan Ross were involved with other people before committing to one another. Since Simpson's career has been more publicized, her relationship history has been, too.
Back in the early 2000s, when Simpson was reaching her peak in popularity, she was linked to multiple musicians. Simpson had a very public relationship with singer Ryan Cabrera, who appeared on her television show and inspired some songs on her debut album.
Ashlee Simpson and American musician Ryan Cabrera dated from January 2004 to August 2005 (Credit: WENN)
After her split from Cabrera, Simpson was involved with other celebrities, but eventually began seriously dating Fall Out Boy bassist and lyricist Pete Wentz.
Simpson and Wentz were together for years. First sparking rumors of an engagement by wearing a diamond promise ring, Simpson eventually confirmed that she and Wentz were engaged, and later wed and welcomed a son, Bronx Mowgli Wentz, all in 2008.
With an unusual middle name inspired by the lead character of 'The Jungle Book,' Bronx Mowgli Wentz was born on November 20, 2008, when his mother Ashley Nicolle Ross (née Simpson) was 24 years old.
Unfortunately, three years later, the couple filed for divorce, citing irreconcilable differences.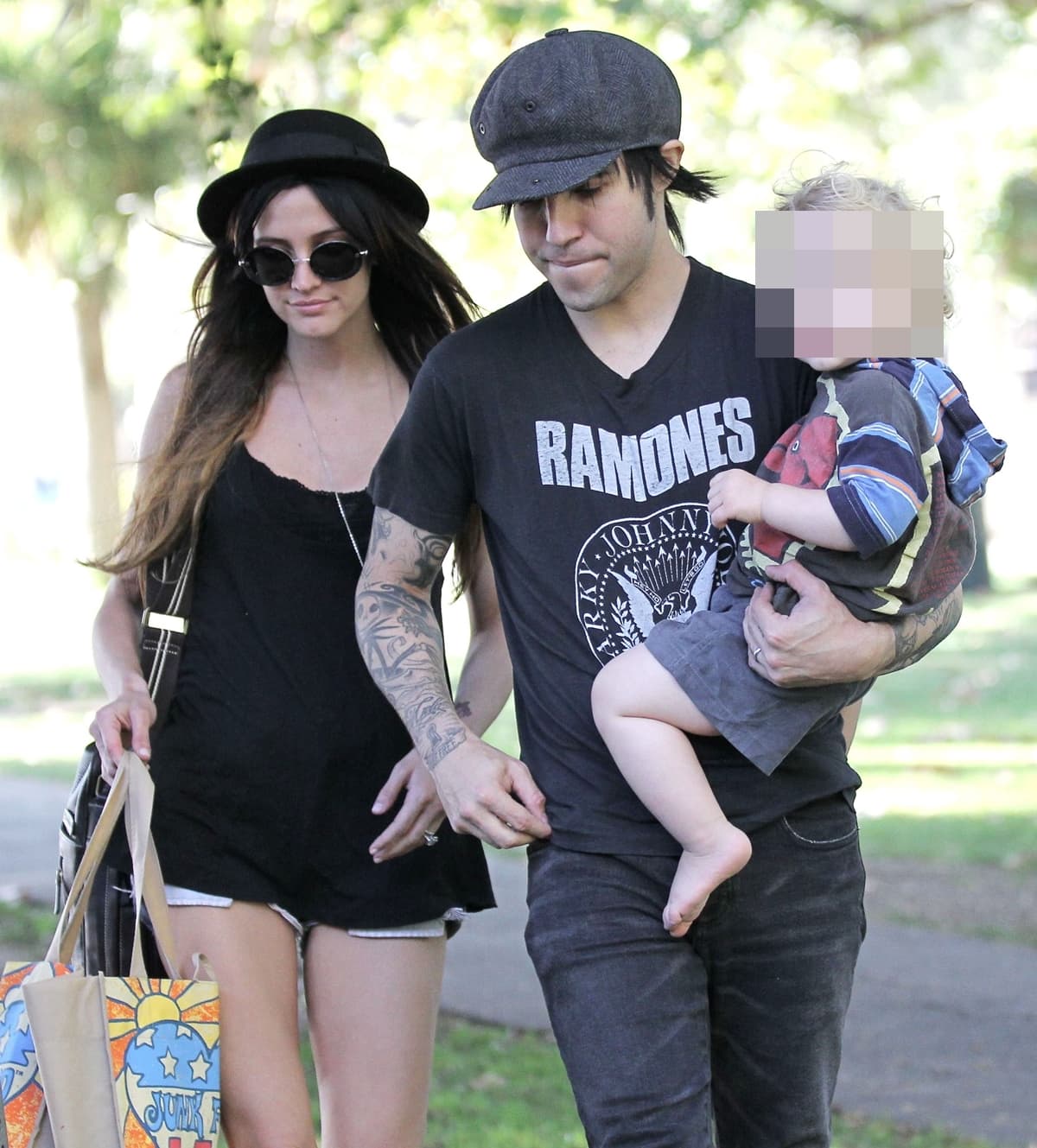 Pete Wentz, Ashlee Simpson, and their son, Bronx Mowgli Wentz, enjoy the day at the park in Los Angeles on July 31, 2010 (Credit: WENN)
As mentioned, Ross's dating history isn't quite as well-documented as his wife's, but before his marriage to Simpson, Ross dated model Cora Skinner, Danity Kane singer Aubrey O'Day, and was linked to singer Rita Ora.
Ashlee Simpson and Evan Ross's Relationship History
Ashlee Simpson and Evan Ross have been together since 2013. Here's a look at their relationship milestones:
1. How They Met
Simpson and Ross met at a friend's birthday party, and the attraction was immediate. The couple engaged physically the night they met, before having much of a conversation.
Shortly after, the two began dating and knew they wanted to spend their lives together early on in their relationship.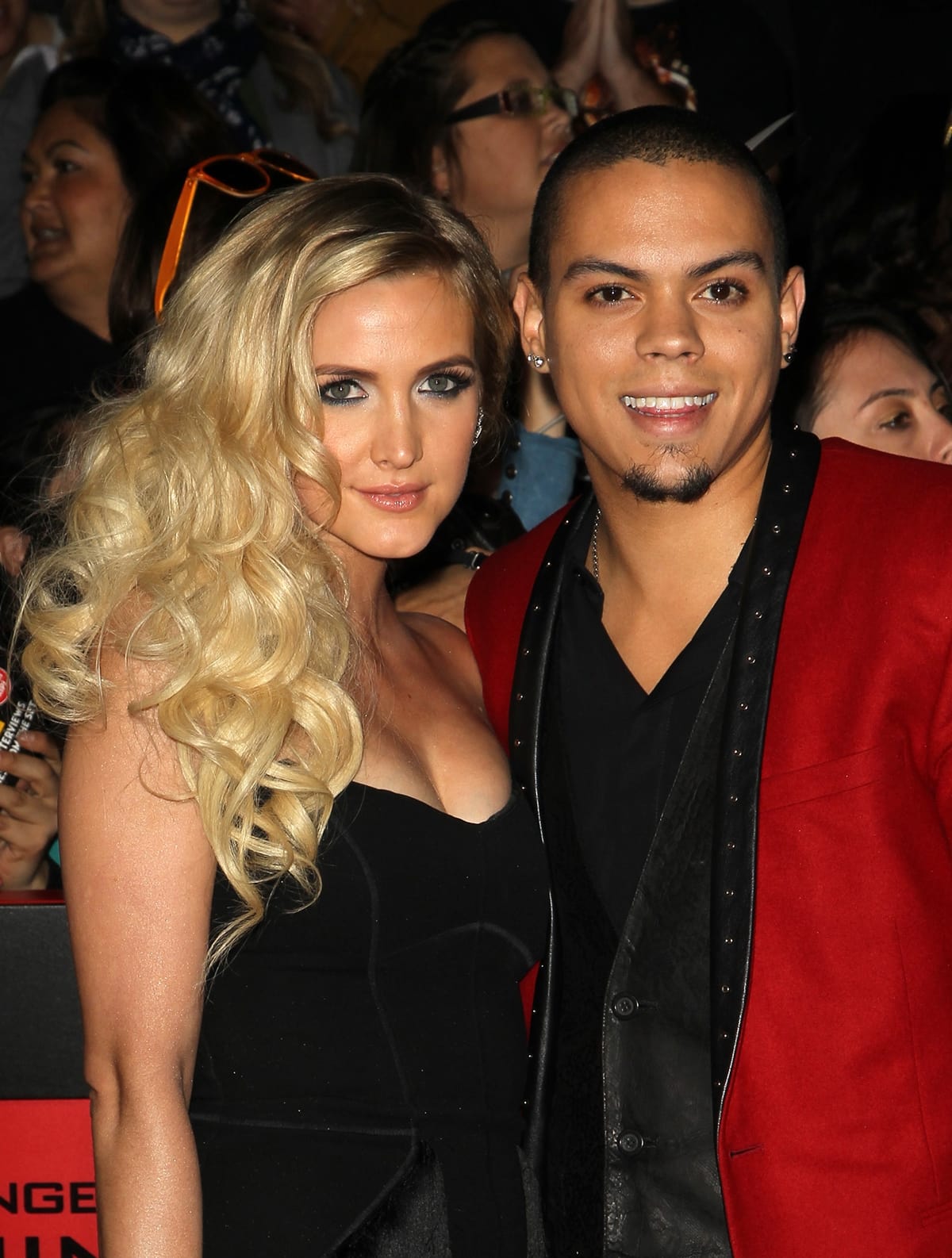 Evan Ross asked ex-boyfriend Ryan Cabrera for permission to date Ashlee Simpson (Credit: FayesVision / WENN)
Beforehand, though, Ross visited his friend, Ryan Cabrera, asking his permission to take Simpson on a date, given their prior relationship. Cabrera, of course, said yes, and Simpson and Ross started their relationship.
2. Their Engagement and Wedding
2014 was a big year for Simpson and Ross. The two became engaged, and later that year married at Ross's mother's home in Greenwich, Connecticut.
Ashlee Simpson and Evan Ross married in 2014 after less than a year of dating (Credit: Ryan / WENN)
Simpson's son Bronx Mowgli Wentz walked her down the aisle, and her sister, Jessica Simpson, stood as her maid of honor.
3. Their Children
Not long after tying the knot, Simpson and Ross announced they were expecting a child, and nearly a year after exchanging vows, Simpson gave birth to a daughter, Jagger.
Jagger Snow Ross, Evan Ross, Ashlee Simpson, and Bronx Wentz arrive at the World Premiere Of Disney's 'Frozen 2' held at the Dolby Theatre on November 7, 2019, in Hollywood, Los Angeles (Credit: Avalon / WENN)
A few years later, the duo announced they were expecting another child, and in late 2020, Simpson gave birth to her third child, her second with Ross, a son named Ziggy.
4. Their Work Together
Given both Simpson and Ross have careers in television and music, it's natural they would collaborate professionally after having a successful romantic relationship. In 2018, the couple debuted a couple of different creative projects.
First, the pair dropped a single they recorded together, "I Do," and days later, their reality show Ashlee + Evan premiered on E!.
Evan Olav Ross is significantly taller and 4 years younger than his wife Ashlee Simpson (Credit: Avalon / WENN)
While the show was airing, Simpson and Ross dropped their EP, which had the same title as their television program.
Unfortunately, the show only ran for one season, six episodes total. The two noted they enjoyed filming but had multiple reasons why they didn't want to continue. The pair have maintained their musical collaboration, though, releasing another song in 2019.
4 Fun Facts About the Couple
Simpson and Ross are both actors and musicians, but here are other fun facts about the pair:
1. The two are four years apart, and Simpson is older.
2. Ross is much taller than Simpson. He stands at 6'1", while his wife is 5'7".
3. Both are active on social media, sharing pictures of each other, and their kids, on Instagram.
4. The couple enjoys traveling, and both post photos of their trips for fans to see.
Their Life Today
These days, Ashlee Simpson and Evan Ross enjoy a normal life, aside from being rich and famous. While they're not on reality television anymore, both are busy with their family and careers.
Evan Ross and his wife Ashlee Simpson have been dating since 2013 and share a son, Ziggy Blu Ross, and a daughter, Jagger Snow Ross (Credit: Adriana M. Barraza / WENN)
Simpson is still connected to her ex-husband, Pete Wentz, as well. Although their romantic relationship ended years ago, they are still friendly as they co-parent their son Bronx Mowgli Wentz.
Both have noted how healthy their relationship is, gushing that Ross, Simpson, Wentz, and their children are all part of a blended family.
Two days before 2013 ended, Ashlee Simpson was spotted doing some shopping in West Hollywood in Los Angeles.
Ashlee Simpson covers her hair with a fedora on December 29, 2013, in West Hollywood, California (Credit: WENN)
The then 29-year-old singer-songwriter and actress toured the famous Melrose Avenue with her then 25-year-old boyfriend, Evan Ross.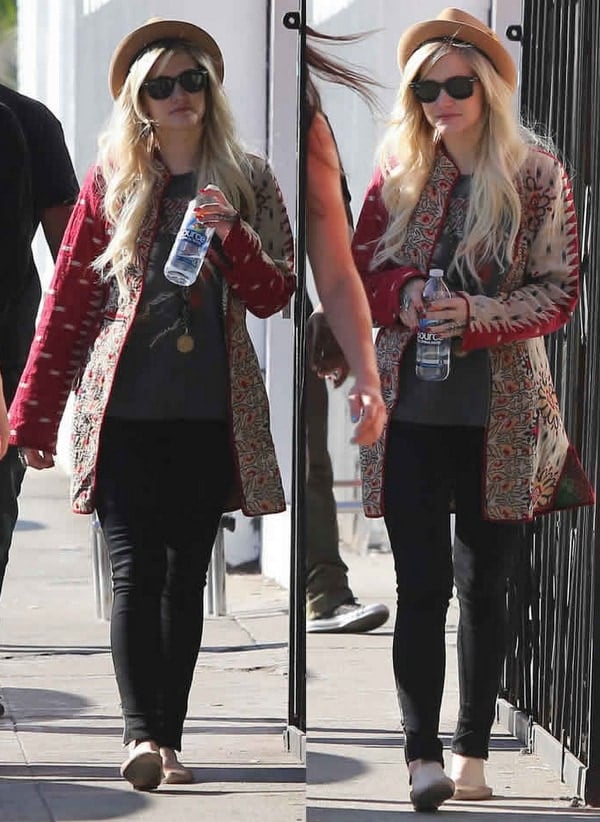 Ashlee Simpson wears a statement necklace and black skinny jeans (Credit: WENN)
Although dressed in just a printed tee and black skinny jeans, the entertainer added some interesting pieces to her laid-back style to keep it interesting.
Ashlee Simpson and her boyfriend Evan Ross on a date in West Hollywood (Credit: WENN)
The younger sister of singer and actress Jessica Simpson added a pop of color to her outfit with both a printed cardigan and a number of long beaded necklaces.
She finished her boho-chic look with Ray-Ban sunglasses, a tan hat, and a pair of scalloped-detailed ballerina flats from Chloé.
Ashlee Simpson's feet in nude Chloé ballerina flats (Credit: WENN)
What do you think of her look? Interesting or too busy?
Ashley was wearing a pair of "Lauren" scalloped flats from Chloé. This style is available in six colors at Farfetch and Nordstrom.
Chloé Lauren Scalloped Ballerina Flats, $475