The thing is, winter jackets are created with style and fashion as the least of its priority.
Obviously, they are made to keep you warm and alive. But there are unscrupulous people out there selling counterfeit winter jackets, and this can pose a danger to your health. So, how to spot fake winter jackets?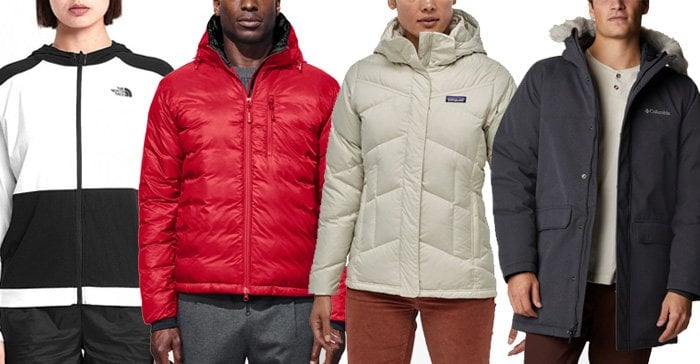 Authentic winter jackets from The North Face, Canada Goose, Patagonia, and Columbia
It's not so easy because counterfeiters have mastered the cut and design of winter jackets from major brands, such as The North Face, Canada Goose, Columbia, and Patagonia.
They have even managed to copy the logo design—perfect spelling and all. They look so authentic that you can easily be tricked. Some of them are Class-A fakes.
Perhaps you've once been a victim, or someone you know has been. Or you are very much aware of the increase in the number of fake winter jackets being sold everywhere, and you want to avoid them. And you are wise to do so. Here's your guide on how to spot a fake winter jacket.
The 10 Red Flags
1. Questionable Fabric
If you touch an authentic winter jacket, you can feel its fine quality. Also, it feels heavier. If it looks inexpensive, lightweight, and has rips and pulls, then the jacket is most likely a fake.
You should also check if the brand's logo design is in the interior of the fabric. If there is none, consider yourself warned.
2. Light Fastenings
Examine the zippers and the pulls. If they are light and shiny, this is a definite red flag.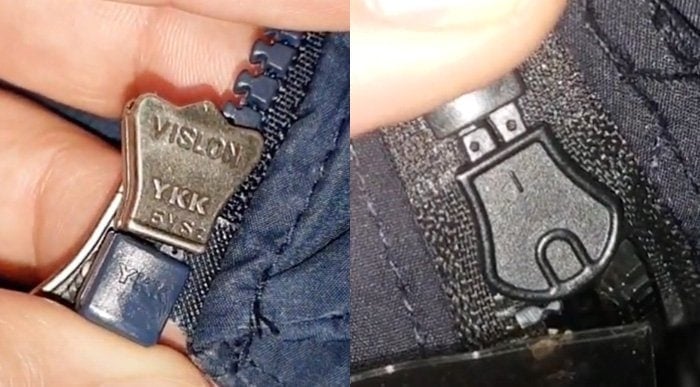 Screenshots from the Voice of People Today YouTube channel showing heavy, YKK-engraved zippers on a real Columbia jacket (left) and a zipper with no engravings on a fake Columbia jacket (right)
Authentic winter jackets use weighted zippers and pulls in a matte finish. They also often have the company name engraved on them.
3. Scrawny Fur Trims
Fur trims that line the hoods of winter jackets help decrease heat transfer.

Authentic Canada Goose fur ruffs (left) versus counterfeit fur (right)
Authentic winter jackets have fur that feels soft, refined to the touch, high-quality, rich, and full. If they look scrawny or stiff, that's a red flag. It could be synthetic or, worse, made from dog fur.
4. Poor Stitching
Manufacturers of fake winter jackets will never invest in superior quality materials and labor. This is evident in the stitching. Counterfeit jackets have less stitching because the fakers are saving on costs.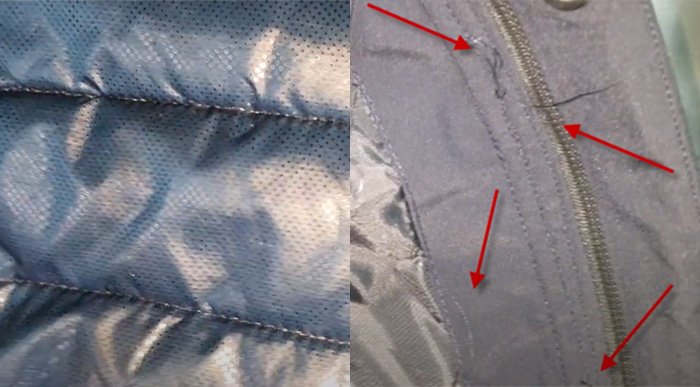 Screenshots from the Voice of People Today YouTube channel inspecting the inside stitchings on a real Columbia jacket (left) and a fake Columbia jacket (right)
As a result, the lines of the stitches are not perfectly aligned. Whereas a genuine branded jacket will have neater stitches—and clearly has more stitches per square inch.
5. Super Sale
If the discount is too big, that's a red flag! A 30-percent discount and above is really suspicious! Rarely do designer winter jackets drop their price that low.
Some of the major winter jacket brands don't allow their products to be sold on sale at popular discount retailers like Nordstrom Rack.
One of the most reliable guides on how to spot fake winter jackets is checking the official website of the brand—if they are actually having a sale or not.
Another tip? Check out the price tag if it carries the company logo. Counterfeit winter jackets typically use generic price tags.
Also, designer brands have started using holographic tags on their label. This is almost impossible to replicate.
6. Cheap Buttons
Screenshots from the Voice of People Today YouTube channel comparing the buttons on a real Columbia jacket (left) and on a fake Columbia jacket (right)
If you pick up a fake winter jacket, you'd see that the buttons don't have the logo or company name engraved on them.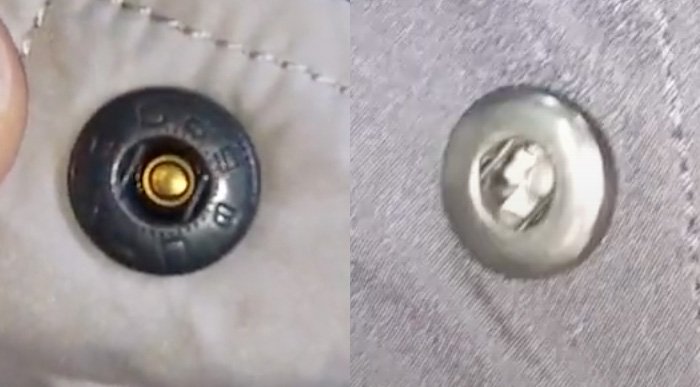 Screenshots from the Voice of People Today YouTube channel comparing the backside of the buttons on real (left) and fake (right) Columbia jackets
You'd notice, instead, how the buttons are plastic, too light, and unlabeled. Also, the buttons on a counterfeit jacket are rarely securely sewn.
7. Second-Rate Prints
Winter jackets from The North Face, for example, have a front print or tag.

Screenshots from YouTuber Kaz L comparing the tags on real (left) and fake (right) The North Face jackets
Authentic jackets sport front tags that are more vivid, the stitching denser, and the spaces between the letters that spell out the brand are consistent in size.

A real Canada Goose jacket (left) has a unique hologram label on the tags, while a fake Canada Goose jacket (right) has none
But in all sorts of apparel, including winter jackets, it's a red flag if the prints have less-than-rich colors, appear slightly amateurish in design, and look a little askew.
Authentic jackets have bold, solid colors when it comes to prints, combined with impeccably precise stitching and spacing.

The original Canada Goose logo patch (left) has intricate embroideries with perfectly shaped maple leaves, while the counterfeit (right) has poor detailing, color variations, and error in the shape of the maple leaves
Feel the thread of a genuine branded jacket, and you'll understand the difference.
8. Wilt-y Collar
When it comes to puffer jackets, it's easy to spot a fake one. Zip up the jacket all the way to the collar so that it closes completely.
If the collar is solid, puffy, and stands tall, then you are holding in your hands a genuine puffer jacket. However, if it looks deflated or wilt-y, then you're looking at a fake puffer jacket.
9. Check Partner Retailers
On their official websites, designer brands list partner retailers where you can get the same authentic winter jackets they sell in their own boutiques. Two of the most popular outdoor retailers selling authentic winter jackets are Moosejaw and Backcountry.
Clearly, if the retailer or e-commerce site is not a partner, then count on it that you'll be shelling out hard-earned money on a fake winter jacket. Do not be duped!
10. Packaging
Did you know that companies literally spend millions of dollars on packaging alone? They invest in stylish, durable, and top-quality packaging that will not only protect their product but is also designed to accommodate the product quite snugly.
The packaging alone is a telltale sign of a winter jacket's originality. The box, paper bag, or cloth bag with drawstrings should have the company name printed.
The packaging itself looks really expensive, and the winter jacket would slip in easily, fitting inside like it was made for it.
Why It Is Dangerous To Buy Fake Winter Jackets
If you think you'd be saving a lot of money purchasing counterfeit winter jackets, well, you are dead wrong.
Wearing a fake winter jacket is pointless: you'd feel incredibly uncomfortable because it won't be as effective in fighting off the cold and wind and keeping you warm.
Apart from trembling from cold, there are many other reasons why it's simply foolish to get unoriginal outdoor apparel. Here are more important reasons why you must stay away from knockoff winter jackets:
1. You can actually die
You can even die from sub-zero temperatures or suffer from frostbite and hypothermia if you're donning a counterfeit winter jacket.
"High-quality outdoor apparel is designed to keep the wearer alive in the most hostile environments, like in torrential rainfall and through bitterly cold nights," according to Red Points, in their article "Fake outdoor apparel leaves customers out in the cold."
"Counterfeit outdoor apparel is designed to aesthetically imitate authentic brands, not made to strict specifications of insulation and safety," the website further adds.
So, are you willing to risk your life just to "save money"?
2. You contribute to child labor
Manufacturers of counterfeit items usually resort to illegal hiring—worse; they get children as cheap labor. These kids, instead of enjoying their childhood or going to school, are slaving away in a factory that creates fake winter jackets.
AOL further emphasizes this harrowing dilemma in their article "Cheap Knockoffs and Counterfeits Can Be Hazardous to Your Health" by quoting Kevin Spreekmeester, the global marketing vice president for outdoor clothing company Canada Goose.
"We know the counterfeit product is coming out of China," [Spreekmeester] says. "We know that child labor is involved. And we know that it funds organized crime."
3. Feather mulch filling and gross stuff
Ewww. Your fake winter jacket contains not down—but basically garbage. Stuffed with gross stuff you would not believe would be inside your clothing!
The same AOL article by Loren Berlin states how Canada Goose tested a handful of fake jackets purchased online. And shockingly, these counterfeit warmers had zero down in them.
Fake winter jackets for sale on the street in Dzerzhinsk, a city in Nizhny Novgorod Oblast, Russia (Credit: Orini / Shutterstock)
Down, which protects an individual from frostbite and hypothermia in the deadliest of climates, was replaced with alternative fillers, which the article described:
"What they do have in them is called 'feather mulch,' which is anything you pick up off the floor," said Spreekmeester. "It's feathers, it's beaks, it's feet. Covered in feces, covered in mildew, covered in bacteria."
The article also pointed out that the fur that lines the hood of a fake winter jacket comes from the fur of dogs, particularly the German Shepherd. It argues a very cogent point: it's not only unhygienic, but it also promotes animal cruelty.
4. You'd be in trouble if you're an athlete
And if you're an athlete, especially a professional one, it is crucial that you only wear authentic apparel. Let's say you are a skier, hockey player, or snowboarder. If you pick a fake jacket, the unreliability of a counterfeit jacket will negatively affect your performance.
On top of ruining your performance in the sport, you will also commit a lot of self-harm by exposing your body to the harsh elements of nature.
5. You help sustain unauthorized marketplaces
Because counterfeit winter jackets are clearly sold in unauthorized marketplaces—online and offline—you help keep these illegal traders in business.
Not only will you be contributing to sustaining a black market of underground fake goods, but you will also be contributing to their proliferation. Manufacturing and selling of fake goods are criminal acts. You don't want to be supporting that industry, do you?
Furthermore, imagine if you buy one as a gift for a family or a friend, thinking that a knockoff jacket does not have to be original, you may harm their health.
6. Wear-and-tear soon
Because you're wearing a fake jacket, you will soon see signs of wear and tear. From fraying and fading to easily damaged zippers and buttons- you've just totally wasted a lot of money on…, well, waste.
With your jacket all ugly and disintegrating and even left unused due to its inability to shield you from the harsh climate and nights and days of bitter cold, you then have to purchase a jacket again.
Final Tip
Always do extensive research when buying a winter jacket. Designer brands have official websites.
If you don't find the information that you need about the jacket that you wish to purchase on their website, you can always reach out to them via their customer service hotlines.
Stay away from shopping for winter jackets on e-commerce sites—even the popular ones. When possible, stick to official retailers. If you're not sure whether a retailer is authorized, then simply pick up the phone and call the company.
Identifying fake winter jackets can sometimes be very challenging. But given this guide, you will be equipped with knowledge of the fundamental signs of counterfeit jackets.
Sure, an original winter jacket is painfully expensive, but it will last longer and literally keep you alive.