How about we take a short break from shoes today? We had the wonderful opportunity to interview one of California's famous bloggers – the stylish and always fashionable Aimee Song.
If you're an avid follower of personal style blogs, then you probably already know her and her ever so popular and addictive website, Song of Style.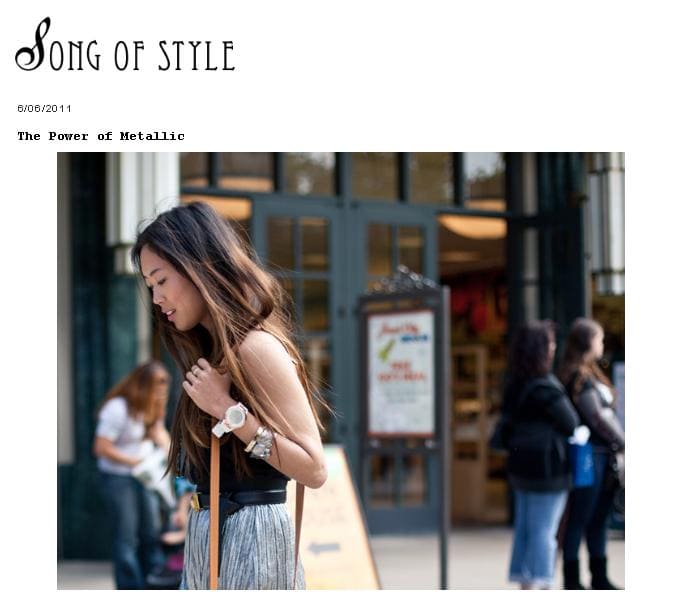 Aimee Song of Song of Style
For those of you who will be meeting Aimee for the first time today, she is a renowned fashion blogger with an effortlessly chic and standout style that has made her quite an icon in blogland.
Aside from fashion, she has a never-ending passion for interior design and documents her love of spaces in her blog. And aside from being a full-time blogger, she also currently works for an architectural firm to feed that passion.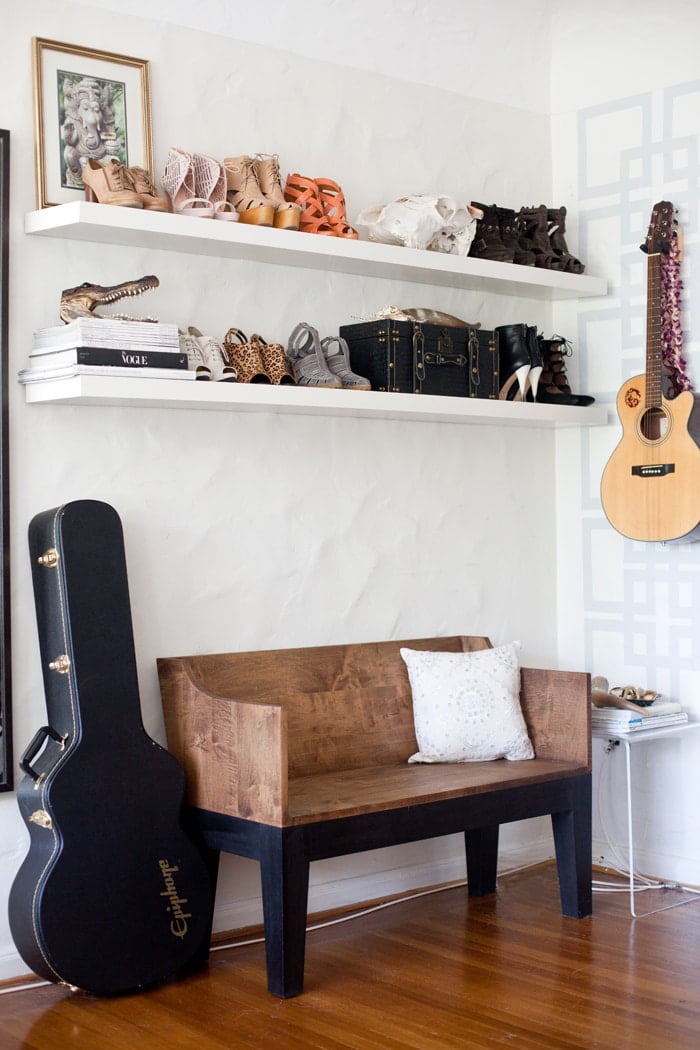 A peek at Aimee Song's former apartment in San Fransisco. It shows her love of spaces, objects, and fabulous shoes
We contacted Aimee a few weeks ago and despite her busy schedule (she just moved to Los Angeles from San Francisco), she was kind enough to spare a few minutes of her time to answer our questions. Here goes that quick chat:
**********************
YNS: First of all, we noticed that you have an absolutely interesting mix of style. It's like rocker-chic mixed with boho mixed with something else and we love it. Who influenced your way of dressing?
What's your inspiration when you dress up for the day? And what do you usually start with (shoes? bag? clothes?)?
Thank you! My mom is the queen of mix and matching and over-accessorizing so I was influenced by her when growing up.
The way I dress depends on my mood that morning. I'll usually be wanting to wear a certain item so I'll dress around that one item, whether it's a top, shorts, or shoes.
YNS: You mentioned in your blog that you work for an architectural firm, has this in a way, influenced your fashion sense/your style, and the way you see fashion?
Yes and no. Style-wise not so much, but I do take business casual to a whole another level. I've gotten creative in wearing comfortable clothes for job sites yet that are still stylish.
Architects love to dress in black and I don't think I ever once came to the office dressed in all black. Instead, I love to add pops of color to my outfits.
YNS: We also noticed that you have a penchant for boots and booties, any particular reason?
Would you consider boots as the one shoe you can't live without? Can you name your three most favorite pairs of shoes right now?
I love boots because not only are they comfortable but to me, they are a great alternative to flats since I hardly ever wear any flats, and they also add an edge to any outfit.
Aimee Song of 'Song of Style' flaunts her legs in Opening Ceremony chain buckle boots
My top 3 favorite pairs of shoes at the moment are, Opening Ceremony chain boots, Joe's Jeans leopard wedge sandals, and last but not least, my black Surface to Air wedges.
Aimee Song in Joe's Jeans 'Brenda III' leopard wedge sandals
Aimee Song in her black Surface To Air 'Packer' wedge boots
4. Do you like shopping online or do you prefer to go to the store and try on things? What items would you like to buy this season? What shoes do you want to buy next? What brands do you usually buy and where do you usually shop?
I absolutely LOVE to shop online as oppose to shop in stores! I'm currently coveting the Isabel Marant Gava pumps and the Chloe mirrored-heel sandals.
My favorite places to shop online are Barneys, Net-A-Porter, Shopbop, Anarchy Street, Forever 21.
Isabel Marant 'Gava' Pumps in Cotton-Raffia and Leather, GBP542.61
Chloe Mirrored-Heel Leather Sandals, GBP432.99
YNS: Any style advice for our readers? Thoughts on shoes perhaps?
Be confident with what you wear! No matter how amazing, expensive the item is, if you don't feel confident in them, they won't work! Know what type of cuts on shoes are flattering to your legs especially when shopping for ankle boots.
********************
There you have it, ladies. As shoe lovers, I'm sure you enjoyed looking at Aimee's fabulous taste in footwear.
And her style advice is very much worth noting so do remember it – confidence is always the key to making a style work AND always choose shoes that will flatter your legs.
To keep yourself updated on Aimee's effortlessly chic style, simply follow her blog!