We're starting a series here on Your Next Shoes where we will be featuring successful fashion bloggers in order for you to get up close and personal with them and their fabulous styles.
If you're looking for fashion inspiration, these talented and chic gals would be the way to go. Their fashion styles are awesome — trendy, chic, and very versatile!
Hong Kong-based fashion blogger Mayo Wo has been documenting her styling ideas and fashion inspirations since 2009
Fierce styles, edgy looks, and avant-garde inspirations may be what's floating the fashion boat now, but Mayo Wo of Mellow Mayoness is unabashedly sticking to her own brand of girly, flirty, and ultra-feminine style.
Reading this Hong Kong-based stylista's blog is like virtually digging through a little girl's fancy dress-up trunk — it's filled with ruffles, polka dots, peter pan collars, bows, sequins, beads, flowers, and Mary Janes!
All of it is awash in pretty pastels and blush tones with a touch of bright colors here and there. Mayo also never fails to incorporate one of the socks from her extensive collection into her looks whenever she can.
The socks + shoes look has now somewhat become her signature style, almost as popular and almost as copied as her cute n' quirky outfits which have catapulted her to fashion blogger fame.
Read on to find out Mayo's answers to our 5 questions, including her current shoe obsession, the next shoe on her shopping list, and the types of shoes she thinks every woman must have:
1. Please tell us a little about your blog
My blog Mellow Mayoness is basically my style diary but I also share with my readers pics of my two little cats, some random thoughts, and style pics of my muses.
Mayo is known for her girly, flirty, and ultra-feminine style
2. What's your favorite pair of shoes that you own right now?
My Giuseppe Zanotti laser-cut nude pumps with metal toe caps.
Mayo styled her Giuseppe Zanotti shoes with red knee-high socks
Mayo shows off her favorite pumps with metal toe caps
3. What is the next pair of shoes you are hoping to buy?
I would love to buy a pair of quirky Marni Fall 2011 lace-up platform wedges!
4. What pairs of shoes do you think every woman must have?
Nude patent leather Christian Louboutin pumps, suede Roger Vivier curved heels, Prada kitten heels with elegant bows, and Miu Miu glitter Mary Janes.
Mayo shows a surprisingly easy way to wear socks with shoes
5. What advice would you give to aspiring fashion bloggers out there?
I'm not sure if I'm qualified to give advice yet haha, but it's important to stay true to yourself and interact with your readers.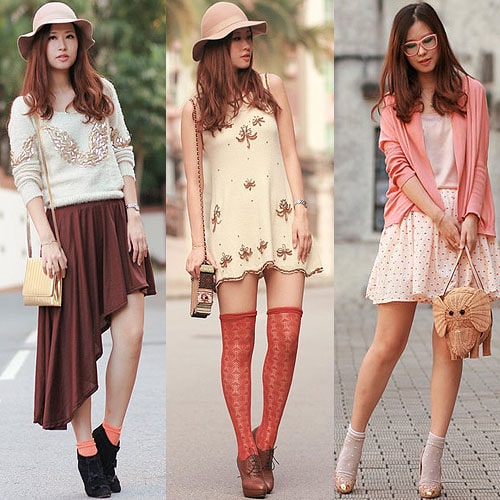 Three off Mayo's favorite outfits with socks and shoes