Intrigued by the Solestruck ads featuring Tess Pare-Mayer of The Little Black List, we set up an interview with the vintage-loving, accessory-piling, individualistic style-setting NYC-based fashion blogger to ask her how that collaboration all came about.
We definitely got more than we asked for because not only did we get a peek into her life as stylist-slash-model-slash-fashion blogger elite (to name a few of her titles), but we also got a peek into her very envy-inducing shoe closet. Tess gamely shared with us pictures of her current shoe obsessions and her favorite vintage finds, all shot exclusively just for YNS readers.
Tess is also the retail manager for United Nude (yet another feather in her already feathery cap) so she was like, "hey, YNS readers might like a special coupon code for United Nude?". YNS can has coupon code for United Nude? So if you want 10% off on your United Nude purchase made over at United Nude or through the phone number 212.420.6000, all you gotta do is use or mention the code "the little black list".
Now, if you don't have Tess on your blog reading list yet, we daresay your list is incomplete. We suggest you head over to The Little Black List right now — but of course, not before reading her interview and checking out her shoes below.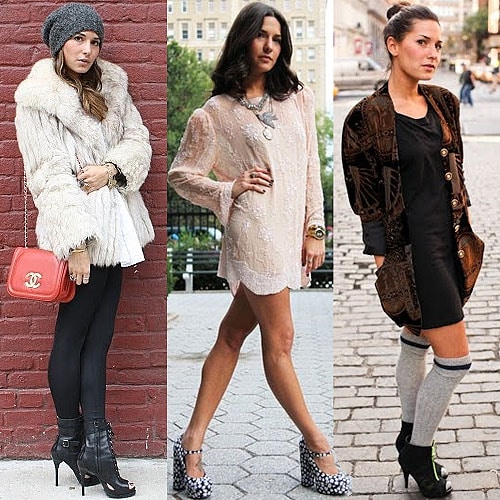 YNS: Styling, modeling, shooting – you're always doing so many things at once! But which came first, Tess Pare-Mayer the fashion blogger, the stylist or the model?
Tess: I've been obsessed with fashion my whole life. Even as a young child I would get dressed in a "styling" manner, i.e from head to toe, no detail overlooked. Different-colored or patterned socks paired with my jellies, neon leotards and swimsuits worn as shirts with acid washed denim skirts. Stacks of sterling silver and turquoise rings and cuffs. My mother quotes me when I was 4 years old "you can dress me in it, that doesn't mean I'm going to stay in it" after she dressed me for pre-school, went to fix my breakfast and I came out in a completely different outfit.
As for "modeling" I don't consider myself a model in any way shape or form. I more so think of The Little Black List as a platform to allows me to share my visions, concepts and general aesthetic with people who enjoy fashion as much as I do. Having said that, it is much easier to dress myself because I know what fits, what styles suit me, and are complementary to my frame and I can capture each outfit daily because I obviously have to get dressed every day. As far as working, I now do all 3 simultaneously: styling, modeling, blogging and sometimes shooting as well. It's a very hectic and busy work life.
YNS: So let's see if we got this straight: Solestruck was looking for someone to model the Maurie & Eve and Kron Kron shoes, they saw you and casted you as the model on the spot. How did that whole fairytale-like collaboration come about?
Tess: It seems strange to read, but yes, it was an instant casting. Solestruck posted a message on twitter asking for a model for 2 new lines they would be carrying. A friend and fellow blogger sent me the info and told me I should try out. So I did. I sent them a few photos and my info, including my site and I got an email within about 45 seconds. I think it was just luck that my look fit the idea they had for the shoot.
The best part of collaborating with Solestruck besides getting a preview of new and incredible shoes was meeting my "long lost friend" as Ty [McBride] (a brand specialist focusing on footwear) puts it. We hit it off immediately! We were laughing, dancing, and making really inappropriate jokes with one another about 5 minutes into meeting each other face to face. He's actually the best.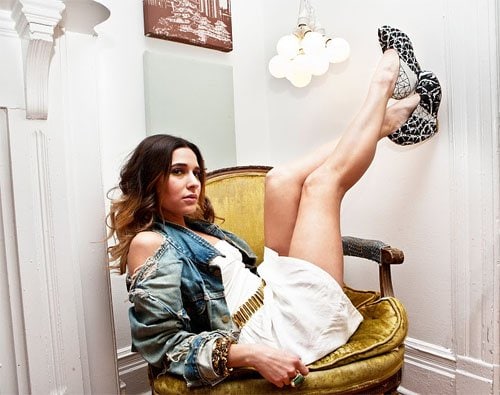 Tess Pare-Mayer of The Little Black List modeling the Maurie & Eve Creeper Wedge ($249.95) for Maurie & Eve shoes
YNS: Do you have a favorite among all the Maurie & Eve and Kron Kron shoes that you modeled?
Tess: I love the Maurie & Eve and Kron Kron shoes. They were all so different and  interesting. The combinations of colors and textures created shoes unlike anything I had seen before. Even though I only wore them for a short period, I was imagining what I would pair them with in my closet. I even tried to convince Ty to gift them to me!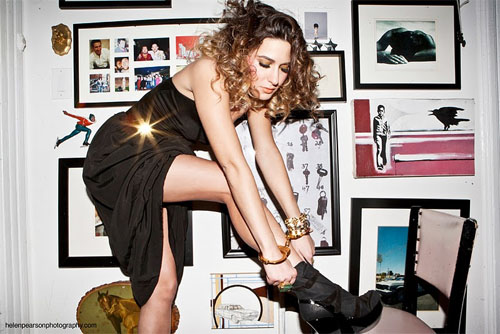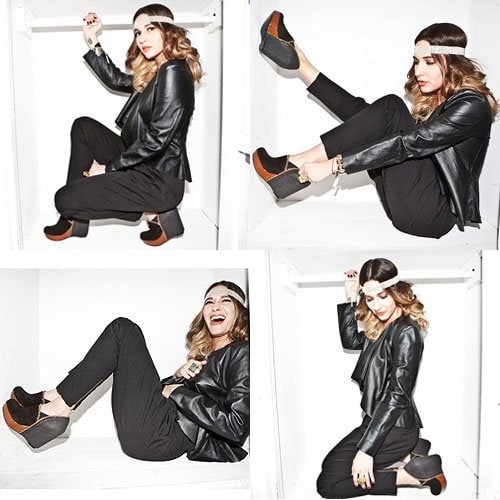 Tess Pare-Mayer of The Little Black List for Kron by KronKron shoes
YNS: Now that you've modeled shoes, would you consider designing shoes?
Tess: Designing is the one aspect of the fashion industry I have no desire to venture into. I appreciate, respect and admire people that have the ability, creativity and patience to design but it's not for me.
YNS: Tell us a bit of what you do at and what's it like working for United Nude, only one of YNS's top favorite shoe labels!
Tess: I work in their United States Flagship store in NYC. I am retail manager of the brand. A little explanation, my boss and I bring the Dutch brand to the USA. We open their stores, hire their staff, plan their opening, charity, and new product release parties, get buzz around the product and etc. We basically do EVERY step from A to Z. It's a lot of work but an incredible job and I really enjoy the people I work with (which is sooooo key).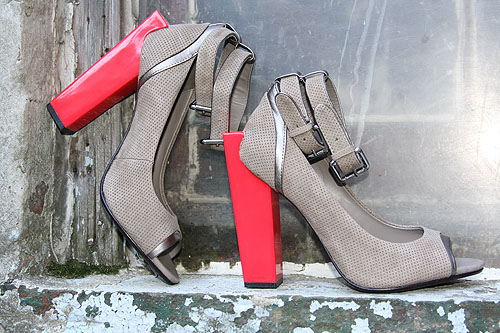 Tess's own United Nude Block Ankle Shoes ($299.95)
YNS: You are known for your love of vintage. Do you have a favorite vintage shoe find? Any tips for buying vintage shoes?
Tess: I am definitely a maniac when it comes to vintage. I worship, collect and live my life for it. I can never collect enough! There's an endless supply of interesting, strange, cool stuff that isn't mass produced (vintage ensures I won't walk around and see other people wearing the same outfit or garment as me).
I'm lucky when it comes to vintage shoes because I have relatively small feet. I'm a size 6.5 but can easily fit into a 6 or 7 so I always have options when vintage shopping. My favorite vintage shoe finds are a pair of Harley Davidson motorcycle boots with their emblem on the side, Yves Saint Laurent red pumps with black balls as the heel (they were $7.99 in Canada), and red and black super flashy cowboy ankle boots.
The best tip about vintage shoes is they can easily be refurbished, resoled, polished, laces and insoles can be swapped out, so look at the shoe's design and potential, not necessarily the condition it's in.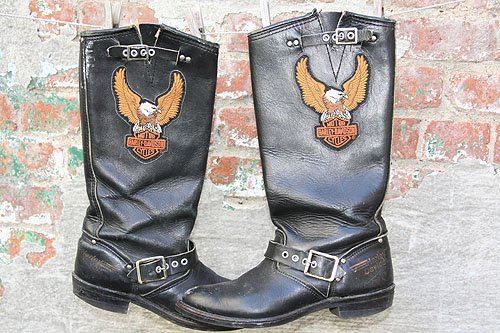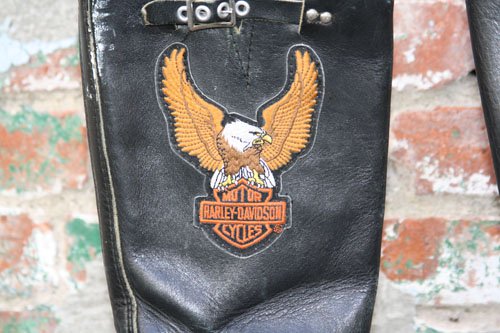 Tess's vintage Harley Davidson motorcycle boots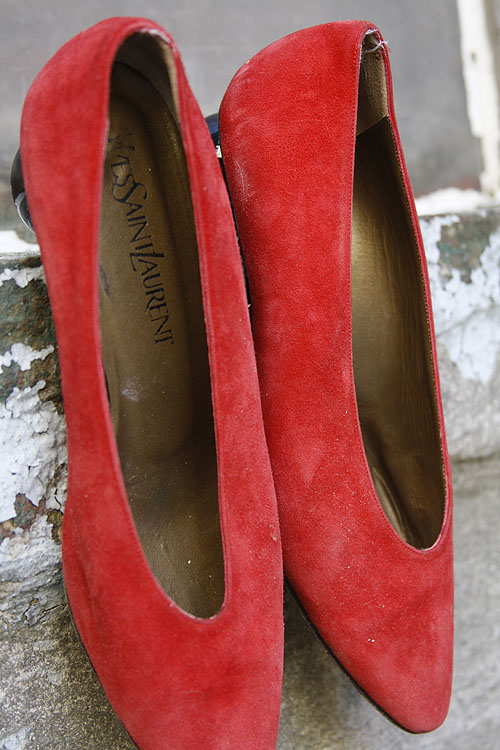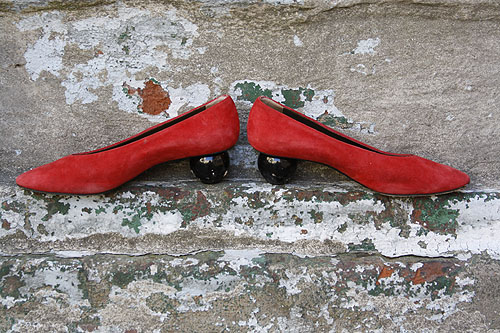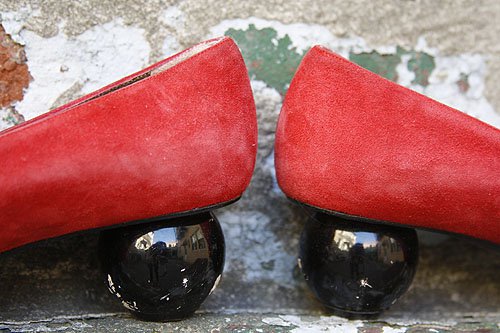 Tess's vintage Yves Saint Laurent black ball-heeled red pumps, found at a thrift store in Canada for $7.99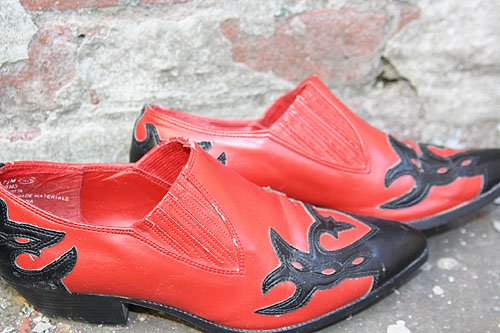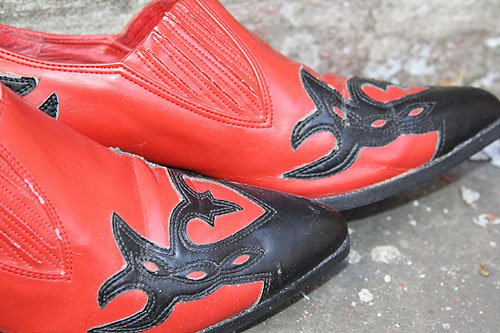 Tess's vintage black and red ankle cowboy boots
YNS: Current shoe obessessions?
Tess: The new Iris Van Herpen x United Nude "Iris" are INSANE!!! They are the most intricate, complicated looking shoe I've ever seen but they are legitimately some of the most comfortable shoes I've worn. I actually wore them to "The Kills" concert without pain.
Also anything Finsk creates: the architectural, angular wood heels on pony hair booties and multi-colored strappy leather sandals are perfection. And a classic, ultra high, beautifully crafted, python Christian Louboutin pump. They are timeless, exotic and classic.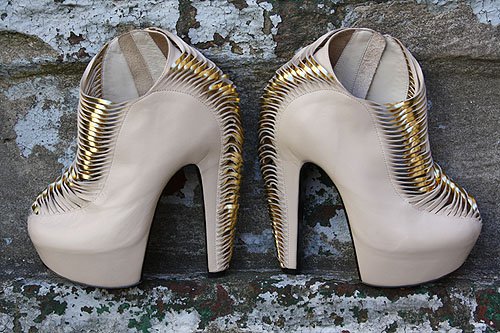 Tess's own Iris Van Herpen x United Nude Iris Shoes — only 300 pairs made in the world! ($1,295.95)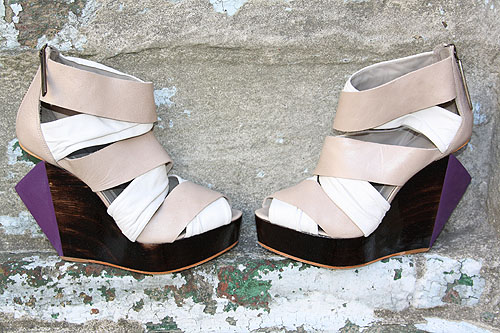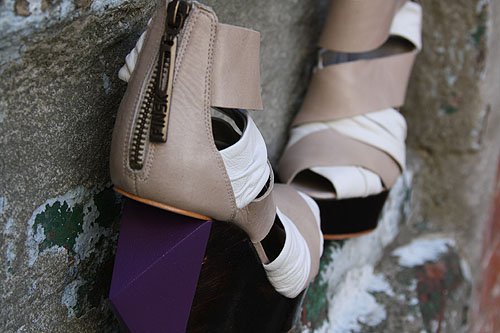 Tess's own Finsk 252-106 Cutout Wooden Heel Wedges ($659.95)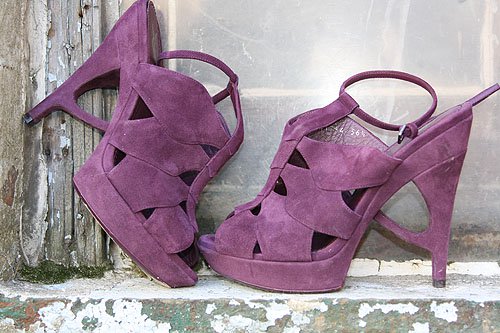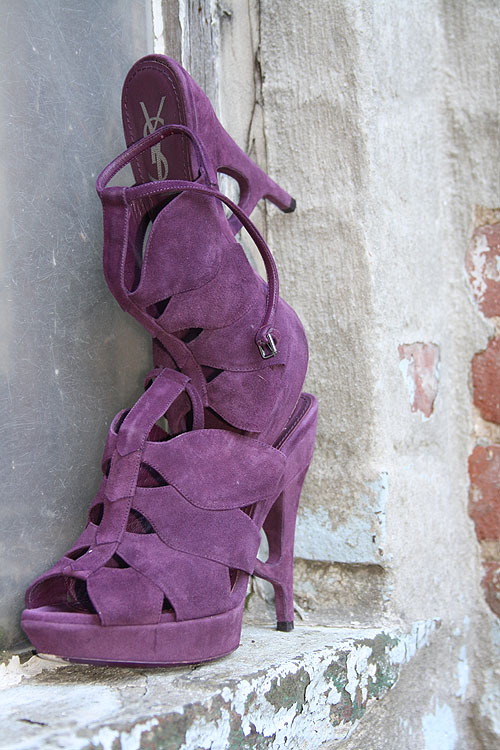 Tess's own Yves Saint Laurent Florale purple suede sculpted heel ankle strap sandals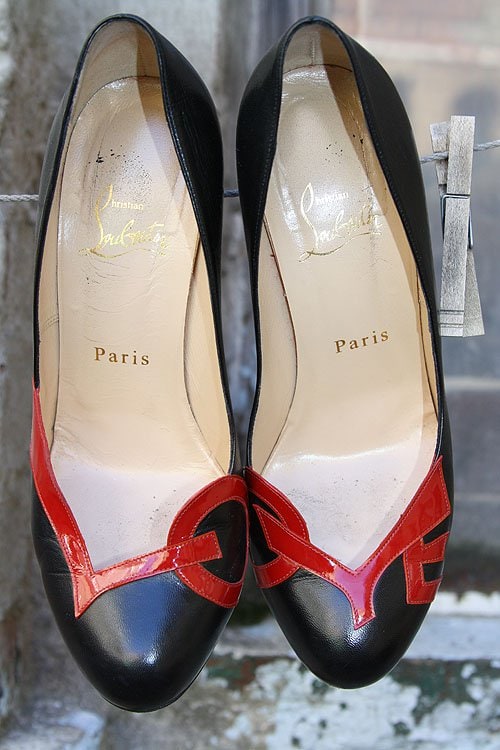 Tess's own Christian Louboutin Love Pumps
YNS: Where do you get your amazing style from? We know from your blog that your mother is your ultimate inspiration for your much-copied and much-coveted style — we'd also love to know about your other fashion inspirations.
Tess: First off, thank you for the lovely compliments.Yes, my mother always has and always will be the biggest influence on my style. She was not only immaculately dressed and accessorized but she gave me the freedom to express myself through clothing since I was old enough to speak or change.
As far as being inspired, life is inspiring! I live in the craziest, most outspoken, ever-evolving, diverse city in the world. There's an infinite supply of music, magazines, new people, changing weather, art exhibits, clothing stores, food to find and experience. I don't seek out inspiration. It's an organic process where I see or enjoy something and its subconsciously translated into fashion. Fashion for me is art.
YNS: What would you say is the best thing that has happened to you since starting The Little Black List?
Tess: The best perks thus far are all the connections I have made. The Little Black List has enabled me to connect with magazines, young, inspired photographers, writers, painters, stylists, bloggers, models, designers, and of course my readers. It's created a place where people can share, contribute and collaborate in my passion and perspective on not only fashion but life as well.
Credit: Tess Pare-Mayer/Helen Pearson