Nothing screams vintage chic more than bell-bottoms and flared jeans. While these are a closet staple and a modern icon for workwear, they're not the easiest pants to style.
The issue with bell bottoms and flared jeans is their length and how they elongate your legs. If you're on the shorter side, you might find yourself struggling with the length of these '70s-inspired trousers.
Gigi Hadid, Amal Alamuddin, Hilary Duff, and Rihanna show how they style their flared or bell-bottom jeans (Credit: Cousart / JFXimages / WENN)
Whether you want to stick to the vintage look or give your bell-bottoms a contemporary twist, we're rounding up which shoes to style with your flared pants and which ones to avoid. Spoiler alert: it's all about boosting your height.
Which shoes to wear with bell bottoms and flared pants
1. Ankle boots
If you're a fan of a western-inspired look or want to wear your bell bottoms in winter, ankle boots are your best friend. They're effortlessly chic and versatile, whether you want to dress them up or down.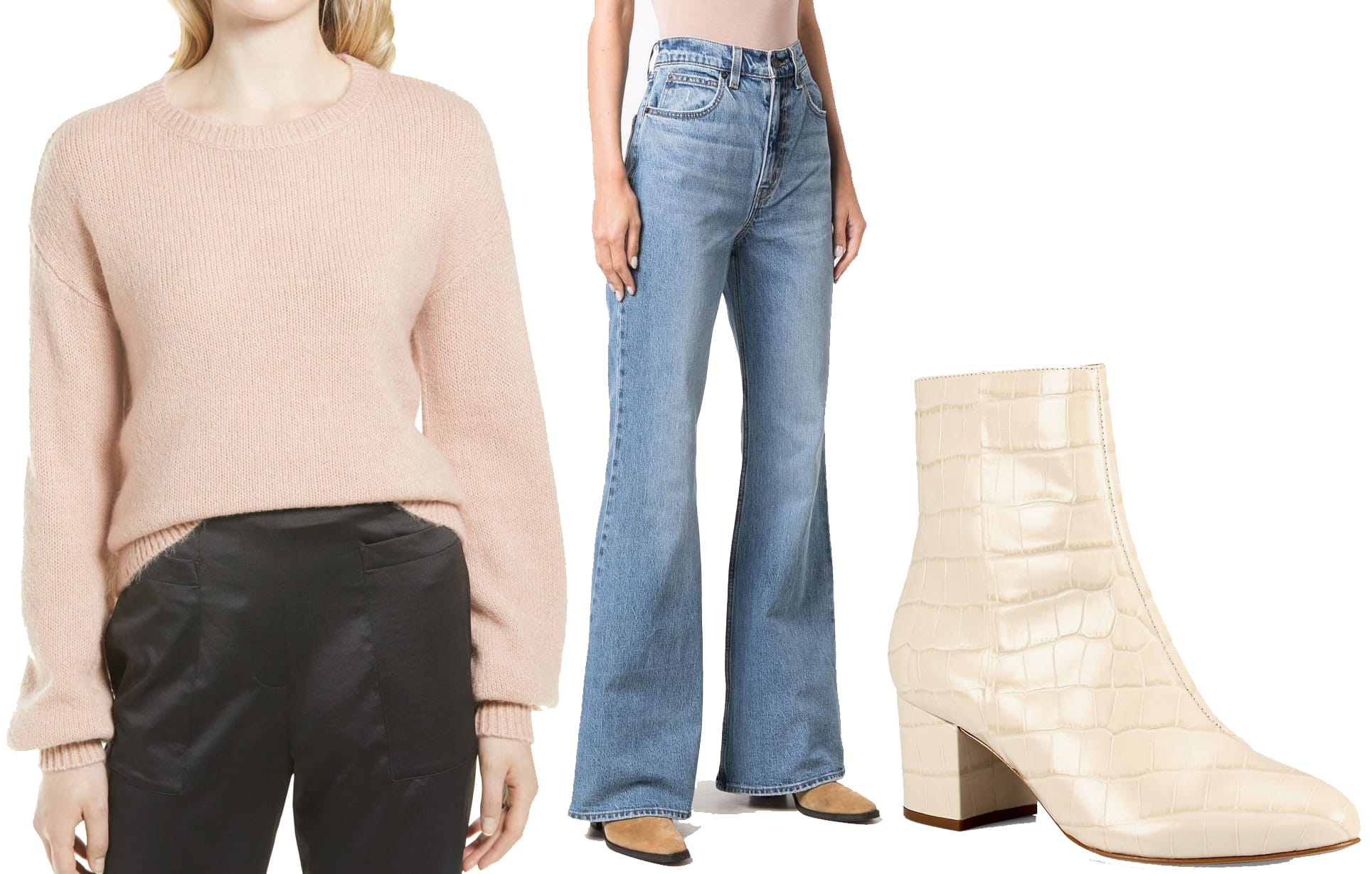 Halogen Cozy Crewneck Sweater, $59 at Nordstrom, Levi's Flared High-Rise Jeans, $171 at Zappos, Schutz Lupe Croc-Embossed Leather Booties, $138 at Saks Fifth Avenue
The secret to wearing ankle boots with your bell bottoms is to choose a style that is tight-fitting at your ankle to create a streamlined silhouette.
Don't overlook the toe shape either. You want to avoid a pointed-toe silhouette as it can create a harsh line, with a rounded toe giving you a more subtle look that is understated and elegant.
2. Block heels
Another shoe that you want to have on your radar is block heels. They're a popular styling choice for all the same reasons as ankle boots while also helping to raise the hem of your bell bottoms off the ground.
If you've ever tried wearing stilettoes with bell-bottoms, you'll know how easy it is to catch the hem with your heels.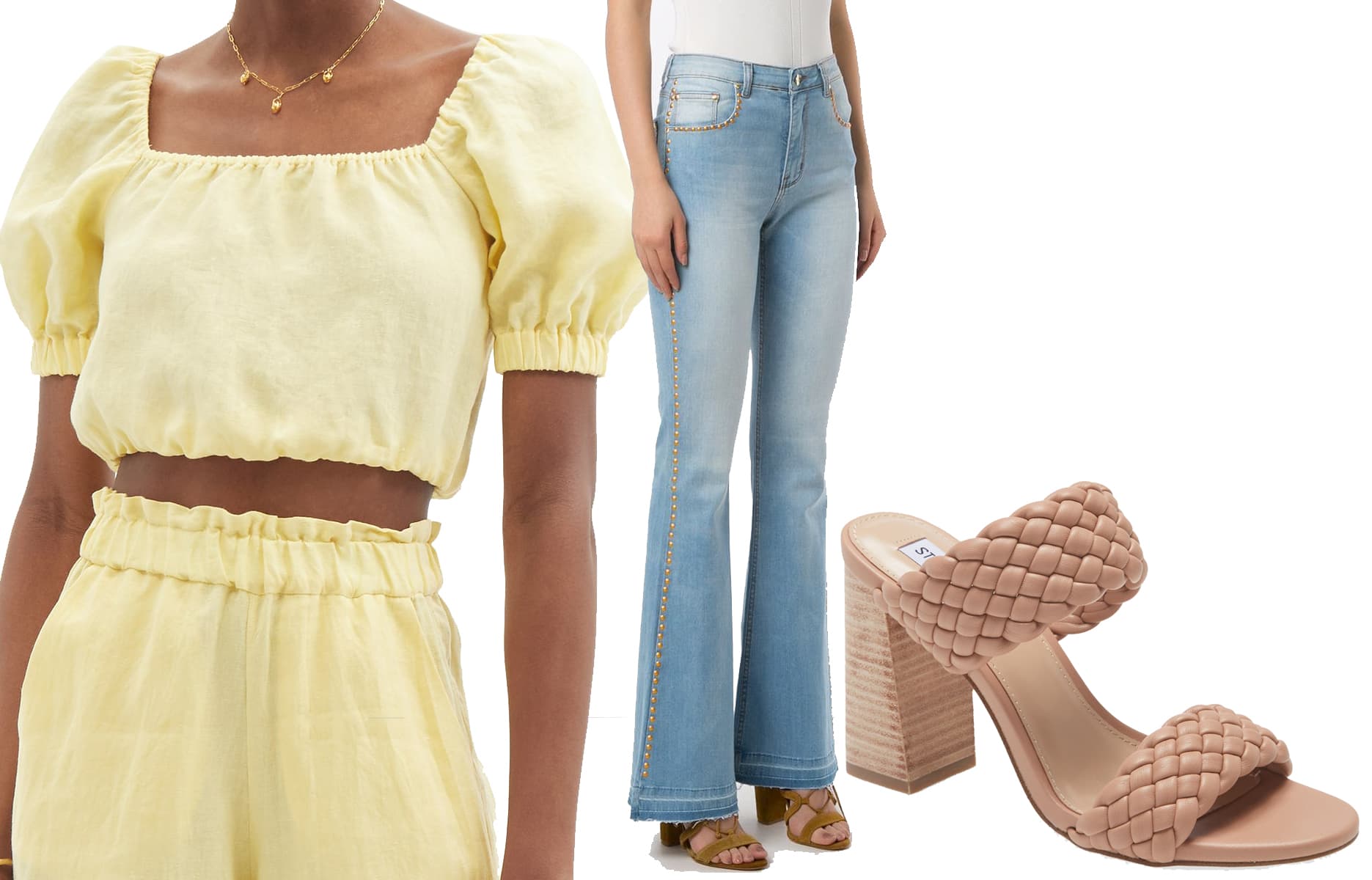 Casa Raki Siena Organic-Linen Cropped Top, $124 at Matches Fashion, Amapo Flared Denim Trousers With Studs, $178 at Farfetch, Steve Madden Tielo Sandal, $99.95 at Nordstrom
A block heel can give you extra stability and are easier to walk in than stilettoes. If you're heading out for brunch or a night on the town, a block heel is a perfect alternative to a thinner heel when you want extra height and a sleek look.
Which shoes to avoid wearing with bell bottoms and flared pants
1. Stiletto heels
Although we've already touched on them, it's worth pointing out again that stiletto heels are a definite style to avoid when wearing bell-bottoms.
It's a dangerous combination and one that could end up leaving your bell-bottoms or stilettoes worse for wear. Save your stiletto heels for days when you're wearing a raised hemline or have a shorter trouser length.
2. Heels with pointed toes
While pointy heels are our ride-and-die shoes, they're one style that we prefer to avoid wearing with bell bottoms and flared pants.
You want to consider that bell bottoms have a larger silhouette, which contrasts with the slimmer appearance of a pointed toe shoe, giving the illusion of larger legs.
Instead, you want to look for shoes that help balance the size and shape of your bell-bottoms and flared pants.