Freida Pinto, born on October 18, 1984, is an Indian actress known predominantly for her roles in American and British films.
Freida Pinto stands at 5ft 5 (165.1 cm) and wears a US shoe size 10.5, translating to a UK 8.5, European 41, Australian 8.5, and Japanese 26.5.
On May 18, 2023, the 5ft 5 (165.1 cm) tall Freida Pinto shimmered on the Cannes red carpet in a sea blue Jenny Packham gown at the Red Sea International Film Festival's "Women's Stories Gala," held in partnership with Vanity Fair Europe in Cap d'Antibes, France (Credit: Abaca Press / INSTARimages)
Compared to the average Indian woman, Freida is slightly taller and has larger feet. Typically, the average height of an Indian woman ranges between 5ft to 5ft 3 inches (152.4 cm to 160 cm).
Similarly, the average shoe size for Indian women is around US 6 to 8, which means Freida's shoe size is notably larger than average.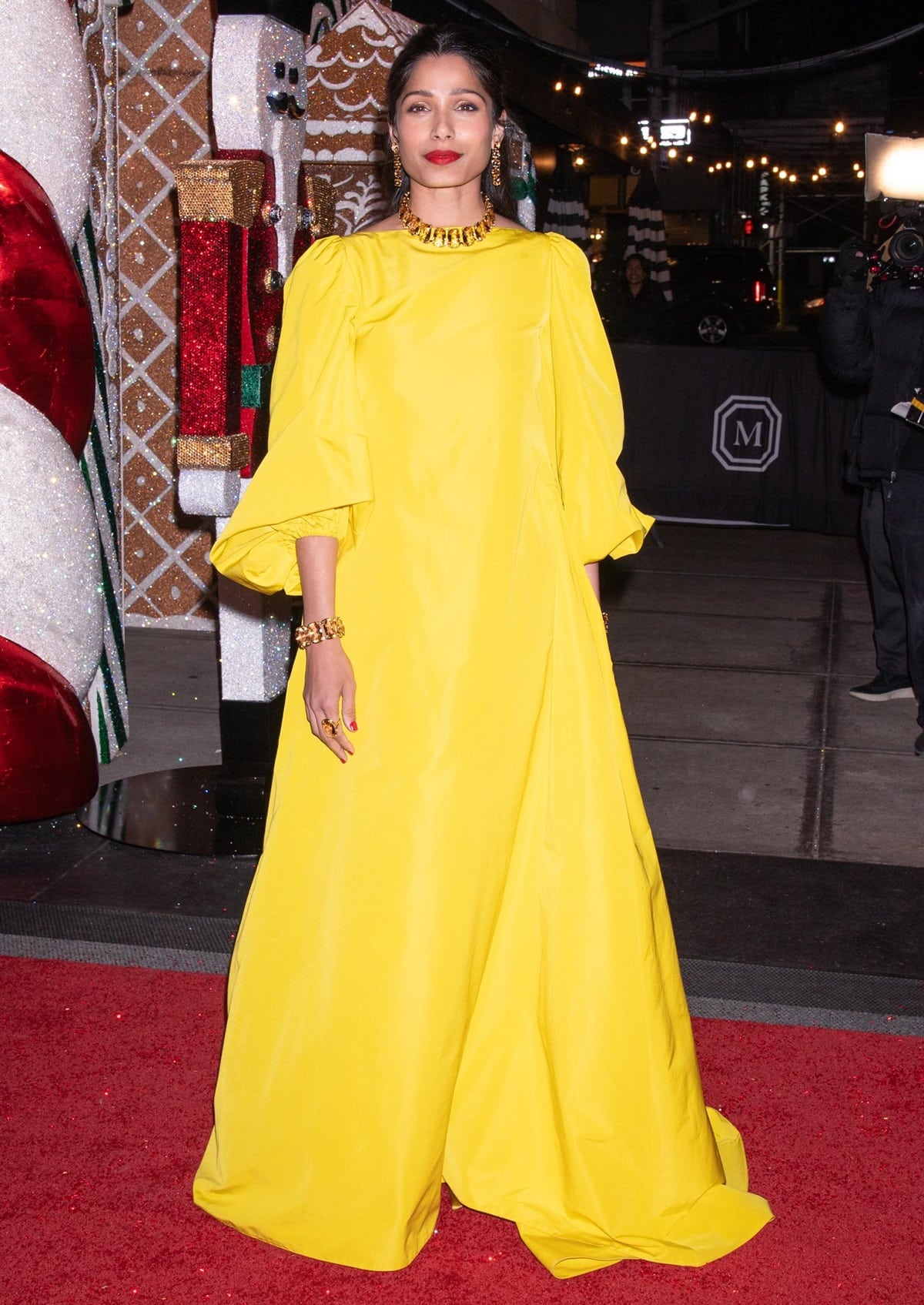 Freida Pinto wears a bold yellow Valentino dress at a Swarovski Holiday event at the Mark Hotel on November 14, 2022, in New York City (Credit: Janet Mayer / Startraksphoto / Cover Images)
Her journey began in Mumbai, where she was raised and discovered her passion for acting.
After her academic years at St. Xavier's College, Mumbai, where she participated in amateur plays, she embarked on brief careers in modeling and television presenting.
Freida Pinto, standing at 5ft 5 (165.1 cm), is 3 inches (7.6 cm) shorter than Sharon Stone, who stands at 5ft 8 (172.7 cm).
At the New York Women In Film And Television's 43rd Annual Muse Awards on March 28, 2023, in New York City, the 5ft 8 (172.7 cm) tall Sharon Stone stood notably taller than Freida Pinto, who measures 5ft 5 (165.1 cm) (Credit: Dave Allocca / Starpix / Startraksphoto)
Freida gained international acclaim with her film debut in "Slumdog Millionaire" (2008) and subsequently played critical roles in films like "Miral" (2010) and "Desert Dancer" (2014).
Her portfolio includes commercial hits such as "Rise of the Planet of the Apes" (2011) and "Immortals" (2011), among other notable performances.
While she has revolutionized the portrayal of Indian women in foreign films, her presence in Indian cinema remains comparatively limited.
Beyond acting, Freida is a staunch advocate for humanitarian causes and women's empowerment.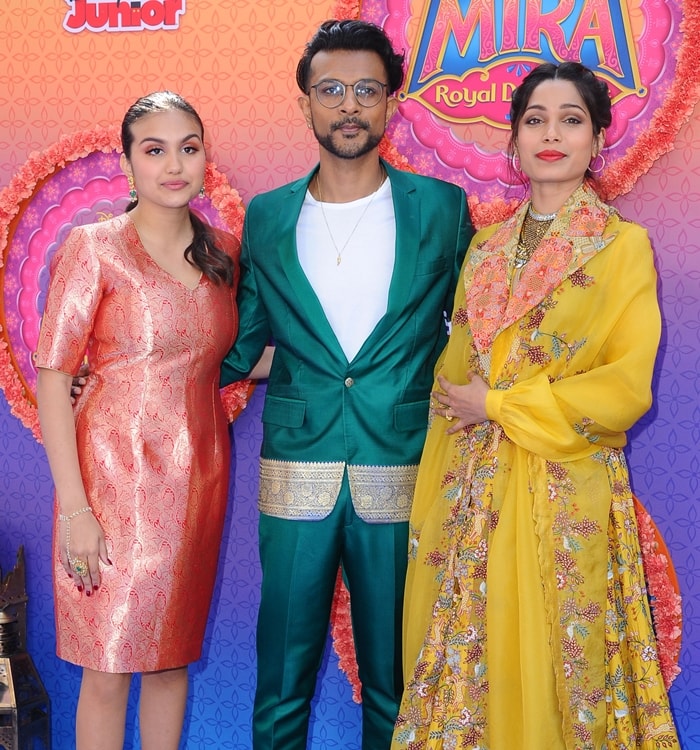 Leela Ladnier, Utkarsh Ambudkar, and Freida Pinto attend the premiere of Disney Junior's "Mira, Royal Detective" at Walt Disney Studios Main Theater on March 7, 2020, in Burbank, California (Credit: Instar / WENN)
After a six-year relationship, Freida Pinto separated from her her 'Slumdog Millionaire' co-star Dev Patel in December 2014.
Freida Pinto: Facts, Rumors, and Everything in Between
How much is Freida Pinto worth?
Freida Pinto is a successful Indian actress and model who has a net worth of $14 million as of 2023.
Full Name:
Freida Selena Pinto
Born:
Freida Selena Pinto was born on October 18, 1984, in Mumbai, the capital city of the Indian state of Maharashtra and the financial centre of India.
Who is Freida Pinto married to?
Actress Freida Pinto and photographer Cory Tran announced their engagement in November 2019. They married in a private ceremony at the Honda Center in California's Anaheim in 2020.

Freida Pinto was engaged to Rohan Antao from 2007 to 2009. She has also been in relationships with Ronnie Bacardi in 2016 and with Dev Patel from 2009 to 2014.
Kids:
Freida Pinto and her husband Cory Tran welcomed their first child, a baby boy named Rumi-Ray, in November 2022.

They stepped out in public with their new addition for the first time in February 2023.
Weight:
There are rumors that Freida Pinto weighs around 121 pounds (55 kg).
Does Freida Pinto have big feet?
For a woman of her height, a US shoe size of 10.5 is considered larger than average.

Typically, the average shoe size for women correlates with height, and for someone around 5ft 5 (165.1 cm), a shoe size between US 7 to 9 is more common.

So, yes, Freida Pinto does have larger feet than what is typically expected for her height.
Is Freida Pinto tall or short?
For an Indian woman, Freida Pinto's height of 5ft 5 (165.1 cm) is considered slightly above average.

The typical average height for Indian women ranges between 5ft to 5ft 3 inches (152.4 cm to 160 cm). So, in the context of Indian women, Freida Pinto is on the taller side.
Nationality:
Indian
Source of Wealth:
Freida Pinto's net worth comes from her successful career as an actress and model.
Ethnicity/Race:
An interesting facet of Freida Pinto's heritage is her Mangalorean Catholic origin, linking her to the Konkani community.

Her surname, "Pinto," reflects Portuguese influence. This is rooted in history, as many Indians adopted Portuguese surnames due to missionaries converting them to Christianity.

In her own words, Freida has emphasized her 100% Indian descent, proudly acknowledging her Mangalorean Catholic lineage.
Is Freida Pinto married to Dev Patel?
No, they've never been married and split in December 2014 after nearly six years of dating.
How old was Freida Pinto in Slumdog Millionaire?
The British drama film Slumdog Millionaire was released in the United Kingdom on January 9, 2009, when Freida Pinto was 24 years old. She turned 25 on October 18, 2009.
How did Freida Pinto and Cory Tran meet?
They were introduced in 2017 by their mutual friend, Aaron Paul.
What ethnicity is Cory Tran?
He's of Vietnamese and Caucasian descent.
Empowering Insights from Freida Pinto: Embracing Authenticity and Celebrating Diversity
I feel like the history between Israel and Palestine has a lot in common with the history between India and Pakistan. – Freida Pinto
If a cream can give you confidence then you really have to check your whole confidence department in the first place. – Freida Pinto
I keep saying I'm not at all famous in my own country, because people do not think I have done anything for India. – Freida Pinto
I guess confidence is the only thing that I take from project to project, but I'm always open to learning everybody's style – the director, the actor I'm working with. – Freida Pinto
I tell you why I like Chanel so much: when I started off, no one wanted to give me clothes to wear. Absolutely no one! All the labels said, 'Who is she?' But Chanel believed in me from the very beginning. – Freida Pinto
I'm glad I'm a strong person. – Freida Pinto
There's one disturbing notion throughout India that light skin is more attractive than dark. – Freida Pinto
I think it's important to be extremely proud of one's origins, especially when you are a foreign actress with ethnic features. – Freida Pinto
I love going into a country and just blending. – Freida Pinto
I actually didn't mind school, and I enjoyed university and college. – Freida Pinto
I wouldn't want to do a Bollywood film per se, but I would like to do an Indian-language film. For some reason I think Bollywood has become synonymous with commercial cinema, which is song and dance and everything that is larger than life, and I am interested in the reality. – Freida Pinto
I absolutely love London; it is one of my favourite cities in the world. – Freida Pinto
I feel being an actress is probably not half as difficult as being a mother, and I do not know when I will be ready for that kind of a decision. – Freida Pinto
I've never told anyone this before, but I'm an obsessive-compulsive. I go back to my hotel room every evening and put the coat hangers back in order and open my bag and rearrange it. It takes a lot of my time, but if I don't do it I can't sleep. – Freida Pinto
I like working on big budget films. – Freida Pinto
Cory Tran met his future wife Freida Pinto through a mutual friend in 2017 (Credit: Lev Radin / Shutterstock)
I think even the most beautiful person looks stupid on Skype. – Freida Pinto
I'll never forget where I'm from. It's essential to remain humble and evolving. – Freida Pinto
I feel like this whole idea of wanting something that you don't really have is also very American in a way. – Freida Pinto
I did not particularly enjoy modeling. I felt I was only utilizing 10 or 20 percent of my abilities. In India, it's just another job. – Freida Pinto
I've learned to develop a thick skin, but you're bound to be affected when you read something bad about yourself in the paper and it's rubbed in your face over and over. – Freida Pinto
As the world's getting filled with temptations, we're getting a bit frivolous and a bit fickle. – Freida Pinto
When you doubt one thing about yourself, you start thinking there's also something wrong with your hair, your body, your clothes, your accent. – Freida Pinto
I am first and foremost an actress of Indian origin. – Freida Pinto
All people – African, European, American – worry about being different. But I've learned that the traits we'd rush to get rid of are the very ones that others desire. People always covet what they don't have. That's why we should look at ourselves every now and then and say, 'I'm proud of myself. I like the way I'm made.' – Freida Pinto
A lot of the younger Indian generation are either IT geniuses or doctors – the number of doctors I've seen in L.A. who are Indian is just crazy. So it is a very common thing. Or an accountant! That again is a very, very big thing. – Freida Pinto
I don't think Bollywood is only mindless cinema, but a lot of films they churn out are not films that I completely enjoy watching. – Freida Pinto
I find it very interesting these days that films are bringing in so many people of different ethnicities, and I'm proud to be a part of that cultural shift. – Freida Pinto
I'm a human being before anything else. – Freida Pinto
One of my favorite actors is Javier Bardem, he always challenges his previous roles, and basically does the unexpected. – Freida Pinto
In terms of romantic films, all-time romantic films, I really like 'Gone With the Wind.' And I realize I sound so cliched saying that, but there's something so absolutely romantic about it. – Freida Pinto
When a doctor is performing an operation, his mind cannot be somewhere else. And it's the same with actors. You have to commit yourself mind, body and soul to a project in order to do justice to it. – Freida Pinto
I always imagined that I would learn something each time that I would take to a new project, then I realized that each new project poses a completely different challenge. – Freida Pinto
Anybody, anywhere in the world, all they want is to be free, to choose what they want to do without having someone tell them how to do it. – Freida Pinto
In L.A. you hear all these stories of people being filmed in their own homes through their windows. I think that is so scary. – Freida Pinto
Having grown up in Bombay, from the day you're born, you have absolute freedom to choose who you want to be. – Freida Pinto
Everything big-budget or stereotypical I was offered after 'Slumdog Millionaire' was a huge no-no. – Freida Pinto
Of course I'm going to marry, but I don't know when. – Freida Pinto
I went to an all-girls' Christian convent school run by nuns. It was fun, but when I was 15, I said, 'Mum, that's it – I need to go where there are some boys.' – Freida Pinto
Indian celebrities have the media and fans permanently outside their homes, and that would make me really uncomfortable. – Freida Pinto
I definitely need to date someone who is calm. – Freida Pinto
Here's another secret – I have really big feet. I'm a size ten, so every opportunity I get I buy myself shoes. – Freida Pinto
I'd like to jump out of a plane. I have a fear of heights I'd like to face. – Freida Pinto
Freida Pinto's Cannes Dress Choice is a Lesson in Less Is More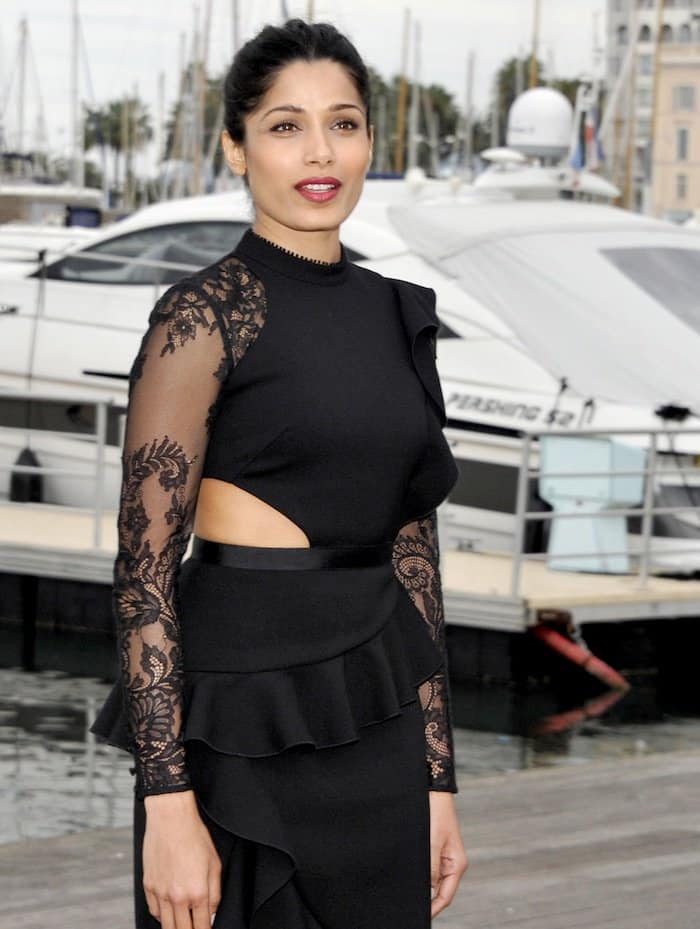 Freida Pinto wore a black ruffled Self Portrait Resort 2017 dress featuring daring cut-outs and lace sleeves (Credit: WENN)
Freida Pinto's style is typically hit or miss. While it's usually pretty hard to go wrong with a little black dress, it appears that the LBD did go wrong for the "Slumdog Millionaire" actress in Cannes.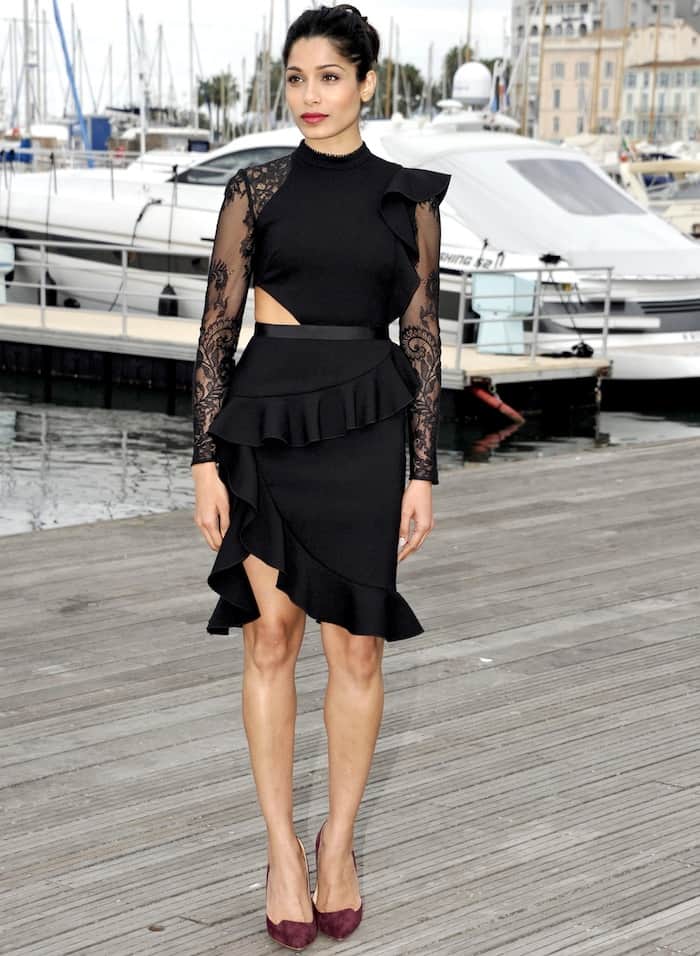 Freida Pinto styled her little black dress with plum pumps (Credit: WENN)
The then-32-year-old picked an LBD from Self Portrait with cutouts at the waist and lace sleeves.
Freida Pinto's dress had scattered ruffles incorporated into its design, but they didn't quite flatter Freida's figure as expected (Credit: WENN)
The dress featured scattered ruffles throughout its design that really didn't do much for Freida's figure.
Freida Pinto did not pick the right shoes to wear with her dress at MIPCOM 2016 on October 17, 2016, for the 'Guerilla' photocall in Cannes, France (Credit: WENN)
Freida paired the dress with Rupert Sanderson's "Adina" pumps in dark red. The pumps are made in calf leather and feature four-inch heels.

Freida Pinto chose Rupert Sanderson's "Adina" pumps in a rich dark red shade (Credit: WENN)
Her shoes were not an ideal match for her dress. What do you think of her attire? The "Adina" pumps are no longer available online.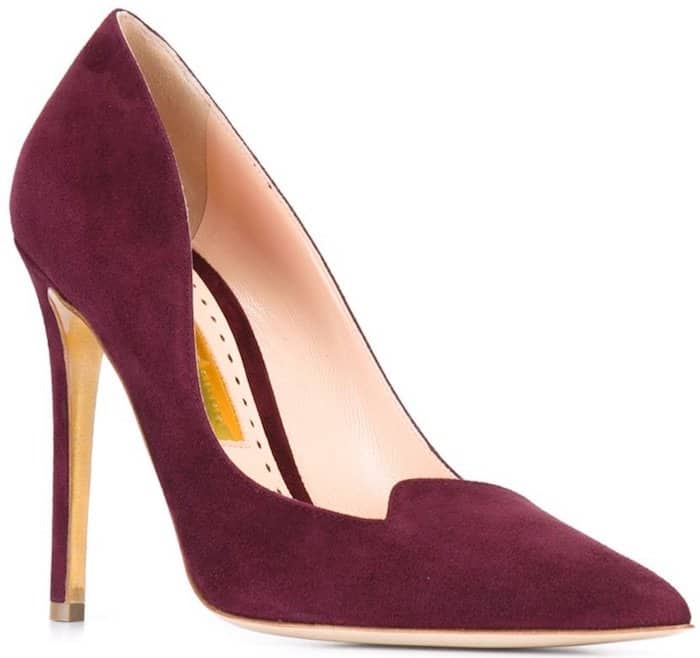 Rupert Sanderson "Adina" Pumps, $488.24