Fashion this summer brings us the unlikeliest, most inappropriate trend for the hot-weather months: fur sandals. We couldn't believe it either, but it's becoming harder and harder to deny.
Kim Kardashian arriving at the Washington Dulles International Airport for an appearance at The BET Honors 2015 in Washington, DC, on January 24, 2015
The fur trend first began to bud late last year when
Kim Kardashian
was spotted wearing
Celine
ankle-strap sandals with rabbit fur on the insoles on two occasions. Her $6,600 shoes are from an old fall 2010 collection, so we initially thought nothing of it.
It was just Kim re-wearing her old clothes; besides, it was still the cold months, so wearing fur was still appropriate.
Kim Kardashian out on a date night with husband Kanye West in Brentwood, California, on December 18, 2015
Shop a similar style for $10 at Kim Kardashian's popular shoe club:
Princessa Fur-Trim Ankle-Strap Sandals, $10
Then, it was Rihanna who was spotted wearing fur on her footwear. And we know how RiRi impacts fashion; when she wears it, you can count on it selling out and becoming a major trend.
The 27-year-old Barbadian singer looked like she swept the floors clean with her Simone Rocha fur-trimmed flats and, with it, swept fashion away with her latest discovery.
RiRi must really love the fur trend because she even brought out the Celine fur-lined slides that were huge in 2013.
Rihanna leaving her hotel in Paris to catch a flight to New York on March 10, 2015
Rihanna's Instagram post of her Simone Rocha fluff-trim leather mules – posted on March 10, 2015 (Credit: Rihanna's Instagram)
Get the exact shoes:
Simone Rocha Feather-Trim Flat Leather Mules, $670
Rihanna out to promote her animated film "Home" in New York City on March 15, 2015
Shop a similar style:
YRU Comfii Faux Fur Slides, $85
Draya Michele is the latest celebrity to wear fur sandals. The 'Basketball Wives LA' star put a fuzzy spin on a crop-top and pencil skirt ensemble with $895 Gianmarco Lorenzi fur-trim sandals.
Draya Michele at Jason Derulo's "Everything Is 4" listening party presented by Star Hollywood Rocks at The Argyle Hollywood boutique nightclub in Los Angeles, California, on April 15, 2015 (Credit: Guillermo Proano / WENN)
Draya Michele's feet in Gianmarco Lorenzi clear-and-metallic-strap sandals with side fur trim (Credit: Guillermo Proano / WENN)
Get the exact shoes:
Gianmarco Lorenzi Fur-Trim Sandals, $895
For the April 2015 issue of Vogue UK, Suki Waterhouse, Cara Delevingne, and Georga May Jagger wore nothing but Shrimp x Sophia Webster fur-heeled sandals.
The three British It models highlighted the fur shoe trend by stripping down to their underwear!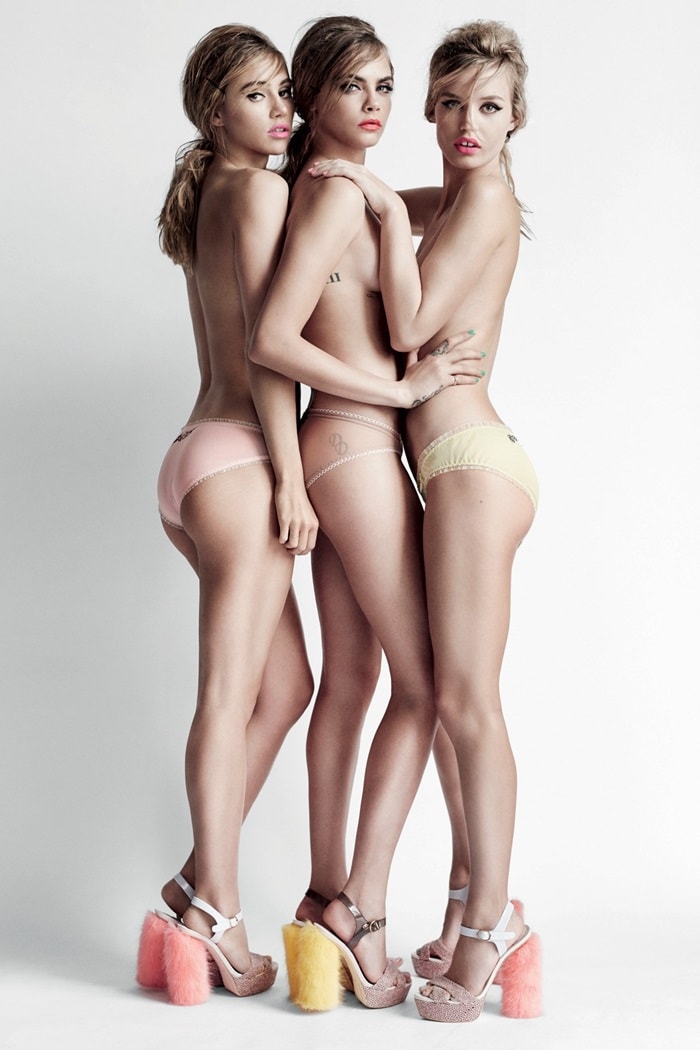 Suki Waterhouse, Cara Delevingne, and Georgia May Jagger in the accompanying editorial of their Vogue UK April 2015 cover (Credit: Vogue UK)
Shop a similar style from the same designer:
Shrimps x Sophia Webster "Skye" Faux-Fur-Trim Faux-Stingray Sandals, $750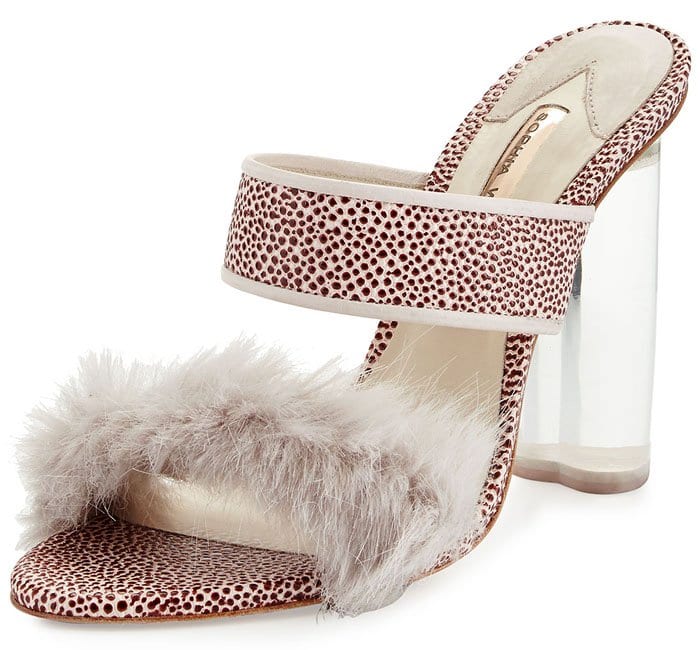 Fur sandals aren't the most practical of trends, but then again, we could say the same thing for many fashion trends that have come and gone. Will you be going furry this summer?