Lily Collins looked summer-ready as she stepped out in West Hollywood on Monday last week.
Lily Collins partying at LA Gay Pride Parade on June 14, 2015 – posted on WhoSay on June 14, 2015
This was a day after she partied at the LA Gay Pride Parade, where she wore a statement tee, denim cutoffs, and rainbow-colored accessories, including a pair of funky knee-high socks.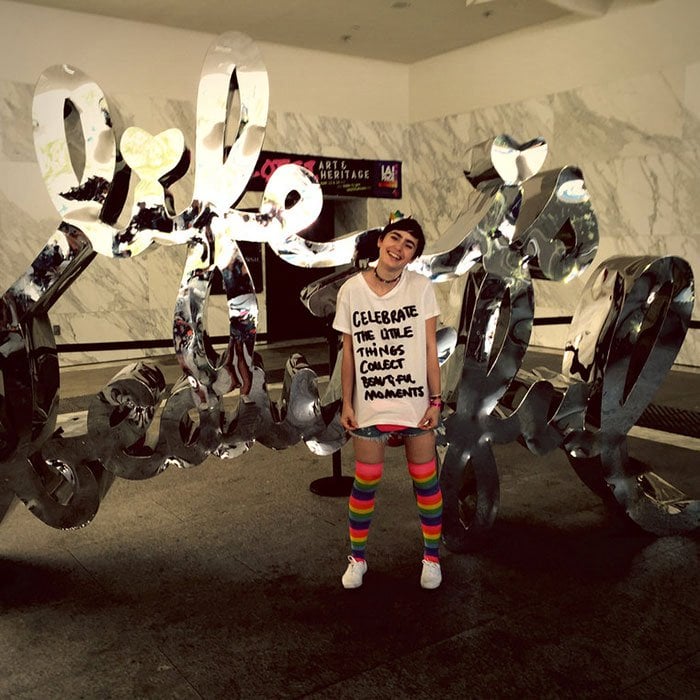 Lily Collins rocked denim cutoffs and rainbow-colored knee-high socks
She also posed in front of artist Colette Miller's Global Angel Wings Project in Los Angeles. The "Tenshi no hane" or "Angel Wings" mural can also be found in many other cities around the globe, including at Marine & Walk Yokohama, a modern open-air mall in Japan's trendiest city.
Miller says, "I created the interactive street art angel wings project to remind humanity that we are the angels of Earth."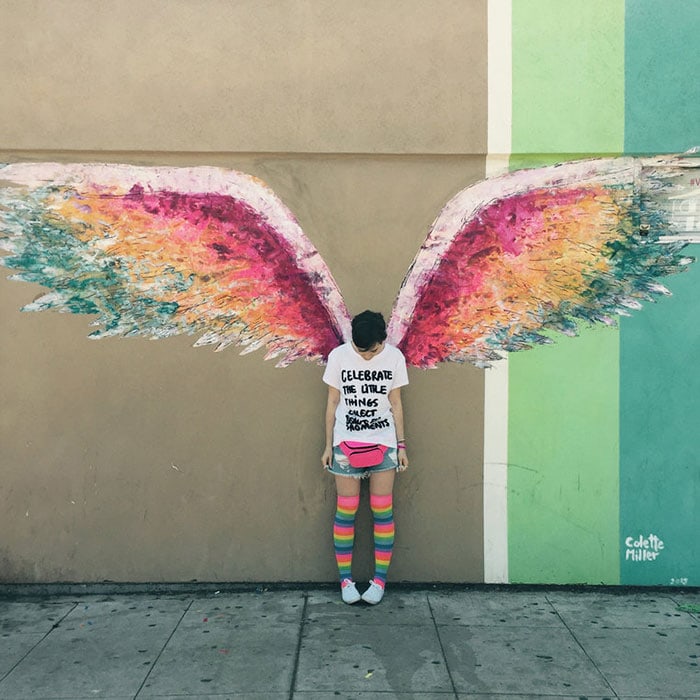 Lily Collins in front of the Angel Wings mural in Los Angeles
For her Los Angeles outing, the 26-year-old actress wore a sleeveless floral-print frock in a blue-and-white combination, which she styled with a pale denim shirt tied around her waist.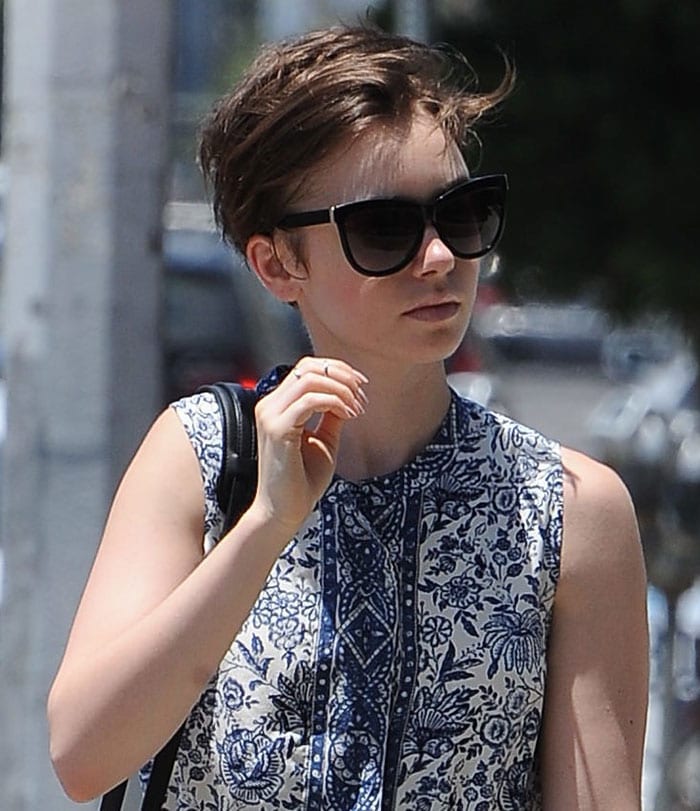 Lily Collins' messy pixie haircut and natural-looking makeup
She accessorized with bracelets, rings, and a black bag and shielded her eyes behind a pair of oversized sunglasses.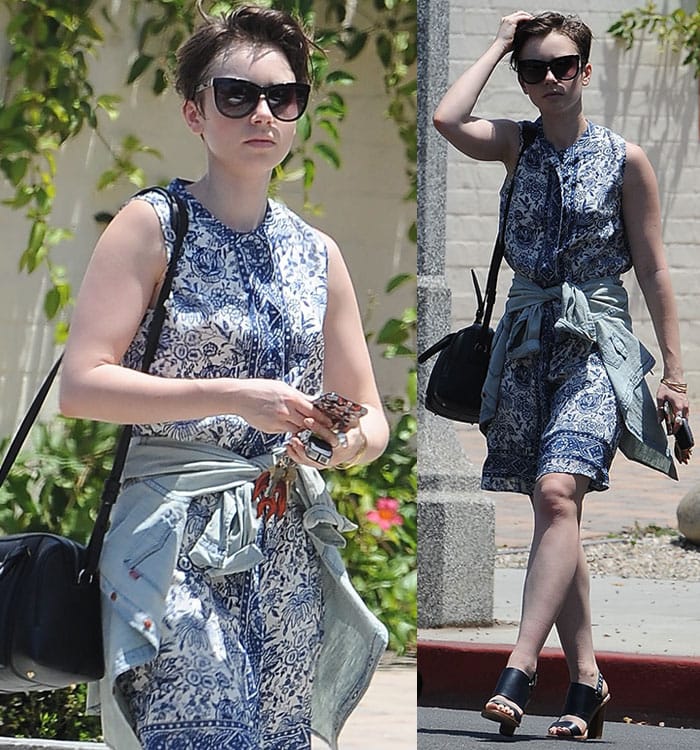 Lily Collins shielded her eyes behind oversized sunglasses
Lily sported a messy pixie cut and opted for natural-looking makeup.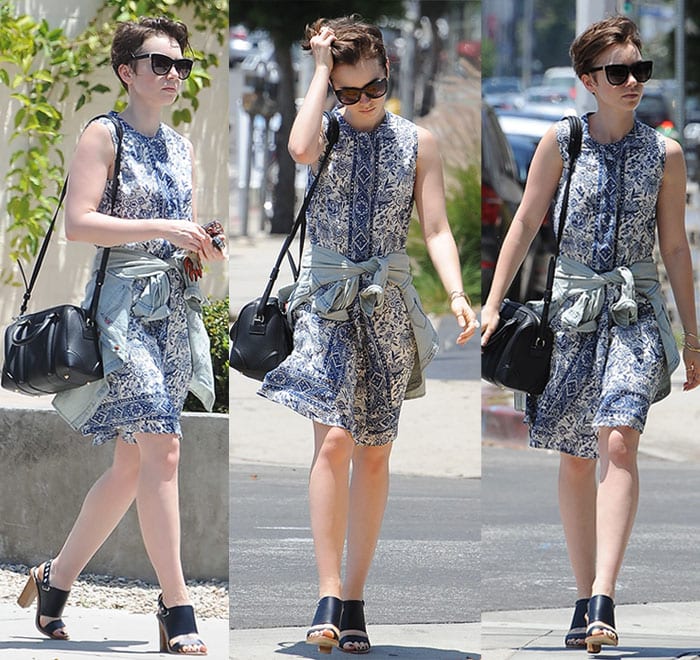 Lily Collins flaunted her legs in a sleeveless floral-print dress in West Hollywood on June 15, 2015
Lily Collins amped up her girly casual look with a pair of Sol Sana "Taylor" sandals. They feature wide mid straps, toe bands, slingback straps with adjustable buckle fastenings and silver-tone eyelets, open toes, and about 4-inch wooden stacked heels.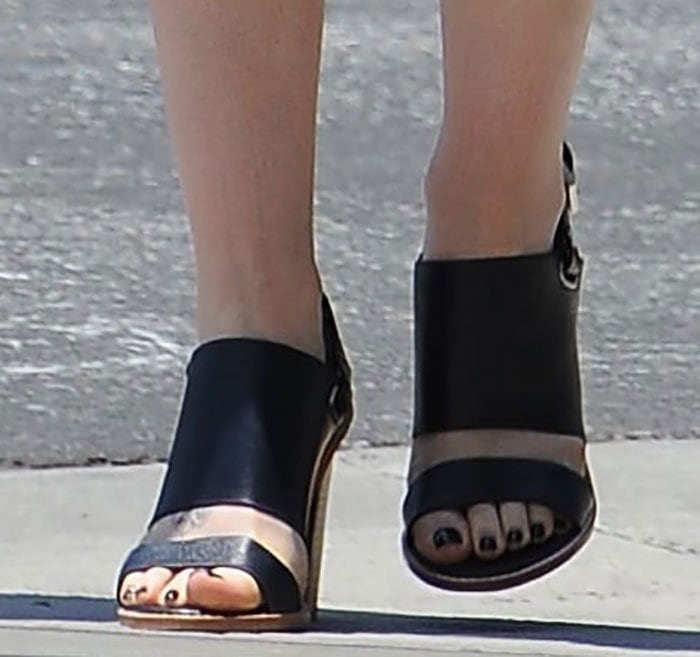 Lily Collins shows off her toes in shoes from the Australian footwear label
Check out Lily Collins' Sol Sana sandals in black and blush versions at Amazon: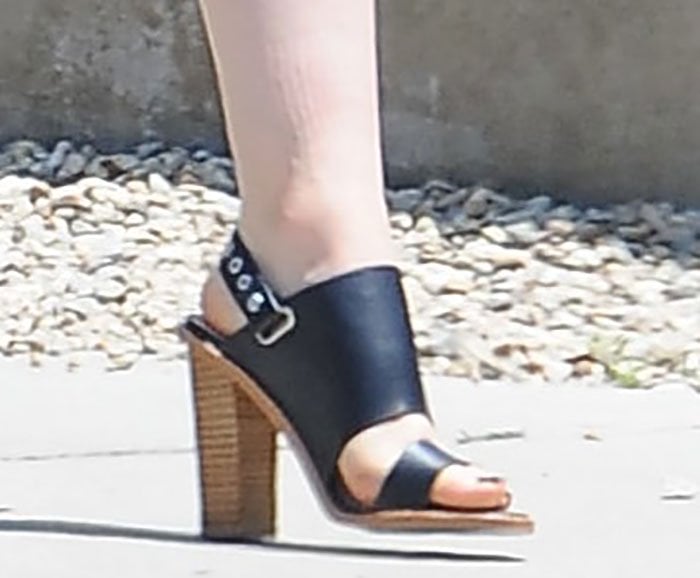 Lily Collins rocks Sol Sana "Taylor" sandals
Sol Sana "Taylor" Sandals in Black and in Blush, $179.95 at Amazon
Credit: WENN / Lily Collins' Who Say Page