When you're the model of the moment, everybody wants to be at your birthday party. That's what Gigi Hadid saw for herself when she celebrated her 21st year of living on the face of the earth the other night.
Everyone who is someone in Hollywood was at the model's party, and everyone was dressed to kill. Naturally, Gigi made sure the spotlight stayed on her in an ultra-trendy black satin hi-low top with a long train that dramatically billowed behind her when she walked.
In the signature dressed-down high-end style that she has now become known for, Gigi paired her look with white satin short shorts. Her accessories included a studded black leather choker, a Rockins maxi fringed scarf and a Lola James "Mini Me" gold necklace bearing the name of her boyfriend, Zayn Malik. Most notable were her sexy Tom Ford webbed lace-up thigh high boots previously spotted on Karrueche Tran, Jessie J and Alessandra Ambrosio.
Gigi Hadid arriving at her 21st birthday party at The Nice Guy in West Hollywood, California, on April 28, 2016
It looks like Gigi overloaded on partying and having fun at her birthday celebration. At the end of the night, Gigi had to get assistance from her boyfriend Zayn when she tried walking out of the restaurant! Thankfully, she was sober enough to share with us a quick Snapchat of her Tom Ford boots below. It's somewhat blurry, but hey, what can you expect.
Gigi Hadid being helped by boyfriend Zayn Malik in walking to her car after celebrating her 21st birthday at The Nice Guy in Hollywood 
The Tom Ford lacey lace-up over-the-knee boots feature ropey, webbed boot shafts with corset-style lacings. They balance on spindly gold stiletto heels. They were priced at a staggering $3,600, and are now sold out.
We did find three look-for-less versions, which you can check out at the end of this post. All are under $100 and bear a striking resemblance to the original!
Tom Ford Lacey Lace-Up Over-the-Knee Boots, $3,600 (sold out)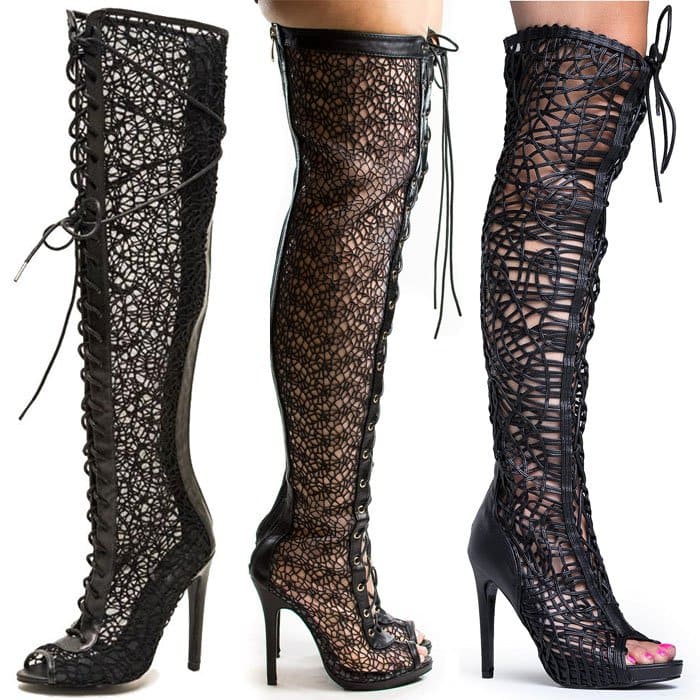 L to R: Qupid "Interest-110" Crochet Lace-Up Over-the-Knee Boots, $34.60-$51.35 at Amazon / Sully's Lacey Lace-Up Thigh-High Boots, $55.99 at Amazon / Cape Robbin "Olga-YH-2" Ropey Lace-Up Over-the-Knee Boots, $61.61-$92 at Amazon