Draper James founder Reese Witherspoon attended the premiere of her new film, 'The Good Lie', held during the 2014 Toronto International Film Festival at The Elgin in Toronto, Canada.
The film is based on real events and features Reese as a brash American woman assigned to help four young Sudanese refugees who win a lottery for relocation to the United States.
For the movie premiere, the 38-year-old actress donned a purple wool-blend brocade dress by Dolce & Gabbana.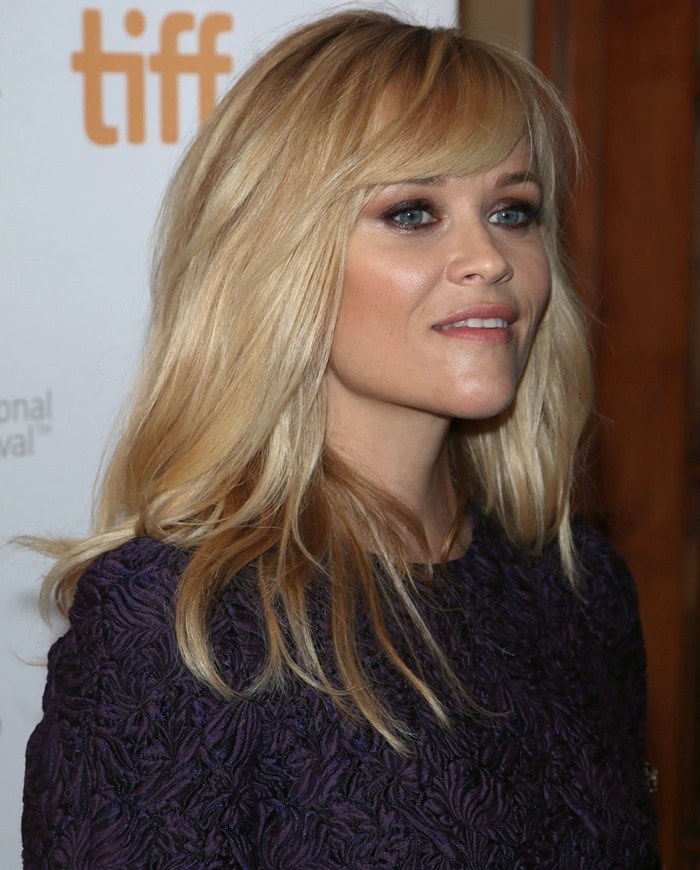 Reese Witherspoon at the 'The Good Lie' premiere at the Toronto International Film Festival (TIFF) in Toronto, Canada, on September 7, 2014
She accessorized with Fred Leighton jewelry and completed the outfit with glitter gold Saint Laurent "Jane" ankle-strap sandals.
Reese Witherspoon in a purple wool-blend brocade dress by Dolce & Gabbana
Based on a screenplay by Margaret Nagle that is inspired by true events, the film received a five-minute standing ovation at the Toronto Film Festival.
Portraying employment counselor Carrie Davis, Reese doesn't make an appearance until thirty-five minutes into the film.
Reese Witherspoon as Carrie Davis in the 2014 American drama film The Good Lie
Filmed in Atlanta, Georgia, and South Africa, real-life "Lost Boys" Emmanuel Jal and Kuoth Wiel praised Reese for her involvement in the movie.
"She's wonderful. To me, she's a mentor, she's a teacher, she's a mother, and she became a sister to us," Duany told People.
"She's down to earth. Working with her is very easy – you forget you're working with Reese Witherspoon."
Reese Witherspoon's feet in glitter gold Saint Laurent "Jane" ankle-strap sandals
The dark plum Dolce & Gabbana dress features a jewel neckline, elbow-length sleeves, vertical front darting, waistline seam, overlapped sides secured at the top with buttons, and vertical darting at the back.
Dolce & Gabbana Jewel-Button Brocade Dress, $3,495
Earlier this month, we featured Lucy Liu in the same Saint Laurent shoes.
We've also seen numerous other celebrities wearing the Jane sandals, including Chloe Moretz, Chrissy Teigen, Jessie J, Khloe Kardashian, Ashley Madekwe, Bella Thorne, Miley Cyrus, and Angelina Jolie.
The Saint Laurent Jane ankle-strap sandals are available in different variations at Farfetch, Nordstrom, and Saks Fifth Avenue.
Credit: WENN