While Miley Cyrus was up to her usual antics in nipple pasties on stage at the recent iHeartRadio Music Festival, the Kardashian and Jenner sisters were making their own fashion statement off stage. Kourtney, Khloe, Kendall, and Kylie came to watch Miley in black outfits. With black leather, sharp stilettos, and an in-your-face statement tee thrown in, the sisters looked like the most stylish street gang ever if there is such a thing.
We can just imagine the crowd at the MGM Grand Garden Arena that night parting like the Red Sea for this fierce quartet:
Kendall Jenner, Khloe Kardashian, Kourtney Kardashian, and Kylie Jenner at the 2013 iHeartRadio Music Festival held at the at MGM Grand Garden Arena in Las Vegas, Nevada, on September 21, 2013
When Miley, in her white net dress and black nipple pasties, posed for a picture with them, she blended right in. Below is a photo (from Kendall's Instagram) of the Kardashian/Jenner girls posing with Miley Cyrus.
Let's break down the Kardashian/Jenner sisters' shoe selections, shall we? Kendall Jenner's shoes are these Celine ankle-strap sandals in red suede:
Closeup of Kendall Jenner's gold-buckled red suede ankle-strap sandals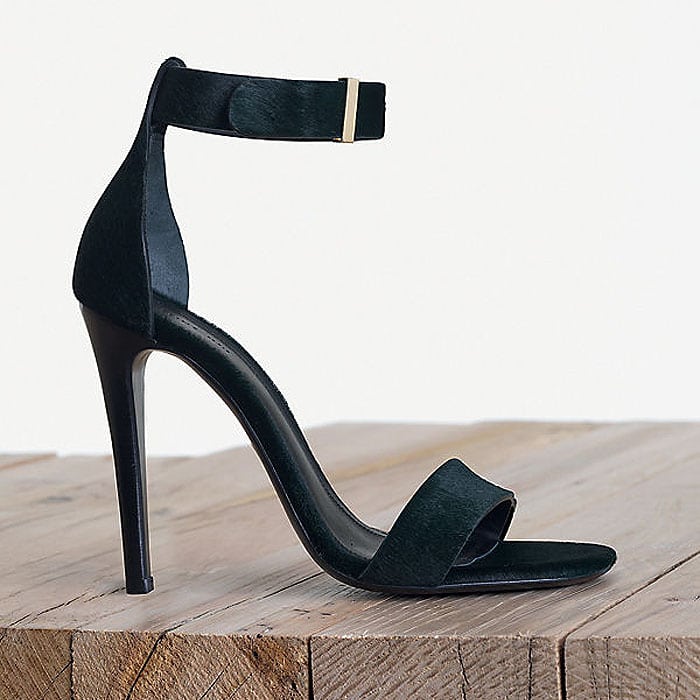 Celine Fall 2013 Evening Classic Sandals in Black Suede
Noting the super-skinny straps on Khloe Kardashian's sandals, we identified them as these celebrity-favorite Saint Laurent "Jane" sandals that you can buy at Nordstrom.
Front and back views of Khloe Kardashian's Saint Laurent "Jane" sandals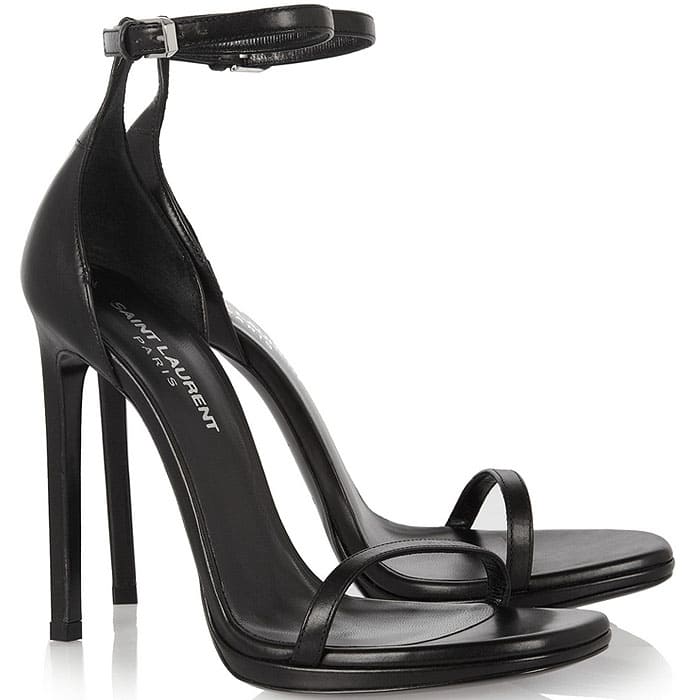 Saint Laurent "Jane" Ankle-Strap Sandals, $795
We can't see Kourtney Kardashian's shoes, so we're going to skip ahead to Kylie Jenner, who had on these fabulous Aquazzura "Amazon" lace-up heels that you can buy at Bergdorf Goodman.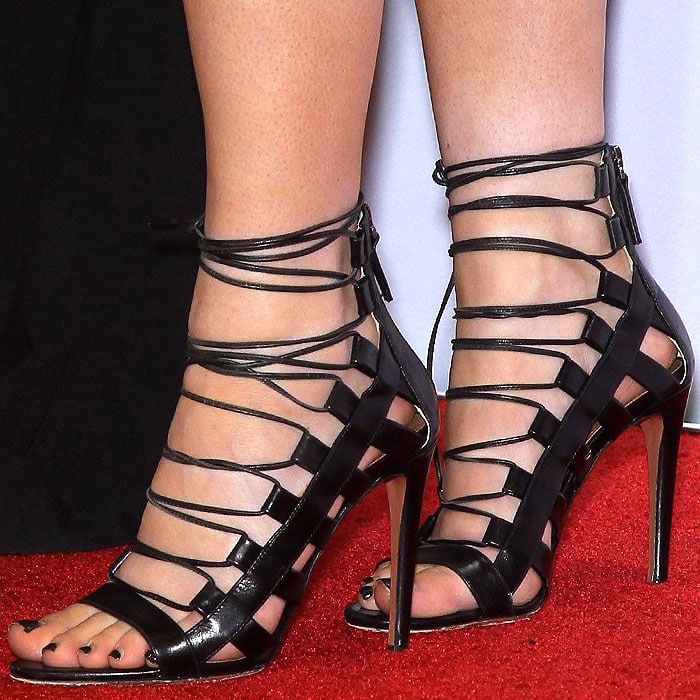 Kylie Jenner's lace-up sandals up close
Aquazzura "Amazon" Lace-Up Sandals, $595
Among the five of these sisters (including Kim), we've got reason to believe that they've got all of the "it" shoe styles from past and present seasons complete. Imagine what all of their shoe collections combined would look like!
Credit: Judy Eddy/WENN/SIPA