Superstar chef Gordon Ramsay has built an empire, making him one of the world's wealthiest chefs. With loads of reality TV appearances, restaurants, best-selling books, as well as his own production company, it's no wonder Ramsay is worth an estimated $220 million.
So how did the sharp-tongued chef become one of the richest in the world?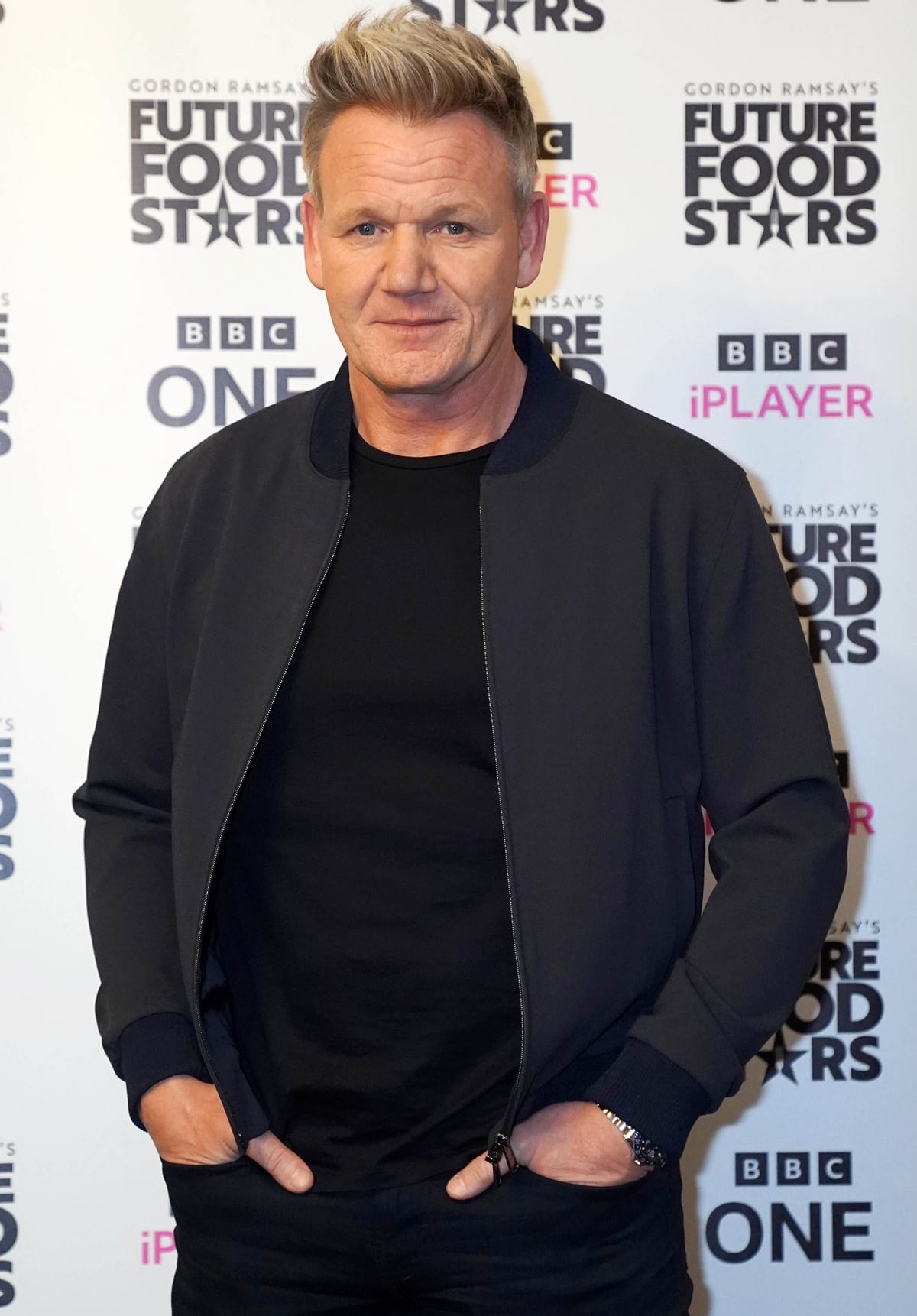 Gordon Ramsay at the launch of Gordon Ramsay's Future Food Stars, a new food entertainment series for BBC One, in Soho, London on March 10, 2022 (Credit: Kirsty O'Connor / PA Images / INSTARimages)
Despite having incredible talent in the kitchen, Ramsay wasn't always slated to be a chef. Read on to find out more about Gordon Ramsay, his wealth, and why he won't be leaving it all to his kids.
Gordon Ramsay's Early Life
Ramsay was born in 1966 in the Scottish town of Johnstone. By the age of nine, Ramsay and his family relocated to England, where they moved around often due to his father's inability to find steady work.
Ramsay and his three siblings dealt with neglect and abuse at the hands of his alcoholic father. By the age of 16, Ramsay moved out to escape his toxic household.
Growing up in an abusive household with an alcoholic father, Gordon Ramsay moved out at 16 and began working his way up to a successful career and becoming a self-made millionaire (Credit: Channel 4's Born Famous)
Gordon Ramsay played football as a young teenager and wanted to be a professional footballer. Due to a severe injury where he tore ligaments in his leg, Ramsay had to give up his dream of playing the sport.
At age 19, he went to North Oxfordshire Technical College to study culinary and catering. Thus began his career in the culinary arts.
Ramsay worked in a series of restaurants, often for big-name chefs like Albert Roux, Guy Savoy, and Joel Robuchon.
In 1993, at 27 years old, he was offered the head chef position at La Tante Claire in London after studying French and Italian cuisines. The restaurant was later renamed Aubergine.
Gordon Ramsay at Nelson Mandela's 90th Birthday Dinner – a charity event attended by presidents, prime ministers, and some of Hollywood's biggest stars (Credit: Richard Young / Startraksphoto)
In 1998, Ramsay opened his first restaurant, Restaurant Gordon Ramsay, and continued to build his burgeoning empire. It received three Michelin stars under his guidance and held on to them for longer than any other restaurant in London.
Gordon Ramsay's Restaurant Business
Ramsay can attribute a portion of his fortune to the many restaurants he's started worldwide. From Dubai to Tokyo, he has opened 35 restaurants as of 2020. Ramsay doesn't look to be slowing down with his restaurant business, even with continuous closures and openings.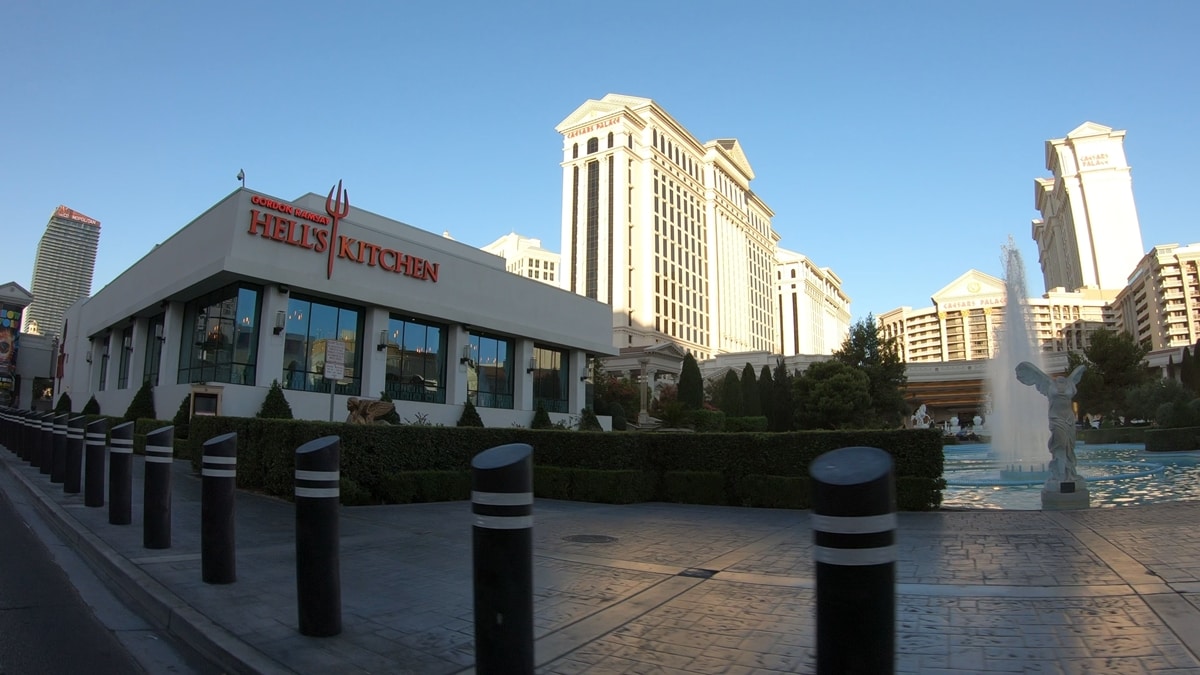 Gordon Ramsay Hell's Kitchen restaurant at Caesars Palace in Las Vegas overlooking the famous Las Vegas Strip (Credit: TMP – An Instant of Time / Shutterstock)
Along with his father-in-law, Chris Hutcheson, he created Gordon Ramsay Holdings Limited in 1997. This company manages all of his media, restaurants, and consultation services. Although Hutcheson is no longer involved with the company, Ramsay continues as a majority stakeholder, with a worth of $67 million as of 2007.
Ramsay's restaurants range from casual to fine dining, with many different styles and cuisines. As of 2019, his restaurant group signed on to open a variety of chain restaurants with 200 new locations across Asia, as well as 50 in the UK and 75 in the United States.
Gordon Ramsay's Television Career
Many people know Gordon Ramsay on television for his foul mouth and fierce personality, sparing no criticism.
Ramsay has hosted approximately ten television shows. His TV debut was in 1999 in a documentary called Boiling Point, which was before the well-known UK shows Hell's Kitchen and Kitchen Nightmares premiered.
Gordon Ramsay having an existential crisis on an episode of Hell's Kitchen (Credit: YouTube)
Ramsay gained significant notoriety in the United States in 2005 when a US version of the UK Hell's Kitchen debuted on Fox. The show's premiere was a competition between two teams of chefs racing for the head chef position of a restaurant, with Ramsay as the host.
As a result of the popularity of the series, a chain of restaurants called Gordon Ramsay Hell's Kitchen opened in locations such as the Vegas strip and Dubai, contributing to the chef's growing wealth.
An illuminated sign above the Hell's Kitchen restaurant in the Caesars Palace Hotel on Las Vegas Boulevard (Credit: Ceri Breeze / Shutterstock)
In 2007, the UK show Kitchen Nightmares debuted in the United States. It featured the chef spending a week with the owners of a failing restaurant to reinvigorate and revive the business.
The show ended in 2014, but an updated version titled Gordon Ramsay's 24 Hours to Hell and Back premiered in 2018 and ran for two years before ending in 2020. Although the show is no longer on television, it has an active and popular YouTube channel that sees significant fan traffic.
In addition to three shows, Ramsay hosted a competition series called The F Word and served as a producer and judge on the US version of MasterChef. His production company, One Potato, Two Potato, produced its first series, Ramsay's Best Restaurant, in 2010.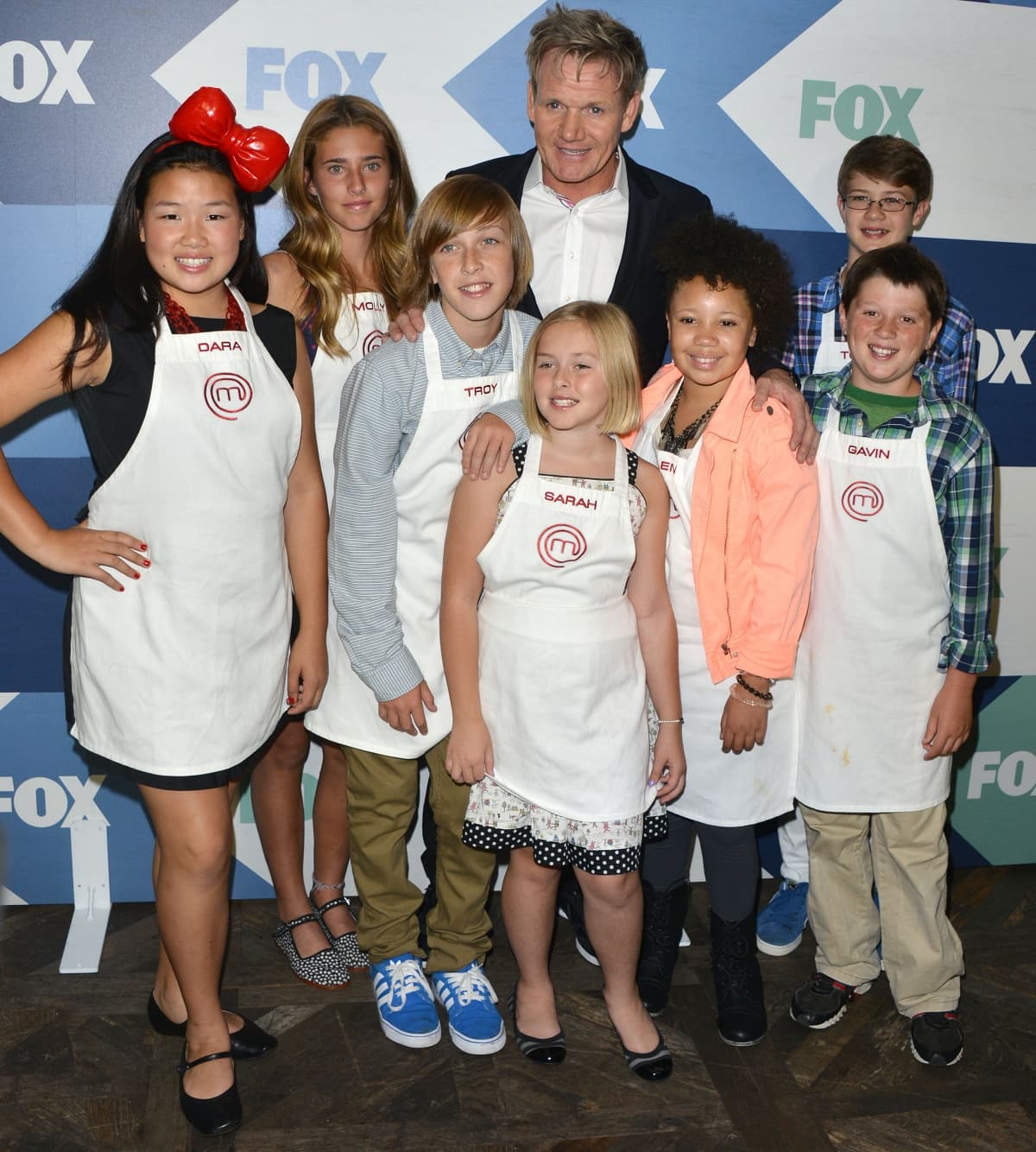 Gordon Ramsay with the cast of MasterChef Junior at the Fox Summer TCA All-Star Party in West Hollywood, California on August 1, 2013 (Credit: Tony DiMaio / Startraksphoto)
He has made endless celebrity guest appearances on shows and been mentioned countless times in pop culture, keeping himself relevant and in the spotlight for food lovers and television junkies.
Gordon Ramsay's Best-Selling Books
Ramsay has amassed his wealth not only as a chef and television personality but also as a best-selling author.
His autobiography, Roasting in Hell's Kitchen, was published in 2006 and quickly became a bestseller. Available on Amazon, it gives readers a look into his early life and successes, as well as his passion and fiery personality.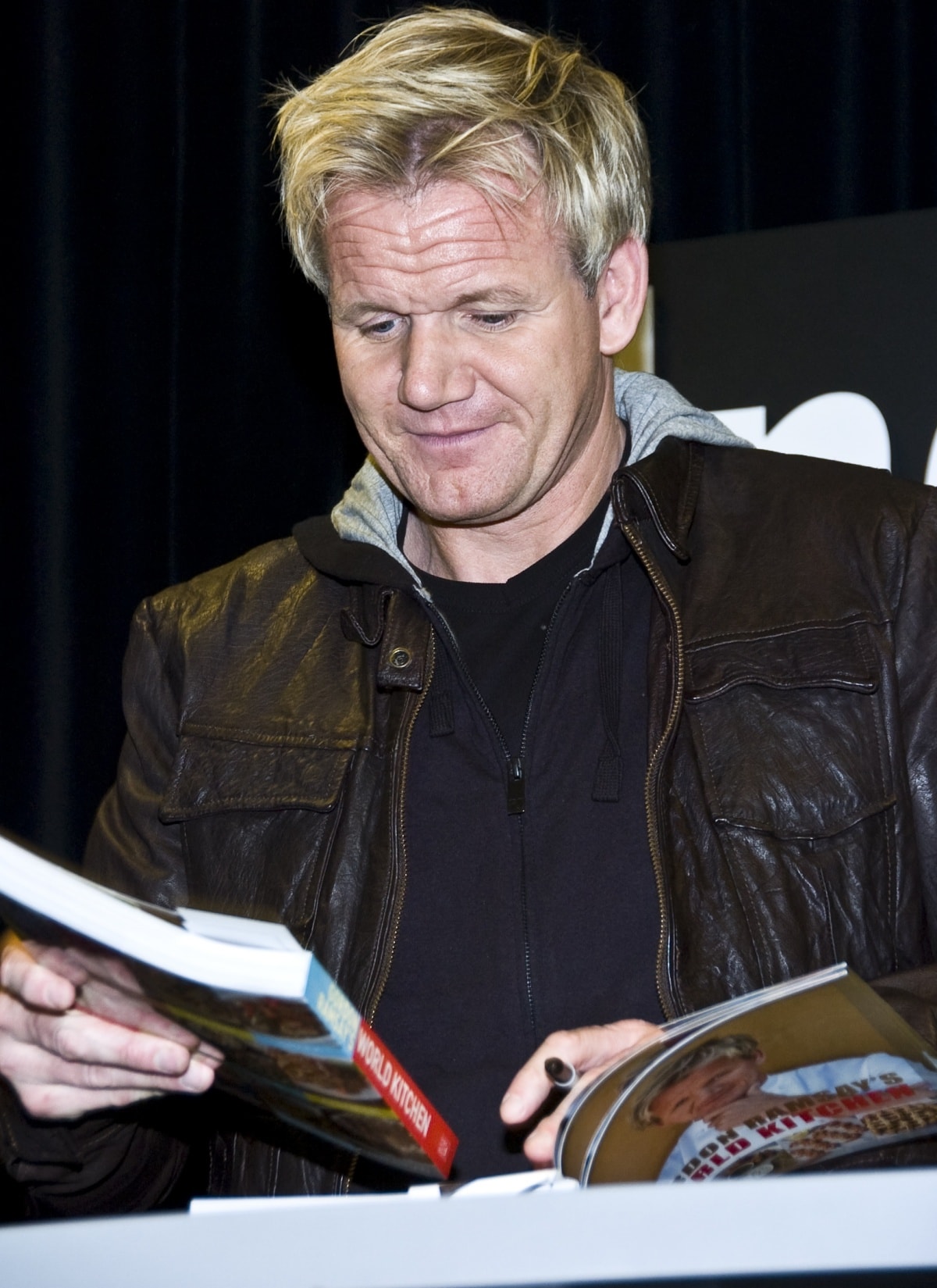 Gordon Ramsay signing copies of his book, World Kitchen: Recipes from The F Word at Manulife Indigo Bookstore on November 14, 2010 (Credit: Christian Lapid / Startraksphoto)
Aside from his autobiography, Ramsay has also authored 26 cookbooks.
Gordon Ramsay's Fortune
Although Gordon Ramsay is worth an estimated $220 million from combined income streams, he doesn't intend to leave any of the fortune to his five children.
Between restaurants and media, Ramsay brings in approximately $45 million and makes around $225,000 per hosting gig. In addition to these income streams, Ramsay's real estate portfolio includes his Bel-Air, California home, which is worth an estimated $6.75 million in 2012.
Gordon Ramsay with his wife Tana at the GQ Men of the Year Awards in London, England on September 3, 2019 (Credit: Doug Peters / PA Images / INSTARimages)
Ramsay and his wife, Tana, began the Gordon and Tana Ramsay Foundation to help fund charitable organizations of their choice. The foundation has contributed to organizations like UNICEF, the Scottish Spina Bifida Association, and Cornwall Air Ambulance.
Gordon Ramsay insists that despite his success, he doesn't believe in giving his children a large allowance or handout. Although he came from tough beginnings, he was able to be a self-made millionaire with hard work and determination, citing that his children should learn to earn their own money to buy the things they want.
The Ramsay family attending the 2015 Nickelodeon Kids' Choice Awards in Los Angeles, California, on March 28, 2015 (Credit: Lionel Hahn / Abacausa / Startraksphoto)
While he and his wife don't spoil their five children, he claims to enjoy giving them some things he didn't have while growing up without money, such as access to travel opportunities and a small allowance.
Gordon Ramsay's Rags-to-Riches Tale
It's easy to see how Gordon Ramsay has made his large multimillion-dollar fortune. He is a multifaceted entrepreneur and a highly regarded chef from humble beginnings.
By staying relevant and participating in various endeavors to round out his portfolio, Ramsay continues to expand upon his wealth and notoriety.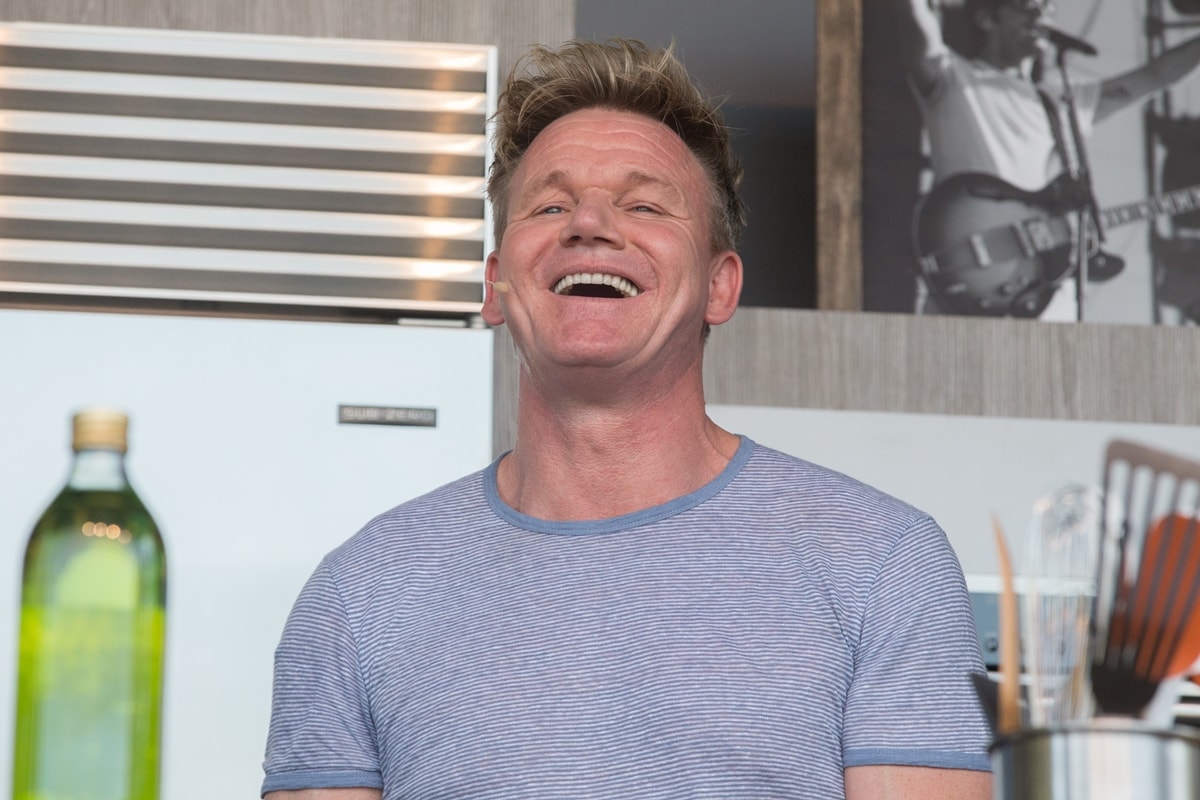 A tough chef with a heart of gold, Gordon Ramsay worked his way up from an abusive childhood and a failed sports career to a burgeoning empire that's set to take over the world (Credit: Sterling Munksgard / Shutterstock)
Despite the chef's infamous temper and foul mouth, Ramsay has proven to be a compassionate human who strives to teach young adults how to become successful in the restaurant industry with hard work and focus. Instead of passing his fortune to his children, Ramsay and his wife participate in charity events to contribute their own money and raise funds for those in need.
Gordon Ramsay's story is a real-life rags-to-riches tale of success through hard work and determination despite a series of setbacks and downfalls.
We could learn a thing or two from Gordon Ramsay, who is a true inspiration.