Looks like Gwen Stefani can't get enough of her workwear-inspired L.A.M.B. "Nichol" booties. We spotted her wearing the black pair last month. And just yesterday, the ultra-fashionable rocker mom was seen sporting a red version with another black-and-white ensemble.
She basically used the red shoes to complement a Fendi purse. And with her signature red lips and nails, you could say Gwen's outfit was perfectly coordinated.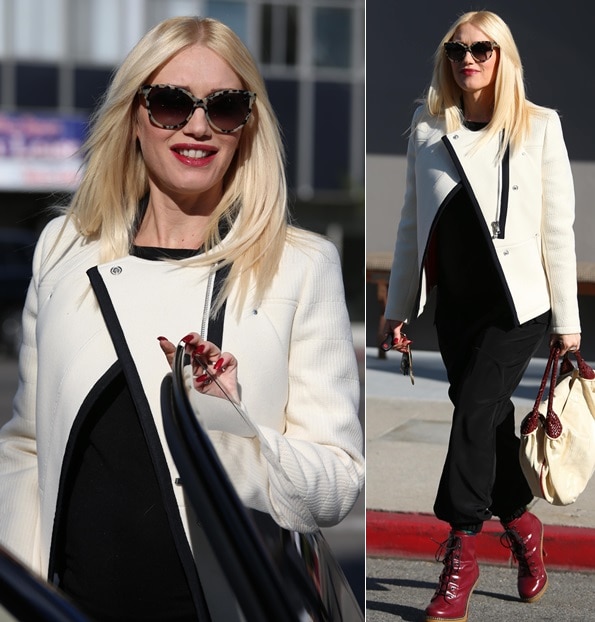 Gwen Stefani wearing a red pair of L.A.M.B.'s "Nichol" booties while out and about in West Hollywood on December 5, 2013

Wow. Pregnancy sure becomes her, doesn't it? She looks amazing!
As for her Nichol booties, well, here's a surprise for you — the red ones are not available online or perhaps not yet. However, you can score a black pair for less than the regular price at Nordstrom.
L.A.M.B. "Nichol" Booties in Black, $237 (before: $395) at Nordstrom
Yes, we agree. They look a lot like a pair of Dr. Martens. Only, Dr. Martens boots aren't as sexy. Do you agree?
The Nichol boots are way more feminine. Their rubber soles (or platforms) are thinner, and their 4-inch-tall heels are a lot slimmer. These shoes are definitely more polished as well.
Of course, if you disagree, you can always go grab yourself some Docs. Try the "Sadie 8-Eye." These boots have chunkier heels (at 3.5 inches tall), but they're much cheaper, too, so they're well worth considering. Would you grab them?
Dr. Martens "Sadie" 8-Eye Boots, $160 at Zappos
Credit: WENN