In November 2013, Gwen Stefani was pregnant, but that did not keep her from looking fashion-forward and fabulous while showing off her signature platinum hair.
Ever the stylish dresser, the celebrity entrepreneur sported two different maternity outfits that were fresh and look-book-worthy. And that's not all. She wore these outfits with two striking pairs of footwear — super cool booties, to be exact.
Gwen Stefani wears her platinum hair back in a messy updo while out in Sherman Oaks, Los Angeles, on November 19, 2013
What color is Gwen Stefani's real hair?
Stefani's colorist, American hair stylist Danilo Dixon, told Refinery29 in June 2017 that he dyes Gwen's hair every week with a bleach-free formula he developed just for the star.
"We color her hair every Monday before we film The Voice. Gwen's an Italian girl with wavy brown hair — if you look at the video for Cool, we did her in her natural shade, maybe a little darker — so I developed a high lift formula for her. I learned that I could get to a place of achieving the blond that I want, and the quality of hair that we need and want, by using a new product, as opposed to just bleach," he said about the brunette superstar.
"People are like 'that's not natural' and I say, 'Of course it is — it's supernatural'."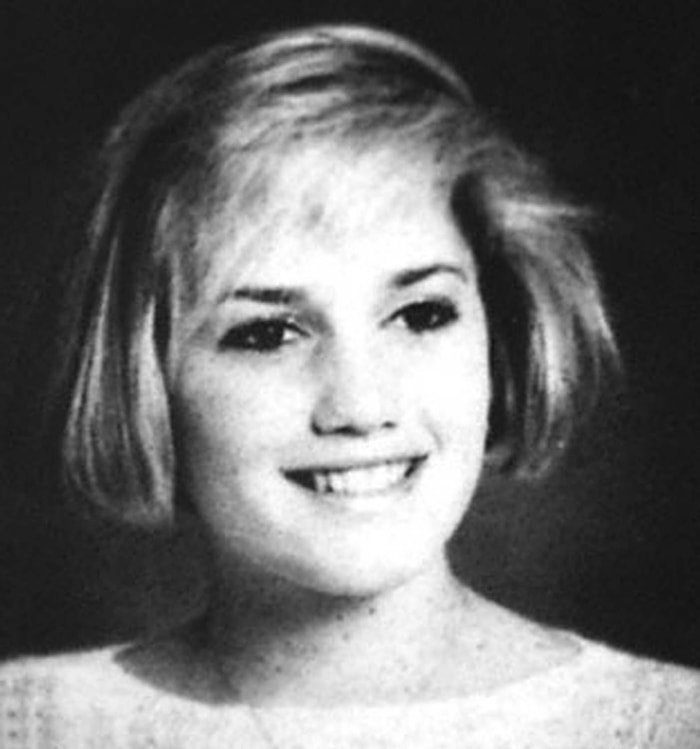 Gwen Stefani's real hair when she graduated with the class of 1987 from Loara High School in Anaheim, California
The then mom-of-two wore a chic ensemble out for breakfast in Sherman Oaks that included a sleek tailored coat over a printed shirtdress and a pair of leather skinnies.
Rumored to have undergone plastic surgery, she finished the outfit with lace-up boots from her fashion line, L.A.M.B. The shoes look like a pair of Dr. Martens, except that they are less bulky and feature 5-inch-tall heels.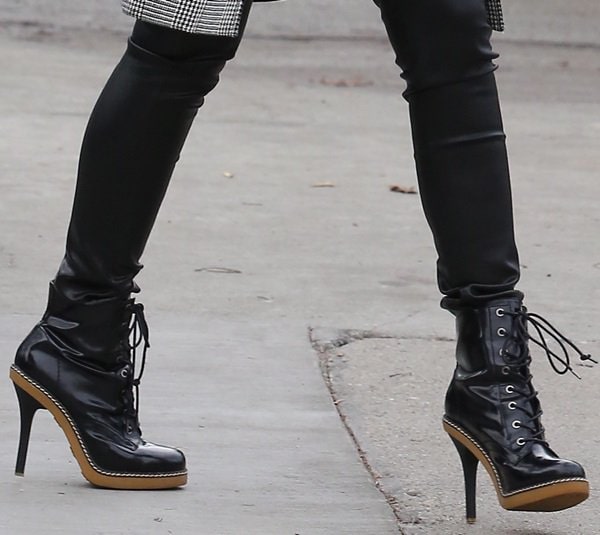 Gwen Stefani's feet in L.A.M.B. boots
Gwen's "Nichol" boots feature a slim silhouette and lace-up closures at the front.
The shafts of these boots are about 4.5 inches tall, so they end just slightly above the ankles. The rubber platforms are about 0.75 inches thick — which means these boots are a little on the steep side.
Black L.A.M.B. "Nichol" Booties, $395
Gwen was also recently spotted in another pair of chunky boots that she styled with her maternity wear.
The singer wore a pair of AllSaints booties with a denim jumpsuit, a black coat, a large pair of sunglasses, and a patterned shoulder bag.
Gwen Stefani spends the day with her family at Travel Town Museum in Los Angeles on November 23, 2013
These block-heeled ankle booties look a bit masculine, but the slender silhouette and dainty tassels do add a feminine touch.
Unlike the Nichol booties, however, these Kiss Tassel Chelsea boots from the British label aren't tall at all. They're also very easy to wear because you simply slip them on.
Gwen Stefani's feet in AllSaints boots
Which pair of Gwen's boots do you like best? Both pairs can be purchased online, luckily, for less than $400 per pair.
AllSaints Kiss Tassel Chelsea Boots, $398
Credit: WENN