Now out in theaters, Spider-Man: Across the Spider-Verse has garnered generally favorable reviews from critics and is anticipated to gross around $80 million in its opening weekend.
The film had the second-best total for an animated movie after it made $17.35 million from Thursday night previews, following Incredibles 2, which earned $18.5 million in 2018.
On Thursday, the cast of the Spider-Man: Into the Spider-Verse sequel gathered in London's Leicester Square for the premiere of their new animated film.
Hailee Steinfeld left everyone in awe with her stunning look from Blumarine's Spring 2023 collection at the London premiere of Spider-Man: Across the Spider-Verse held at Cineworld Leicester Square on June 1, 2023 (Credit: PA Images / INSTARimages)
Naturally, the show's lead voice actors, Shameik Moore and Hailee Steinfeld, attended the event and opted for monochromatic neutrals.
Proving he's the best-dressed Spidey, Miles Morales' voice actor cut a dapper figure in an all-white ribbed suit composed of a double-breasted blazer and wide-leg pants.
Underneath, he wore nothing but two layered gold necklaces. He further styled the sophisticated look with statement gold rings, blacked-out sunnies, and shiny loafers.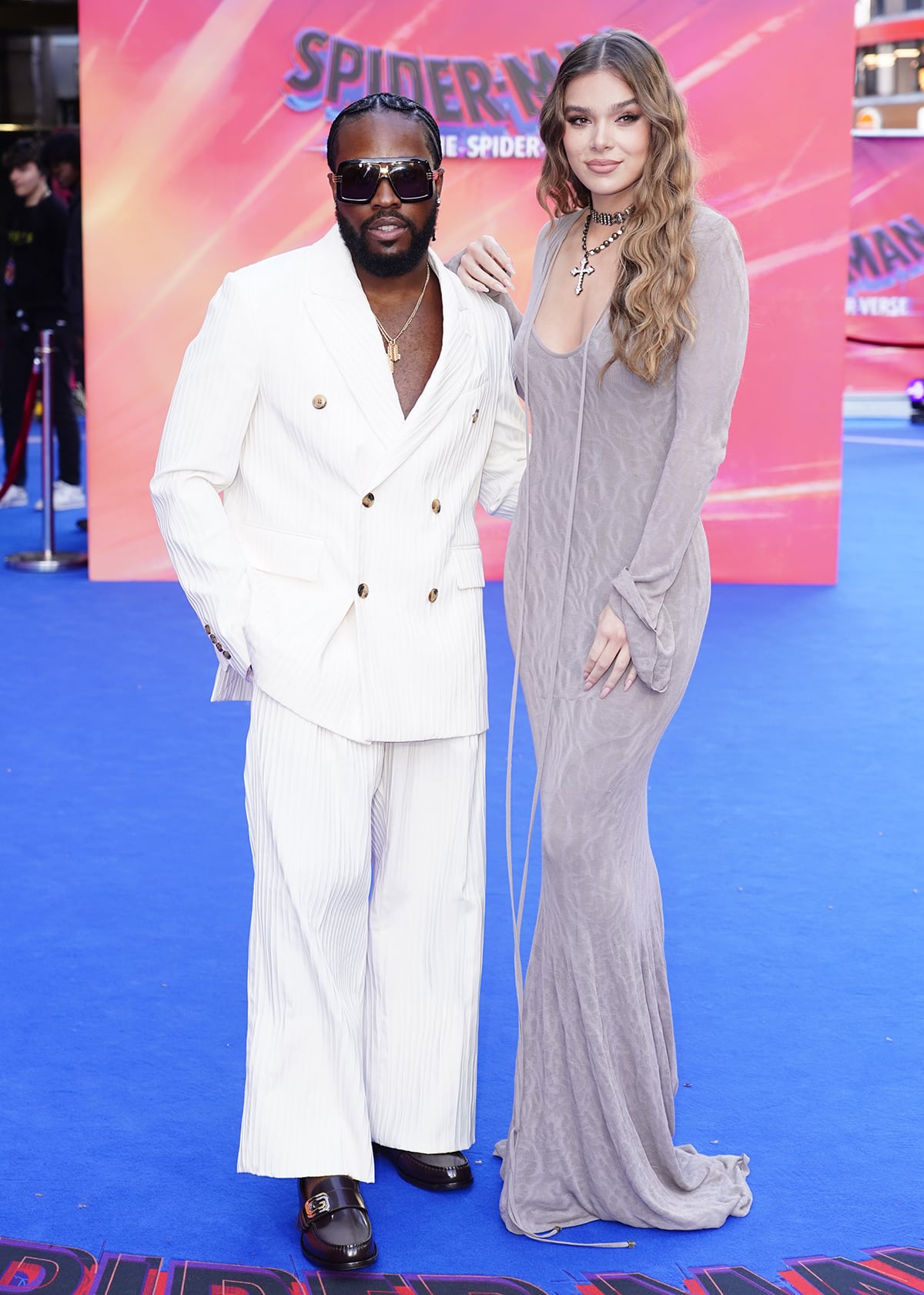 Hailee Steinfeld towers over Shameik Moore, who looks dapper in a white suit, layered gold necklaces, and black sunglasses (Credit: PA Images / INSTARimages)
Why Hailee Steinfeld Appears Taller Than Shameik Moore
Towering over the actor in high heels was Hailee Steinfeld, 26, who leaned into the dark, goth aesthetic in a Blumarine Spring 2023 creation.
Hailee Steinfeld's height is approximately 5 feet 6 ¼ inches (168.3 cm), while Shameik Moore's height is approximately 5 feet 7 inches (170.2 cm).
While she is 1.9 centimeters (0.75 inches) shorter than him, if she wears high heels that are 1.9 centimeters (0.75 inches) or taller, Hailee Steinfeld will look taller than Shameik Moore.
The Hawkeye actress appeared to be channeling Morticia Addams in her latest red-carpet ensemble, which included a figure-hugging gray gown.
It was a simple yet flattering maxi dress with a fluid silhouette that hugged every inch of her curves.
The extra-long bell sleeves, short sweeping train, and the long, web-like drawstring details added drama to the effortless design, while the plunging neckline served as the perfect backdrop for her bedazzled grungy choker and large cross pendant necklace.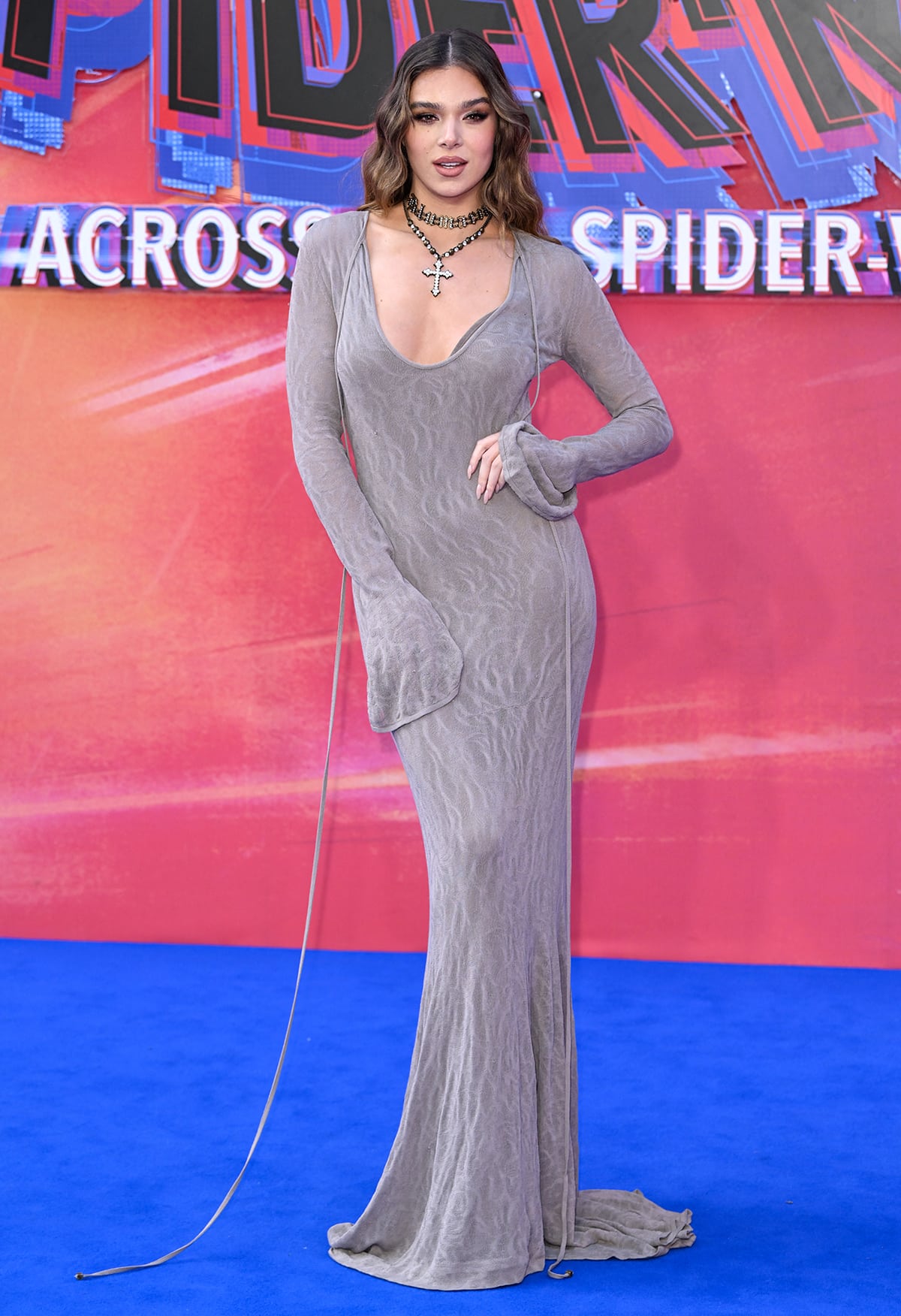 Hailee Steinfeld channels Morticia Addams in a gothic Blumarine plunging dress with a grungy choker and a cross pendant necklace (Credit: Abaca Press / INSTARimages)
Hailee's stunning look was created by famous styling duo Rob Zangardi and Mariel Haenn, whose high-profile clients include Jessica Biel, Heidi Klum, Lily Collins, and Jennifer Lopez.
As for her glam, True O'Brien's cousin kept things edgy with smokey eyeshadow and matte nude pink lipstick, which matched her long, pointy pink nails created by Tom Bachik.
She then parted her long caramel tresses in the middle and styled them in crimped mermaid waves.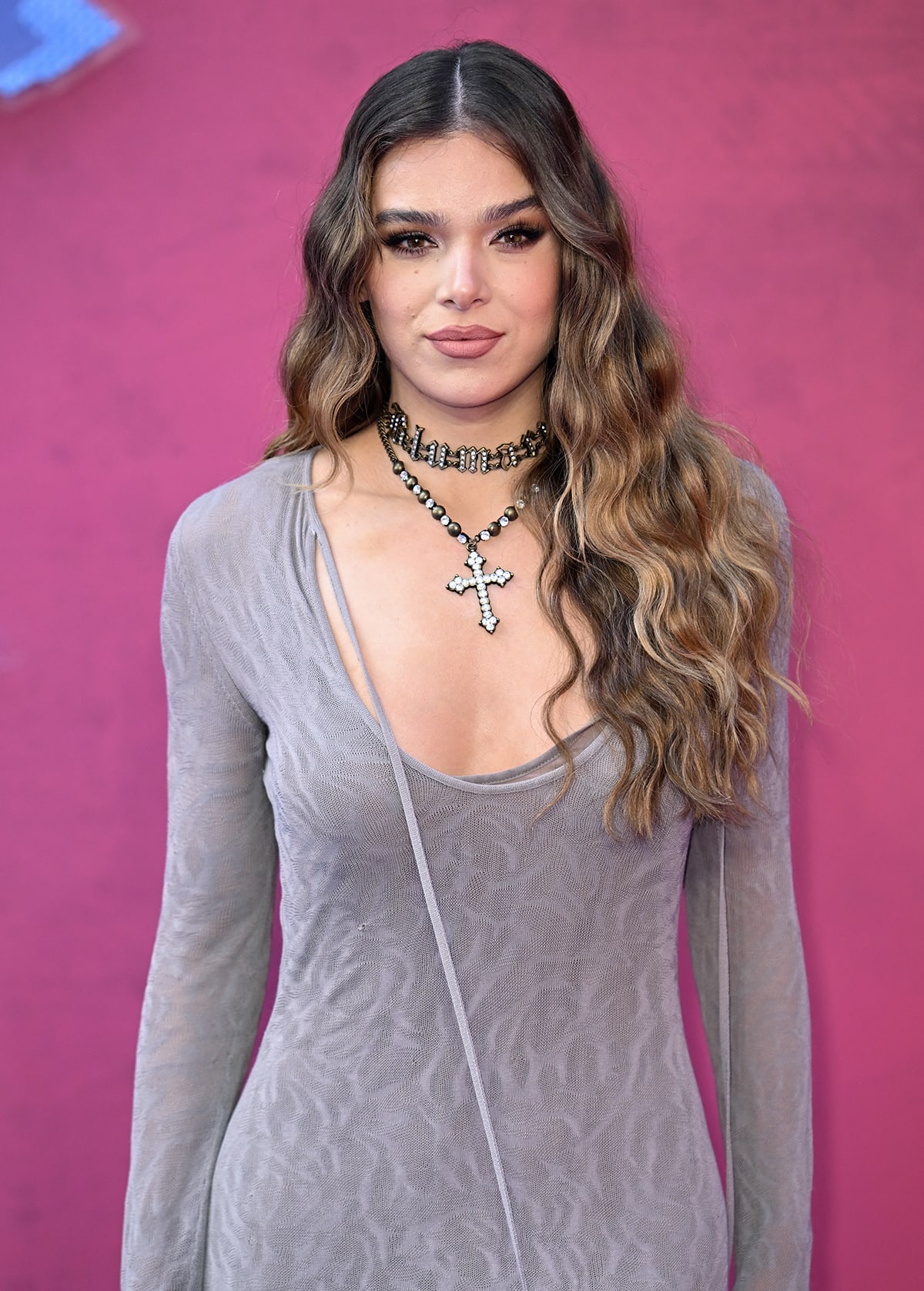 Hailee Steinfeld keeps an edgy look by styling her caramel hair in crimped waves and wearing smokey eye-makeup and matte nude lipstick (Credit: Abaca Press / INSTARimages)
On Tuesday, Hailee put on a leggy display in a Bally ensemble as she attended the Los Angeles premiere of Spider-Man: Across the Spider-Verse.
She wore a shimmering, heavily beaded black maxi skirt with a daring slit extending to her left hip. Priced at $18,650, the edgy skirt was hand-stitched with rod glass beads and finished with a textured yellow-gold-tone emblem at the waist.
Making a case for casual denim on the red carpet, the Ender's Game star paired the high-waisted skirt with a partially buttoned Spring 2023 light-wash denim shirt to show a hint of cleavage.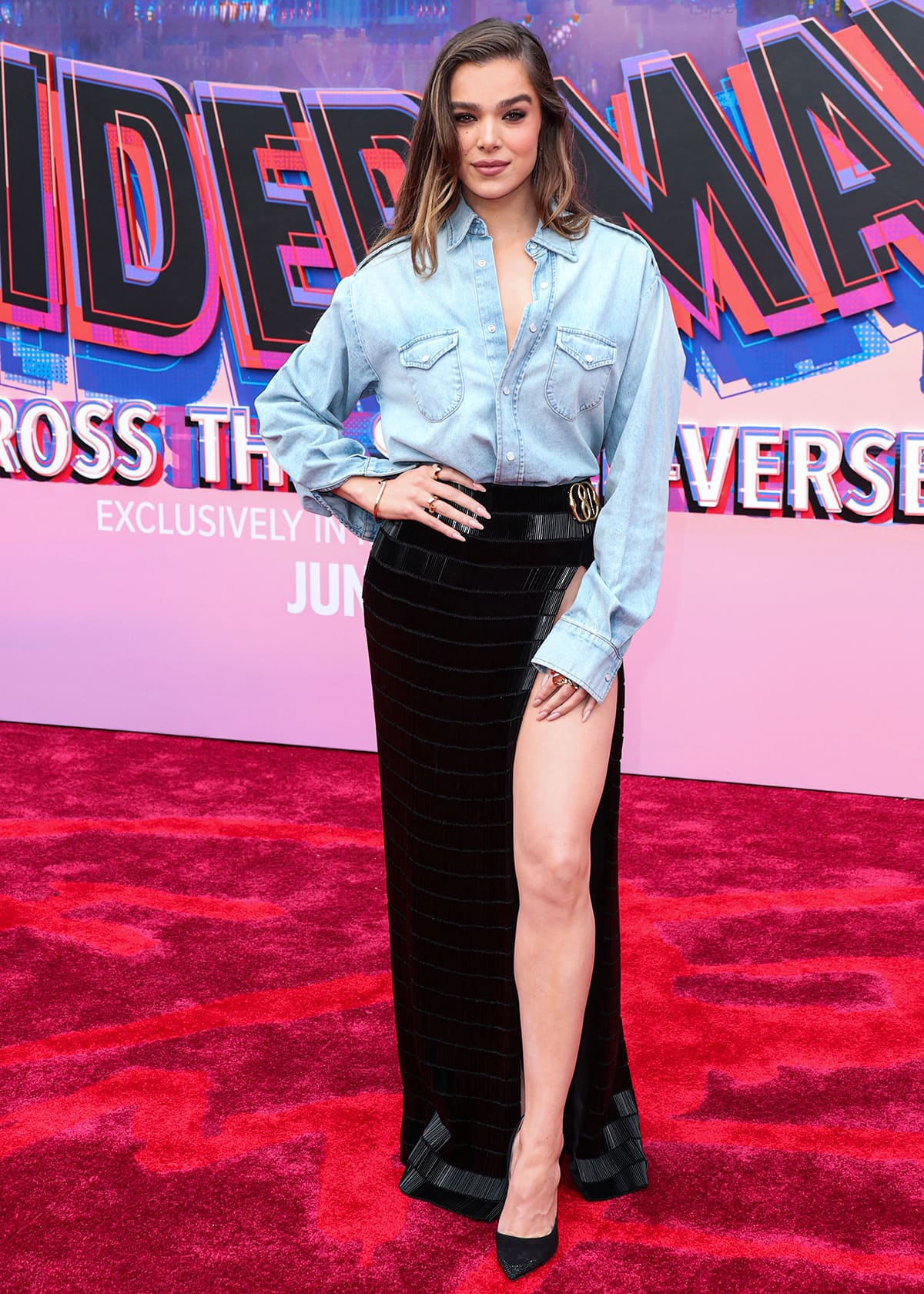 Hailee Steinfeld puts on a leggy display in a beaded maxi skirt from Bally at the Los Angeles premiere of Spider-Man: Across the Spider-Verse on May 30, 2023 (Credit: Abaca Press / INSTARimages)
Rob Zangardi and Mariel Haenn curated the look, styled with black suede Rene Caovilla pumps adorned with microcrystals along the toes.
They also added several yellow gold bling to the look from Tabayer's Oera collection. She wore a few quirky rings, thin bangles, and a pair of knotted earrings that were hidden behind her side-parted tresses.
Gregory Russell used the Pureology Beach Wave Sugar Spray to create Steinfeld's voluminous waves, while makeup artist Mary Phillips glammed her up with a neutral makeup palette.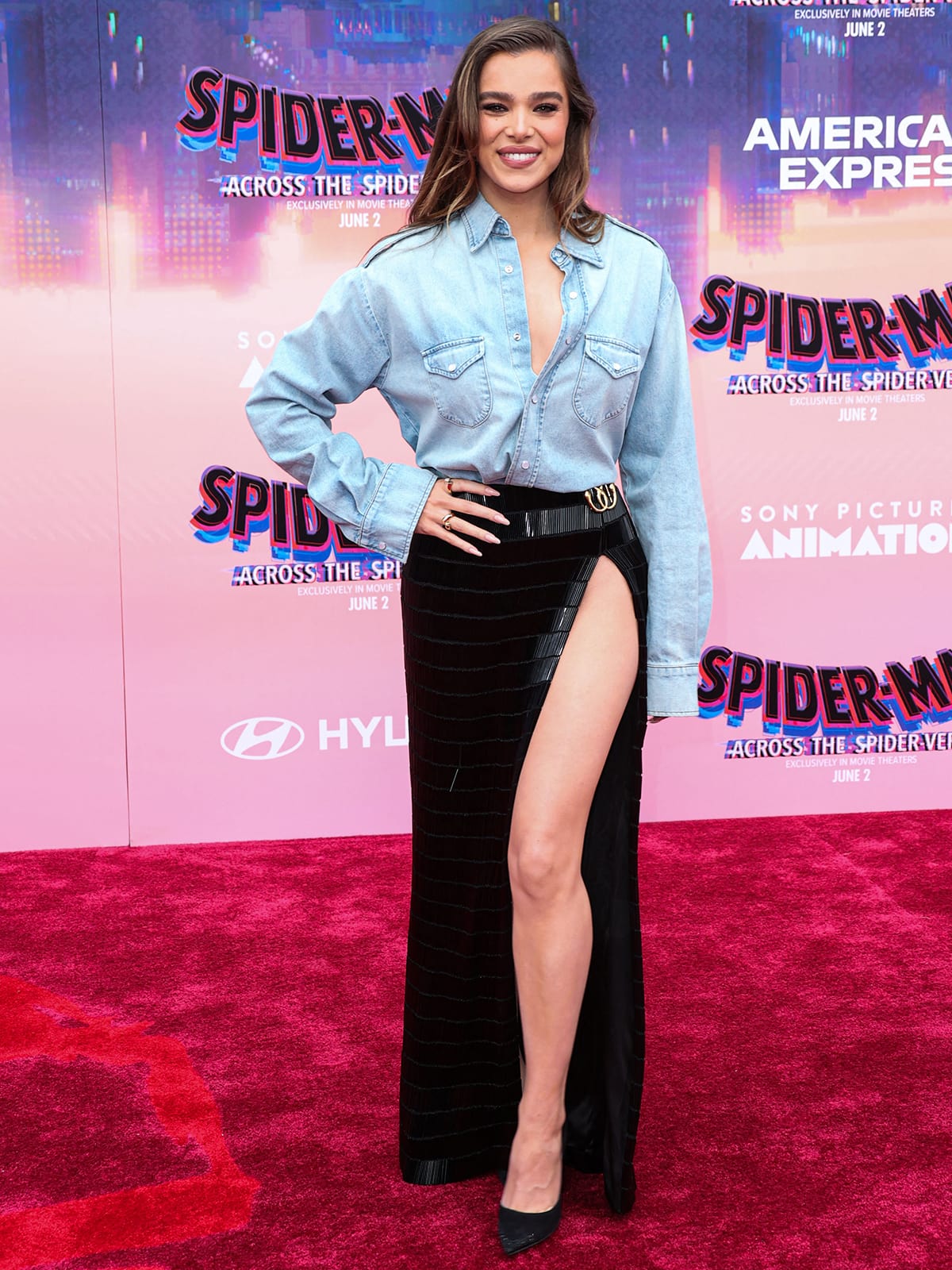 Hailee Steinfeld tucks a light-wash denim shirt into her high-waist beaded skirt and pairs the look with Rene Caovilla pumps (Credit: Abaca Press / INSTARimages)
She combined Nudestix's Sunkissed Nudies and Pat McGrath's Devine Powder blush in Divine Rose on her cheeks before applying Anastasia Beverly Hills' Soft Glam eyeshadow and Lancolme's Drama Liqui-pencil dramatic eyeliner in French Chocolate and Café Noir.
Her bushy brows, mauve lip liner by Lancome, and dreamy nude pink Pillow Talk lipstick by Charlotte Tilbury rounded out her glam.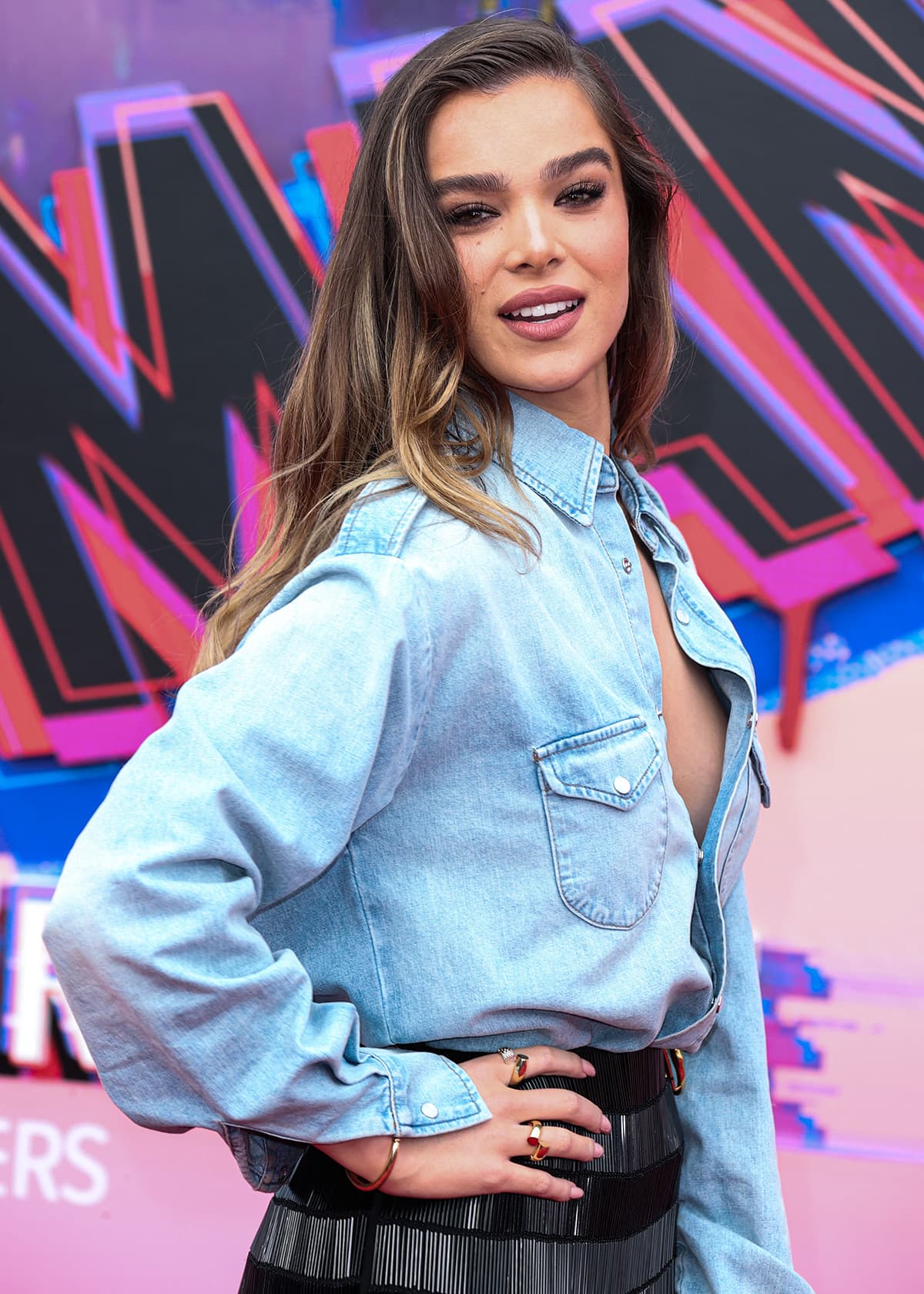 Hailee Steinfeld wears her tresses in voluminous soft waves and highlights her features with smokey eyeshadow, bushy eyebrows, and mauve lip color (Credit: Abaca Press / INSTARimages)
What Critics Say About Spider-Man: Across the Spider-Verse
A sequel to the 2018 Spider-Man: Into the Spider-Verse, Across the Spider-Verse received "universal acclaim from critics for its groundbreaking animation, heartfelt story, ambitious scope, performances and music."
On Rotten Tomatoes, 96% of 213 critics are positive. Movie Freak's Sara Fetters called it an "instant classic," while Jake Coyle of the Associated Press said it's"the rare sequel that dazzles as much as the original did. It's something to behold. Colors drip, invert and splatter in a shimmering pop-art swirl."
CineXpress' Fico Cangiano said it was "pure imagination at its best! A masterpiece within the animation and superhero/comics genre. It surpasses the original in everything. A huge victory for its creators and for fans everywhere."