55-year-old actress Halle Berry sent the internet into a frenzy over new pictures of her flawless body, proving to everyone that she's still got it.
Halle Berry has a weekly Instagram series called Fitness Friday, in partnership with her fitness brand Respin. For this, she posts fitness content to inspire and help her 7 million followers.
She took a short break from posting the series due to filming her latest movie Moonfall, which has just been released.
View this post on Instagram
On March 4th, she restarted the series, kicking it off with a gorgeous photo of her skating down a sunny street. Halle showed off her toned, tanned body in a white tee shirt and a pair of bikini bottoms.
She captioned the post: "Let's get fit on this Fitness Friday with @respin. Who's joining us?"
In another post, the James Bond actress is seen skating alongside her personal trainer, Peter Lee Thomas. Under the sexy snap, she wrote: "It's important to encourage yourself and others throughout your fitness journey. Let's get moving!"
View this post on Instagram
On Respin's Instagram, Berry let her followers in on some of her secrets, by taking them through her full-body workout routine. She explained that she does kettlebell swings, squats, push-ups, and resistance band training.
Finally, Berry showed her followers how to use a simple water jug as a weight, instead of spending money on extra equipment.
Earlier this month, she was honored at the 2022 Critics' Choice Awards with the SeeHer Award that recognizes a woman who advocates for gender equality, portrays characters with authenticity, defies stereotypes, and pushes boundaries.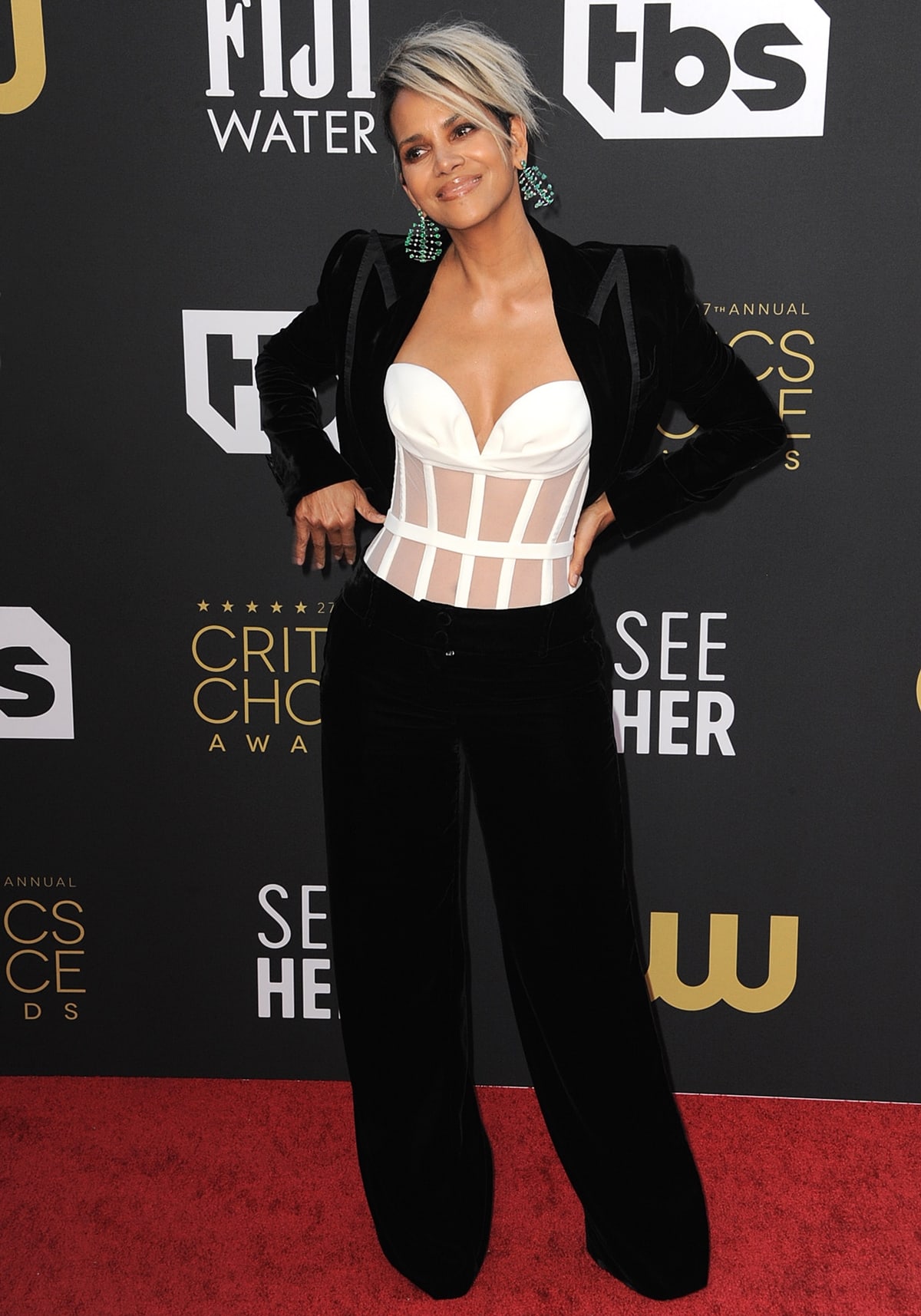 Halle Berry rocks a new silver haircut in a Dolce & Gabbana suit at the 2022 Critics Choice Awards on March 13, 2022, at Fairmont Century Plaza in Los Angeles (Credit: Tinseltown / Shutterstock)
"[Storytelling] can raise our consciousness and help us think outside of ourselves and our individual circumstances," Halle said in her acceptance speech.
"I realized that we truly need to see each other's reality — no matter how uncomfortable it makes us — so that we can stop judging and stop pointing fingers, but rather find compassion and empathy for the others."
"I've been in the business for 30 years, and I used to think that if I could play the part of a white man, then I was winning. But you know what, wanna know why that didn't work? Because, if you didn't know, I'm not a white man," said the actress with a laugh.
Halle Berry styles her suit with a white see-through Mônot Resort 2022 corset top with Samer Halimeh emerald earrings (Credit: Tinseltown / Shutterstock)
She added, "So, for those roles to work, they would have to be substantially changed. It would have to be written with the reality of my journey, in all of its beauty and all of its pain."
"This is why I am so grateful to be standing and living in this moment where women are standing up and we are telling our own stories," Halle concluded.
Halle Berry styles her hair in an elegant updo to show off her oversized earrings (Credit: Ivan Nikolov / WENN)
Wardrobe mishaps can happen to anyone and everyone, including Halle Berry.
The award-winning actress isn't immune from unsightly sweaty armpit stains— proof that she's human like the rest of us.
In November 2015, the then 49-year-old actress still managed to look stunning, though, as she posed on the red carpet at Revlon's "Love Is On" Million Dollar Challenge in New York City.
Halle Berry wore her long-sleeved olive green dress with snake-print Christian Louboutin pumps (Credit: Ivan Nikolov / WENN)
The former beauty queen donned a stretch jersey-draped dress by American fashion designer Donna Karan.
Halle Berry with sweaty armpits in a Donna Karan draped stretch-jersey dress (Credit: Ivan Nikolov / WENN)
The olive-hued frock featured long sleeves and a plunging neckline that gave a peek at her cleavage.
Her simple yet unusual accessories — a pair of earrings and a pair of printed snakeskin pumps — added an interesting detail to her relatively plain outfit.
To complete the look, the Revlon spokesmodel styled her hair in an elegant updo with fringe that covered her eyebrows and sported neutral makeup that highlighted her facial features.
Halle Berry flaunts her legs at Revlon's "Love Is On" Million Dollar Challenge in New York City on November 18, 2015 (Credit: Ivan Nikolov / WENN)
Halle's pumps are the Christian Louboutin "Pigalle" pumps in multicolored printed python with pointed toes and about 4-inch heels.
Halle Berry rocks multicolored printed python Pigalle heels (Credit: Ivan Nikolov / WENN)
Unfortunately, these shoes from the French shoe designer are already sold out. You can find some new styles at Saks Fifth Avenue, Matches Fashion, Nordstrom, and Mytheresa.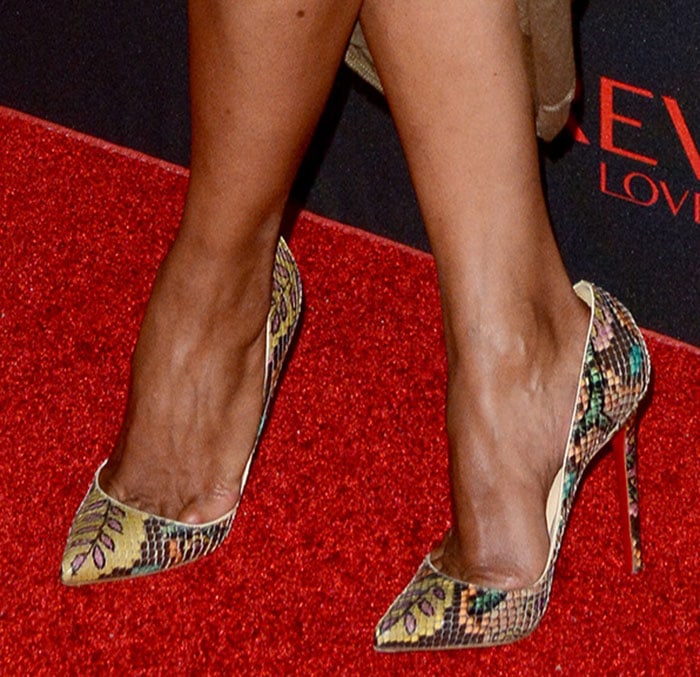 Halle Berry shows off her feet in Christian Louboutin pumps (Credit: Ivan Nikolov / WENN)