When you see a handbag selling for $445, you usually expect it to be from an established brand that's a household name.
It might be one you recognize from your social media feed or an association with celebrities like Taylor Swift or Meghan Markle.
When lesser-known brands offer handbags at a $445 price tag, it can leave you wondering why they're so expensive without a recognized brand name to bolster the price. Enter Hammitt. An American luxury brand that recently opened its third standalone store.

Hammitt is an American luxury handbag and accessories brand from Los Angeles
This LA-based handbag brand first came onto our radar after Mary Fitzgerald from 'Selling Sunset' collaborated with Hammitt on 'The Sunset Collection.'
We're deep-diving into this American accessories brand to determine whether it's worth the luxury price point.
Meet Hammitt
In 2008, Hammitt was born from the aspirations of a group of creative minds hailing from California. Their vision was clear: to establish a brand with a strong client-centric ethos.
Hammitt's mission revolves around the harmonious fusion of premium materials and practical designs, all underpinned by an enduring commitment to lifelong repairs.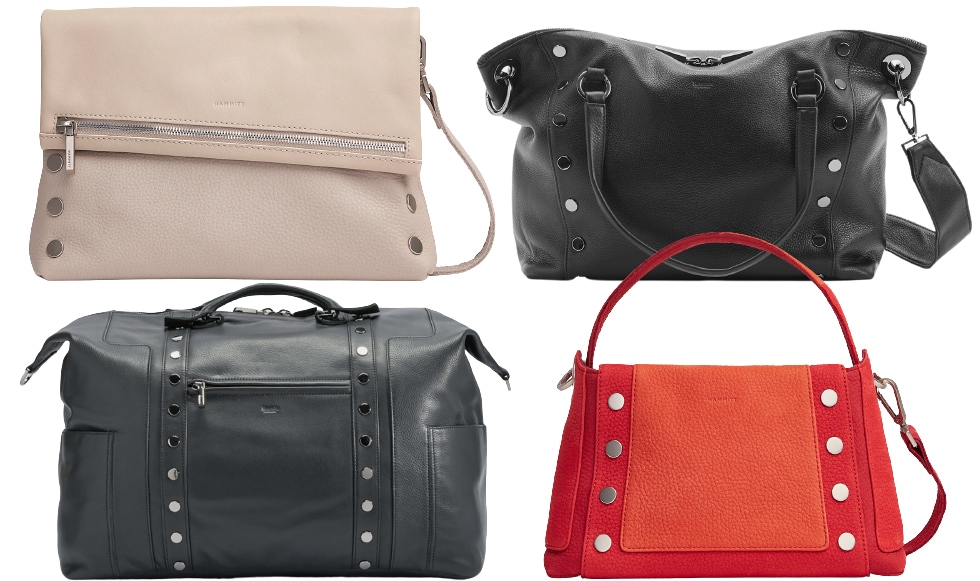 Hammitt is known for its buttery soft leathers, signature rivets, and red interior lining
You'll recognize Hammitt bags for their signature rivets and red interior lining. The brand has been steadily building a community with almost 150,000 followers on Instagram.
It's built a reputation for its buttery soft leathers and currently sells to over 800 retailers, along with its e-commerce website and standalone stores. Online stores carrying the brand include Macy's, Amazon, and Zappos.
Hammitt's Lifetime Promise
Part of Hammitt's appeal is the brand's lifetime promise on its signature hardware and smooth-gliding zippers. While you can spend $445 on a bag from other brands, very few will offer a warranty beyond the first year.
Hammitt's lifetime promise is at the heart of its client-focused approach. They'll handle any qualifying repairs free of charge. This lifetime promise applies to all the hardware on Hammitt bags, including strap clasps, zippers, and D-rings.
While the bags are designed to last a lifetime, the Hammitt care team is there to step in when your pieces need a little TLC.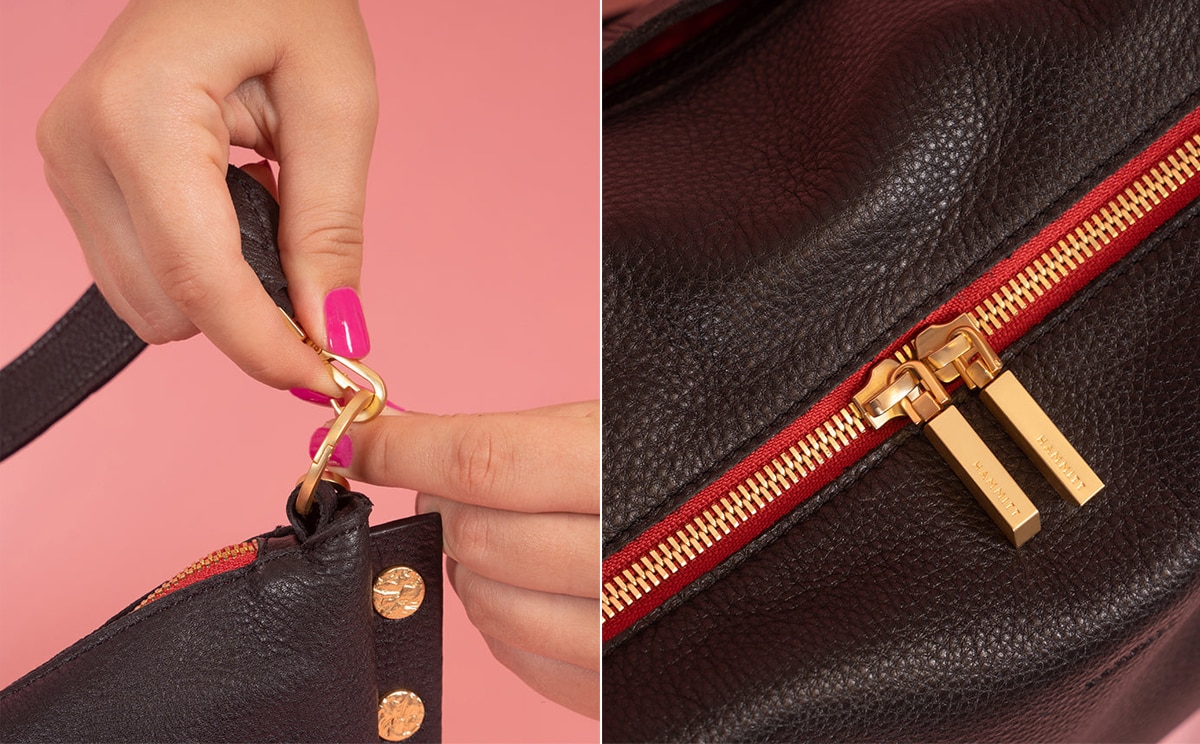 Hammitt's Lifetime Promise includes free repairs of hardware, including strap clasps, zippers, and D-rings (Credit: Hammitt)
All repairs happen in Hermosa Beach, California. The Hammitt team will keep you in the loop throughout the repair process, letting you know as soon as your bag is on its way home.
Hammitt's 'Try for Free' Program
The brand's client-focused approach doesn't end with its lifetime repair promise. Its innovative 'Try for Free' program allows you to recreate the shopping experience at home by trying up to 3 items in the comfort of your home without being charged.
This program offers a 10-day trial from when your items are delivered. You won't be charged for the items when they're dispatched, but your card will be authorized at checkout. This process will set aside funds for the full value of your order in your bank account, but you won't be charged until the end of your trial.

With Hammitt's "Try for Free" program, you can test out up to three items over the course of ten days in the comfort of your own home (Credit: Hammitt)
The 'Try for Free' program allows you to get hands-on with your potential purchases and see how they would fit into your closet. You can decide to keep your items or send them back before the end of your trial.
The authorization will be released from your account within a few days, depending on your bank's processing time, and you'll only be charged for any of the items you decide to keep.
Hammitt will track when your parcel arrives at your address, starting the 10-day trial process from that date. They'll inspect the condition of your items when they're returned and update your order status on any returned items to remove the charge.
It's worth treating your trial items with a little extra care, as you'll be charged for any items not in a re-sellable condition.
Are Hammitt Bags Made in America?
Although Hammitt promotes itself as an American accessories brand, its handbags and accessories are made in Asia.
The brand acquires its leather from all over the world, primarily Europe, and finalizes everything in Hermosa Beach, California.
Despite being an American brand, Hammitt produces its bags and accessories in Asia using leather from all over the world, primarily from Europe
The Most Popular Hammitt Bags
Hammitt has dozens of handbag styles to choose from. Each silhouette features its iconic rivets and red interior.
Here are six of Hammitt's best-selling handbags to add to your wish list.
1. Tony SML Crossbody – Versatile and Stylish, $195 – $295
Concertgoers and sports enthusiasts face a common problem – stadium bag requirements.
The Tony SML ticks all the boxes as a clear, stadium-approved bag available in seven color options. The gunmetal hardware is guaranteed for life with Hammitt's lifetime promise.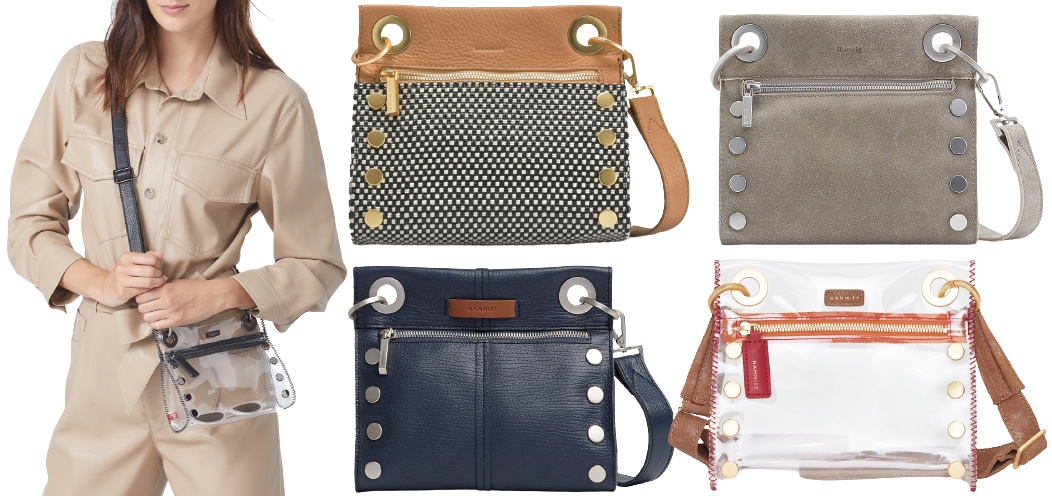 The Tony SML is available in a variety of materials, including clear PVC, leather, and soft nubuck, and features a classic crossbody silhouette with an adjustable strap
2. VIP MED Clutch – Timeless Elegance, $375
The VIP MED is Hammitt's all-time best-selling style. It's made using buttery leather with an optional strap and brushed gold rivets for an elevated look.
The signature red Hammitt's lining peeks out through the bag's back seam for a quirky twist. It features an exterior cell phone pocket with an interior credit card slot.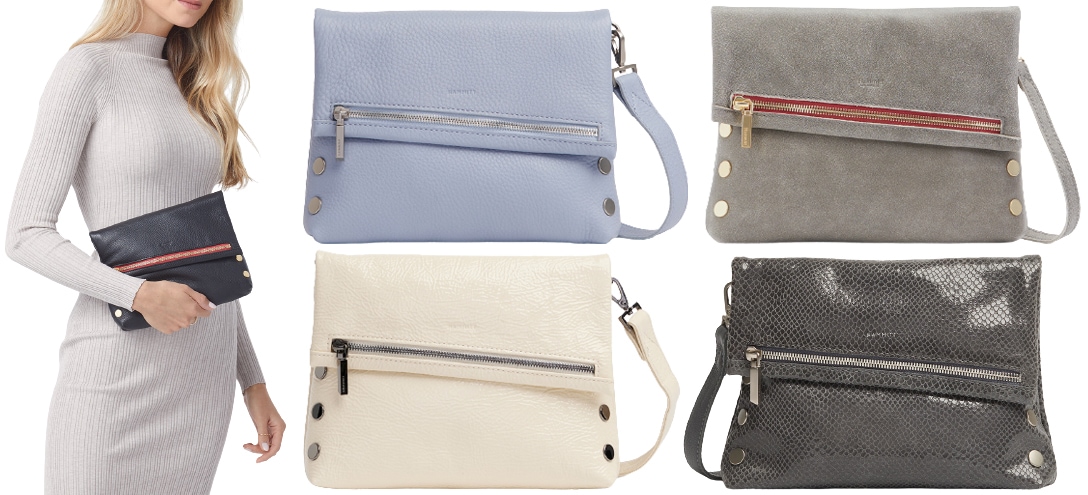 Hammitt's VIP MED clutch features an optional strap, subtle embossed rivets, and an exterior phone pocket for easy organization
3. Daniel MED Satchel – Classic and Functional, $575
The Daniel satchel is a classic workwear bag with a double-zippered pocket, additional rivets, and reinforced hardware.
It's an updated and revamped version of one of Hammitt's best-selling styles, designed to go with you everywhere. This Hammitt bag is ideal for travel and can fit up to a 13" laptop with a removable, adjustable crossbody strap.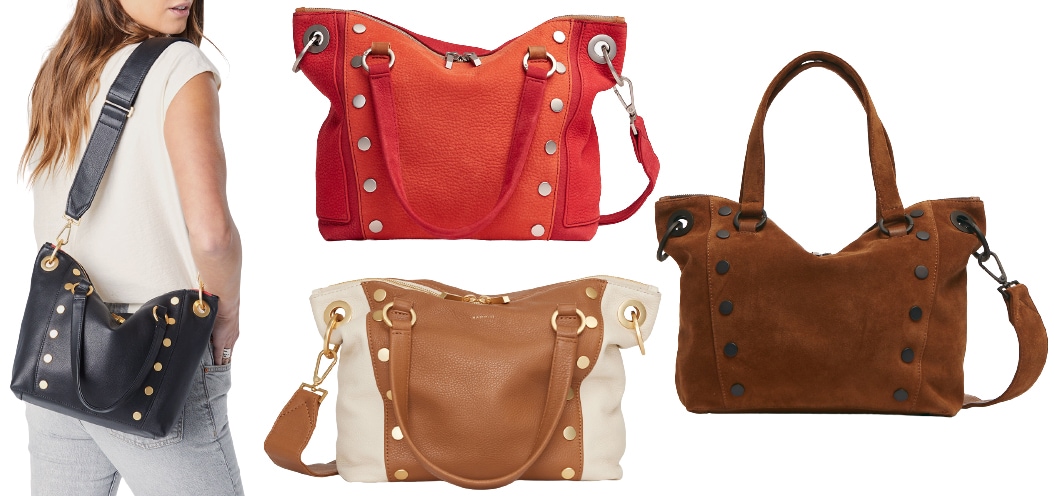 A classic satchel bag, the Daniel MED is made of soft leather with rivets, a double-zippered pocket, three interior drop pockets, and reinforced hardware
4. VIP LRG Oversized Clutch – Effortless Transition from Day to Night, $425
The best-selling VIP bag is also available in a larger size, giving it the silhouette of an oversized clutch with an adjustable crossbody strap.
It's designed for those who want to live large with two large capacity zippered compartments and an external cell phone pocket. This bag transitions effortlessly from day to night with its brushed gold hardware.
Hammitt's best-selling VIP bag also comes in a larger size with a dedicated external cellphone pocket, embossed red suede lining, adjustable cross-body strap, and two roomy zippered compartments
5. 110 North Folding Wallet – Organized Essentials
The '110 North' takes its name from the freeway in downtown LA. It's the perfect folding wallet for those who like to stay organized, with 10 credit card slots, zippered pockets, a clear ID pocket, and two cash pockets.
The wallet is made with buttery black leather and features gunmetal hardware with a secure magnetic closure.

Named after the Los Angeles freeway, the 110 North is a folding wallet with 10 credit card slots, a clear ID pocket, a zippered pocket, and two drop pockets for your cash
6. LEVY Crossbody Clutch – Versatility and Travel-Ready
The Levy is a style that converts from a wallet to a clutch and a crossbody with its removable, adjustable strap. It's the ideal bag for a capsule closet and a travel staple.
The bag features all the organizational features of a wallet with four credit card slots, a clear ID slot, and a pocket for your cell phone.
Hammitt's Levy easily converts from a wallet to a clutch with its removable crossbody strap
Shop Hammitt's best-selling handbags and accessories through its official website.