This summer, Sarah Hyland spent four days in the hospital with health issues that doctors could not figure out.
The 28-year-old Modern Family star thanked her Instagram followers for "sending well-wishes" during her weekend in the hospital. Unfortunately, she still does not know what was going on with her body.
Sarah Hyland on the carpet at the 2019 E! People's Choice Awards at the Barker Hangar in Santa Monica, California, on November 10, 2019
"Long story short, I went in because I was feeling like I was being choked from whatever's in the house," she said on her Instagram Story, adding that she couldn't breathe and had "chest pains."
"And then I was like, maybe it's just a coincidence, maybe there's something actually medically wrong with me. So I went to the ER after a very long day of work with lots of makeup on, and I just got home, from Friday night."
"They ran multiple tests, multiple times, and there's nothing physically wrong with me. So. Wonder why I was there…," she asked and revealed the doctors had "no scientific explanation" for her breathing issues.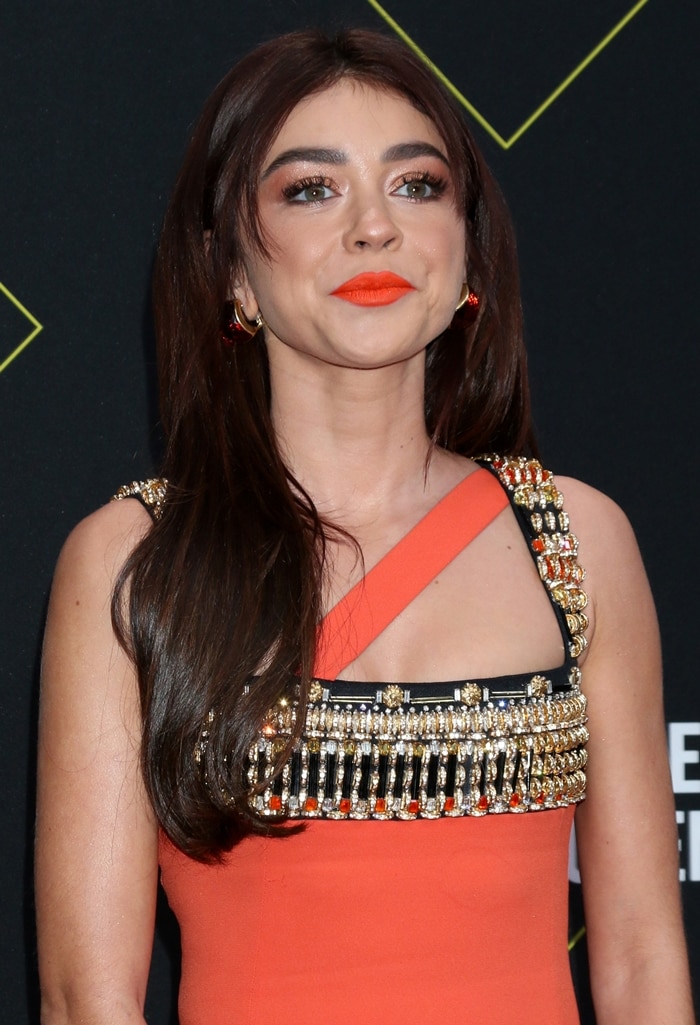 Sarah Hyland wears an embellished tree dress from Fausto Puglisi
Hyland, who is best known for playing the character of Haley Dunphy on the ABC sitcom Modern Family, has been in and out of the hospital over the last few years.
She has kidney dysplasia, which according to Urology Care Foundation is a problem that can occur during early kidney development in utero that results in an abnormal kidney. The daughter of actors Melissa D. Canaday and Edward James Hyland, she has had two kidney transplants, the most recent one from her younger brother Ian in September 2017.
In addition to kidney dysplasia, Sarah Hyland suffers from Endometriosis, which according to Mayo Clinic is a painful disorder in which tissue similar to the tissue that normally lines the inside of your uterus — the endometrium — grows outside your uterus.
Sarah Hyland wearing an off-the-shoulder Rasario dress with Le Vian and Anabela Chan rings while attending the Entertainment Weekly Pre-Emmys Party in Los Angeles on September 20, 2019
Having undergone numerous surgeries over the course of her life, in a December 2018 interview with Self Magazine she opened up about her suicidal thoughts following a failed kidney transplant.
"I was very depressed," she said. "When a family member gives you a second chance at life, and it fails, it almost feels like it's your fault. It's not. But it does. For a long time, I was contemplating suicide, because I didn't want to fail my little brother like I failed my dad."
"I had gone through [my whole life] of always being a burden, of always having to be looked after, having to be cared for," said the actress.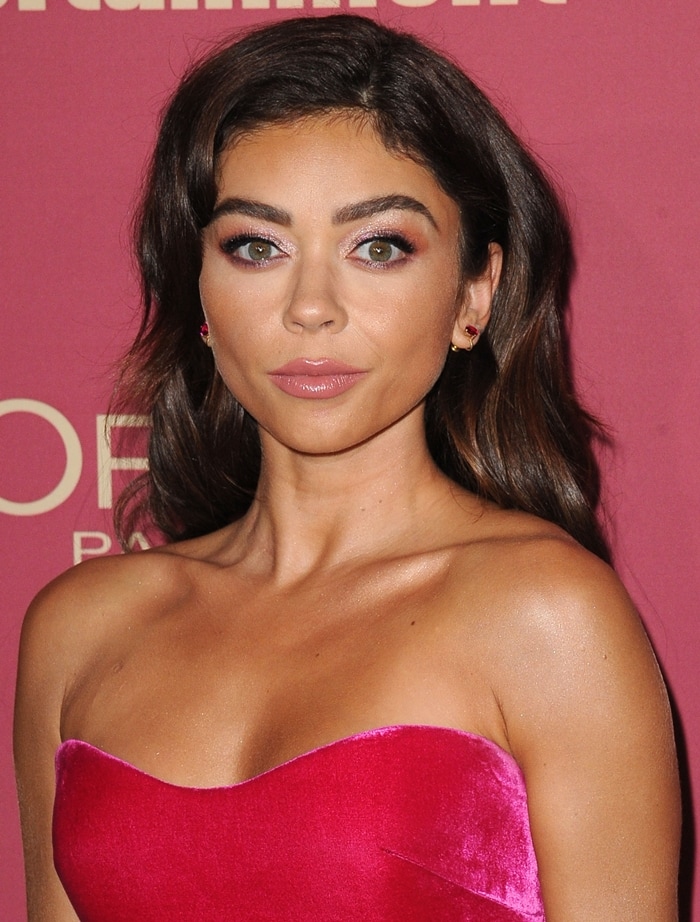 Sarah Hyland has been open about her health issues, including endometriosis and gout
Luckily, being open about her suicidal thoughts helped. "It's not shameful," she said. "For anybody that wants to reach out to somebody but doesn't really know how because they're too proud or they think that they'll be looked upon as weak, it's not a shameful thing to say. It's not a shameful thing to share."
Sarah Hyland presented an award at the 2019 E! People's Choice Awards wearing an embellished Fausto Puglisi Spring 2019 dress, Jimmy Choo Carey shoes, her engagement ring, and Lorraine Schwartz jewelry.
In January, she also sat down with Ellen DeGeneres to discuss her health issues and depression.
Credit: Instar / WENN / Nicky Nelson / Adriana M. Barraza