Heidi Klum's Halloween costume this year as an alien experiment gone wrong was so very right.
The 46-year-old German model was was gory, creepy, and absolutely Halloween-y in a sliced-up and cut-open alien costume that took 13 hours and a team of at least 12 prosthetic artists to create.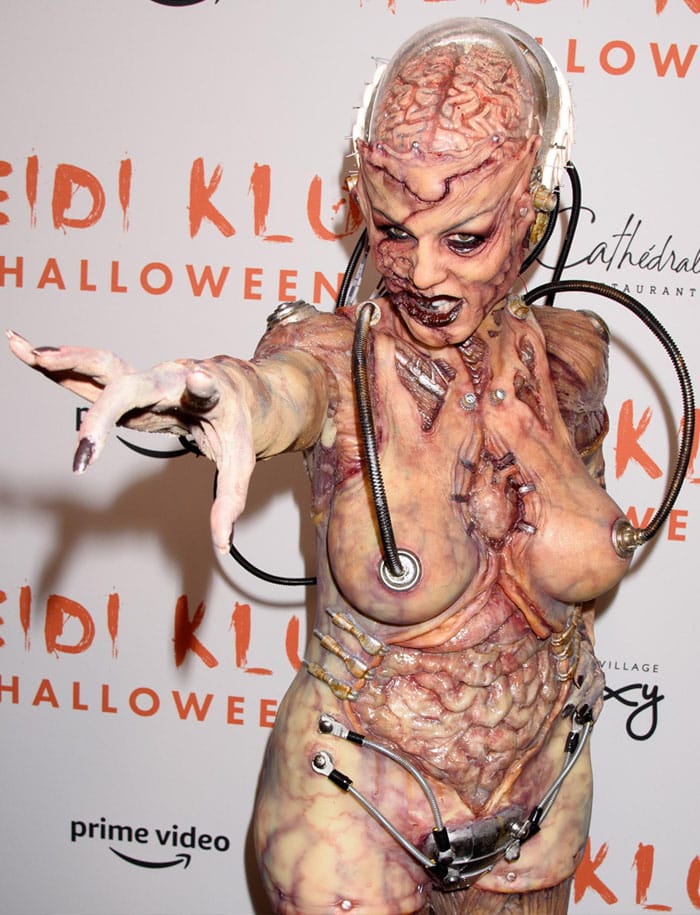 Heidi Klum aka Queen of Halloween as a creepy and gory alien
Check out the metal-plate shoes on Heidi's gruesome feet. Yes, those are her actual feet glued onto the metal.
The effect is supposed to look like screws have been drilled into alien Heidi's feet and ankles so she can't escape.
At least they gave her black insoles to wear with her torturous shoes.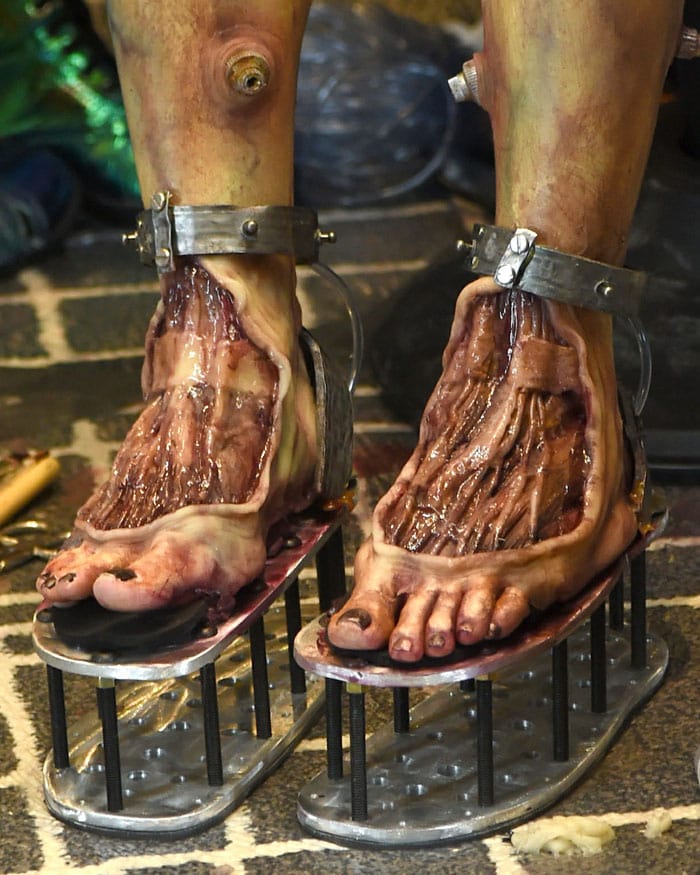 Heidi Klum's sliced-open alien costume feet glued onto metal-plate screw-platform shoes
Heidi's husband Tom Kaulitz, who was Shrek to Heidi's Fiona last Halloween, dressed up as an astronaut this year.
"I was on a mission in outer space looking for a new planet because we almost destroyed ours," Tom narrated the story behind their costumes. "Then, I found [Heidi] and brought her back, [thinking] she might have some useful information for us."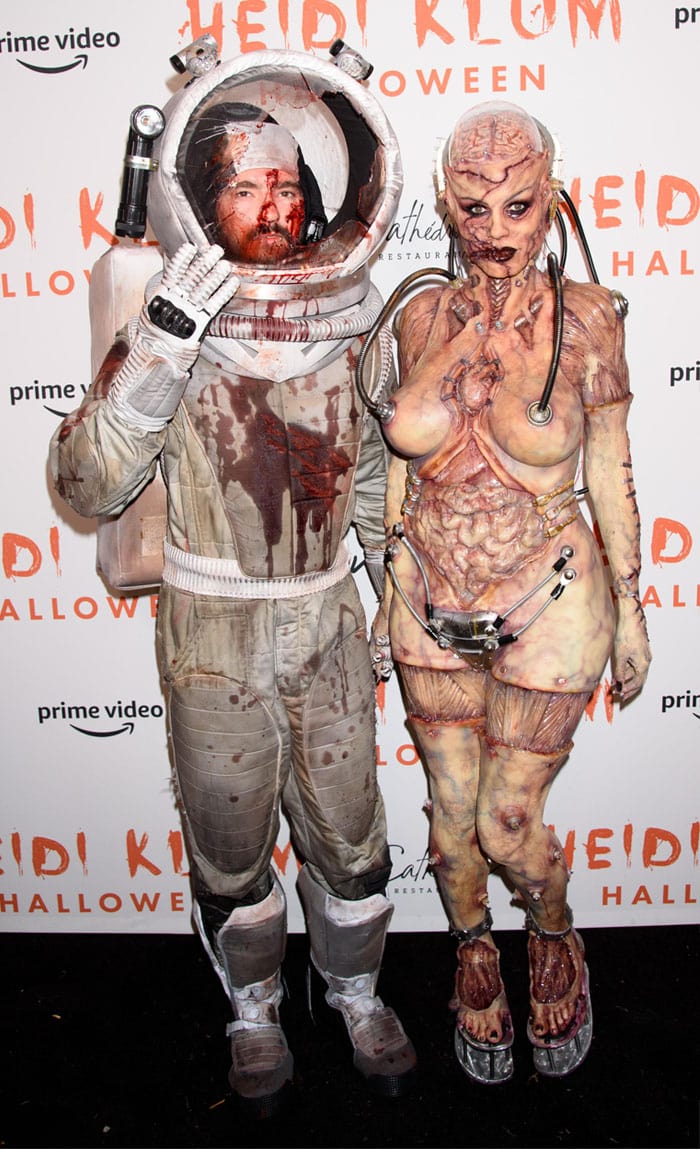 Tom Kaulitz dressed as a bloodied astronaut who was attacked and killed by alien Heidi Klum
But, apparently, Heidi attacked and killed Tom before he could extract any information from her.
Still, that astronaut vs. alien narrative didn't stop the husband-and-wife team from being lovey-dovey. The two still managed to share a kiss through Tom's bloodied helmet and all that latex.
Creepy alien Heidi Klum leaning in to kiss bloodied astronaut husband Tom Kaulitz through his smashed helmet
Mr. and Mrs. Kaulitz, who claim to have been dreaming up their Halloween costumes for this year since November 2018, made their grand entrance to Heidi's Annual Halloween Party in a blood-splattered glass truck.
Heidi Klum and Tom Kaulitz arriving in a blood-splattered glass truck to Heidi Klum's 20th Annual Halloween Party at The Cathedral in New York City on October 31, 2019
Earlier that day, Heidi sat behind a glass window at an Amazon Store in NYC for the entire duration of her 13-hour transformation.
The idea behind the live prep was to show people how much work, talent, skill, and effort went into looks like her alien costume.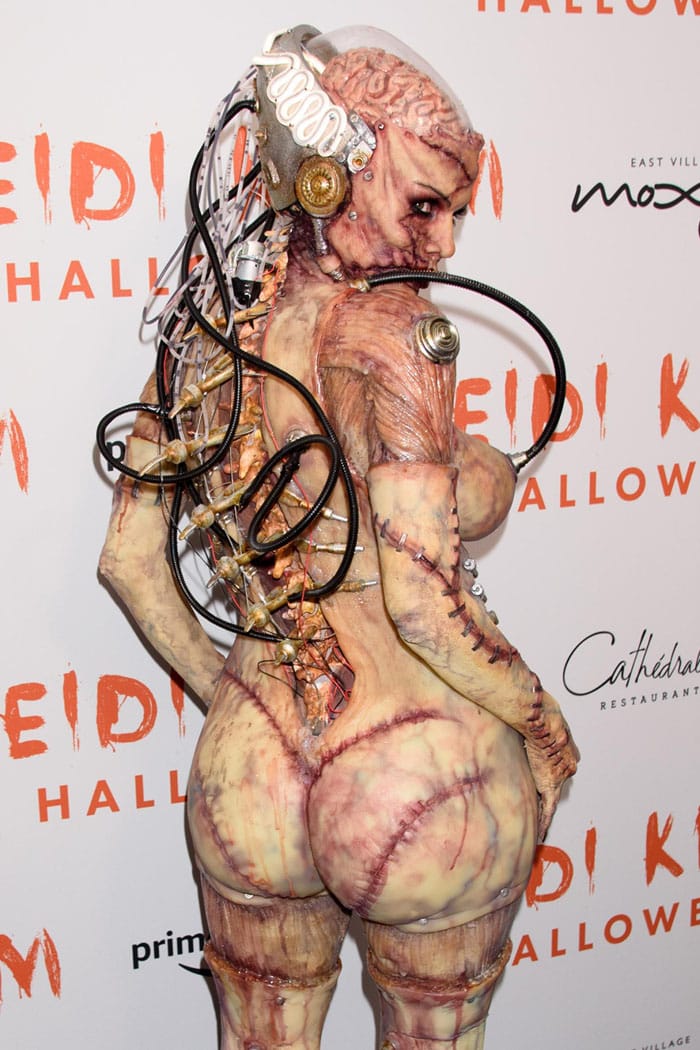 Heidi Klum dressed as an alien experiment gone wrong complete with metal rods and tubes sticking out of her opened-up spine
Heidi celebrated the night with a massive cake featuring toppers of her Halloween costumes for the past 19 years.
We spot her Jessica Rabbit, Fiona, and old lady costumes in the topmost shelf of the cake.
Which one so far is your favorite Heidi Klum Halloween costume?
View this post on Instagram
Credit: WENN / Instar