Heidi Klum is Princess Fiona from "Shrek" for Halloween! Arguably the celebrity with the most anticipated Halloween costume each year, Heidi transformed herself into the beloved green ogress complete with protruding ears, a bulbous nose, and massive, bulging feet.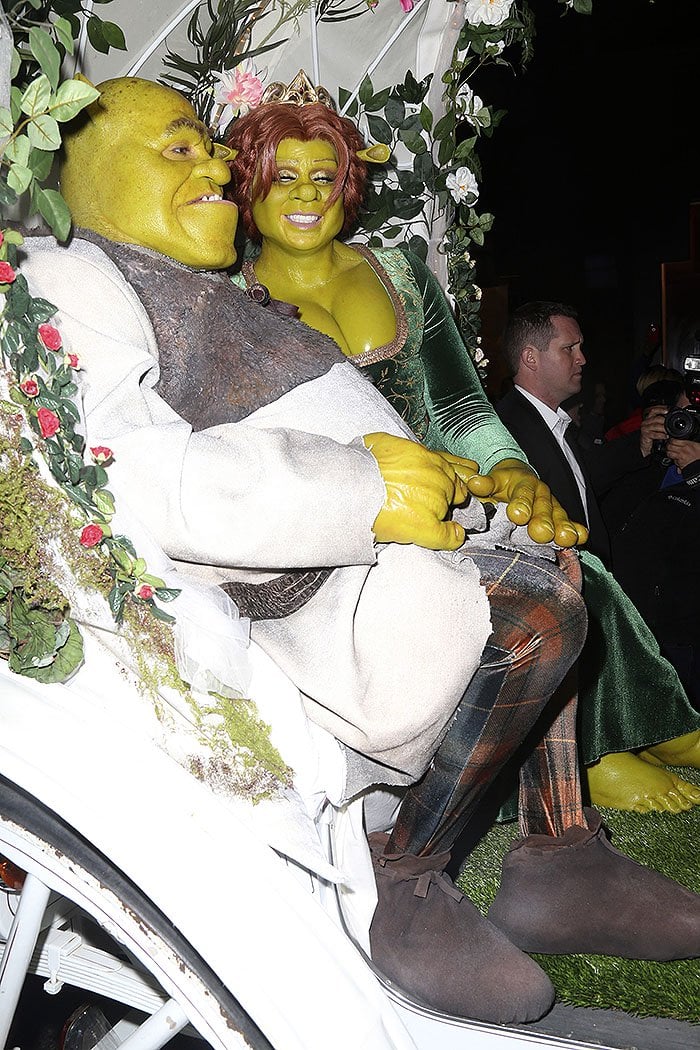 Heidi Klum as Fiona and boyfriend Tom Kaulitz as Shrek for Halloween 2018
Underneath the Shrek costume was Heidi's new boyfriend Tom Kaulitz. The 28-year-old Tokio Hotel guitarist met the 45-year-old supermodel on "Germany's Next Top Model" and officially began dating in March of this year.
Heidi Klum dressed as Princess Fiona from "Shrek"
The prosthetic-covered couple was wheeled to Heidi Klum's 19th Annual Halloween Party in a replica of the onion carriage from the DreamWorks movie. They even had a moss-covered buggy that contained their ogre baby triplets to push around on the carpet. The only thing missing was Donkey!
Heidi Klum and boyfriend Tom Kaulitz arriving at Heidi Klum's 19th Annual Halloween Party held at Lavo in New York City on October 31, 2018
Though we got puffy green feet instead of fashionable footwear from Heidi this year, she has given us freaky, fabulous looks many times in the past.
Let's take a look back at some of Heidi Klum's most memorable—and best-shoed—Halloween costumes. Whether she's an 18-foot-tall robot or a skinless human body, Heidi never forgets to give her shoe choice the same attention to detail.
Heidi Klum as Hindu Goddess Kali for Halloween 2008
The German model got into trouble with some religious groups for portraying Kali, the Hindu Goddess of death, time, and doomsday.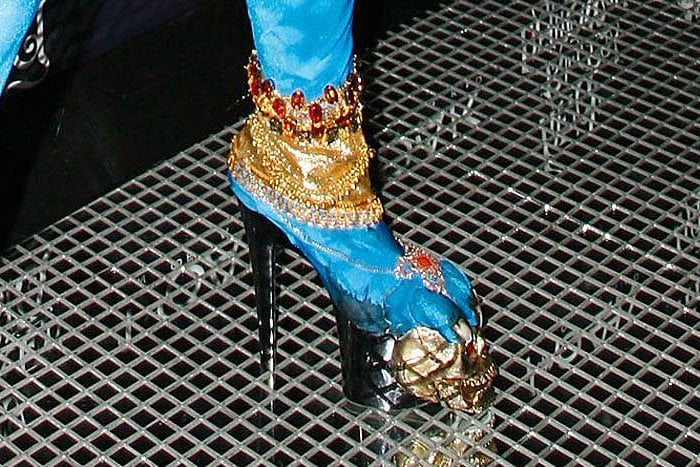 Details of Heidi Klum's blue platform boots featuring gold jewelry and long toenails clawing at a golden skull
Heidi had to learn how to walk on stilts for her glittery robot costume. The former "Project Runway" host said her costume would not feel complete if she didn't tower over everybody else.
Heidi Klum towering over everyone on stilts and dressed as a red-armored, glittery purple robot for Halloween 2010
Even as a dead body with all the hair and skin peeled off, the mom-of-four still felt it was a necessity to don black platform stilettos.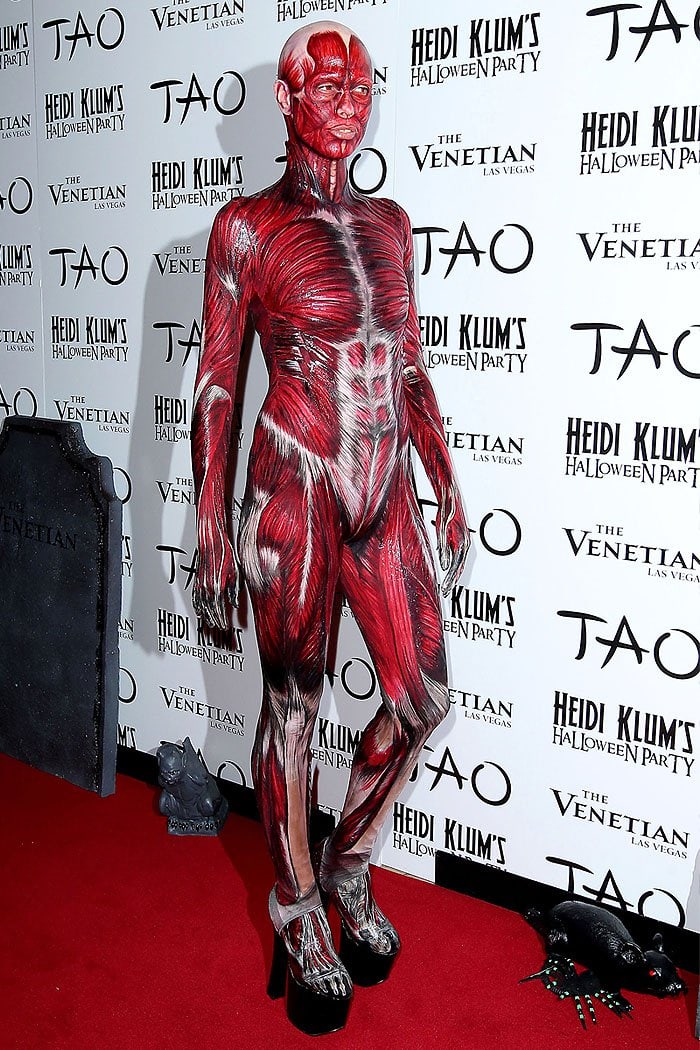 Supermodel Heidi Klum walking around dressed as a dead body with peeled-off skin at her 2011 Halloween Party at Tao Nightclub at the Venetian Resort and Casino in Las Vegas, Nevada on October 29, 2011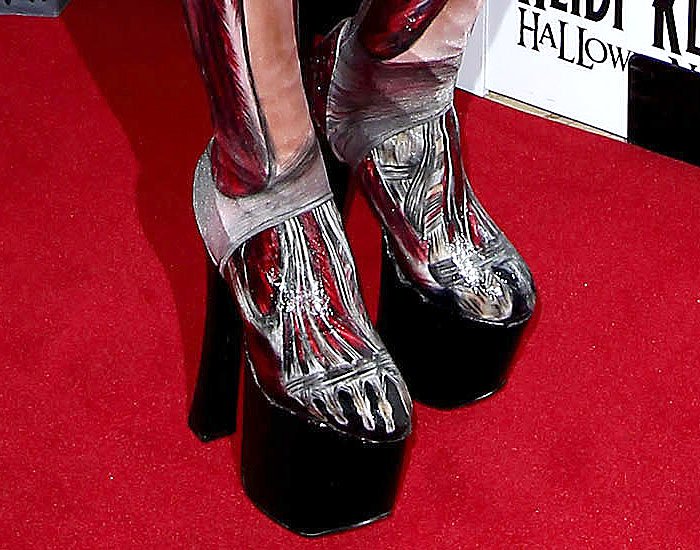 Closeup of Heidi Klum's skinless, skeletal platform boots
Cleopatra is a typical Halloween costume so Heidi literally elevated it with ultra-high, gold-sequin-covered platform sneakers.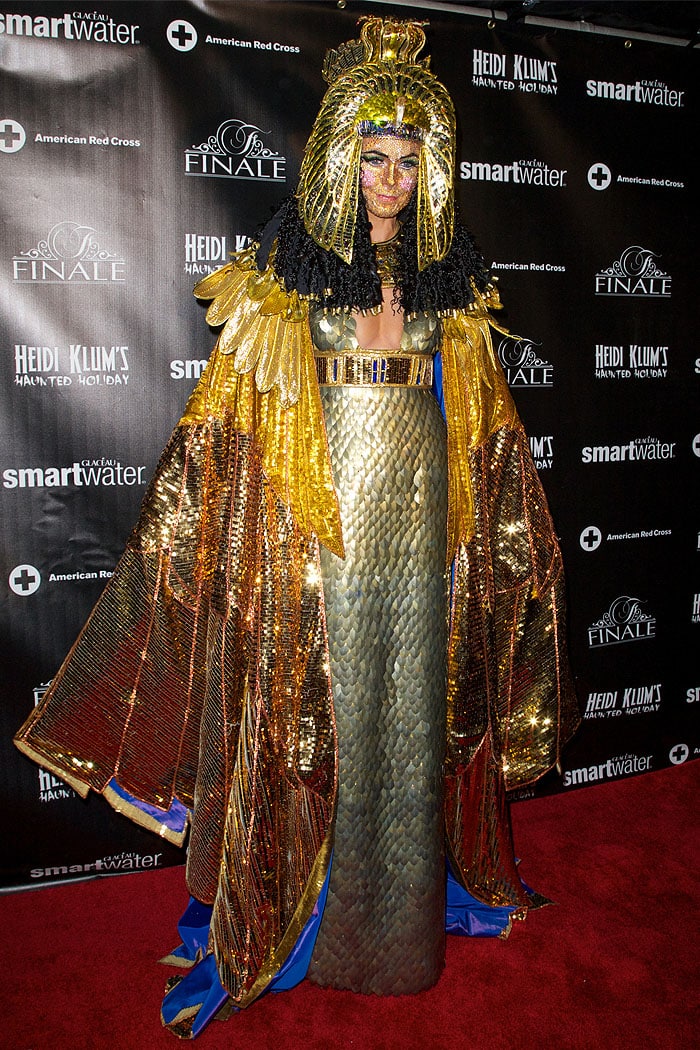 Mom-of-four Heidi Klum as Cleopatra will a face full of rhinestones for Halloween 2012
Heidi Klum showing off her sky-high, gold sequined platform sneakers
Which is your favorite Heidi Klum Halloween costume? She's also gone as a werewolf, as six clones of herself, Jessica Rabbit, a butterfly, and an old lady with foot spider veins in the past.
Credit: Alberto Reyes / Chloe Bell / Future Image / WENN