Are you angry when someone cuts you off on the road or steals your parking spot? If so, you will want to see Beef, the new dark comedy-drama series from renowned entertainment company A24.
This 10-episode narrative follows the lives of Amy and Danny, two individuals from vastly different backgrounds whose worlds collide after a road rage incident.
Ted Sarandos (L), the co-chief executive officer of Netflix, and guests at the premiere of "Beef" held at the Tudum Screening Room on March 30, 2023, in Los Angeles, California (Credit: Faye's Vision / Cover Images)
The two characters, played by Ali Wong and Steven Yeun, are locked in a dangerous feud that threatens to destroy everything they hold dear.
But there's more to Beef than just a tale of revenge. Creator and showrunner Lee Sung Jin, known for his work on hit shows like It's Always Sunny in Philadelphia and Silicon Valley, infuses the series with humor, suspense, and moving storytelling about the importance of family.
As the feud between Amy and Danny intensifies, viewers are left to ponder whether their anger is directed at each other or if it's just a symptom of their unresolved issues.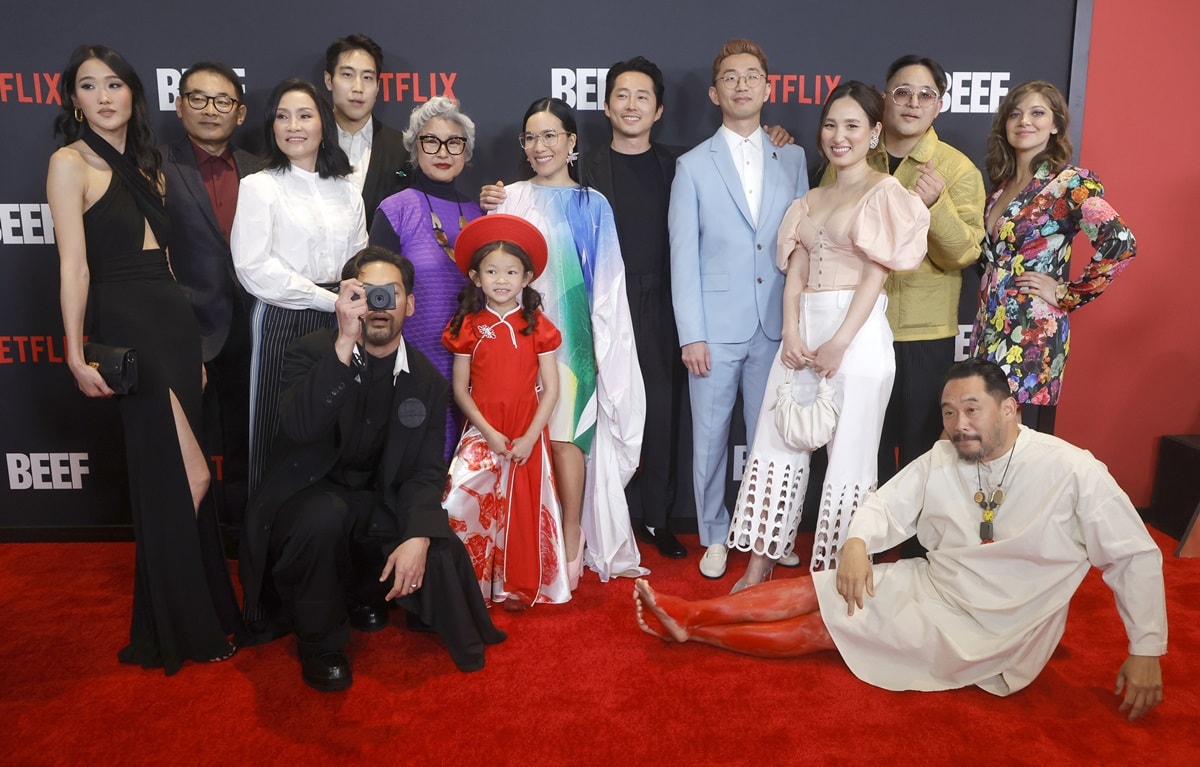 Andie Ju, Jerry Hanjoo Kim, Hong Dao, Joseph Lee, Young Mazino, Patti Yasutake, Remy Holt, Ali Wong, Steven Yeun, Lee Sung Jin, Alyssa Kim, Rek Lee, David Choe, and Mia Serafino attend the Los Angeles Premiere of Netflix's "BEEF" at TUDUM Theater on March 30, 2023, in Hollywood, California (Credit: Faye's Vision / Cover Images)
Inspired by a real-life traffic incident, Beef is a fresh take on the classic tale of two foes battling it. With a talented cast and an engaging storyline, this series will keep you on edge.
Prepare to honk your horn and join Amy and Danny on their wild ride.
1. Joseph Lee (George Nakai) – 6ft 2 in. (188 cm)
In the Beef series, Korean-American actor Joseph Lee, who stands 6ft 2 inches (188 cm) tall, plays the character of George Nakai, a former sculptor turned stay-at-home dad.
George has the physique of a biker, but his calm and collected demeanor resembles that of a Buddhist monk, making him the perfect trophy husband for his wife, Amy. However, just like his handcrafted sculptures, there is more to George than meets the eye.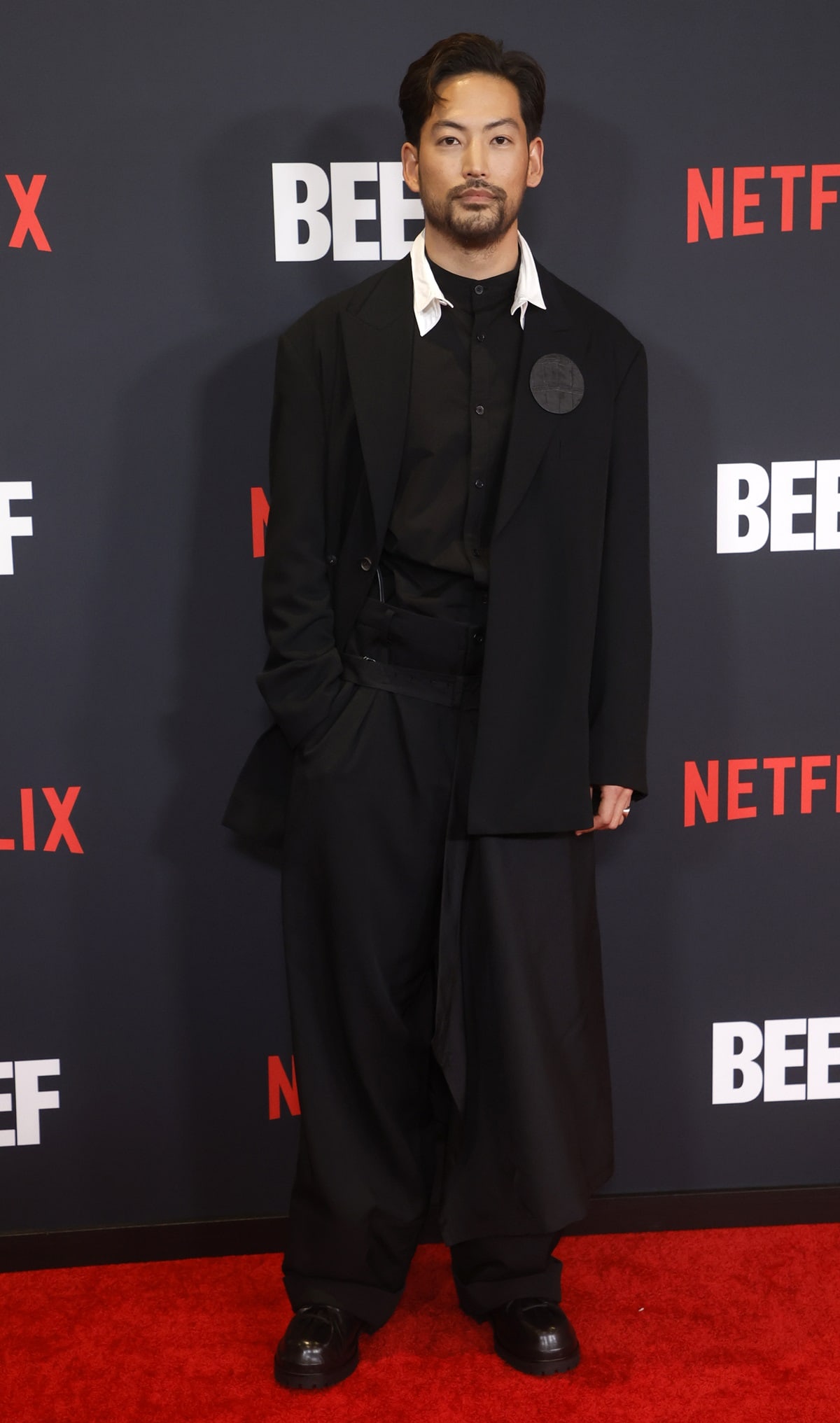 Standing at an impressive height of 6ft 2 in. (188 cm), Joseph Lee is a Los Angeles-based fine artist and Korean-American actor who made his film debut at the 2018 Sundance Film Festival with his lead role in Searching (Credit: Faye's Vision / Cover Images)
The 35-year-old actor debuted in Searching, which screened at the 2018 Sundance Film Festival.
Joseph's previous acting experience in films like The Miracle We Met and TV shows like Star Trek: Picard, Rizzoli & Isles, and NCIS: Los Angeles showcases his ability to take on diverse roles.
He is also an accomplished fine artist off-screen, exhibiting his paintings on canvas worldwide and collaborating with renowned companies like Simon & Schuster, Sony Music, and NIKE.
2. Andrew Santino (Michael) – 6ft 1 in. (185 cm)
Andrew Santino, who is 6ft 1 inches (185 cm) tall, plays the character of Michael, one of Isaac's friends, constantly searching for the next huge business opportunity. Michael finds Isaac's leadership style and habit of speaking nonsense irritating.
The 39-year-old actor is best known for his role as Bill Hobbs in the Showtime series I'm Dying Up Here, where he portrayed a stand-up comedian with a self-destructive attitude.
Andrew W. Santino is a multi-talented American entertainer known for his stand-up comedy, acting, and podcasting skills and has appeared in numerous television series and films, including Sin City Saints, The Disaster Artist, Mixology, I'm Dying Up Here, and Dave (Credit: BauerGriffin / INSTARimages / Cover Images)
He has also appeared in popular shows like Curb Your Enthusiasm, Game Over, Man!, Me Time, Mixology, Sin City Saints, and The Disaster Artist.
Aside from Beef, Andrew is starring in Dave, a fictionalized version of rapper Lil Dicky. He also portrayed a producer of the made-up sitcom The Manny in the NBC drama This Is Us.
In addition to his on-screen stunts, Andrew has released his Home Field Advantage Showtime special. He hosts the Whiskey Ginger podcast, interviewing fellow entertainers over a glass of whiskey. Andrew and fellow comedian Bobby Lee also co-host the show Bad Friends.
3. Rekstizzy (Bobby) – 5ft 9 in. (175 cm)
Born David Lee but known professionally as Rekstizzy, whose height is 5ft 9 inches (175 cm), portrays Bobby, one of Isaac's subordinates, constantly trying to find ways to make money. Bespectacled Bobby can't get over the fact that he was accepted into some prestigious colleges back in his day.
The South Korean rapper made his debut in 2017 under Lilypad Sound.
Rekstizzy portrays Bobby in the comedy-drama television series Beef created by Lee Sung Jin for Netflix (Credit: Faye's Vision / Cover Images)
He was featured in the 2016 documentary Bad Rap, which chronicled the lives of four Korean American hip-hop artists, including Dumbfoundead, Awkwafina, and Lyricks.
In addition to his music career, the 36-year-old actor has also provided the voice of Rap Bear in an Adventure Time episode.
4. Young Mazino (Paul Cho) – 6ft (183 cm)
Young Mazino, a 6ft (183 cm) tall Korean-American actor, portrays Paul Cho, the youngest of the Cho siblings, who is going through a quarter-life crisis and distancing himself from his family by gaming, investing in cryptocurrencies, working out, and avoiding his older brother.
Despite his background in music, Young has always been passionate about acting and pursued it professionally after moving to New York City in 2014.
Korean-American actor Young Mazino has appeared on several network shows such as Blindspot, New Amsterdam, Tommy, Blue Bloods, and Prodigal Son (Credit: Faye's Vision / Cover Images)
Young started with independent and student films before studying theater at the Stella Adler Studio of Acting in 2017. He was a finalist in the ABC Showcase in 2018 and auditioned for the Yale School of Drama's acting program in 2019.
Since then, he has appeared in various TV shows, including Blue Bloods in 2019 and Prodigal Son in 2020. He also made appearances in Blindspot, New Amsterdam, and Tommy.
5. Justin H. Min (Edwin) – 5ft 8 ½ in. (174 cm)
Justin H. Min is a second-generation Korean American actor who stands 5ft 8 ½ inches (174 cm). He portrays Edwin, Danny's pal, who ended up marrying his friend's childhood sweetheart, Veronica, played by Alyssa Gihee Kim.
The 33-year-old actor made his debut in several Wong Fu productions. He gained prominence as Ben Hargreeves in the Netflix series The Umbrella Academy in 2019, where he played a recurring character who was later promoted to the primary cast in season 2.
Justin Hong-Kee Min is an American actor who started his career with various roles in Wong Fu productions and gained recognition for his portrayal of Ben Hargreeves in the Netflix series The Umbrella Academy (2019-present) and for playing the lead role in After Yang (2021) (Credit: Joe Seer / Shutterstock)
Additionally, Justin played the title character in the film After Yang. He has appeared in supporting roles in New Amsterdam, Dating After College, and CSI: Cyber.
Recently, he was featured in Shortcomings, a comedy movie directed and produced by Randall Park.
6. Steven Yeun (Danny Cho) – 5ft 7 ⅞ in. (172.4 cm)
Steven Yeun is a 5ft 7 ⅞ inches (172.4 cm) tall South Korean-American actor who plays Danny Cho, a hardworking man trying to make ends meet by working odd jobs to build his parents' dream house.
Despite his difficulties, he feels responsible for his younger brother and tries to provide for him.
Steven Yuen and his wife Joana Pak, whom he met in Chicago in 2009 while still in college, arrive for the 18th Annual Unforgettable Gala held at The Beverly Hilton Hotel on December 14, 2019, in Beverly Hills, California (Credit: Eugene Powers / Shutterstock)
"There's definitely a stigma attached to being Asian-American. I remember growing up and getting picked last all the time. Back in college, most of my friends were basketball players, 6-foot-5 or taller, and I'm here, 5-foot-9 on a great day," he told Out about his height in 2013.
"So I'd play basketball with them and have this chip on my shoulder. I think my character Glenn comes from that, too; we want to give people more than what they give us credit for," he added.
The 39-year-old actor first became known as Glenn Rhee in the popular AMC television series The Walking Dead, which aired from 2010 to 2016, and received praise for his performance in the suspenseful movie Burning in 2018.
Steven Yeun, who portrays Danny Cho, towers over his shorter co-star Ali Wong, who plays Amy Lau (Credit: Faye's Vision / Cover Images)
Steven made history as the first Asian American to receive an Academy Award nomination for Best Actor for his performance in the Golden Globe-winning movie Minari. Additionally, he was the first Asian-American performer to be nominated for Outstanding Performance by a Male Performer in a Leading Role at the Screen Actors Guild Awards.
He has also appeared in supporting roles in numerous films, including Nope, The Humans, Sorry to Bother You, Mayhem, and Okja.
Steven Yeun portrays a handyman who works at the Reseda motel his family used to own in Netflix's comedy-drama television series Beef (Credit: Netflix)
Steven has lent his voice to characters in several animated television programs, including Final Space, Invincible, Voltron: Legendary Defender, Tales of Arcadia, Stretch Armstrong and the Flex Fighters, and Tuca & Bertie, among others.
7. David Choe (Isaac Cho) – 5ft 6 in. (170 cm)
In Beef, David Choe, born in Los Angeles in 1976 and 5ft 6 inches (170 cm) tall, portrays Isaac, a funny but sketchy cousin who recently got out of jail and is causing trouble for Danny and Paul's family.
The 46-year-old Graffiti artist gained popularity in the early 2000s for his street art, which can be found in cities worldwide.
David Choe is an American artist, musician, and former journalist and podcast host. He is from Los Angeles, and his work can be seen in various urban culture and entertainment contexts
As an actor, David is best recognized for his work on FX's Better Things and the Disney+ series The Mandalorian. He had a cameo role as a ringside spectator in Chapter 9: The Marshal, the first episode of season two of The Mandalorian.
8. Patti Yasutake (Fumi Nakai) – 5ft 6 in. (170 cm)
In Beef, Patti Yasutake, an American actress who measures 5ft 6 inches (170 cm), plays Fumi Nakai, George's mother, June's grandmother, and the condescending mother-in-law of Amy.
Fumi worries that her son George may be wasting his artistic potential by prioritizing his duties as a caregiver over his work.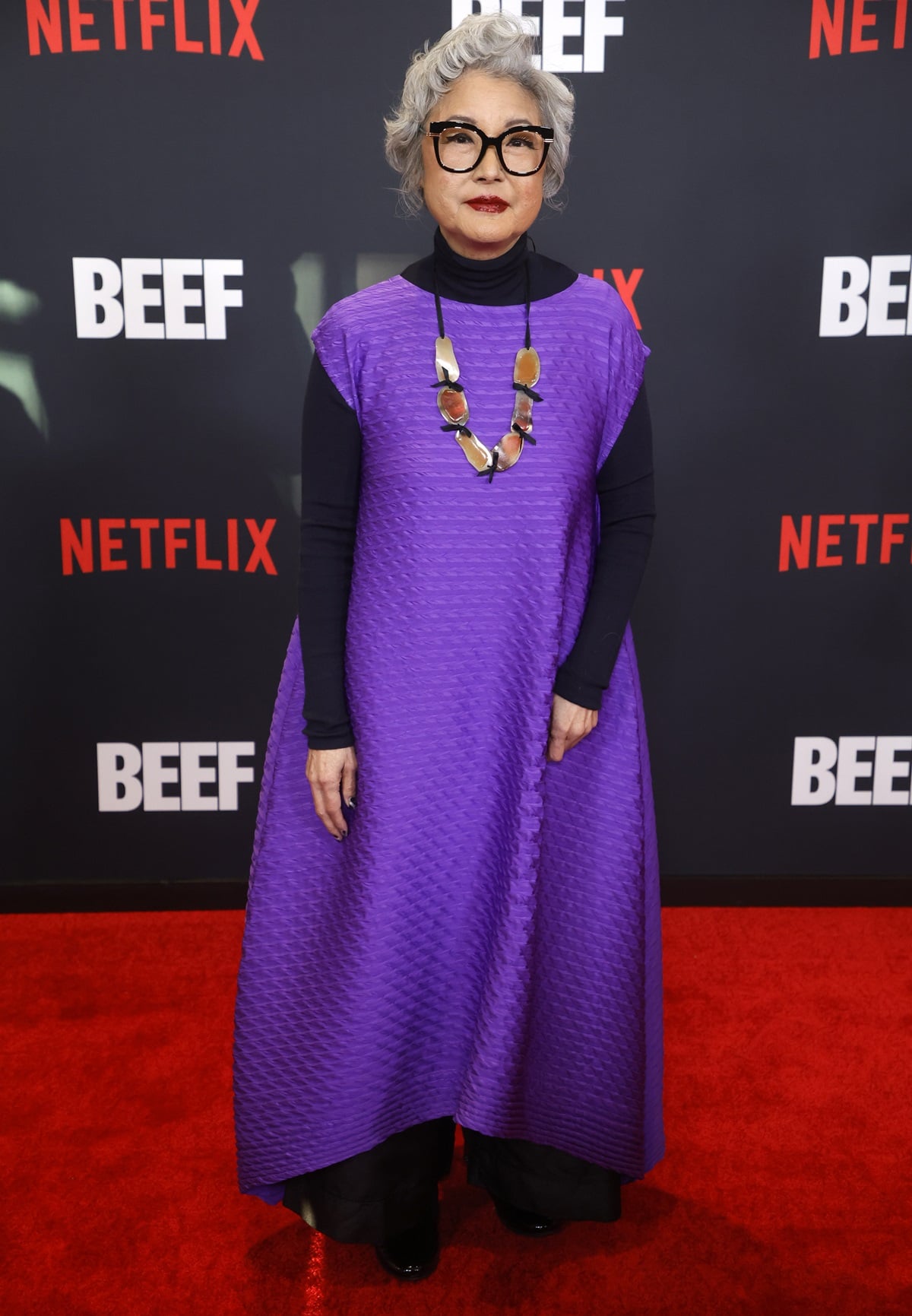 Patti Yasutake is an American actress best known for playing Nurse Alyssa Ogawa in the Star Trek franchise (Credit: Faye's Vision / Cover Images)
The 69-year-old actress is best known for her role as Nurse Alyssa Ogawa in the Star Trek franchise. Additionally, she starred in the cult masterpiece Drop Dead Gorgeous as Mrs. Howard.
Patti has also made a name for herself in other popular television shows such as Pretty Little Liars, NCIS: Los Angeles, The Closer, The Young and the Restless, Bones, Grey's Anatomy, and Cold Case.
9. Maria Bello (Jordan Forster) – 5ft 5 in. (165 cm)
Maria Bello is an American actress and writer who portrays Jordan Forster in Beef and is 5ft 5 inches (165 cm) tall. Jordan is an unbelievably wealthy and powerful individual who is the big boss at Forsters, a home improvement retailer seeking to acquire Amy's plant business.
The 55-year-old actress has appeared in various movies, including Permanent Midnight, Payback, Coyote Ugly, The Cooler, A History of Violence, and The Mummy: Tomb of the Dragon Emperor. She has also appeared in the TV series Lights Out, Prisoners, and Grown Ups.
Maria Bello (L) with her girlfriend Dominique Crenn at the Women's Cancer Research Fund's An Unforgettable Evening Benefit Gala 2023 at Beverly Wilshire, A Four Seasons Hotel on March 16, 2023, in Beverly Hills, California (Credit: Abaca Press / INSTARimages)
Maria is best recognized for her role as Dr. Anna Del Amico in the medical drama ER, as well as her starring roles as Lucy Robbins in the 2013 TV series Touch, Michelle McBride in the 2016 TV series Goliath, and Special Agent Jacqueline "Jack" Sloane in the 2017-2021 TV series NCIS.
Additionally, she has appeared in the movies Flicka and Thank You for Smoking and the TV shows Mr. & Mrs. Smith and Law & Order: SVU.
10. Mia Serafino (Mia) – 5ft 5 in. (165 cm)
In Beef, Mia Serafino, an American actor born and raised in Detroit, Michigan, who is 5ft 5 inches (165 cm) tall, portrays the character of Mia, Amy's sycophantic employee who is always full of praise for George and Amy's family's creative abilities.
Mia, who has a degree in art, is concerned about what Amy's decision to sell the business will mean for her professional future.
Mia Serafino flaunts her legs in a floral print Latoya blazer mini dress by Alice + Olivia at the Los Angeles premiere of Netflix's "BEEF" at TUDUM Theater on March 30, 2023, in Hollywood, California (Credit: Faye's Vision / Cover Images)
The 33-year-old performer gained popularity for her roles in notable television series such as Crowded in 2016 and Shameless in 2011.
Mia has also appeared in supporting roles in popular TV series such as Undateable, Franklin & Bash, NCIS: Los Angeles, and iCarly. She also appeared in the movies Saving Mr. Banks and Zeroville.
11. Ashley Park (Naomi Forster) – 5ft 4 (162.6 cm)
Ashley Park is a 5ft 4 inches (162.6 cm) tall American actor and singer. She plays Naomi Forster, Jordan's sister-in-law, who appears to have it all as a stay-at-home mother but secretly longs for the sense of purpose that comes with having a career.
The 33-year-old actress gained recognition for her roles as Mindy in the Netflix series Emily in Paris alongside Lily Collins and as the original Gretchen Wieners in the Broadway production of Mean Girls.
Ashley Park turned heads in a beautiful cobalt blue cutout gown paired with black Stella McCartney block-heeled boots at the 25th Annual Costume Designers Guild Awards at Fairmont Century Plaza on February 27, 2023, in Los Angeles, California (Credit: Faye's Vision / Cover Images)
She has performed in numerous plays, including Mamma Mia!, The King and I, which won the Tony Award for best adaptation, and Sunday in the Park with George with Jake Gyllenhaal.
Ashley is also well-known for her TV roles in shows like Mr. Malcolm's List, Girls5Eva, and Only Murders in the Building.
12. Ali Wong (Amy Lau) – 4ft 11 ½ in. (151.1 cm)
Ali Wong, a well-known 4ft 11 ½ inches (151.1 cm) tall comedian, portrays Amy Lau, a plant entrepreneur on track to become a wealthy and happy stay-at-home mom thanks to her successful business.
Her performances in Netflix comedy specials such as Baby Cobra (2016), Hard Knock Wife (2018), and Don Wong (2022) have garnered her critical acclaim and a large following.
Petite actress Ali Wong looked stylish in a modern Roksanda dress with draped sleeves, an asymmetric hem, and a train while attending the premiere of her Netflix series "Beef" in Hollywood (Credit: Faye's Vision / Cover Images)
The 40-year-old actress has also acted in various TV shows and movies, including ABC comedy American Housewife, the DC movie Birds of Prey, and Phineas and Ferb the Movie: Candace Against the Universe.
In addition to her on-screen work, Ali has lent her voice to several animated series, including BoJack Horseman, Big Mouth, Human Resources, and Tuca & Bertie.
Ali Wong boosted her height in pink Stuart Weitzman platform pumps (Credit: Faye's Vision / Cover Images)
She also wrote for the popular TV show Fresh Off the Boat and co-wrote, produced, and starred in the Netflix romantic comedy Always Be My Maybe.
13. Remy Holt (June Nakai) – 3ft 10 in. (116.8 cm)
Remy Holt, a young American actor born in 2016 in Pasadena, California, and is only 3ft 10 inches (116.8 cm) tall, made her theatrical debut playing the role of June Nakai in the comedy-drama film, Beef.
June is Amy and George's only child, a creative and loving young girl who enjoys making art, eating sweets, and spending time with her parents.
Remy Holt, who is of Chinese, Vietnamese, and English heritage, started modeling at age 3 and played Madelyn Davis in the American Western drama television series 1923 (Credit: Faye's Vision / Cover Images)
The 6-year-old budding star is of English, Chinese, and Vietnamese descent. She started modeling at three and has since made a name for herself in the entertainment industry.
Besides her role in Beef, Remy is known for portraying Madelyn Davis in the Paramount Plus American Western drama series 1923.