Courtney Stodden is only 19 years old, yet she's already going through a nasty divorce.
The blonde bombshell married Doug Hutchison (who was then 51 years old) when she was only 16 (shocking, indeed). Now she's threatening to write a tell-all book that will put her soon-t0-be-ex-husband to shame.
Courtney Stodden attends a book launch party hosted by Carmen Electra, January 10, 2013
If you think about it, she basically took advantage of the old former actor so she could make herself famous. Do you agree?
These days the reality TV star is more known for her stint on Celebrity Big Brother, her double-D rack, and of course, her penchant for extremely high heels — or more specifically, stripper shoes with mega platforms.
She has them in practically every make and color, from hot pink to glitter. Check out her collection below: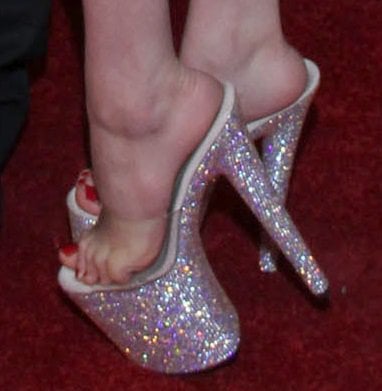 Courtney wears stripper heels with glittered platforms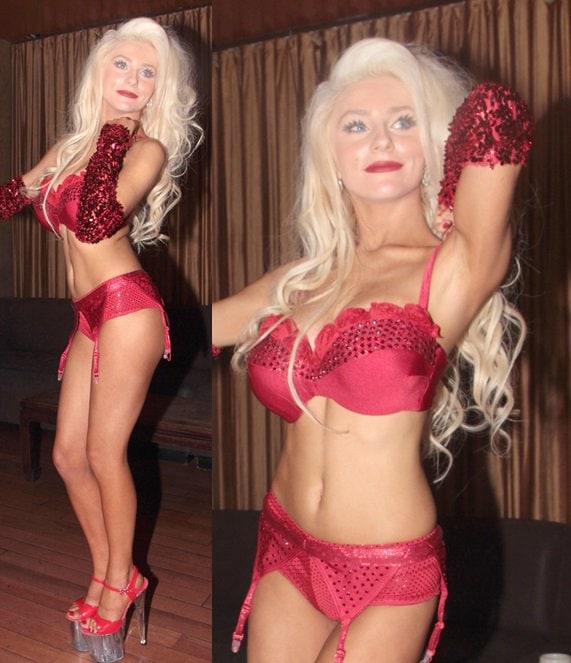 Courtney Stodden puts on a private pole dancing show at Eleven Nightclub on February 9, 2013
Courtney shows off her feet in pink patent stripper heels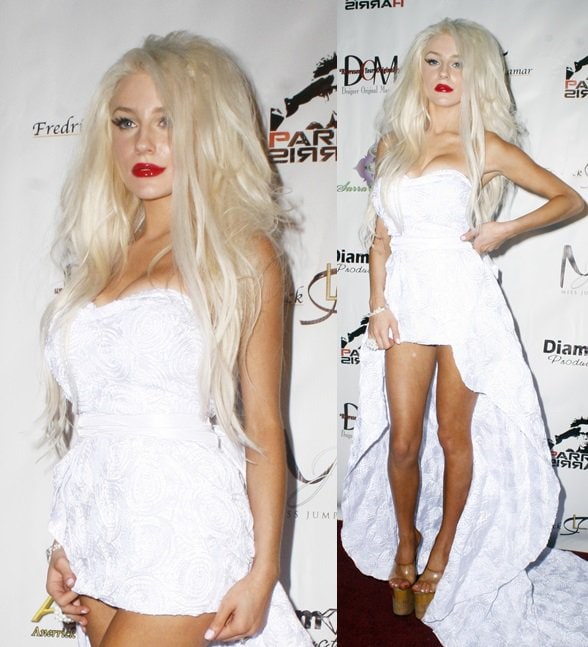 Courtney Stodden attends the Shekeharrahate Haute Couture fashion show in Los Angeles on March 14, 2013
Courtney's stripper heels in clear PVC and faux wood materials
Courtney Stodden flaunts her sexy legs on Sunset Boulevard on May 17, 2013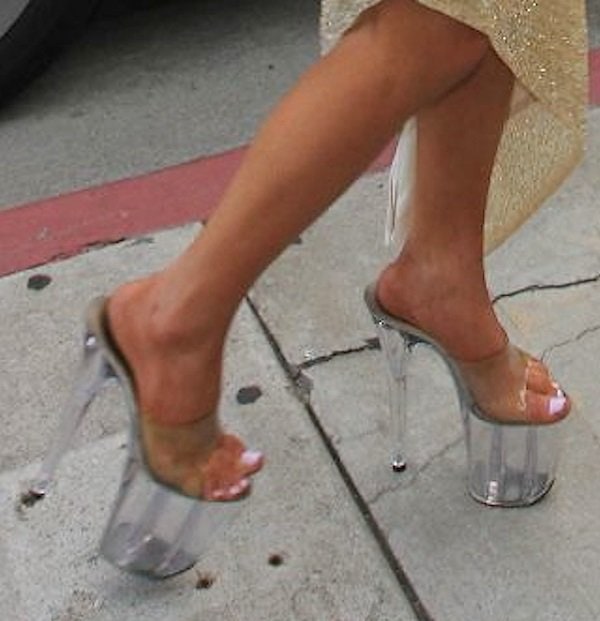 Courtney fashions sky-high clear hooker shoes with super platforms
Courtney Stodden celebrates her wedding anniversary in Disneyland on May 20, 2013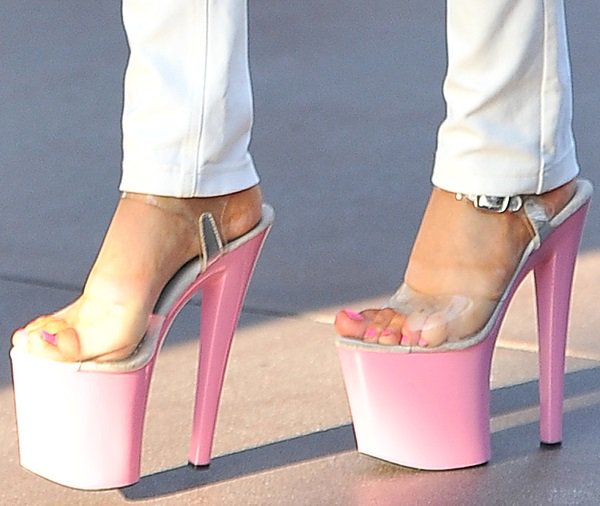 Courtney wears stripper heels with pink platforms
See. Simply put, Courtney Stodden is an avid fan of hooker heels. And it seems that when she finds something she likes, she collects them in different colors — like her super skimpy tank dresses, or the gold and nude platform pumps below that look exactly alike save for the material.
Courtney Stodden grabs some lunch while wearing hooker heels in Los Angeles on April 30, 2013
Courtney's hot feet in gold platform pumps
Courtney Stodden attends the Celebrity Big Brother Launch on August 22, 2013
Courtney wears the same style of pumps in nude color
So what do you think of Courtney's taste in footwear? Would you say those extreme platforms suit her tiny frame? Or do you think the shoes make her look cheap and trashy?
We don't know where Courtney got her stripper heels, but they look a lot like the ones from Pleaser USA. Check out some of the styles we found over at Amazon.
These shoes feature the same excessively thick platforms and stilettos that go all the way up to Mt. Everest. Do you think you can rock these sandals without tripping, slipping, or breaking your ankles?
Pleaser Taboo Sandals with Silver Platforms, $66
Pleaser Taboo Sandals with Hot Pink Platforms, $70
Pleaser Bejeweled Platform Sandals, $277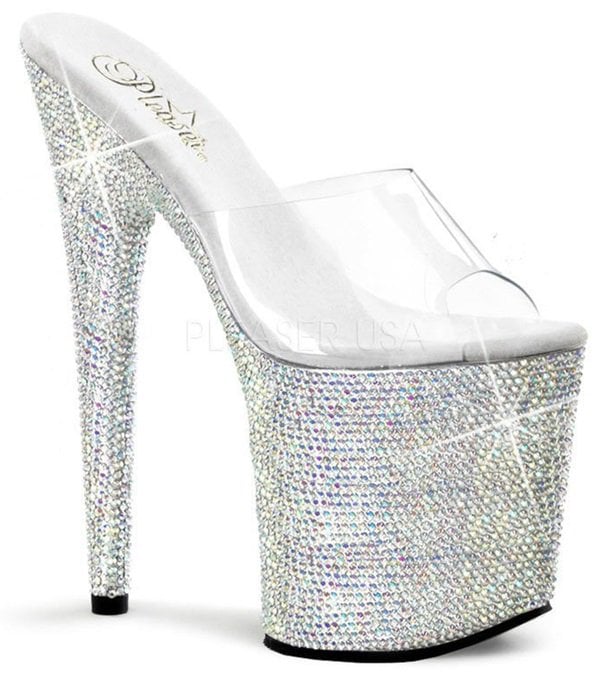 Hooker heels aside, Courtney has worn other shoe styles that are in fact, more wearable. She was once spotted sporting cork wedges (though still quite high) at the airport.
And recently, she wore some strappy booties (that looked a lot like a pair from London Trash) while leaving a cinema in Hollywood:
Courtney Stodden in cork wedges while waiting for her ride at LAX on September 24, 2013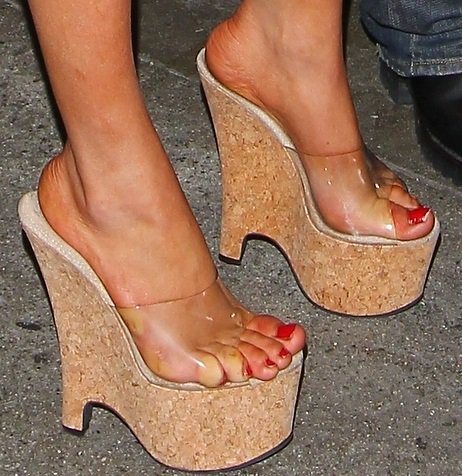 Courtney's sexy toes in platform wedges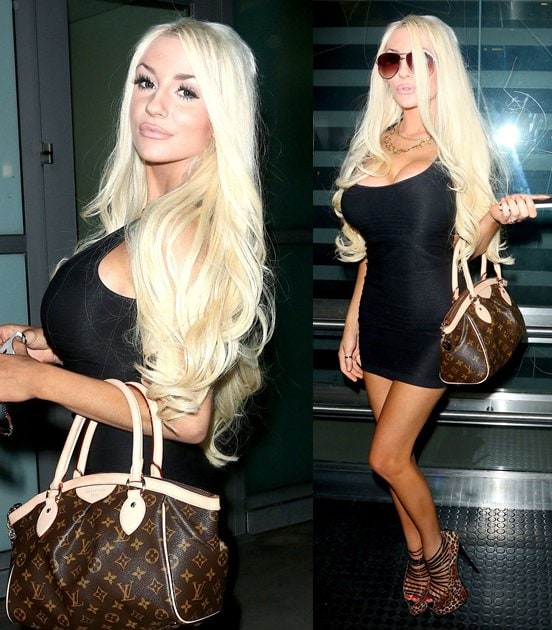 Courtney exits ArcLight Cinema wearing a tiny dress in Hollywood, October 4, 2013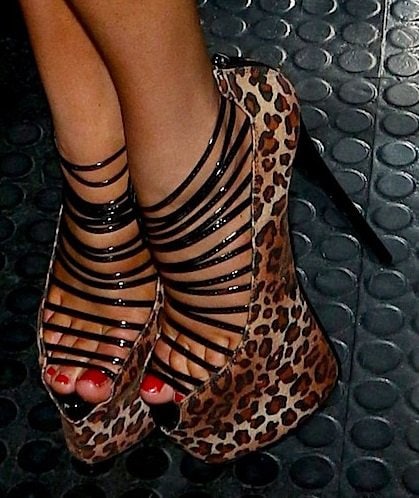 Courtney shows off her hot toes in leopard shoes
Courtney caps off her outfit with these printed strappy booties
London Trash Ceres Booties, $170
We don't know what's next for Courtney after the divorce. We hear she's going to have a reality TV show, though no official word as of the moment. What we do know is that she's not going to stop wearing those stripper heels.
Credit: Winston Burris / revolutionpix / Daniel Deme / Curtis Sabir / FayesVision / Travis Wade / WENN