Johnny Depp's libel lawsuit against The Sun wrapped up last week after 16 days of testimonies, accusations, and counter-accusations between opposing parties.
Considered as one of the most high-profile libel trials in British history, the verdict is not expected to be delivered by trial judge Mr. Justice Nicol until September.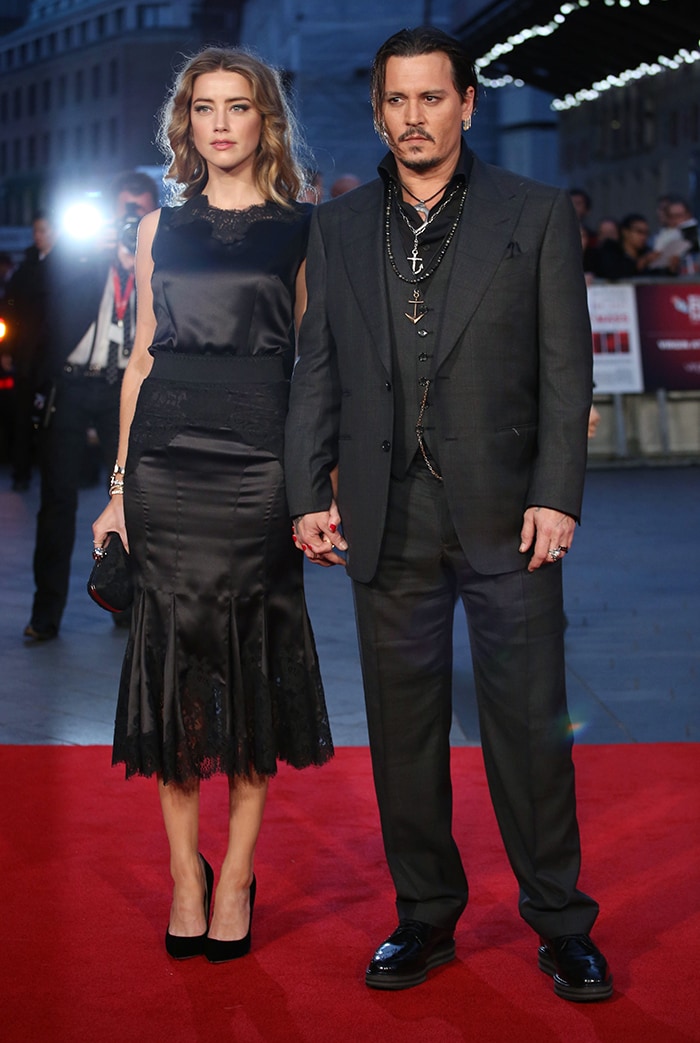 Amber Heard and Johnny Depp, pictured in 2015, give their final statements in the libel trial last week
Fifteenth Day of Trial
The legal team for NGN, The Sun's publisher, defended its "wife-beater" article as true based on Amber Heard's 14 allegations of domestic violence.
Sasha Wass, The Sun's lawyer, made its closing submission on Monday last week, calling Johnny Depp a "hopeless addict" and that his "deep misogyny" combined with his addiction to drugs and alcohol-fueled his violence towards Amber Heard.
"There is no doubt that Mr. Depp regularly and systematically abused his wife. The characterization that he is a wife beater is entirely truthful."
"Permeating all of the evidence, in this case, is the character of Mr. Depp himself — his well-documented evidence of violence and destruction over his adult life which have occurred when he was under the influence of drink and drugs."
Last month, Johnny admitted drugs and alcohol problems but denied Amber's accusations that he had been violent towards her.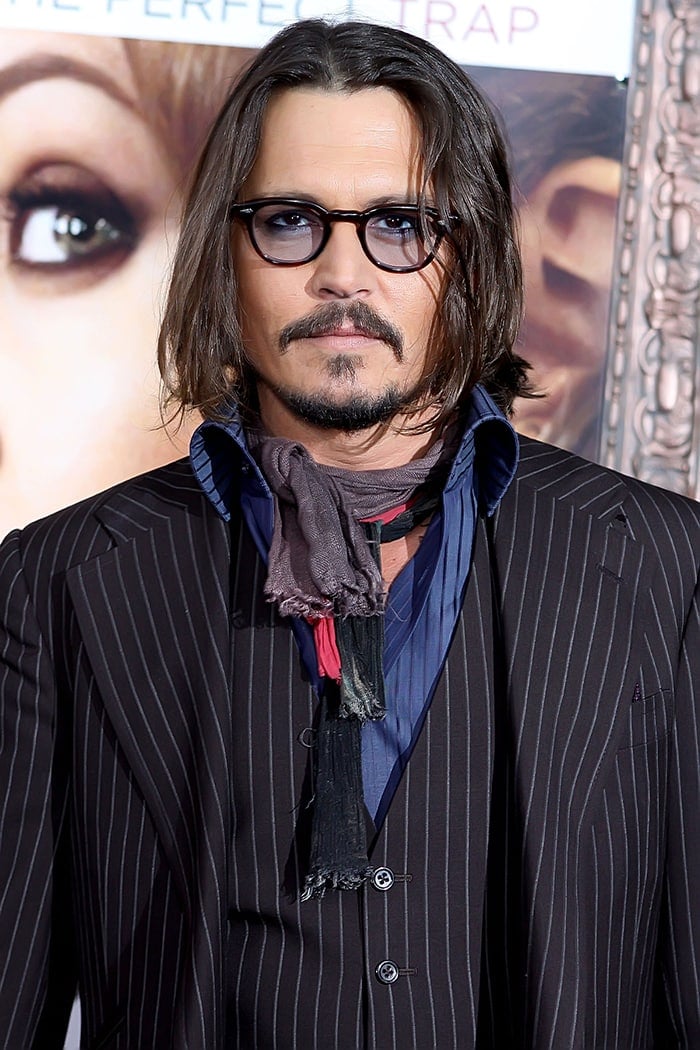 Johnny Depp, pictured in 2010, admits to drug and alcohol problems but denies violence towards Amber Heard
The Sun's lawyer added: "He created a misogynistic persona of (Amber) as the stereotype of a nagging woman," branding Amber "a gold-digger, a shrew, and an adulterer" to discredit her.
Sasha Wass also said Johnny Depp aspired "to be a Southern gentleman with a young and beautiful wife." She added that a Southern gentleman needs "supplicant wife" and described Amber as a "modern and ambitious woman," who was not ready for that role.
"Ms. Heard tolerated the violence and the abuse because she loved Mr. Depp and she believed she was capable of getting him better," she added.
In the trial's 15th day, Amber Heard opted for a white crepe sheath dress from former Spice Girls' Victoria Beckham's eponymous clothing label.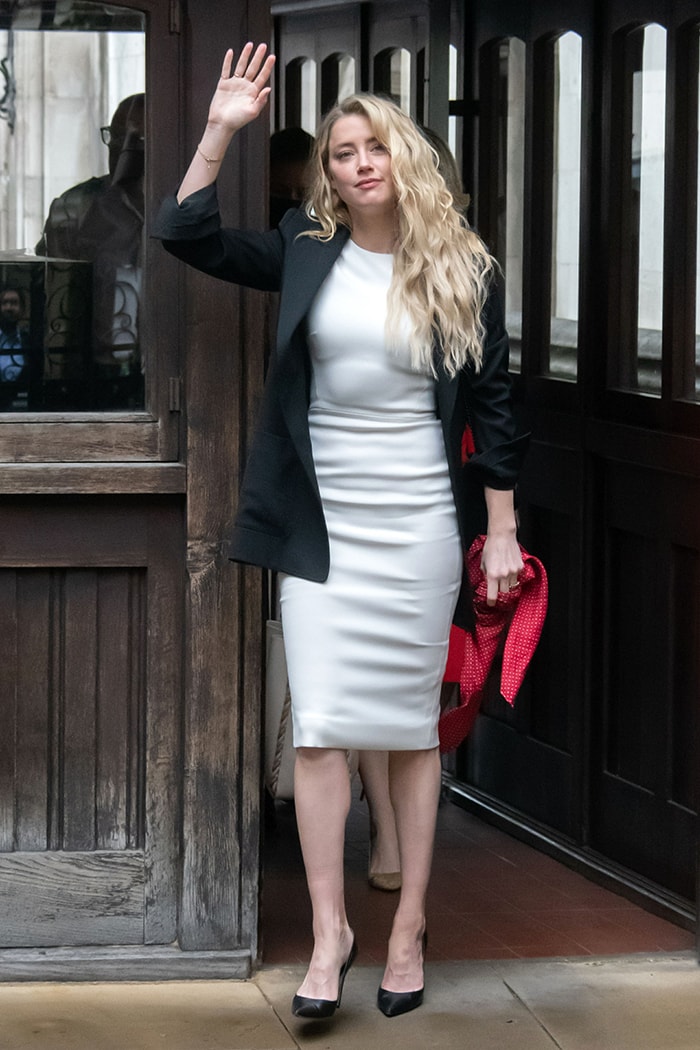 Amber Heard wears a white Victoria Beckham sheath dress on July 27, 2020
The body-skimming frock has a crewneck, short sleeves, and a two-way zip along the back. You can get this dress in limited sizes for $1,330 at InterMix.
Sticking to her signature trial look, Amber layered her look with a black jacket from London-based fashion designer Bella Freud.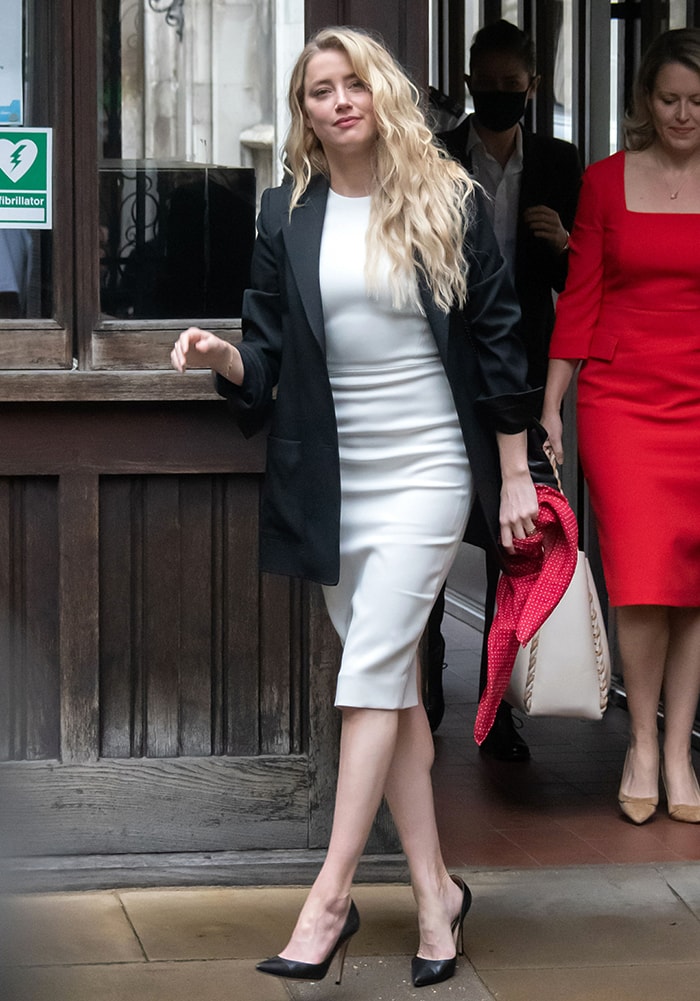 Amber Heard teams her white dress with black Bella Freud jacket
The Texas-born star kept her accessories to a minimum, with just a couple of rings and a dainty gold bracelet.
Wearing her blonde hair down in natural curls, Amber took off her trademark dotted red scarf and revealed her minimally made-up face.
She also carried her Saint Laurent Loulou bag, which she has been using since the first day of trial. It is available in medium size for $2,150 at Nordstrom.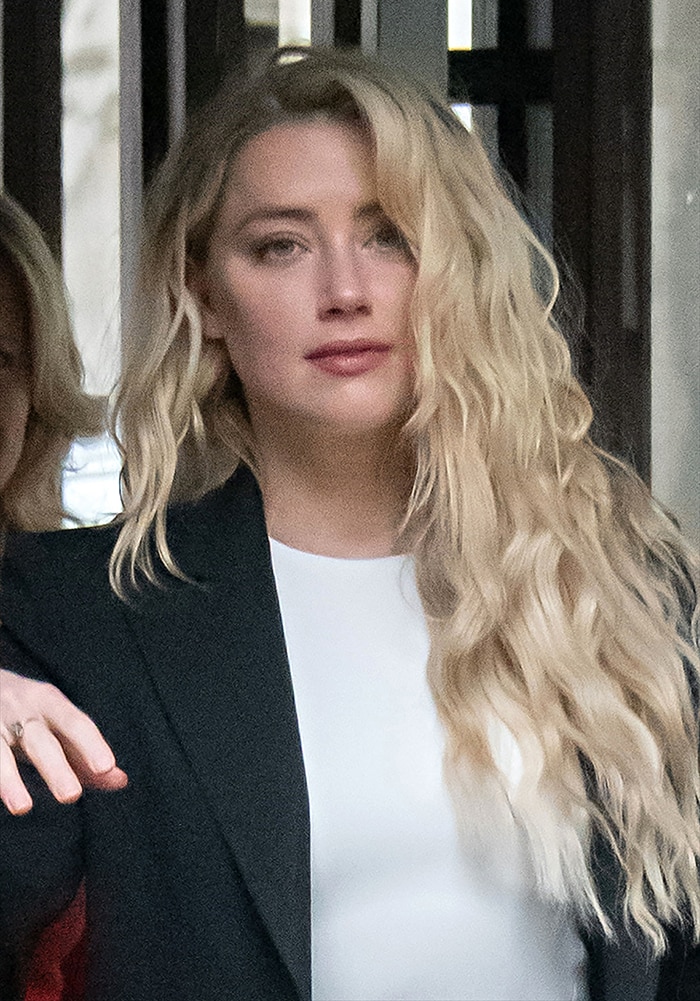 Amber Heard wears soft pink makeup with her naturally curly hair down
A pair of her favorite Brian Atwood "Cassandra" black pumps rounded out her court look.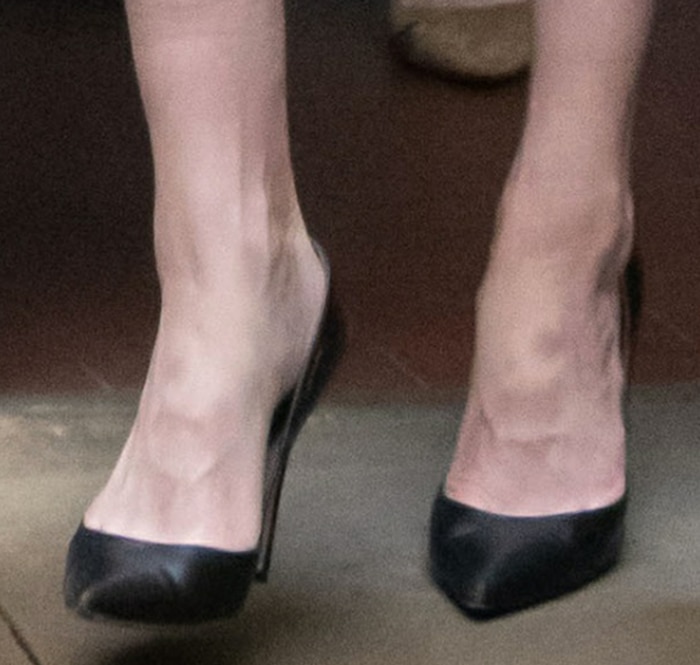 Amber Heard teams her look with her favorite Brian Atwood pumps
Sixteenth Day of Trail
Amber Heard made her final statement outside the Royal Courts of Justice in head-to-toe black, which clearly highlighted her figure.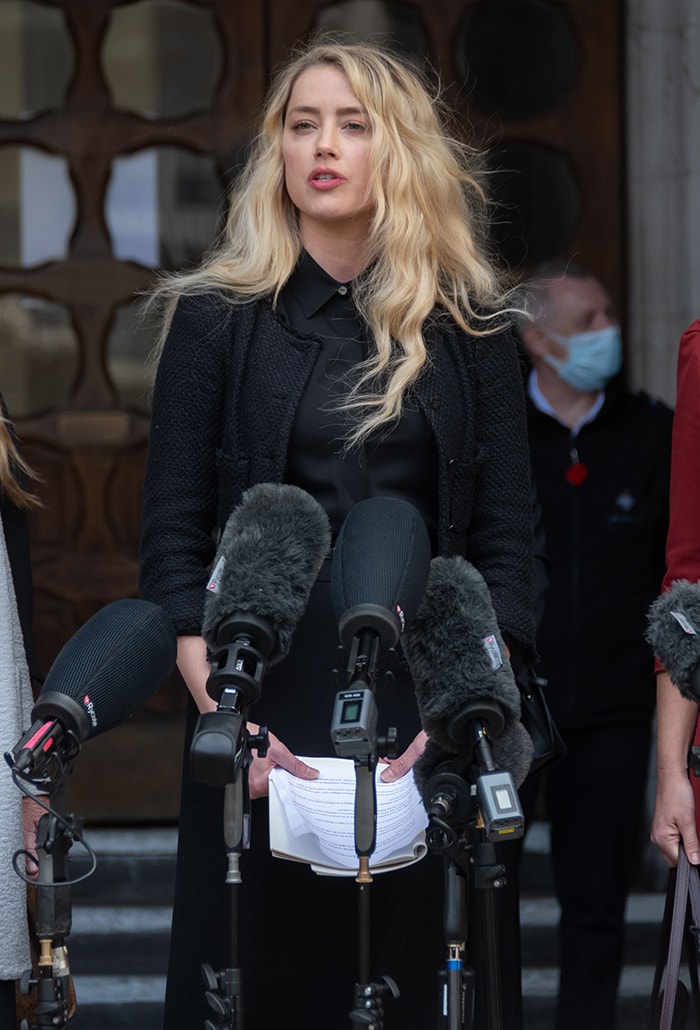 Amber Heard makes her final statement outside the Royal Courts of Justice in London on July 28, 2020
Standing by her testimony, Amber told her fans that she wanted to move on with her life and that reliving her break up and sharing the most traumatic details of her life with Jonny was painful.
"After obtaining a restraining order in 2016 and finalizing my divorce, I just wanted to move on with my life. I did not file this lawsuit and, despite its significance, I would have preferred not to be here in court."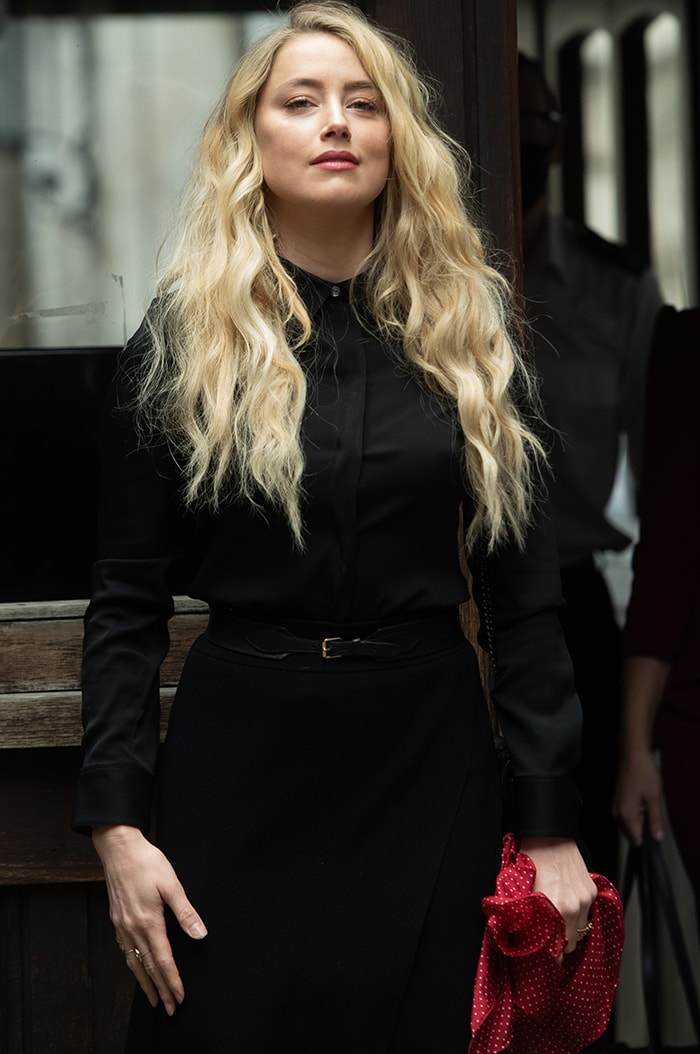 Amber Heard says it's painful to relive the most traumatic detail of her life with Johnny
"It has been incredibly painful to relive the break up of my relationship, have my motives and my truth questioned, and the most traumatic and intimate details of my life with Johnny shared in court and broadcast around the world."
"I stand by my testimony and I now place my faith in British justice."
She ended her speech by thanking the defense legal team, the court staff, and the people who supported her.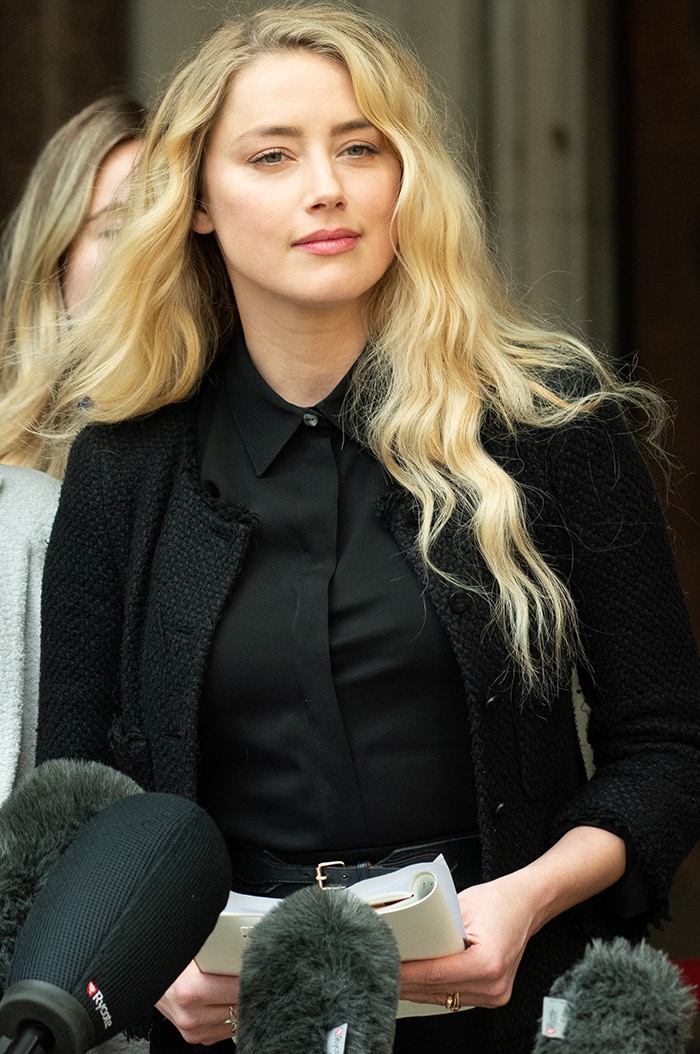 Amber Heard stands by her testimony during the 16-day libel trial
For the trial's last day, Amber tucked a Saint Laurent black silk crepe shirt over her belted black Joseph "Maddy" crepe maxi skirt, which she has worn multiple times throughout the trial.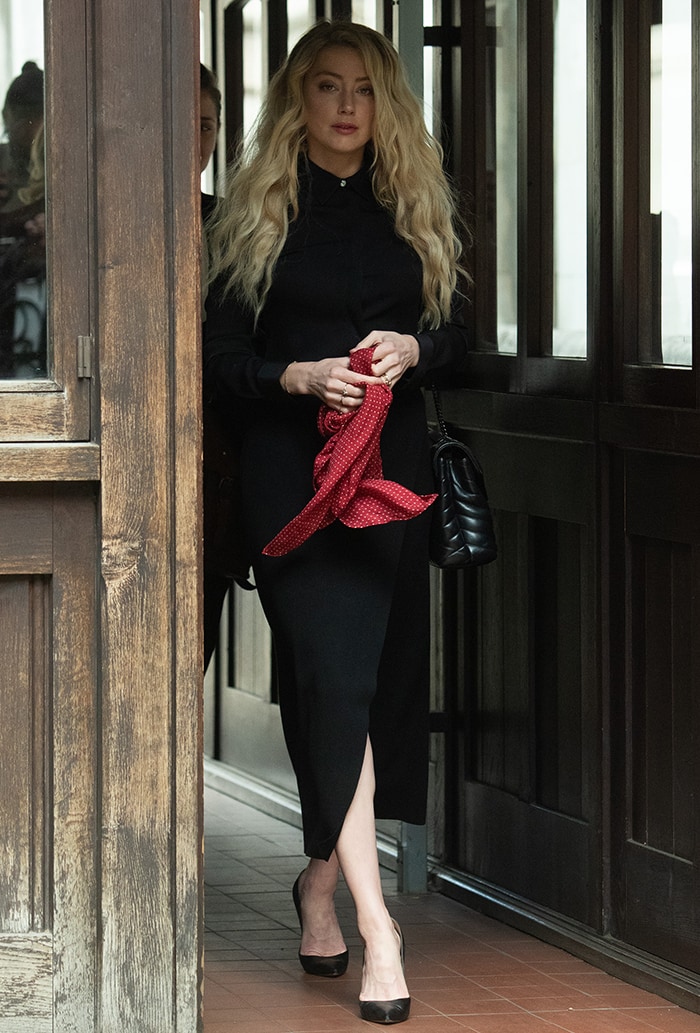 Amber Heard tucks her black Saint Laurent shirt into a black Joseph crepe skirt
She wore the same accessories, which included a gold bracelet, and carried her red polka-dot scarf and Saint Laurent bag.
The Aquaman star chose to wear her Brian Atwood pumps for her final trial look.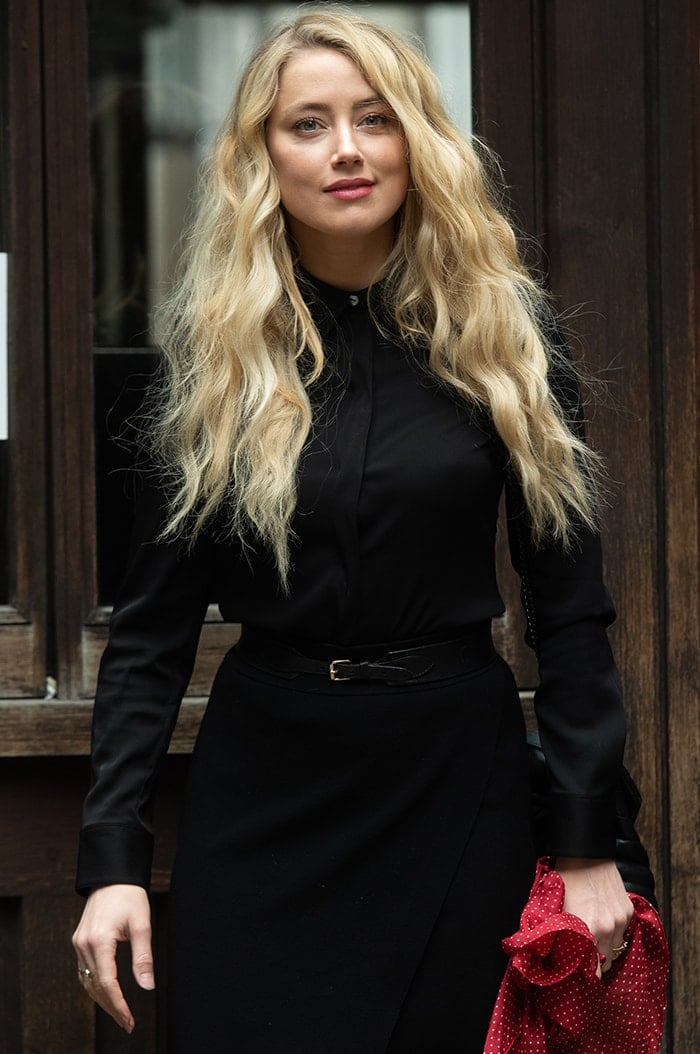 Amber Heard holds her signature red polka-dot scarf
Johnny Depp's lawyer, David Sherborne, delivered their closing argument on Tuesday last week, calling Amber Heard unreliable and a liar.
"From the big points to the small points, Ms. Heard has proved herself to be a wholly unreliable witness, and, frankly, a compulsive liar, and I don't say that lightly."
He also claimed that Amber was a "complex individual with a complex history" and accused her of repeatedly changing stories in court.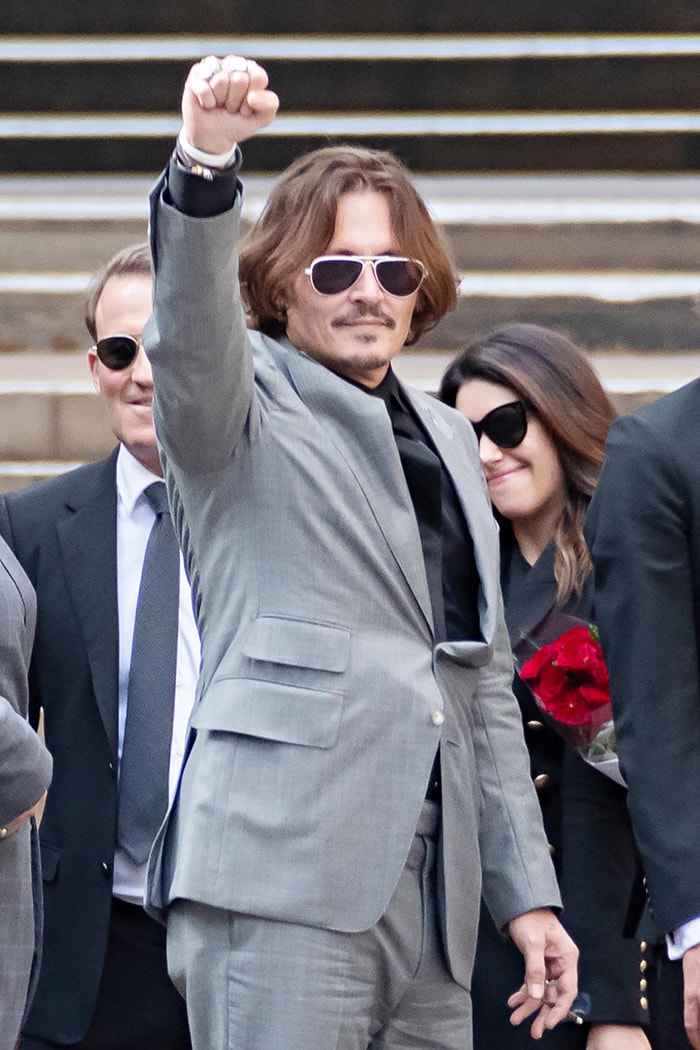 Johnny Depp on the last day of his libel case against The Sun on July 28, 2020
"Mr. Depp, far from being the domestic abuser, is the domestic abused."
He also said that Johnny strongly denied "this reputation-destroying career-ending allegation."
"He has never hit a woman in his entire life—period, full stop, nada," he added.
Credit: Avalon / Nils Jorgensen / Instar / WENN