It's been a while since we've featured "How Do I Live" singer LeAnn Rimes here on our blog. We used to always showcase LeAnn Rimes and her envy-inducing shoe collection, so it's a shame we haven't spotted her out in fabulous footwear lately.
LeAnn Rimes wears her hair down as she performs at the 2013 C2C: Country to Country Festival held on March 17, 2013, at O2 Arena in London (Credit: WENN)
To the country music festival C2C: Country to Country that was held in London in March 2013, Eddie Cibrian's wife showed up in another hot pair of heels.
The paparazzi spotted LeAnn Rimes wearing a few pairs of really cute shoes in the days leading up to the festival, but we have to admit: Her performance shoes were the most impressive of the whole festival.
Who wrote How Do I Live?
Ranked as the most successful song of the 1990s by Billboard magazine, the song was written by Diane Warren and was featured on LeAnn's second studio album You Light Up My Life: Inspirational Songs.
Singer LeAnn Rimes attends the 24th Annual American Music Awards on January 27, 1997, at the Shrine Auditorium in Los Angeles, California (Credit: Chris Connor / WENN)
Also performed by Trisha Yearwood for the soundtrack of the 1997 American action thriller film Con Air, LeAnn Rimes was just 14 years old when her version of the song was released in the United States on May 27, 1997.
Born on August 28, 1982, in Jackson, the capital city of Mississippi, she celebrated her 15th birthday on August 28, 1997.
"I was 14 and that was my first taste of the industry, I guess, in a way," LeAnn Rimes told Kelleigh Bannen on an Essential Album special on Apple Music Country.
Trisha Yearwood recorded "How Do I Live" on her first compilation (Songbook) A Collection of Hits (Credit: WENN)
"It didn't feel good, that's for sure," she added about releasing "How Do I Live" at the same time as Trisha Yearwood. "I remember thinking that my version of the song would never be heard and I'm glad I was really wrong about that."
"Absolutely not. I would love that," she responded when Mike Curb asked her if he could release the song.
"That was kind of my — once I talk about those boxes that people tried to fit me in — that was kind of my breaking out of that one box of, 'Oh, she's just this, she's the little girl who sings country music,'" she added.
"That was kind of the first… I was crossing over when people didn't cross over and got my hand slapped big time for that, but it was also one of the most, I mean, it's the most successful song by a woman ever still to this date."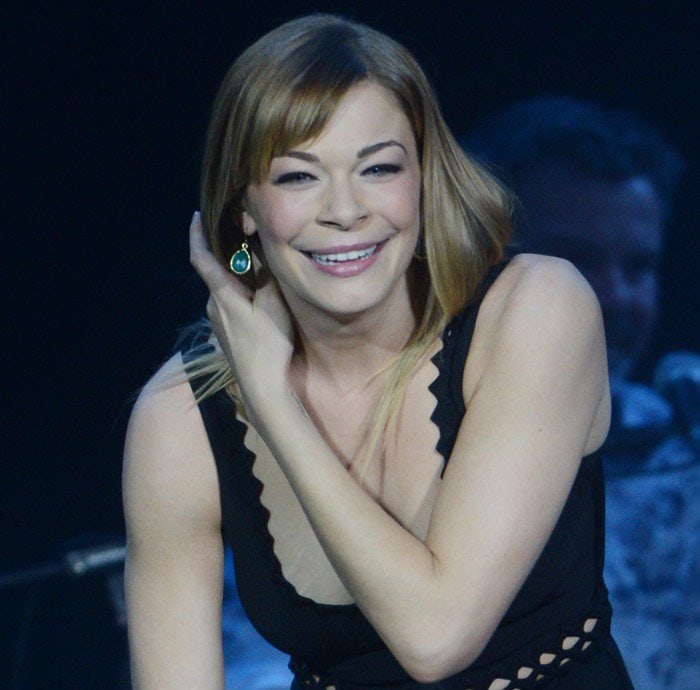 LeAnn Rimes performs in a black Hervé Léger dress (Credit: WENN)
Trisha Yearwood and LeAnn Rimes were both nominated for the Best Female Country Vocal Performance Grammy for their respective versions of "How Do I Live."
LeAnn Rimes wowed the crowd not only with her voice but also with a bangin' outfit consisting of a Hervé Léger cutout dress and nude-and-black patent platform sandals.
LeaAnn Rimes pairs pearl-studded sandals with a Hervé Léger dress on stage (Credit: WENN)
LeAnn Rimes' sandals look punk-inspired at first because of the studs, but if you take a closer look, the studs are actually faux pearls.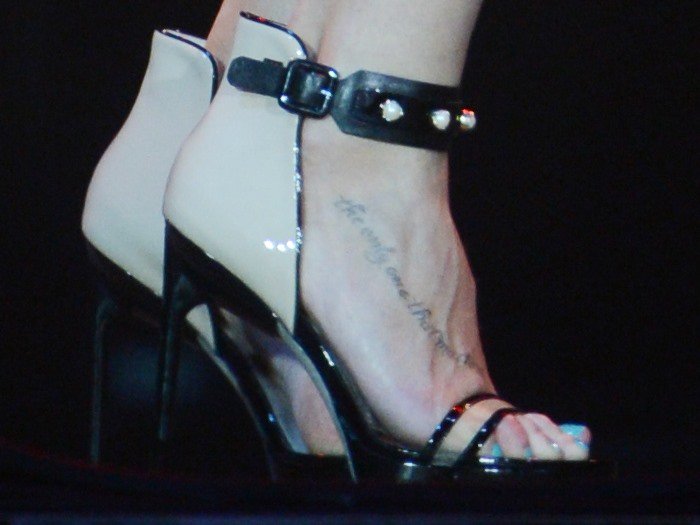 LeAnn Rimes shows off her foot tattoo in a pair of Jason Wu sandals (Credit: WENN)
Knowing that the "studs" are actually pearls changes the whole concept of the show a bit, doesn't it?
LeAnn Rimes's feet in black pearl-embellished "Nadja" sandals (Credit: WENN)
LeAnn Rimes' stage sandals are these Jason Wu "Nadja" sandals:
Jason Wu "Nadja" Platform Sandals
, $1,195