Is there a more terrible fashion faux pas than wearing double fringe? Actually, wearing more than one fringe item doesn't have to be as criminal as it seems. There's a trick to it see, and that trick is to vary things up. What you want to do is:
Vary the fringe length
Use different kinds of fringe
Change up the placement of the fringe
Vary the amount of fringe each item of clothing as
Better yet, here are examples of fringe on fringe outfits as worn by celebrities whom we've featured here before. Check out how they incorporated more than one fringe item in their outfits and made it look like the most natural thing in the world.
Cameron Diaz at the 84th Annual Academy Awards (Oscars) held at the Kodak Theatre in Los Angeles, California, on February 26, 2012
Mary-Kate Olsen (pictured with Nate Lowman) attends Paris Fashion Week S/S 2010 in a fringe jacket while carrying a beaded fringe wristlet on October 10, 2009
With her recent chart success and list of awards and nominations, she could be forgiven for eating out at a typical expensive West End restaurant like most celebrities – but Jessie opted for the rather low key Cafe Z Bar in Stoke Newington, where a typical main meal costs around £4. Jessie was quizzed by snappers when she left as to what she had for dinner, to which she replied "a bit of everything".
Jessica Cornish, aka Jessie J, takes some time out of her hectic day promoting her new album to enjoy an evening meal with friends in London on February 22, 2011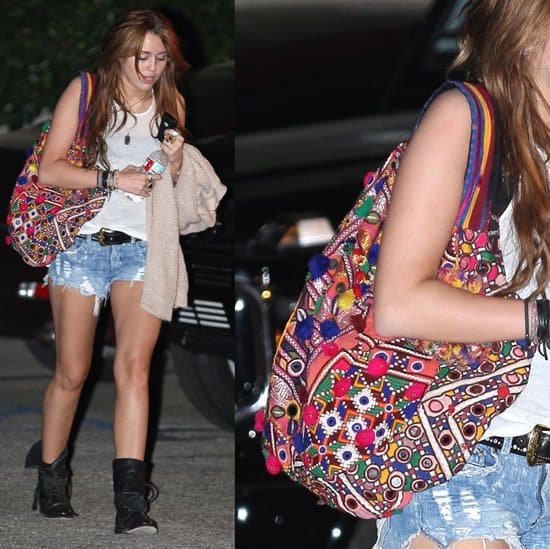 Miley Cyrus after visiting a recording studio in North Hollywood on March 16, 2010
Minnie Driver smiling as she leaves Crate and Barrel after shopping in West Hollywood Los Angeles, California, on November 30, 2010
"The Hills" star, Stephanie Pratt, wearing a pair of torn black jeans and Converse trainers, leaves Anastasia beauty salon in Beverly Hills on January 27, 2010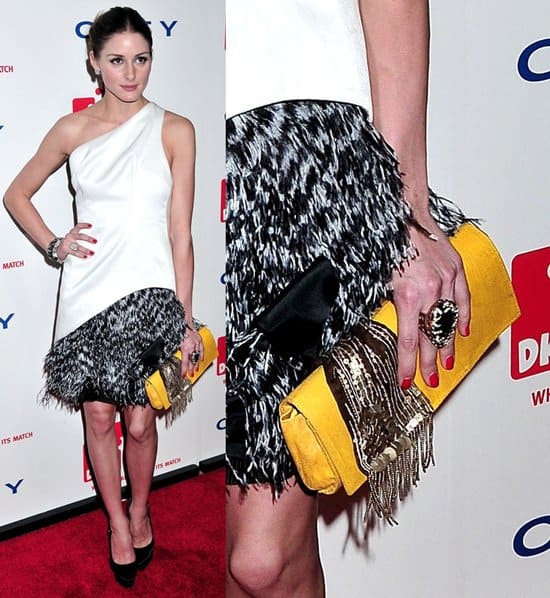 Olivia Palermo tastefully combines feather fringe and metal fringe into one outfit. From DKMS' 4th Annual Gala 'Linked Against Leukemia' at Cipriani 42nd Street in New York City on April 29, 2010
Check out Tinsley Mortimer's use of varying lengths of fringe, Olivia Palermo's combination of two different kinds of fringe, Stephanie Pratt's stylish way of breaking up the fringe by using it on different items of clothing, and Mary-Kate Olsen's ingenious placement of fringe on the lower portion of her jacket and her bag's bottom end.
Whose fringe on fringe outfit do you like the most?
Credit: Apega / Agent47 / WENN / Will Alexander / Patricia Schlein